Unleash the Ultimate Air Fryer Frozen Chicken Wing Experience: Juicy, easy-to-make frozen wings are a breeze with your trusty air fryer! Crunchy, golden exteriors encase delicate, juicy interiors, and the best part – no defrosting is necessary! These chicken wings cook up quickly, making them the ultimate crowd-pleaser.
Just like their fresh counterparts, these air-fried chicken wings are great for dipping and will score a touchdown at your next game-day party or appetizer spread.
Tips for Best Air Fryer Frozen Chicken Wings
Before diving into the frozen chicken wing extravaganza, use these helpful tips to ensure your air-fried food is perfect.
Skip thawing wings: Just like with this air fryer frozen chicken breast recipe, you can save time by popping the frozen chicken wings straight into your air fryer.
Variety is the spice of life: Frozen chicken wings come in various forms – pre-cooked or uncooked, breaded, sauced or plain, and in multiple sizes. Adapt your cooking times accordingly, and trust your intuition!
Sauce it up after it's cooked: If you don't want breading or sauce on your wings, fry them first and then toss them in your favorite sauce. This keeps your air fryer from burning sauces.
Make space for crispiness: Don't overcrowd your air fryer – this assures evenly cooked, crispy wings every time.
Shake it up: Halfway through cooking, shake your wings or move them around with tongs so they cook evenly and don't stick together.
Pair to perfection: Try out different dipping sauces and side dishes to make a feast that pleases a variety of flavors.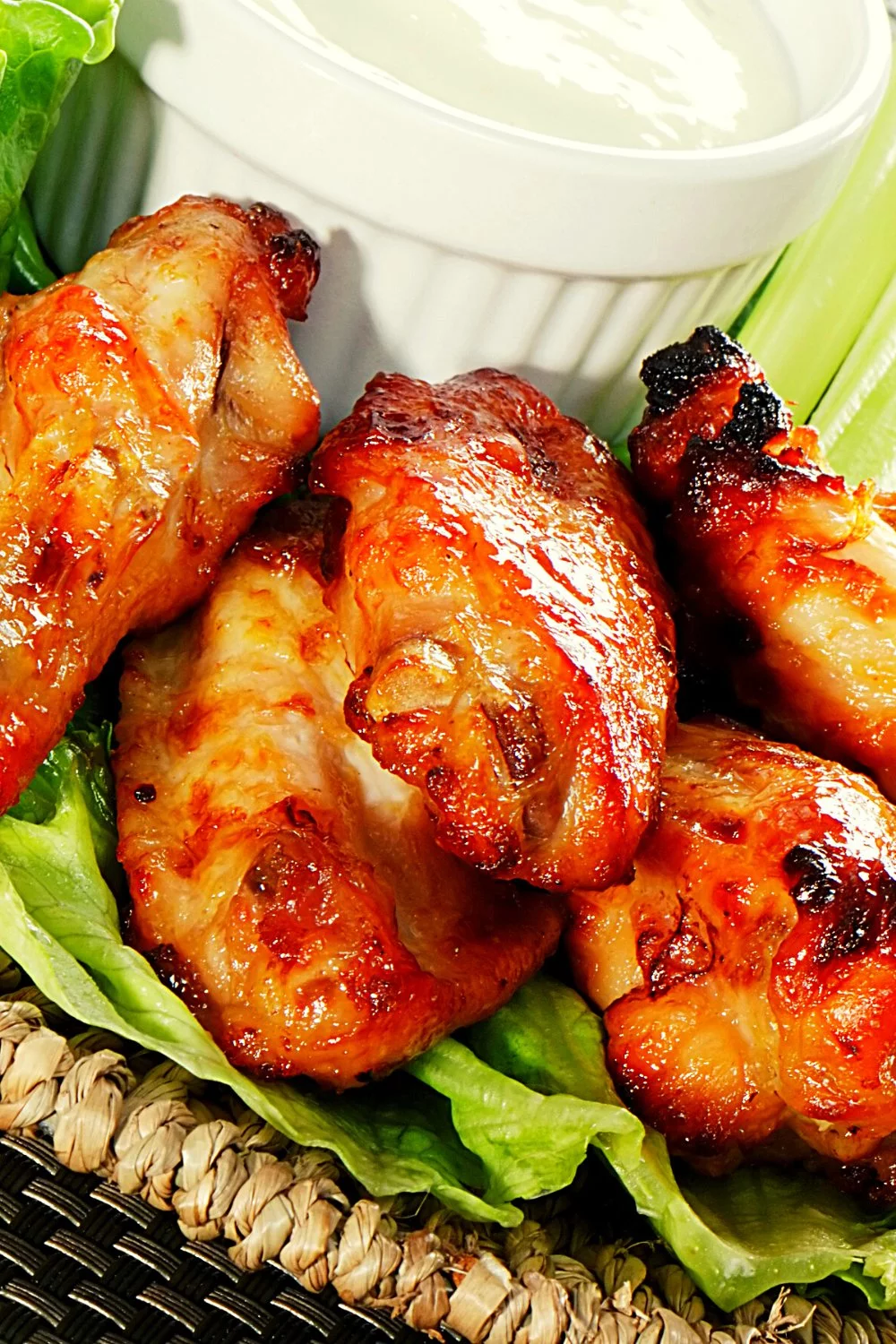 Ingredients you'll need
Frozen chicken wings: The star of the show, these wings become crispy, delectable bites with the help of your air fryer.
Garlic powder: Adds an enticing, fragrant kick of flavor to upgrade your wings to the next level.
Ground black pepper: A traditional seasoning that adds hints of spiciness and depth, making your chicken wings even more irresistible.
Sauce of your choice: Whether it's BBQ, Buffalo, or this fantastic Chick-Fil-A Sauce, or even this Wingstop Mango habanero sauce, your go-to sauce adds a finger-licking finish to the chicken wings, allowing you to customize the dish to your taste.
Salt: An essential ingredient that improves the chicken's natural taste and balances the recipe's flavors.
Olive oil: A drizzle of olive oil helps the seasonings stick to the wings and cooks them evenly and crispily in the air fryer.
Air-Fryer Frozen Chicken Wings – Saucy Suggestions
You can choose your favorite sauce to dip those crispy, air-fried wings in by tossing them in a variety of tasty options. Here are some of the most popular:
Buffalo sauce: A fiery masterpiece that adds some heat to your wings.
BBQ sauce: A sweet, smoky, and tangy complement to your crispy chicken bites.
Chick-Fil-A sauce: A fan-favorite, delivering a creamy, savory finish.
Popeye's blackened ranch sauce: A zesty, Cajun-inspired twist on the classic ranch.
Arby's Bronco Berry Sauce: A sweet and spicy blend featuring ketchup, vinegar, garlic, and a touch of heat from jalapeño and cayenne pepper, with minced red bell pepper for additional texture.
Louisiana hot sauce: A Southern-style punch to amp up your chicken wing experience.
Honey sriracha sauce: A excellent combination of sweet and spicy for those who value a little heat.
Garlic butter sauce: A decadent, buttery extravagance with a hint of garlic goodness.
Keto/low-carb options: Keep your chicken wings sugar-free with sauces that won't compromise your diet goals. It's just that straightforward!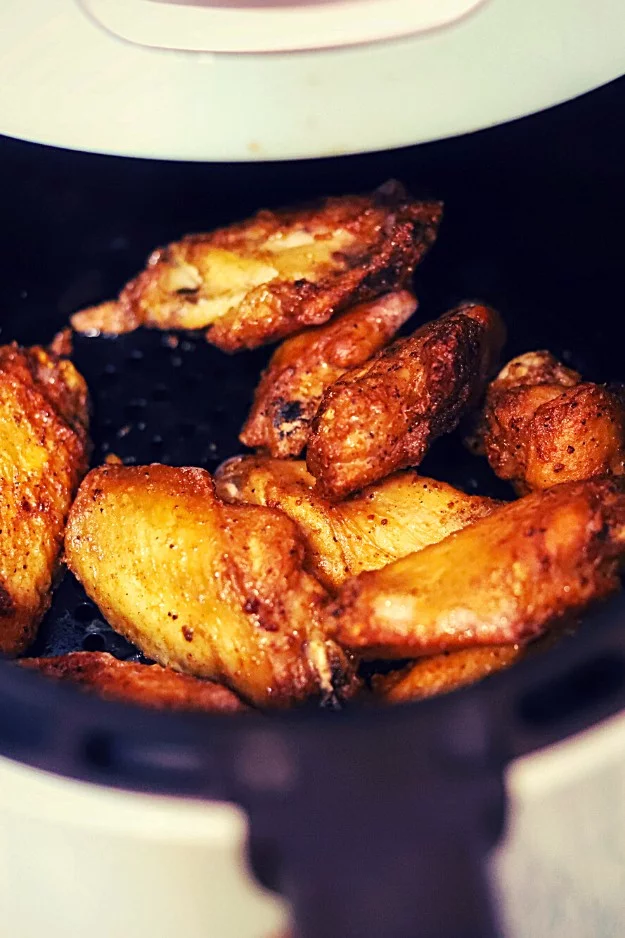 FAQs: All About Air Frying Frozen Chicken Wings
Do I need to defrost the wings before air frying?
No need to defrost your wings! If you plan to dip your wings in sauce after air frying, you can air fry them directly from the freezer.
Can I air-fry frozen chicken wings?
Absolutely! Air-frying frozen chicken wings is easy.
Can I air-fry Costco wings from frozen?
Yes, you can! This recipe works flawlessly for Costco wings, too.
How long should I cook frozen chicken wings from Costco?
Costco wings are generally smaller than the Tyson brand, so they typically cook for 20 minutes. Just ensure the internal temperature reaches at least 165°F (74°C) before serving.
What's the best temperature for air-frying frozen chicken wings?
The ideal temperature for air frying frozen chicken wings is around 380 – 400°F (193 – 204°C). This temperature ensures crisp exteriors and tender, juicy insides.
Do I need to preheat my air fryer before cooking frozen chicken wings?
Yes. Preheating your air fryer for about 5 minutes prior to cooking ensures even heating and better outcomes when air frying your frozen chicken wings.
Can I cook different types of frozen wings in the air fryer?
Definitely! You can air fry frozen wings that are breaded, already cooked, or covered in sauce. Just make sure to change the cooking time and watch them to get the best results.
Air Fryer Frozen Chicken Wings Recipe
Get ready to indulge in the most delicious finger food ever with this Air Fryer Frozen Chicken Wings recipe! Make frozen chicken wings into a tasty treat with a crispy outside and a tender, juicy inside. No defrosting is needed! Season, air fry, and toss in your favorite sauce for a delicious snack or appetizer that is sure to impress.
Ingredients
2 lbs of Frozen chicken wings
1 ½ tsp of garlic powder
1 tsp of ground black pepper
1 tsp of salt
1 cup Sauce of choice (see article above for more suggestions)
1 Tbsp of Olive oil
Instructions
Before adding the wings, heat your air fryer for 5 minutes at 380°F (193°C).
Place frozen wings in the air fryer's basket and cook for 10 minutes to defrost.
Remove thawed wings and place them in a bowl, draining any liquid collected in the air fryer basket.
Pour olive oil, garlic powder, black pepper, and salt over the wings and toss to ensure they are evenly coated.
Place your wings back in the air fryer basket and cook at 380°F (193°C) for 10-15 minutes or until the internal temperature reaches 165°F (74°C). To ensure the wings get crisp, flip them over halfway through the cooking time.
Toss the cooked chicken wings in the sauce of your choice and enjoy your delicious air-fried meal!
Can't get enough of these mouthwatering Air Fryer Frozen Chicken Wings? Share this wing-tastic enjoyment by pinning the image below to your Pinterest board, and let the flavor attack start!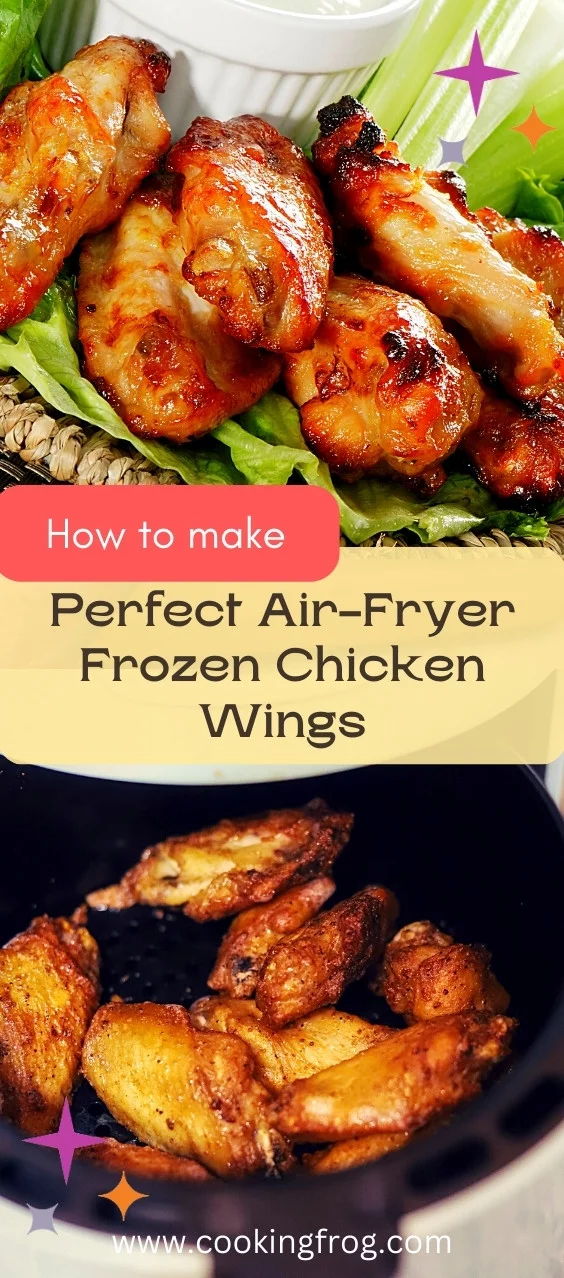 More Tasty Air-Fryer Recipes:
Air Fryer Pork Tenderloin with Delicious Rub
Air Fryer Pork Chops with Garlic Butter