Are you on the hunt for a recipe that promises both flavor and simplicity? Look no further. These honey-garlic chicken tenders, prepared using an air fryer, are a delightful blend of sweet and savory, ensuring every bite is an explosion of taste. Perfect for quick dinners, weekend treats, or even impressing guests at a gathering, these tenders are your ticket to a meal that's as delicious as it is effortless.
Honey and Garlic: A Culinary Match
When the natural sweetness of honey meets the robust punch of garlic, the result is nothing short of culinary magic. And when you drizzle this concoction over perfectly air-fried chicken tenders, the result is a dish that's both comforting and gourmet.
Without further ado, let's get started on crafting this air fryer delicacy.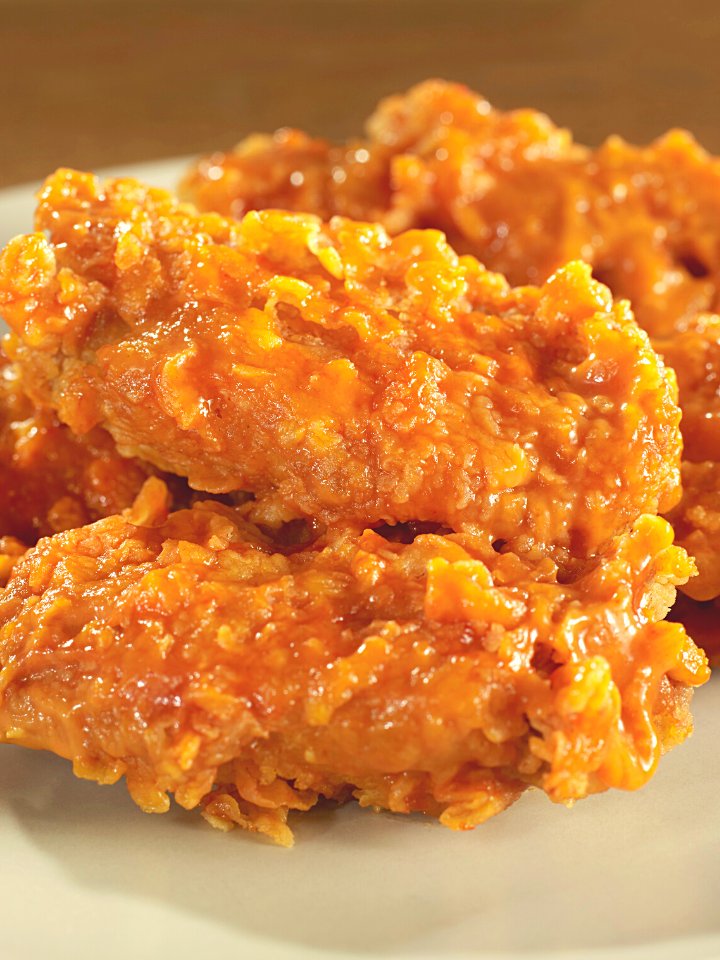 Air Fryer Honey-Garlic Chicken Tenders Recipe
Savor the perfect combination of a crunchy cornflake crust and a rich honey-garlic sauce with this chicken tenders recipe.
Ingredients
Chicken Tenders:
1 lb boneless, skinless chicken tenders
1/2 cup flour
2 large eggs, beaten
Cornflake Breading:
2 cups crushed cornflake cereal
1 1/2 tsp kosher salt
1 tsp black pepper
1 tsp smoked paprika
1/2 tsp cayenne pepper
1/2 tsp dried thyme
1/2 tsp onion powder
1/2 tsp garlic powder
Honey-Garlic Sauce:
5 cloves garlic, minced
1 1/3 cup honey
1/4 cup + 2 tablespoons soy sauce
2 tablespoons olive oil
3/4 teaspoon black pepper
Instructions:
Preparation: Preheat your air fryer to 375°F (190°C).
Cornflake Breading Mixture: In a large bowl, combine the crushed cornflake cereal with kosher salt, black pepper, smoked paprika, cayenne pepper, dried thyme, onion powder, and garlic powder.
Breading Process: Set up three separate stations: one with the flour, another with the beaten eggs, and the third with the cornflake breading mixture. For each chicken tender, first coat it in the flour, then dip it in the beaten eggs, ensuring it's well-coated, and lastly, roll it in the cornflake breading mixture.
Air Frying: Grease the air fryer basket lightly. Place the chicken tenders in the basket, making sure they don't overlap. Cook for about 10 minutes. Turn each tender and cook for another 8-10 minutes or until they are golden and crisp.
Sauce Preparation: In a saucepan, heat the olive oil over medium heat. Sauté the minced garlic until it's fragrant and lightly golden. Stir in the honey, soy sauce, and black pepper. Allow this mixture to simmer for around 7-10 minutes until it thickens slightly. Once done, remove from heat.
Serve: Present the crispy chicken tenders on a plate. You can either drizzle them with the honey-garlic sauce or have it on the side as a dipping sauce.
Craving more of these honey-garlic delights? Slide the image below onto your Pinterest. Because why just eat good food when you can pin it too?"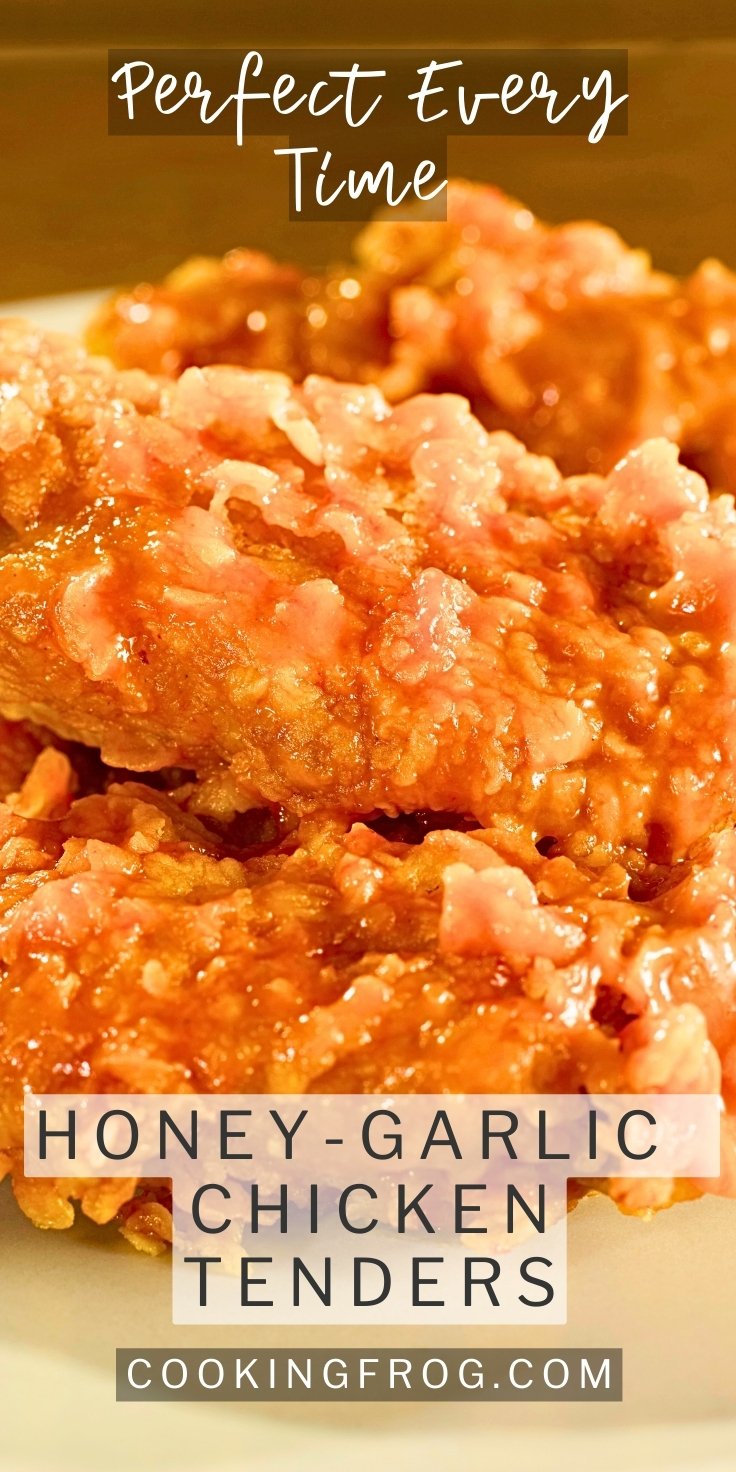 Variations on Crispy Honey-Garlic Air Fryer Chicken Tenders
1. Spicy Sriracha-Honey Blend: If you're craving some heat in your chicken, mix in 2 tablespoons of Sriracha sauce with the honey-garlic sauce for a delightful spicy kick.
2. Herb-Infused Breading: To the cornflake breading mixture, add one teaspoon of dried rosemary or dried basil for an aromatic herb twist.
3. Lemon-Zest Breading: Add the zest of one lemon to the cornflake breading for a refreshing citrus hint. This pairs especially well with a lemon-wedge squeeze right before serving.
4. Gluten-Free Variation: Replace the flour with almond flour or coconut flour for a gluten-free option. Ensure your cornflakes are also gluten-free, as some brands might contain malt flavoring, which has gluten.
5. Tangy Mustard-Honey Sauce: Combine two tablespoons of Dijon mustard with the honey-garlic sauce for a tangy variation that tickles the taste buds.
6. Sesame-Crusted Tenders: Sprinkle some white and black sesame seeds into the cornflake breading mix for an added crunchy texture and a nutty flavor.
7. BBQ-Honey Dip: Mix in 1/4 cup of your favorite BBQ sauce with the honey-garlic sauce for a smoky twist. It's an unexpected blend that offers a depth of flavors.