Today we're making the easiest Air Fryer Corn Dogs recipe you will find! These crispy air fryer corn dogs make a great meal for family or friends and are one of those meals that taste better in the air fryer. This is because the air fryer makes it extra crispy and delicious.
What is a Corn Dog?
These air fryer corn dogs are hot dogs on sticks that have been dipped in cornmeal batter—then cooked in the air fryer. The hot dogs can be hung upside-down, dipped in batter, and then fried until they are golden brown.
Once the corn dogs have been cooked, they are taken out of the air fryer and are ready to be served with your favorite dip. You are also free to use store-bought frozen corn dogs; the cooking process is the same.
We are going to jump right into this delicious and crispy air fryer corn dogs recipe, but if you want to know all the tricks and tips, be sure to read the whole article.
Be sure to check these Air-Fryer recipes also:
Air Fryer Frozen Chicken Wings
Air Fryer Corn Dogs Recipe
Are you craving a nostalgic, golden-brown delicacy that's tasty and convenient? Look no further! Welcome to our Air Fryer Corn Dogs Recipe, where we bring you the excellent fusion of a crisp, sweet cornmeal coating encasing a juicy, succulent hot dog.
Ingredients
4 Hot Dogs

12 TBSP of All-purpose flour

10 TBSP of Yellow cornmeal

1/2

tsp of

baking soda

1/2

tsp of

Salt

2

tsp of

baking powder

1

tsp of

sugar

1 Cup of buttermilk

2 Cups of breadcrumbs

Cooking spray

2 eggs
Instructions
Whisk together flour, baking powder, baking soda, cornmeal, sugar, and salt in a bowl.
Whisk together eggs and buttermilk using another bowl.
Mix the egg and buttermilk into the dry ingredients. Combine. Mix well.
Move the batter into a tall glass, allowing enough space to dip the hot dogs without clogging the glass.
Prepare the breadcrumbs by adding them to a bowl.
Using a knife, cut the dogs into halves. Then, skewer the hotdogs onto wooden sticks.
To coat the hot dogs, roll them in flour and shake off any excess.
Dip the hot dogs in the batter, then coat them with breadcrumbs. Use your hands to gently press the breadcrumbs onto the hot dogs.
Adjust the temperature to 375F and the timer to 8 minutes
Take a cooking spray and spray on the hot dogs, and place in a single layer in the basket. Be careful not to overload your air fryer. If necessary, cook in batches.
After four minutes, remove the basket from the oven and turn the corn dogs so the other side cooks. Return the corn dogs to the air-fryer.
Check the basket every 1 minute for heat.
Serve and enjoy!
Pin the image below if you've liked these Air Fryer Corn Dogs recipe!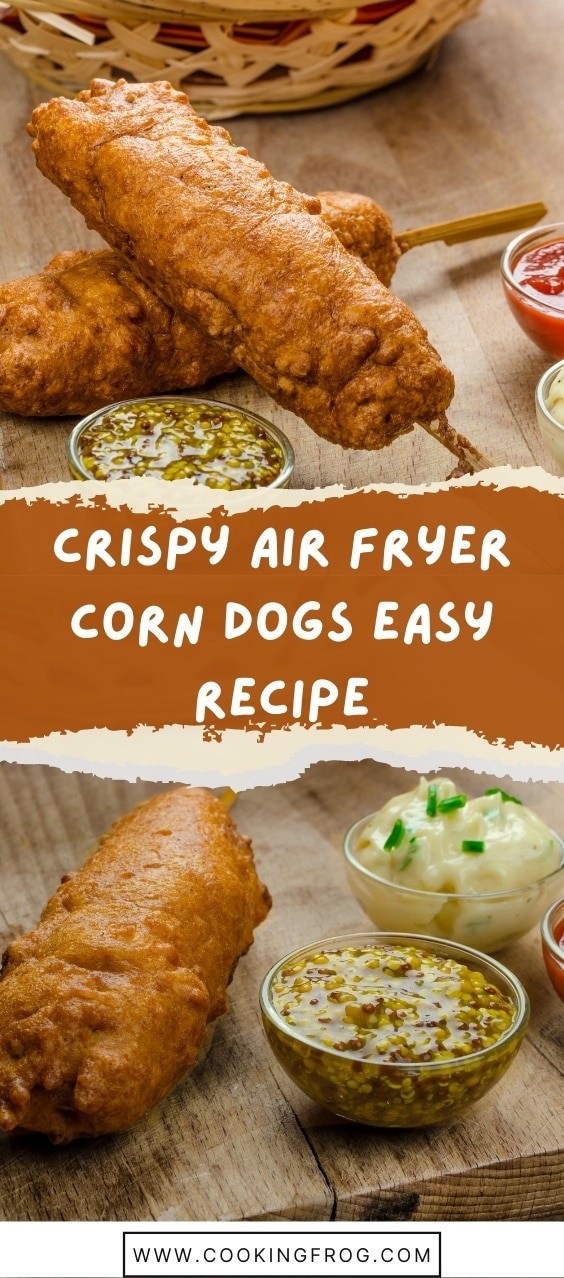 How to make Air Fryer Frozen Corn Dogs
You can use the same recipe from above minus the ingredients. Premade frozen corn dogs are also available for a quick snack or meal.

The air fryer cooks the corn dogs perfectly, resulting in a crispy exterior and tender inside.

Take the corn dogs from the freezer and place them in the air fryer.

You should not overcrowd your air fryer.

Follow the same cooking instructions.
Air Fryer Corn Dogs: Why You'll love them
The corn dogs are crunchy and sweet, with a soft, savory middle. Even though you are right at home, these corn dogs will transport you to the carnival.
This recipe is perfect for the air fryer.
This recipe will help you if you've ever had a corndog at a carnival or fair and wondered why you couldn't make it at home. These corn dogs are my favorite air-fryer snack.
Perhaps you have bought frozen corn dogs from the grocery store and tried to cook them in the oven or microwave. The insides were hard, chewy, or mushy.
This air fryer corn dogs recipe takes this simple snack and classic meal to a whole new level. These can be made in an air fryer for a crispy texture and even heating. The air fryer does not use oil for cooking; you only need to sprinkle them with cooking spray.
Air-frying corn dogs result in crispy exteriors and delicious, quick meals that are perfect for busy weeknights.
They are so good you will be convinced you have found the best secret to your life. To make them irresistible, you can add your favorite dip.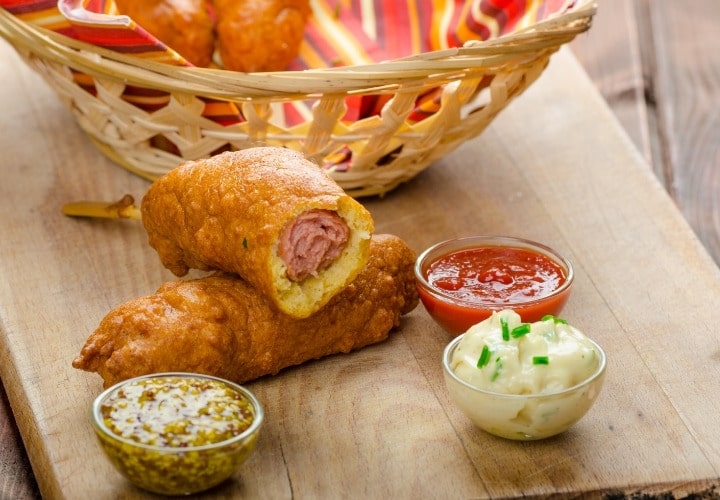 FAQ
What cornmeal should you buy for Corn Dogs?
Fine yellow cornmeal is recommended. Avoid using "medium" or "course" cornmeal. They will have too many granules, and they won't work. It is usually finely ground, according to my experience.
What dip should I use for Corn Dogs?
When dipped into your favorite sauce, these corn dogs can become the delicious meal you expect. You can use ketchup, mayonnaise, mustard, relish, ranch, honey mustard, Barbecue sauce, garlic aioli, or special sauces like Chick Fil A sauce or Arby's Bronco Berry sauce.
Can I Refrigerate Corn Dogs?
Frozen corn dogs don't keep well because they are pre-cooked, then reheated in an air fryer. You can refrigerate them, but they will lose their texture. Cooked corn dogs are best eaten immediately.
Is there a gluten-free alternative for Corn Dogs?
Many brands make gluten-free corn dogs. Foster Farms and Applegate Naturals are two examples. There are many options available to meet any dietary restrictions. This recipe will work with your favorite corn dogs!
Can I make vegan Corn Dogs?
You can still enjoy this tasty meal with vegan corn dogs. Morning Star Farms or Field Roast makes delicious plant-based corn dogs, which can be used in this recipe.
Who is the inventor of Corn Dog?
Understandably, many want to be the corn dog inventor, as who wouldn't love to be a US hotdog hero?
Although many people claim to have invented the deliciousness of hot dogs, no one can be held responsible. Brothers Neil and Carl Fletcher introduced the "corny dog" to the Texas State Fair in 1942. The people went wild! Although the Fletcher brothers thought their idea was unique, they weren't the first to cook a corndog.
The earliest source we could find is husband and wife Versa and George Boyington; they claimed that they invented the corndog in Oregon's Rockaway Beach in the 1930s.
George came up with the idea to make "buns" by coating the franks with a pancake batter mixture. His invention was called the Pronto Pup.