Seafood boil with Garlic butter Sauce is one of the most delicious recipes. This spicy sauce can be added to any seafood boil. You can also use it on the side for dipping the deliciousness in.
Seafood Boil Sauce
Many people simply throw the cooked seafood in melted butter and spice it up while it cooks. This easy recipe will allow you to cook seafood with a different seafood dipping sauce.
Gather ingredients for the Seafood Boil
Before we start making Seafood Boil, we must make sure you have all the ingredients. This makes cooking so easy! Here's what you will need.
Seafood: Shrimp, crab legs, and all other seafood.
Sausage: You can skip this ingredient if it is not your favorite. This recipe used beef sausage. In some recipes, they've used chicken sausage and meatless sausage to make this recipe.
Red potatoes: They are the best choice because they don't get so mushy. If you have ordinary (russet) potatoes, you can use them. Reduce the cooking time and boil time to make them mushy.
You can use corn on the cob frozen. I also use fresh corn on the cob. You can make more by cutting it in half, but you don't have to.
You can also add boiled eggs to your recipe. I have received photos of people adding broccoli and other vegetables. It's great! Get creative and create what you want.
Ingredients
5 clusters of Snow crab legs
16 oz of Shrimp
16 oz Andouille sausage
6-7 Corn on the cob
6 Red potatoes
3 TBSP of Garlic
1 Onion
1 Lemon
2 Cups of Butter
4 TBSP of Olive oil
2 cups of Chicken broth
1/4 tsp of Tabasco sauce
For Seasoning the Boiling Water
5 TBSP of Old Bay seasoning
1 whole Lemon juice
3-4 Bay leaves
Seafood Boil Sauce
2 Cups of Butter
4 TBSP of cup Olive oil
3 TBSP Old Bay seasoning
1 Onion
1 TBSP Red pepper flakes
3 TBSP of Garlic
1 whole Lemon juice
2 cups of Chicken broth
3 TBSP of Paprika
1 TBSP Cayenne pepper
1 TBSP Lemon pepper seasoning
¼ tsp of Tabasco sauce
Instructions
For
Seafood Boil
Take a large stockpot and fill it with water and leave enough space at the top for the seafood so it doesn't spill.

Add the bay leaves, old bay seasoning, and lemon juice.

Cook until it boils.

Add the red potatoes and corn to the seasoned water, and cook for 9-10 minutes.

Add the sausage and crab legs.

Cover the pot with a lid, and continue cooking for around 15 minutes.

Add the shrimp and boil the shrimp for additional 5 minutes, you'll know when it's cooked because the shrimp will turn pink.

Remove the water, and then take out the bay leaves.

Move the mixture to a serving dish, or place it in the stockpot.

Spread the garlic butter sauce over the seafood, and keep some of the delicious sauce for the dip.
Garlic Butter Sauce
Heat one stick of butter and olive oil in a large skillet on medium heat.

Sauté in the onions until they are translucent.

Sauté in the Garlic for about 25 – 30 seconds. Stir constantly to ensure the garlic doesn't get burned.

Add the lemon juice and seasonings.

You can adjust the level of spice by adding red pepper and cayenne to suit your taste.

Continue to add the remaining butter. Stir constantly and let the butter melt in a saucepan.
Use chicken broth if you like, and stir it into the mixture. Serve with your seafood, and/or reserve some for dipping.
Pin the image below if you liked this seafood boil sauce recipe!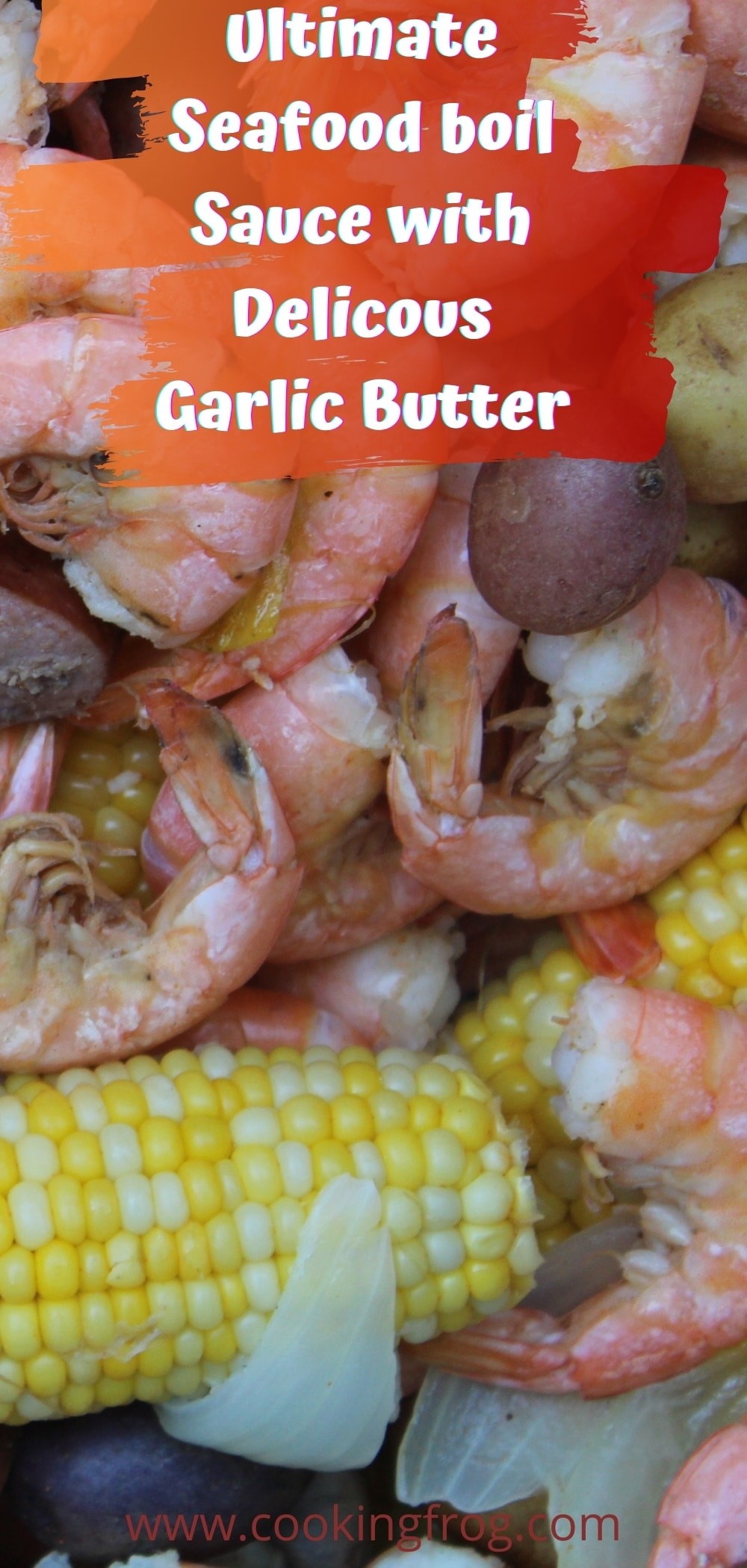 Frequently Asked Questions about Seafood Sauce
What is a seafood sauce?
A butter sauce that is made from butter and garlic and then flavored with herbs and spices, cooked seafood sauce is also known as butter sauce. This buttery and spicy recipe goes well with all seafood.
How to make your seafood sauce spicier
You can spice it up by adding more spices. This recipe will increase the heat by adding one tablespoon of Cajun spice to the mixture and another tablespoon cajun pepper.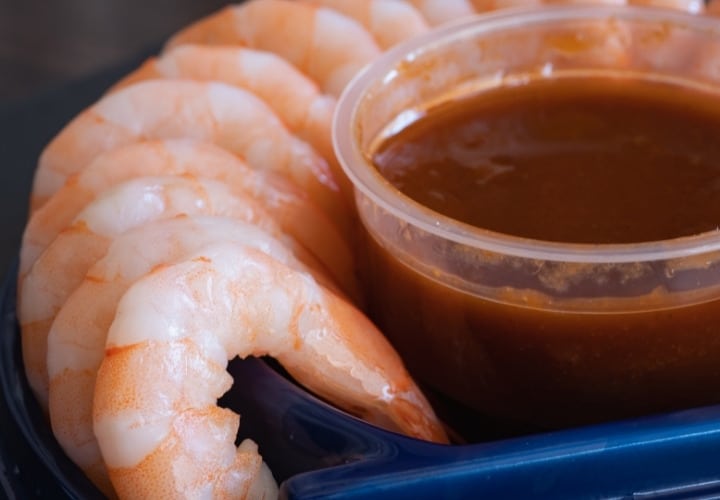 Seafood boil sauce versus Bloves Sauce
You can try Bloves sauce if you like, but this is a different sauce. Bloves sauce, a type of seafood sauce, is made by a Youtuber named Bloves. Bloves sauce is a combination of herbs and spices, with Worcestershire sauce, brown sugar, and chicken broth. This seafood sauce doesn't contain these ingredients.
Preservation, freezing and heating seafood boil sauce
This sauce can be stored in an airtight container for up to two weeks. Once ready to heat, place the sauce on the stove and cook until you are satisfied.
This sauce can be frozen for up to 5-6 months.
What to serve with seafood boil sauce
The sauce can be used as a dipping sauce for cooked seafood, or you can toss it in a pot of seafood. This sauce can also be used on steaks and vegetables, especially with cucumbers.
What spice blend do I need to cook the seafood?
This easy seafood sauce is delicious when you add lots of spices. Because it's a seafood butter sauce, you will need butter, lemon juice, onions, garlic, and butter.
A seasoning mix will be prepared with ingredients like garlic powder, complete spice, ginger, thyme and lemon pepper.
If you like spicy seafood sauces, the above amounts can be adjusted to increase their spice.
To make it even more flavorful, you can add red pepper flakes and spice from the old Bay to the mixture.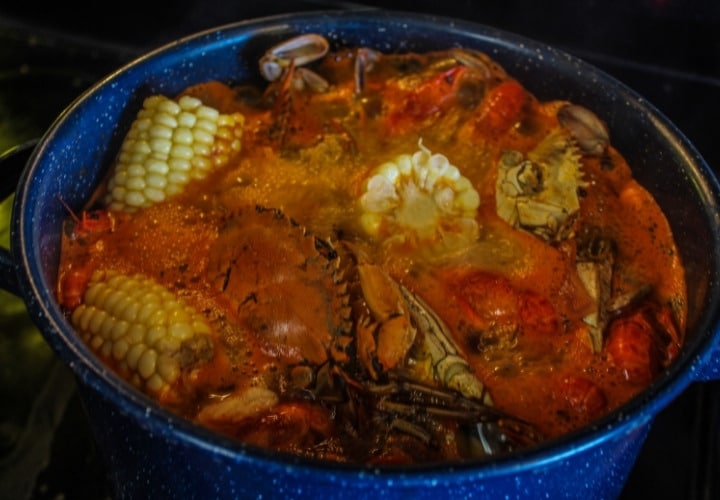 Different types of seafood sauce
Many other sauces can be made from the sauce mentioned above. They will go well with seafood, meat, and vegetables. Here are some suggestions:
Louisiana Seafood Sauce: My favorite. To make a Louisiana seafood sauce that pairs well with boiling seafood, you can leave the sauce alone and add bay leaves, this Louisiana Hot Sauce, and lemon slices.
Cajun Seafood Sauce:

Cajun seafood sauce: This sauce can be transformed by omitting the butter, onion, and garlic base and substituting Cajun spices for all other ingredients.
It is important to make a delicious sauce when you cook seafood. This will help to ensure that your seafood boils are flavorful.
This sauce is amazing and can be used with any type of seafood. This sauce is also great for meat and vegetables and is easy to make!
If you love this sauce, please share on your social media page to support my blog! Thank you!