Arby's Bronco Berry Sauce is a great way to get the flavor you desire. So today, we are going to make another amazing Copycat recipe from Arby's menu. And I guarantee this sauce will satisfy your taste buds like no other.
Once you try it, you'll never get enough of this sauce. Although the name contains "Berry" the recipe doesn't contain any fruit. In any case, the flavors of this sauce are unique, and it has limitless uses with various meals. Bronco berry sauce is a sweet and spicy jelly that can be used with all kinds of finger foods and sandwiches. We think there must be some goodness in this popular sauce.
Ingredients
1 cup water
1/2 cup ketchup
1/2 tsp of paprika
2 TBSP of sugar (brown)
4 TBSP of corn syrup
4 TBSP of white vinegar
1 tsp of garlic powder
3 TBSP of Pectin powder
A pinch of cayenne pepper
4 TBSP of red bell pepper, minced
1 TBSP of cornstarch
1/2 tsp of jalapeno peppers, canned
How to make Arby's Bronco Berry Sauce
Blend all ingredients in a blender for 15 to 20 seconds, except for the bell peppers, jalapeno peppers, and cornstarch mixture.
Place all ingredients, including bell peppers and minced jalapeno peppers in a small saucepan and heat on medium-low. Allow to simmer for 20 minutes, stirring occasionally.
Stir in the cornstarch mixture after twenty minutes. Let the sauce simmer for ten minutes on low heat until it thickens. Let cool on a plate.
The mixture will have a consistency similar to steak sauce. Keep the mixture in a sealed container in the fridge. This sauce makes a great dip sauce for hot wings and hamburgers.
Pin the image below if you like this sauce recipe!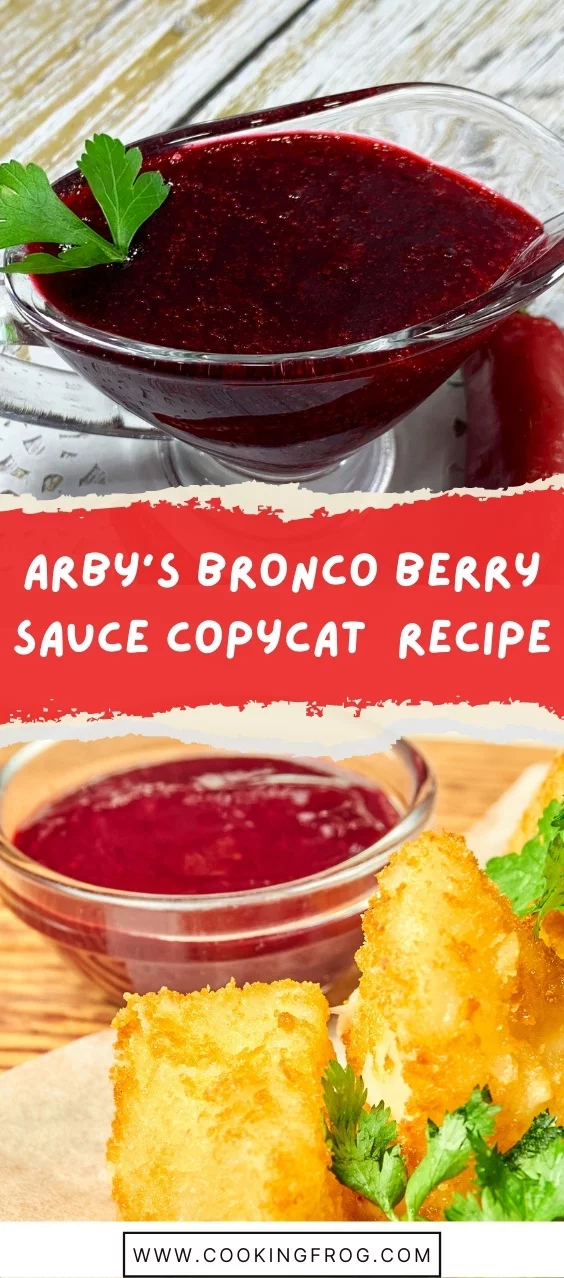 Can you buy Arby's Bronco Berry Sauce in the shops?
Sauces could be described as the heart of good cooking. Each sauce should have a unique flavor. Bronco berry sauce is just that. It has a distinct, tangy taste and everyone wants to know if they can purchase Arby's Bronco berry sauce in the shops, but sadly the answer is no. You have to order the food to get it. But as you can see, it can be easily made at home with this recipe.
Bronco Berry sauce – Make your next party more exciting with this delicious Sauce
Bronco Berry Sauce is a great way to spice up your New Year's or Christmas party menu. You can make a lot of tasty appetizers using a beautiful red sauce to get everyone excited.
Sandwiches are always a hit at parties, whether they're toasted and heated or on plain bread. Bronco berry sauce can elevate any sandwich to a whole new level, no matter what type it is, be it a snack, a main dish, or a meal for the picnic.
What is Arby's

?

'America's Roast Beef', in short, is an American fast-food chain that specializes in sandwiches. The company was founded in Ohio in 1960.

Arby's sells bread that is vegan. Many sauces are also available to accompany this bread, such as Red ranch sauce, Vinaigrette dressing, and Bronco Berry Sauce.

The word sandwich is now more widely understood by the name 'Arby's.'

These sauces are unlikely to be available in supermarkets. Arby's does sell sauces, but it's only for a limited time. These sauces are not available for long periods of time, and you will never see them again.

Arby's is known for its classic Roast Beef sandwiches, as well as its Beef 'n Cheese sandwiches. It is the Market Fresh line, with its chips and fries, Greek Gyros, and Jamocha shakes, that are a drawcard. . Bronco sauce is also available in other countries.

Bronco berry sauce, a red sauce that is great for dipping finger food, can be found in the Bronco section. The red-colored sauce is sweet and sour, with a strange red color. Most parents wouldn't allow their children to consume it. Scientists have studied the link between food coloring and hyperactivity in children. It is easy to keep the food coloring away from children if this is the case.
Arby's Bronco Berry Sauce Copycat Video Recipe