If you like brats and like how easy it is to use an air fryer, you're in for a treat. Today, we'll show you how to make tasty, easy air fryer brats.
This recipe is great for a quick and tasty meal and a great way to enjoy the classic flavors of brats sausages without having to fire up the grill. So, if you want to try something new and tasty, let's start and learn how to make air fryer brats!
By far, the fastest way to cook brats is to air fry them. Whether you cook them by themselves or with onions that are already cooking, they will be ready to eat in just 15 minutes. So turn on your air fryer and get ready for the fastest and tastiest brats you've ever had.
With this Air Fryer Brats recipe, you can enjoy the taste of ease.
Are you sick of soggy brats that aren't cooked enough? Air-frying is the answer, so stop looking. This magical kitchen tool will make the outside of your brats crispy and golden while keeping the inside juicy and tasty. Also, depending on the size of your air fryer, you can cook up to a dozen brats at once, so you can feed a lot of people.
Not only is air frying faster and easier than using the oven, but it also requires less effort on your part. No need to stand over the grill and constantly flip the brats – the air fryer will do all the work for you. And the best part?
There's almost no prep, and clean-up is a breeze. You can cook your brats fresh or frozen – add a few extra minutes to the cooking time if they're frozen. When it comes to throwing a party, nothing beats having a DIY brat station where your guests can build their own bratwurst creations. Set up a "brat bar" with various toppings, condiments, and sides for your guests to choose from.
Make this currywurst sauce for your brats for a truly authentic German culinary experience.
Using an air fryer, you can easily cook up a batch of perfectly crispy bratwurst sausage.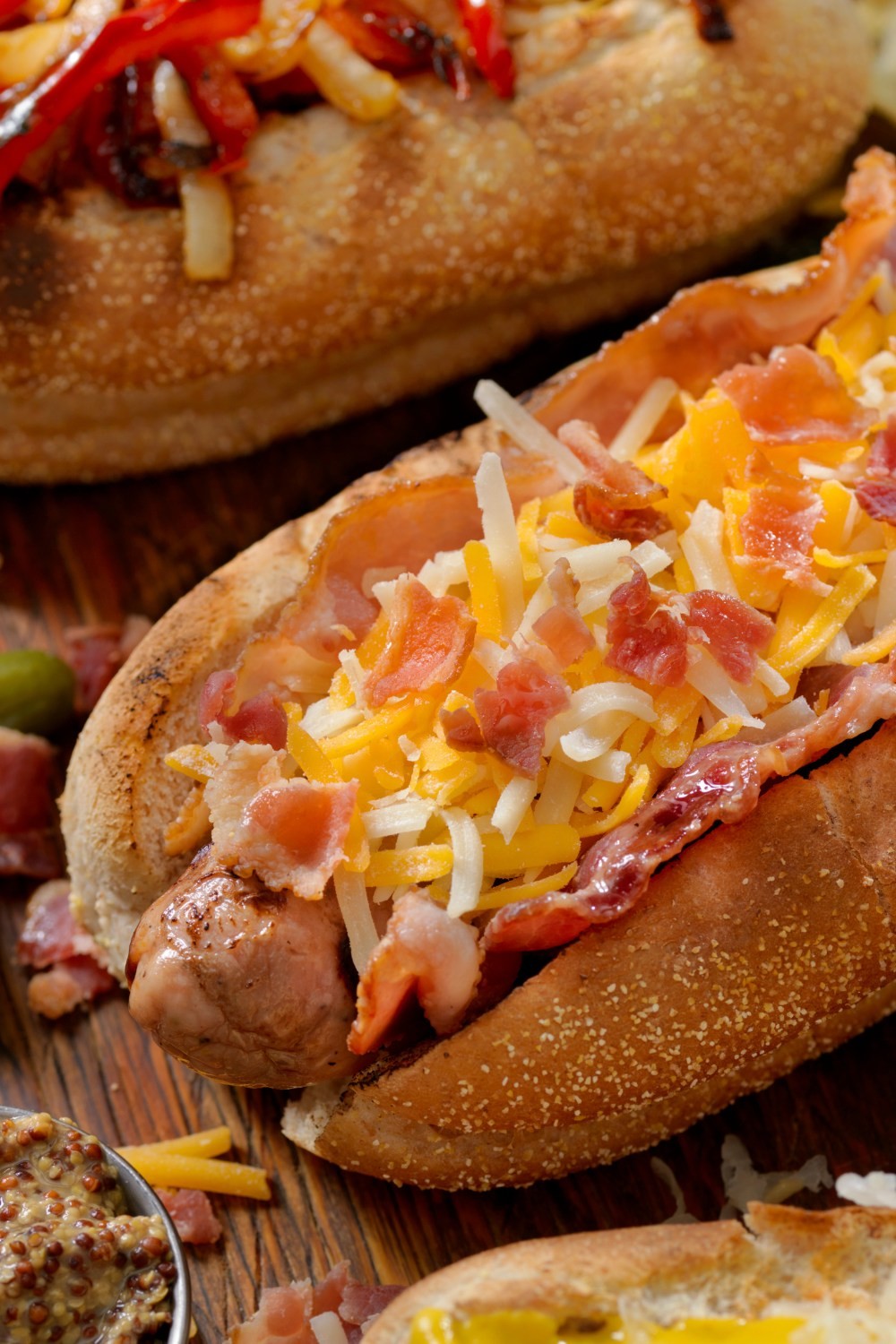 Ingredients you'll need
Bratwurst sausages: German brats are usually made with raw pork and have a natural casing that gives them a satisfying "burst" when you start biting into them. Even though they can be made with veal, and beef, most of the time, pork is used. These tasty treats are a staple of German cuisine and are sure to add some flavor to any meal.
If you're feeling adventurous, why not try a bratwurst with a zesty blend of caraway, garlic, and marjoram? Or if you're feeling really wild, go for a Louie's Finer Meats bratwurst and let your taste buds go on a flavor adventure! Just remember: the only thing better than a good bratwurst is a bratwurst with a side of laughs.
Buns: Instead of just a plain old bun, how about a bratwurst nestled in a hearty and sturdy roll? You could use bakery rolls, German brötchen, brioche buns, hamburger buns, or even hoagie rolls.
If you like these brats, I'm sure you will love this Air-fryer kielbasa, Polish sausages.
How to make Air-Fryer Brats
In a flash, your brats will be perfectly cooked in the air fryer! No need to wait for the oven to heat up – pop them in the air fryer and they'll be ready to enjoy in no time. Say goodbye to boring, time-consuming oven cooking and hello to delicious, speedy air fryer brats!
Step 1: Set the air fryer to 360 degrees Fahrenheit for 5 minutes to heat it up. In order for them to brown, they must be in a single layer. They should also have some space on both sides to allow for equal cooking.
I strongly advise using a digital meat thermometer to check the internal temperature of air fryer brats, which will take between 12 and 15 minutes to cook thoroughly and reach at least 160 F. Brats may be cooked to a temperature of 190 F because of their fat content.
Step 2: Before serving, take the brats out of the air fryer and let them rest for three to five minutes. To make every mouthful of meat juicy and moist, the fluids must be redistributed throughout the flesh for at least five minutes. Enjoy!
Onions and peppers variation
Put a sliced bell pepper and half an onion in a bowl. Sprinkle with salt and pepper, and add a tablespoon of olive oil. Mix everything together, and then put it and some bratwursts in an air fryer. To finish the dish, follow the remaining steps in the recipe.
Beer Brats in an Air-Fryer
If you wish to make beer brats in an air fryer, it's very easy. An option is to purchase beer brats that have already been marinated in a delicious and rich beer mixture. This will give your meal an extra depth of flavor and make it truly unique and satisfying. These days, you can find a lot of bratwursts that have already been flavored.
For home marinating:
Pour one can or bottle of beer into a shallow dish. Put the brats that haven't been cooked into the beer and let them sit there for 30 minutes. After 30 minutes, take the bratwurst out and keep cooking according to the brats directions in this recipe!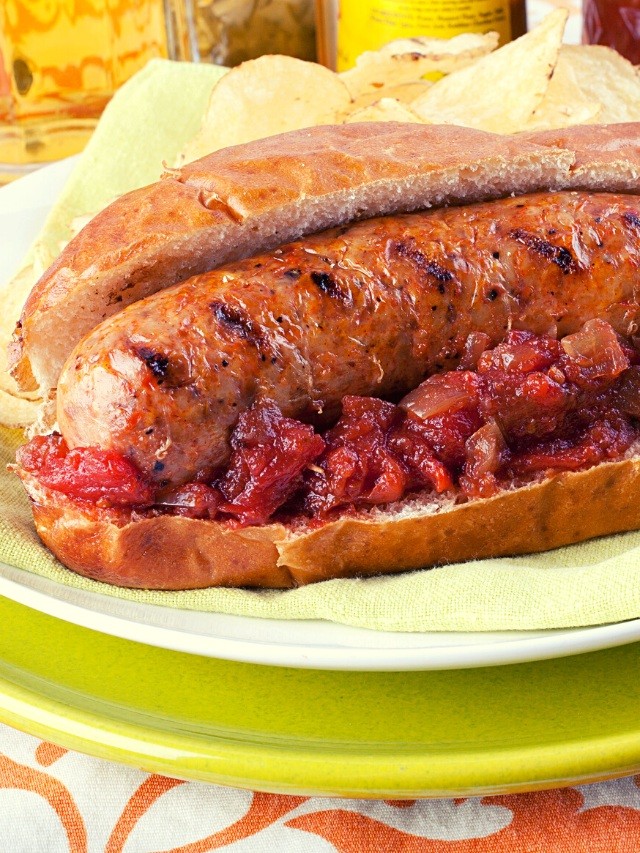 Brats Variations and Toppings
When it comes to simple yet delicious toppings, sauerkraut, onions, and mustard are always at the top of our list. But if you're looking to mix things up, here are a few more of our favorite options:
How about trying caramelized onions or adding chopped bell peppers to your air fryer for the last minutes of cooking? This will give your dish a unique and delicious twist! Plus, it's easy to add color and flavor to your meal. Give it a try and see how it transforms your dish into something truly special.
Elevate your sandwich game by adding some tangy, crunchy pickles! Try sweet or dill pickles, pickled red onions, or relish to boost your brats.
How about spicing up your brats with a generous dollop of your favorite cheese or tangy ketchup? Or why not try a new burger sauce to add some extra flavor to your meal? You can also add some bacon bits; why not? The possibilities are endless!
Air Fryer Brats Recipe
Ingredients
1 package of brats, uncooked (I use Louie's Finer Meats brat)
optional – onions, beer, and peppers
Instructions
Set your air fryer to 360 F for 5 minutes to heat it up.
Distribute the bratwurst evenly as you add them to the air fryer basket. It will take 12 to 15 minutes to cook the sausages in an air fryer till the internal temperature is at least 160 F. Brats keep juicy until an internal temperature of 190 F, so feel free to cook them longer to attain the desired level of browning.
There is no need to flip brats over because the recipe calls for fast cooking, but you may if you wish.
Onions and peppers variation
Cut up one bell pepper and half of an onion and put them in a bowl. Combine the veggies with 1 teaspoon olive oil, 1/2 teaspoon salt, and 1/3 teaspoon ground black pepper.
Place the bratwurst and the seasoned vegetables in the air fryer, making sure to spread the peppers and onions out around the sausages. Proceed with the rest of the steps from the recipe.
These bad boys are packed with flavor, and cooking them in the Air-Fryer ensures that they're juicy and succulent every time. So go ahead, share the love and pin this amazing recipe to your Pinterest board! Your taste buds (and your followers) will thank you.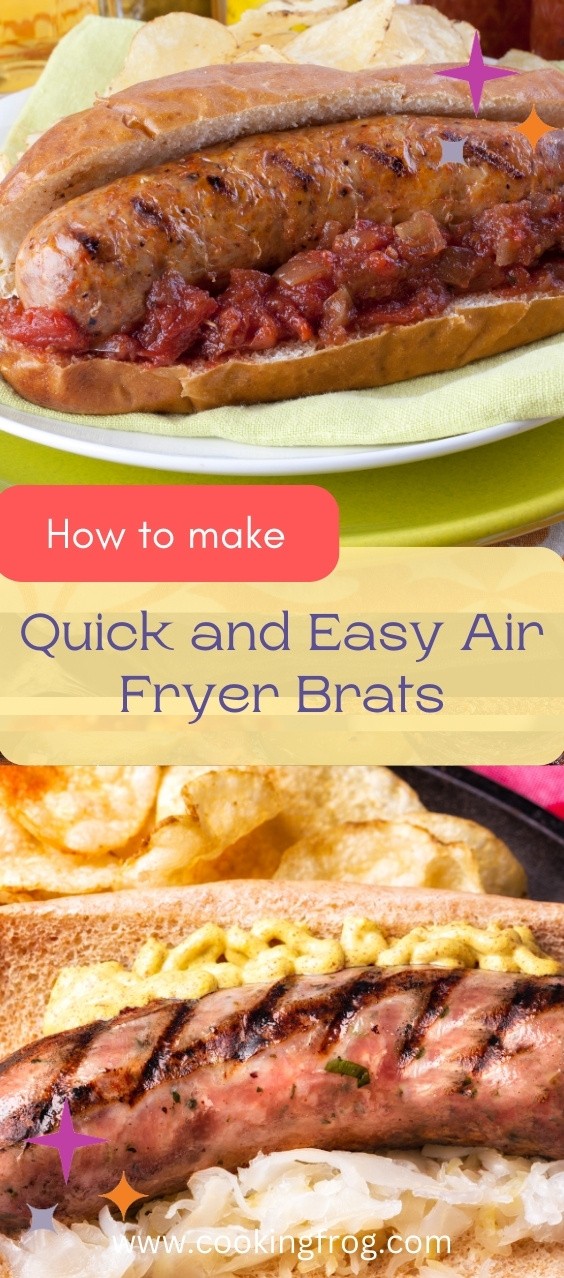 Cooking time for frozen brats in the air fryer
When you cook frozen bratwurst in an air fryer, you can expect a cooking time of around 16-17 minutes. It's important to keep an eye on the internal temperature of the bratwurst, using a meat thermometer, to ensure that they reach at least 160 degrees Fahrenheit.
This is especially important when cooking beer brats, as the extra moisture can affect the cook time. To be safe, add an extra 3-5 minutes to the cooking time to ensure that your bratwurst are cooked to perfection.