Craving some Mexican flair tonight? These chicken fajitas, made in the air fryer, are your ticket to a quick yet flavorful dinner. The homemade seasoning adds a touch of authenticity, ensuring every bite is as good as your favorite restaurant's.
When it comes to whipping up a quick and delightful dinner, nothing beats the convenience of an air fryer. And if you're a fan of fajitas, you're in for a treat. Let's dive into a revamped version of the classic chicken fajitas optimized for the air fryer. This dish not only promises a burst of flavor but also ensures a nutritious meal option for those busy weeknights.
Making Your Own Fajita Seasoning
Store-bought fajita seasonings often contain additives and preservatives. Why not craft your own at home with spices you trust? Making your seasoning ensures a fresh and authentic taste. Plus, it's economical and free from unwanted chemicals. This blend is versatile and can be used for various dishes beyond fajitas.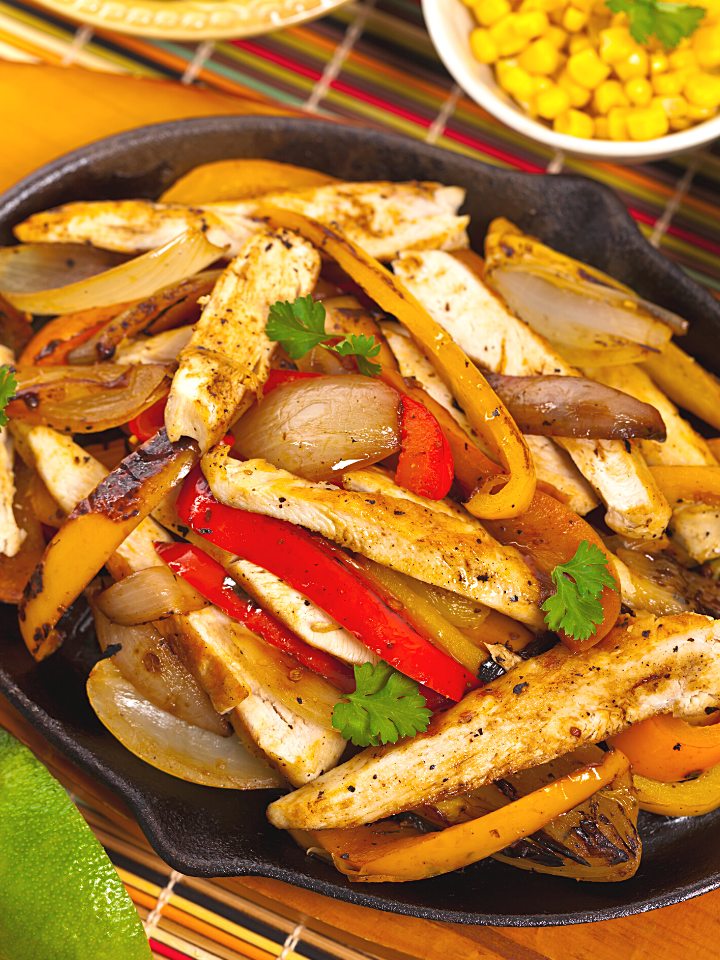 Air-Fryer Chicken Fajitas Recipe
Ingredients:
For the Homemade Fajita Seasoning:
2 tsp chili powder
1 tsp paprika
1 tsp onion powder
1 tsp garlic powder
1 tsp ground cumin
1/2 tsp oregano
1/2 tsp cayenne pepper (adjust for heat)
Salt and black pepper to taste
For the Chicken Fajitas:
1 lb of chicken breasts, sliced into elongated pieces
1 red bell pepper, cut into strips of about ½ inch
1 yellow bell pepper, sliced into approximately ½ inch strips
1 green bell pepper, divided into strips close to ½ inch
1 red onion, partitioned into wedge sections
1 tbsp of cooking oil.
Instructions:
Making the Fajita Seasoning: In a small bowl, combine chili powder, paprika, onion powder, garlic powder, ground cumin, oregano, cayenne pepper, salt, and black pepper. Mix well.
Preparation: Preheat your air fryer to 390°F (200°C).
Seasoning the Chicken and Veggies: In a large bowl, drizzle oil over the chicken strips. Sprinkle the fajita seasoning over the chicken and vegetables, ensuring they're well-coated.
Cooking: Place the seasoned chicken and veggies in the air fryer basket. Cook at 390°F (200°C) for 15 minutes, shaking the basket halfway through.
Serving: Serve your fajitas with warm tortillas and your choice of toppings, such as guacamole, pico de gallo, or avocado slices.
Loved these fajitas? Share the image below on Pinterest and spread the foodie love. Trust me, your friends will thank you!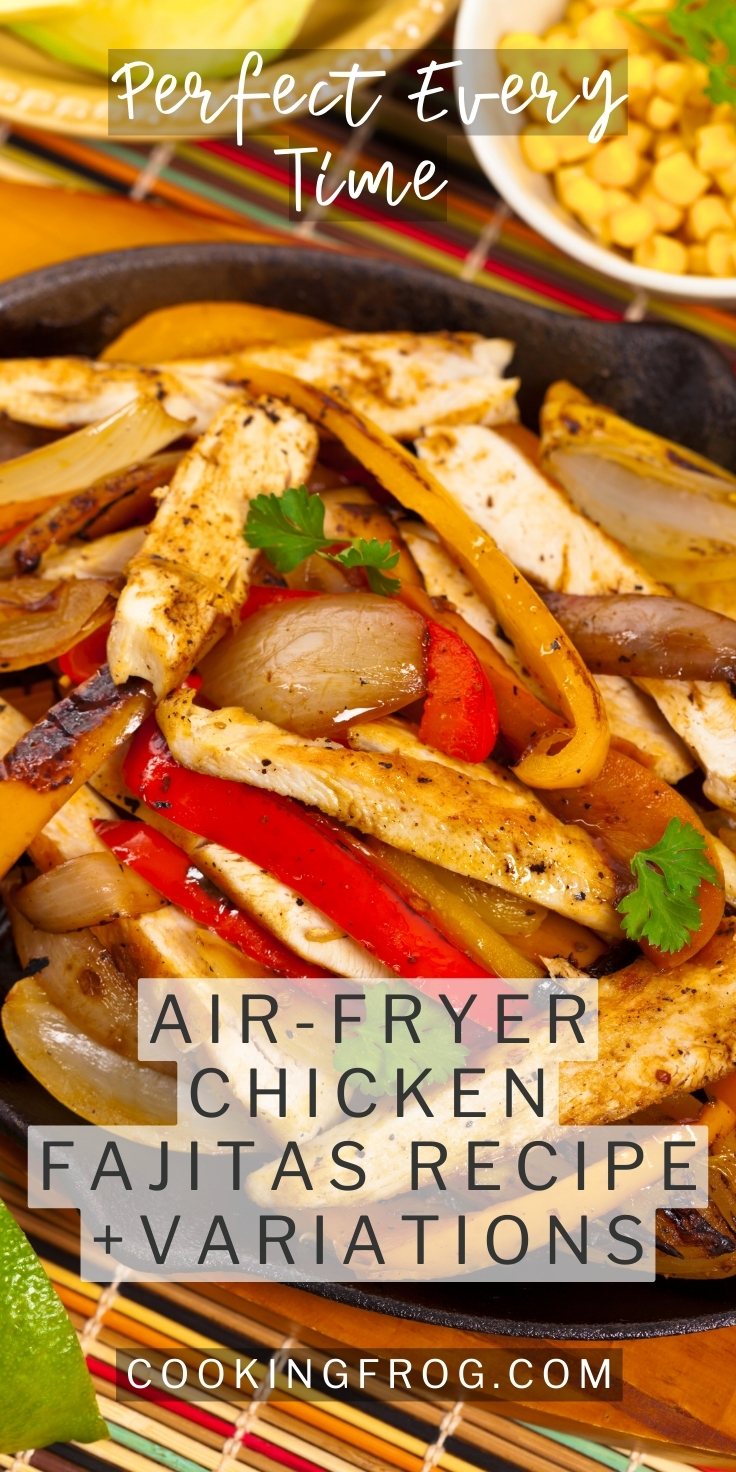 Chicken Fajitas Variations:
1. Spicy Chipotle Fajitas: Add 1 teaspoon of chipotle powder to the seasoning mix for a smoky and spicy kick. Top with a chipotle mayo drizzle for added flavor.
2. Tropical Fajitas: Mix in 1 cup of diced pineapples with the chicken and peppers. The sweet and tangy pineapples complement the spices beautifully. Garnish with fresh cilantro.
3. Fajita Bowls: Instead of tortillas, serve the fajita mix over a bed of cooked quinoa or rice. Add black beans, corn, and a dollop of sour cream to make it a hearty bowl.
4. Cheesy Fajitas: Sprinkle shredded Monterey Jack or cheddar cheese over the cooked fajitas while they're still hot. The melt-in-your-mouth cheese adds a creamy texture.
5. Veggie Delight: For a vegetarian version, replace chicken with firm tofu or portobello mushrooms. Make sure to press the tofu to remove excess water before marinating.
6. Surf 'n Turf Fajitas: Combine the best of both worlds by adding shrimp to the chicken mix. Ensure the shrimp are deveined and tail-off. They'll cook quickly, so add them halfway through the air frying process.