Your Air-Fryer Kielbasa can be ready to serve fast and effortlessly in less than 10 minutes of preparation and cooking! No oil is used in this fast, easy, hands-off method of cooking Polish sausage, which can be eaten as an appetizer or combined with other foods to form a whole supper. My new favorite method for cooking Kielbasa sausages is in the air fryer.
This recipe for Air Fryer Kielbasa is quick and simple to prepare, whether I cook the sausages whole or in slices. If you were unsure how to cook Kielbasa, this simple, primarily hands-free approach will save you from slaving away over a hot stove or heating your home with an oven.
Check out these fantastic Polish dishes:
Homemade Polish Kluski Noodles Easy Recipe
What is Kielbasa?
The Polish name for sausage is kielbasa. This Polish sausage is delicious and is used in a wide range of dishes, such as adding it to meals like the well-known New Year's black-eyed peas dish, making air-fried sausage and peppers, or this recipe for air-fried sausage and potatoes.
Traditionally, pork or veal is used to make kielbasa. However, various types of meat, like chicken or turkey, can be used to make it. After that, it is spiced with garlic and other ingredients.
This Polish sausage tastes fantastic and may be grilled, baked, pan-fried, or boiled. It is often located in your preferred grocery store's refrigerator section in the United States.
These smoked sausages are suited for low-carb, Keto, and gluten-free diets. They make a fantastic side dish of fried potatoes, mashed potatoes (almost any kind of potatoes, really), veggies, rice, eggs, and pasta. Most of all, they go flawlessly with these Polish Cabbage Pierogi.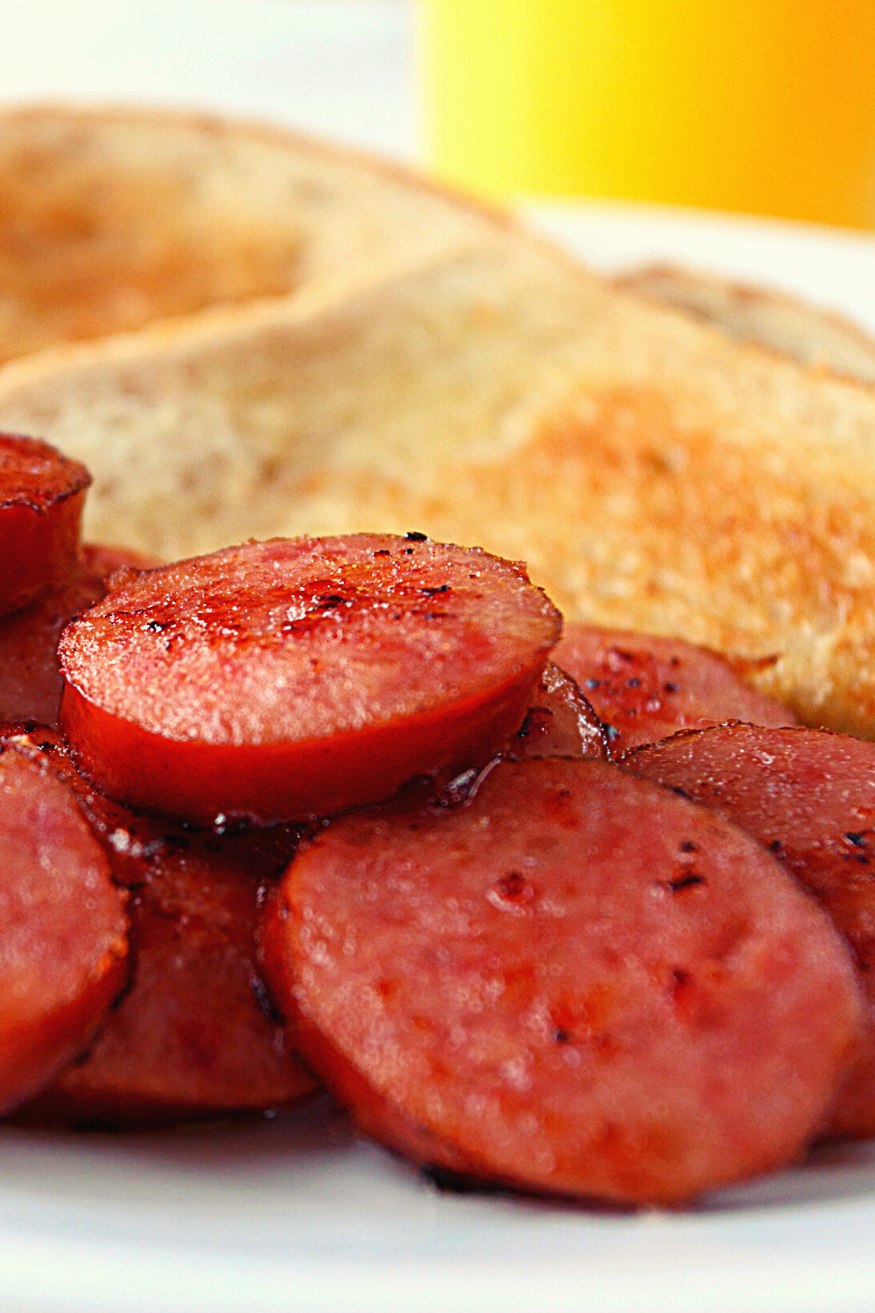 Recipe for crispy air-fried kielbasa.
Kielbasa cooked in the air fryer consistently has a crispy outside and juicy inside. The draining action of the air fryer basket aids in removing the fat that escapes from these polish sausages while they cook. This is a significant benefit since, unlike when cooked in a pan, it isn't frying in its fat.
The good news is that your outcomes will remain quite comparable. Our air fryer makes our morning sausages taste better.
Check out this recipe and see how you can make beer-battered kielbasa sausage!
Why is this air-fried kielbasa so excellent?
Quick and straightforward: It is prepared quickly and is a simple dish suitable for beginners. Is your air fryer intimidating you? You'll be operating your air fryer like a pro in no time if you give this recipe a try today.
Everyone will love it: These smoked Kielbasa sausages disappear pretty quickly. Both children and adults enjoy it, especially when served with fried potatoes or bacon and scrambled eggs if you feel fancy.
Yummy: These are incredibly nice and wonderful. If you give them a try, they could be impossible to resist.
Adaptable: Can be served with several side dishes or eaten on its own. Nearly anything may be matched with these.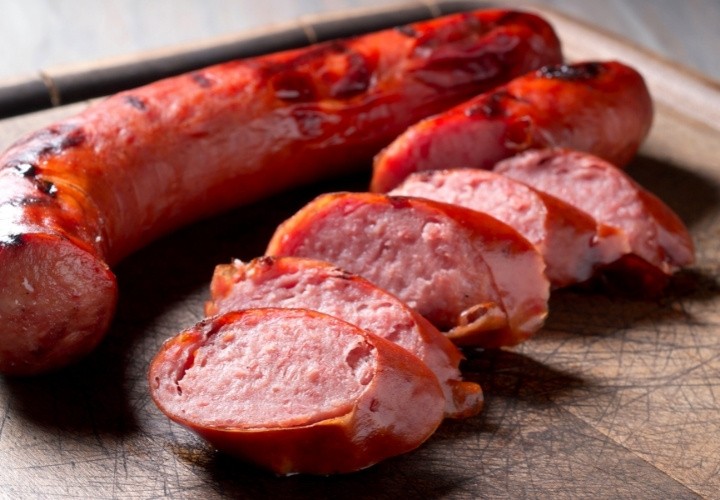 How long should Kielbasa be cooked in an air fryer?
Whether it is being cooked whole or in slices will determine this. Slices will take 7 to 8 minutes to cook, while the entire might take up to 9 minutes.
Cooking kielbasa in the Air-Fryer
Like any other sausage, kielbasa cooks well in an air fryer and only needs about 10 minutes to achieve that perfect crispy, slightly burnt outside.
How to make whole kielbasa sausage rope
Put the entire kielbasa sausage in the basket or rack of the air fryer. Turn over after 4 minutes and continue cooking for 5 minutes, or to the desired level of crispiness, at a temperature of 380°F/190°C.
Kielbasa cut into pieces.
Sliced sausages should be placed in the air fryer basket. Adjust the timer to 380°F/190°C, cook for 4 minutes, then shake the basket and cook for an additional 4 minutes. After two minutes of resting, serve.
Polish sausage brands (Kielbasa brands)
Below are the best brands for the Polish Kielbasa sausages:
How to Store and Reheat Kielbasa sausages?
In an airtight container, kielbasa leftovers may be kept in the fridge for up to 3 days. They can then be reheated in the microwave or an air fryer.
Share the image below to your Pinterest board if you like this Air-Fryer Kielbasa recipe!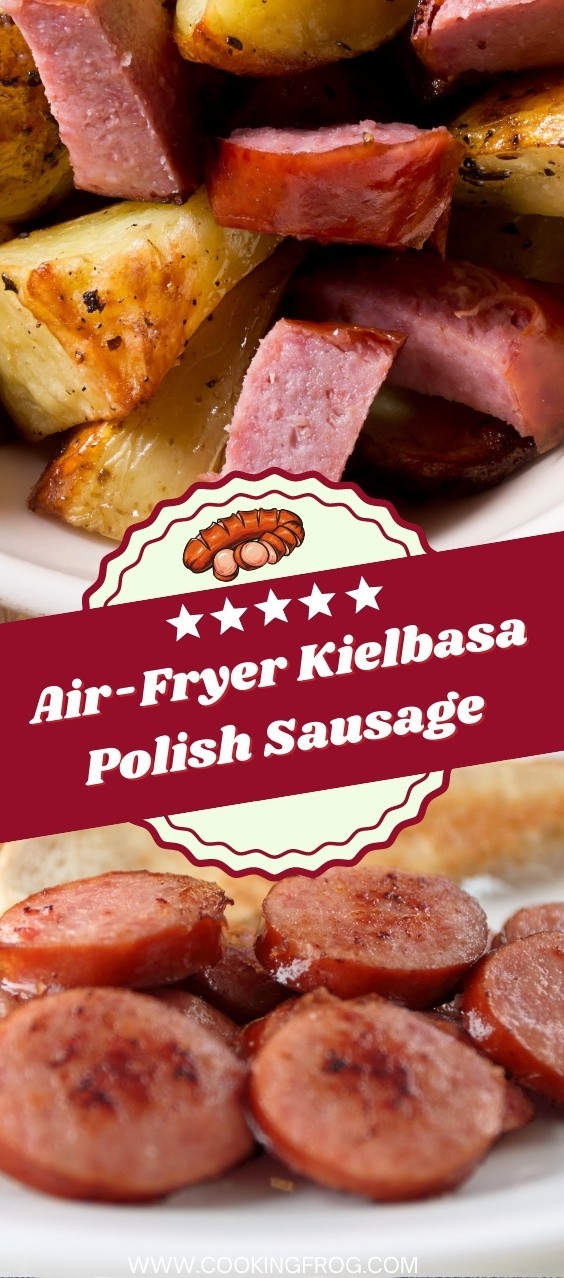 Air Fryer Kielbasa Recipe
My new favorite method for preparing Kielbasa sausages is in the air fryer. This Air Fryer Kielbasa recipe is quick and simple to prepare, whether I cook the sausages whole or in slices. If you've been pondering how to cook Kielbasa, this simple, primarily hands-free approach will save you from slaving away over a hot stove or heating up your home with an oven.
Ingredients
1 Whole Smoked Kielbasa sausage(or cut into slices)
black pepper, freshly ground (optional)
salt, to your liking(optional)
Serve with:
Instructions
Air-frying the entire sausage
Put the Kielbasa sausage in the air fryer basket, adjust the temperature to 380F (190C), and fry for four minutes.
Next, using a pair of kitchen tongs, flip the sausage over and cook for an additional five min.
Air-Frying Kielbasa slices
Place the Kielbasa sausage pieces in the air fryer and cook for four minutes at 380°F (190°C) before shaking the basket and continuing to cook for another 3–4 minutes, or until the sausage is cooked to your preference.
Important Tips for The Best Air-Fryer Kielbasa Sausages
Read through these recipe recommendations before making smoked kielbasa sausage in the air fryer to ensure you know how to proceed and get the best results!
Removing the skin or casing from the kielbasa before cooking is preferable if it is something you cannot stomach. The kielbasa will have a chance to cook this way evenly, and you won't have to take them out later.
There are numerous kinds of kielbasa; you can see the list of our favorite brands in this article, which might have varied thicknesses. Your cooking time may differ somewhat as a consequence. You only need to keep a close eye on the kielbasa until the chunks reach the right level of crispness.
Since the kielbasa you are using has likely already been smoked, you don't need to worry about eating raw meat. In the unlikely event that the sausage you're using is raw, make sure you air-fried it well before eating it!
You may put the entire rope of kielbasa into the air fryer or chop it into little pieces. Remember that the cooking time can take a little bit longer if you don't cut the Polish sausage up.
Use a clean air fryer because sausage often contains more fat than other foods. This lessens the possibility of your air fryer emitting white smoke.
Nutrition
Calories: 181
Carbohydrates: 2.1g
Fat: 14g
Protein: 7.2g
Saturated Fat: 4.9g
Cholesterol: 34mg
Sodium: 653mg
Sugar: 1g