Prepare to bite into the most flavorful pork chop you'll ever have. These air-fryer pork chops are covered in a delicious garlic butter sauce and cooked to perfection in an air-fryer. The result is tender, juicy pork chops that are healthier than conventional fried pork chops and ready in no time.
If you enjoy our recipe for garlic butter pork chops, you should definitely try it in an air fryer. In addition to producing juicy, delicious pork chops, this method is more beneficial than baking in the oven. It has the mouthwatering garlic butter taste you love and an unbeatable texture.
Because of the air-magic fryer's abilities, every mouthful is juicy and soft. I promise that after you make this dish, you won't want to do things the same way again.
Best pork chops for air-frying
Want to make the best pork chop ever in your air fryer? You'll need thick, center-cut chops with the bone in. They take about 12-15 minutes to cook, which gives them the perfect charred outside.
Ensure to get pork chops at least 1.5 to 2 inches thick. Anything thinner won't be able to stay on the grill long enough to get that charred look. You will not be unhappy with the end result. These pork chops will be a success with their tasty, crispy outside.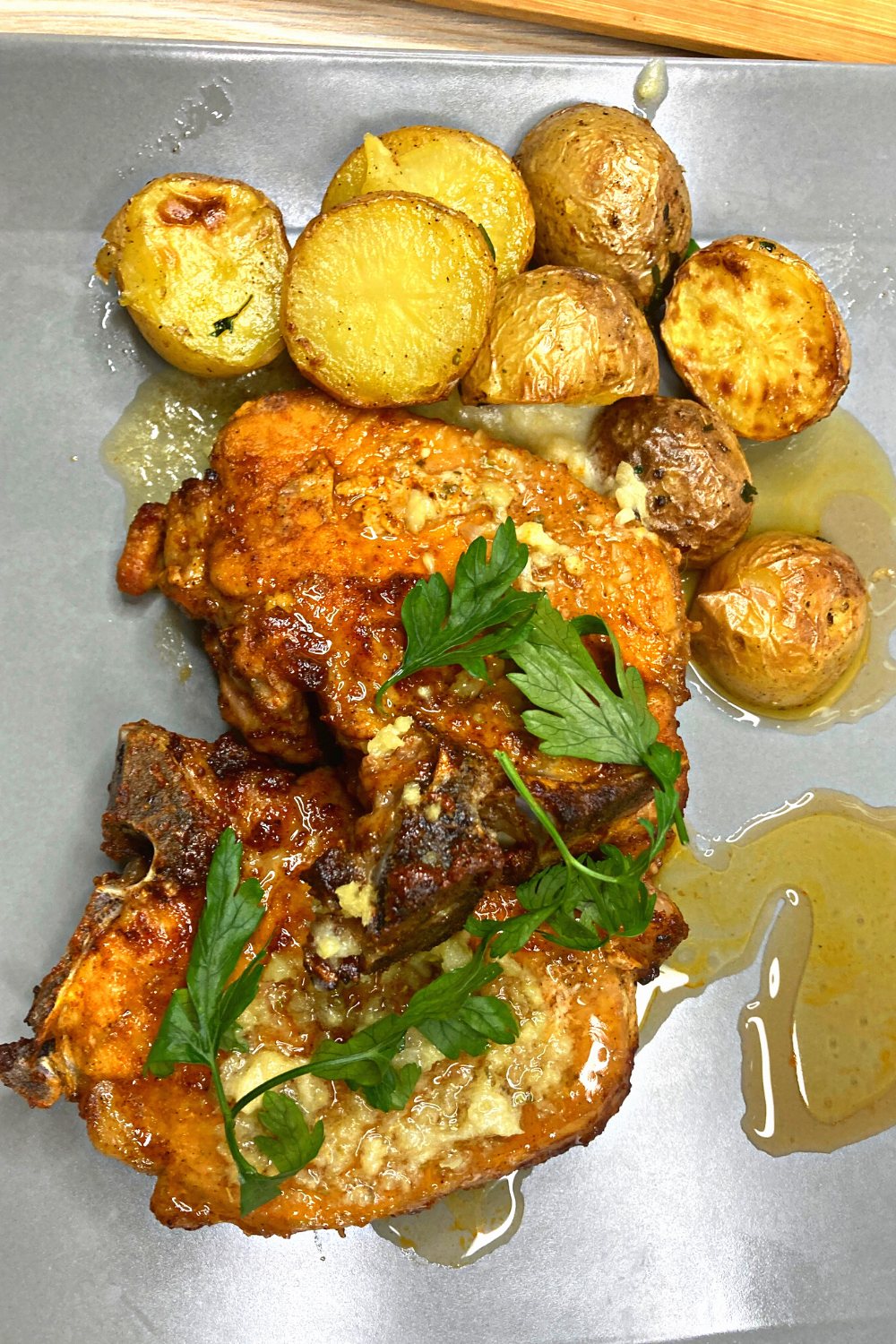 Air-Fryer Pork Chops Rub
This delicious air fryer pork chop dish mixes things up! Besides yummy garlic butter, we're using a delectable rub-spice combination to give it some significant flavor. The best thing, though? To produce the rub, only a few pantry essentials, including brown sugar, paprika, ground mustard, onion powder, salt, and pepper. This rub is similar to the one we've used in this air-fryer pork tenderloin recipe.
Just combine these ingredients and spread them liberally over your rinsed, dried, and lightly oiled pork chops. I guarantee that investing the extra time to rinse and dry the pork chops will be worthwhile since it will ensure that the rub sticks to the flesh precisely. Prepare yourself to experience the very best in pork chop excellence!
Garlic Butter for Pork Chops
The garlic butter sauce, however, that I served with the pork chops was what really elevated them to a new level. I made the sauce by melting butter in a small dish and mixing in thyme and minced garlic. I poured the sauce over the pork chops after letting the butter and garlic heat for a couple of minutes until the garlic was fragrant.
The delicious rub and the garlicky butter sauce went along beautifully. The sauce gave the pork chops a fantastic depth of flavor that truly made them shine. The pork chops were soft and juicy. In conclusion, I would certainly suggest trying air-fried pork chops with garlic butter sauce because they are simple to make and quite tasty!
Ingredients you'll need
Pork chops – bone-in
Brown sugar
Paprika
Salt
Fresh ground black pepper
Ground mustard
Onion powder
Olive oil
Garlic
Butter
Thyme
How to make Air-Fryer Pork Chops with Garlic Butter
Don't forget to heat your air fryer for 5 minutes at 400 degrees before you start cooking. Once it's hot, put your pork chops in and cook them for 12-15 minutes (depending on the pork chop thickness), turning them over halfway through.
When the timer goes off, take them out and let them sit for a few minutes before slicing and serving. We're sure that the tasty mix of seasonings and natural pork juices will make you want more.
Step 1: First, make the garlic butter. Just mix the softened butter, thyme, garlic, and salt together in a small bowl until everything is well blended.
Step 2: Set up your air fryer by preheating it for 5 minutes at 400F.
Step 3: Rinse your pork chops with cold water and pat them dry using a paper towel. This makes it easier for the rub to stick and gives the meat a crispier texture.
Step 4: Mix all the dry ingredients together in a small bowl to make a tasty rub. Ensure that you incorporate the rub into the meat well.
Step 5: Put the pork chops in the air fryer and cook them at 400 degrees for 12 minutes, turning them over halfway through to ensure they cook evenly. Use a thermometer to check the temperature inside the pork to make sure it is cooked just right. 145°F is the ideal temperature for pork. This will make sure that it is safe to eat and that it is cooked just right.
Step 6: When the pork chops are done to your liking, drizzle a lot of garlic butter over them before serving. Your taste buds will love the combination of the tender meat and the fragrant, savory garlic sauce.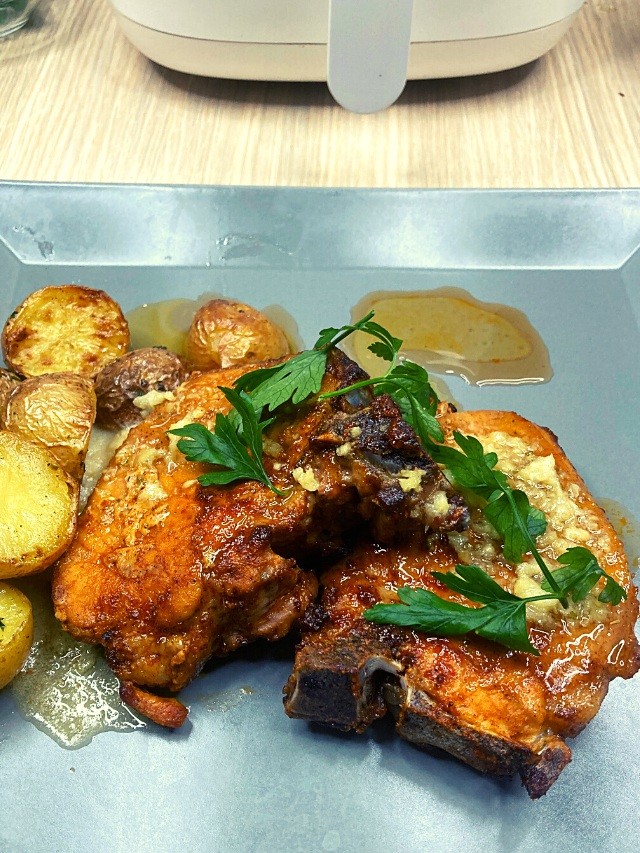 Important Tips for Juicy Pork Chops
Thickness is the most important thing to look for when choosing pork chops for a meal. Cuts should be at least 1 inch thick so they don't get too dry while cooking. I always go for at least 1 1/2 to 2 inches of pork chops for the best results.
Depending on how thick the pork is, the cooking time may change, but it's more important to watch the internal temperature than the amount of time the pork spends in the air fryer. Use a meat thermometer to ensure your pork is cooked to the right temperature.
When the temperature inside the chops reaches 145°F, take them out of the air fryer and let them rest for 5 minutes before serving. This easy method will help you make pork chops that are always cooked to perfection.
Don't trim off the fat around the edges of your pork chops if you want them to stay juicy and flavorful. This will help keep the edges from getting too dry while they cook.
Air-Fryer Pork Chops with Garlic Butter Recipe
Move over, pork chops baked in the oven! The juicy deliciousness of these pork chops that have been air-fried is about to steal the show. And the butter with garlic on top? It's the cherry on top of a tasty meal with many different flavors. Prepare to experience the magic of the air fryer.
Prep time: 5 minutes
Cook Time: 12-15 minutes
Ingredients
For the garlic butter:
3 sprigs of thyme
4 cloves of garlic, minced
2 Tbsp of grass-fed butter, melted
For the pork chops:
2 pork chops, bone-in (1 ½ – 2 inches thick)
2 Tbsp of brown sugar
1 Tbsp of paprika
1 ½ tsp of salt
1 ½ tsp of fresh ground black pepper
1 tsp of ground mustard
½ tsp of onion powder
1–2 Tbsp of olive oil
Instructions
For the garlic butter:
Combine the butter, garlic, and thyme together in a small bowl. Mix until everything is well blended.
You can use the mixture immediately or put it on a piece of plastic wrap and roll it into a log. To seal the log, twist the ends of the plastic wrap together.
Put it in the fridge until firm, or freeze it for longer storage.
For the pork chops:
Set your air fryer up by turning it on to 400 F and warming it up for 5 minutes.
Wash your pork chops with cold water and pat them dry with a paper towel to ensure they are ready for the seasoning rub.
Cover the pork chops with olive oil, and then rub the seasoning mixture on both sides of the meat in a thick layer. Ensure to use almost all of the mix for the two pork chops.
Place your pork chops inside the air fryer basket and fry them at 400 F for 12-15 minutes (or until the internal temperature reaches 145 F), turning them over halfway through to ensure they cook evenly. Enjoy!
Trust us, both your taste buds and the people who follow you on Social media will thank you. Share this recipe on your Pinterest board right now, and you'll soon be known as the pork chop specialist among your friends. 🙂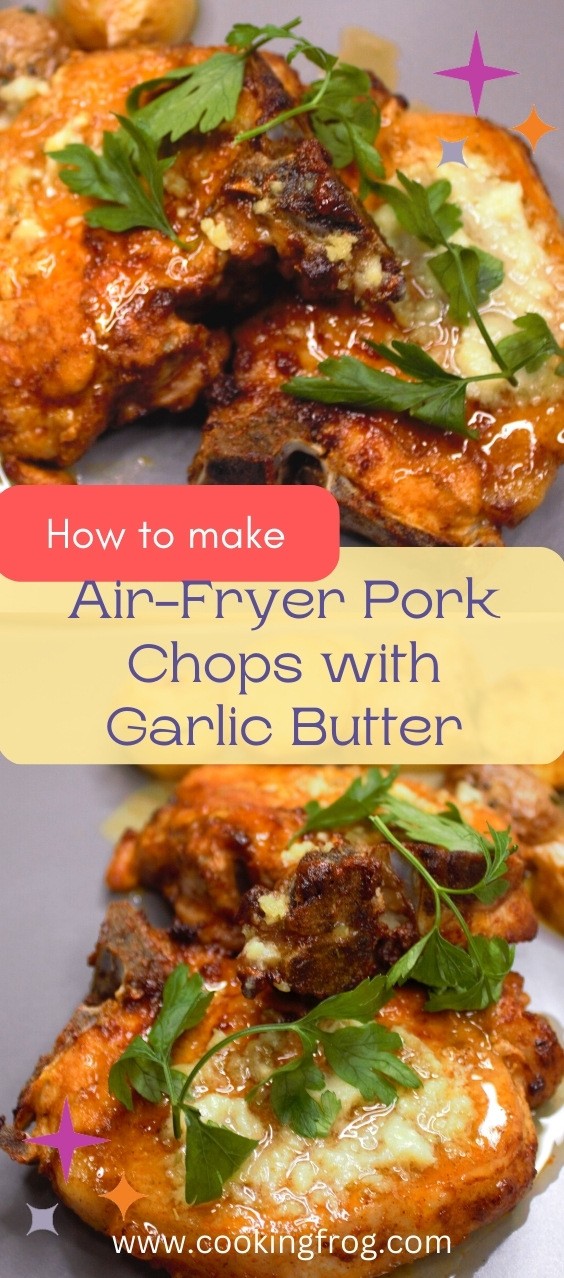 Air-Fryer Pork Chops with Garlic Butter Video