Would you like to make the most delicious and simplest chicken wing brine? With an extra spicy kick, this simple brined chicken wing dish is salty, a little bit sweet, and spicy.
Without a doubt, one of the most well-liked party dishes is chicken wings. I adore chicken wings, especially using a Blackstone griddle, but also Hennessy Chicken Wings, and even these Keto Chicken wings are amongst my favorites, as you may know if you often make my dishes.
There are several benefits to liking chicken wings, including affordability, taste, and crowd-feeding capacity. Is there a way to improve wings even more? Yes, brining them!
When chicken wings are brined, they go from excellent to superb, whether they are baked, fried, or grilled. Learn how to prepare this Simple Chicken Wing Brine; your next batch of wings will be the greatest.
Fun fact about chicken wings: 444 chicken wings set a global record for most wings ever. An individual by the name of Patrick Bertoletti consumed 444 wings in under 26 minutes at the 2015 Wing Bowl eating competition.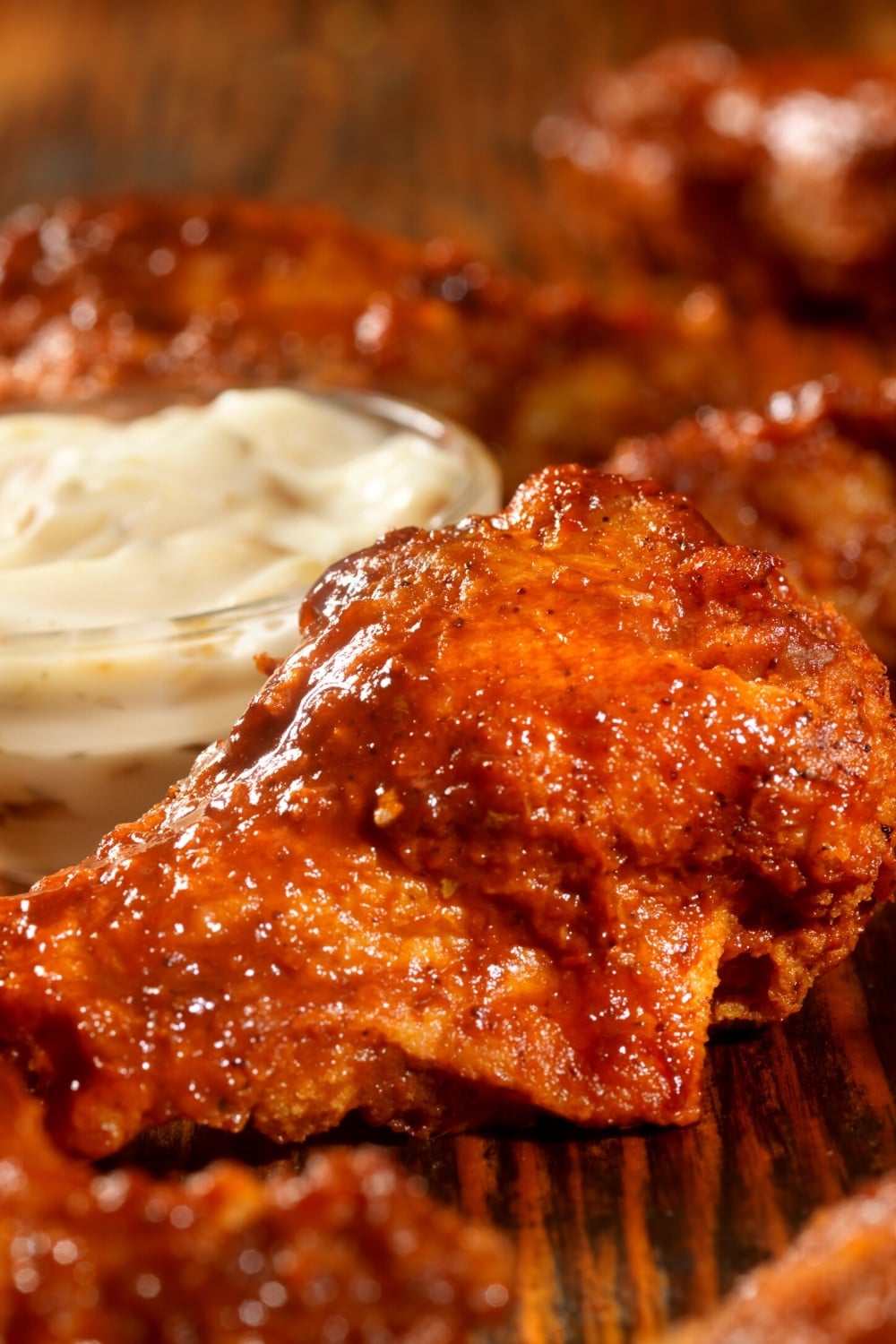 What is brining used for?
A culinary method called brining is used to flavor foods, usually meats, and ensure that they remain extremely juicy after cooking. The brine is a mixture of salt and water with flavorings from other carefully chosen substances.
The meat absorbs water and salt from the brine by assimilation and diffusion.
Why are chicken wings brined?
You can absolutely make chicken wings without brining them, but doing so yields moister, more tender, and more delicious wings. In addition to salt, the brine's sugar will help your wings become crispier, and any spices you add will enhance their taste through absorption.
Ingredients you'll need
Chicken Wings

Water

Kosher salt

Sugar

Apple cider vinegar

Red pepper flakes

Ground black pepper

Cayenne Pepper
How to Brine Chicken Wings – Steps
Now you'll see how simple it is to make brine.
Step 1: Heat the water, salt, and sugar in a large pot just long enough for the salt and sugar to dissolve.
Step 2: Stir in the apple cider vinegar, cayenne pepper, red pepper flakes, and black pepper.
Step 3: Chicken wings can be brined in a big bowl or a resealable plastic bag; step 3 combines the brine and the wings, ensuring they are well immersed.
Step 4: Place the chicken wings in brine and refrigerate for at least 2 hours and up to 4 hours (because of the tiny size of chicken wings, a more extended brining period is not necessary).
Step 5: Dry the wings by patting them, but don't rinse them, and cook them in the way you choose ( Blackstone, baking, grilling, frying, or in the air fryer).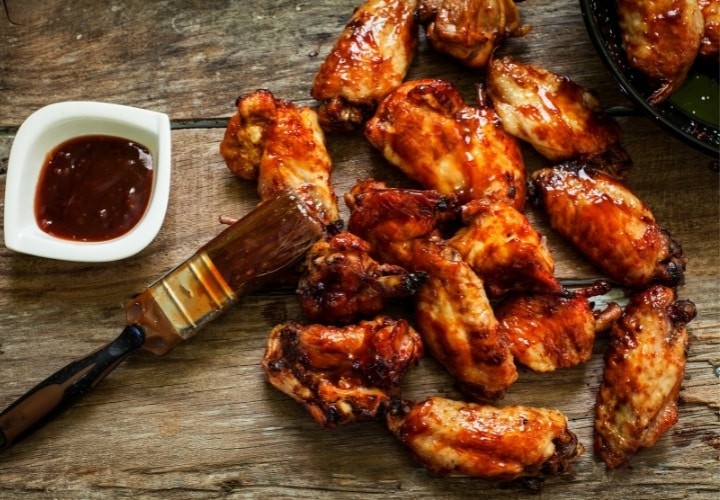 For How Long to Brine Chicken Wings?
To get the most flavor from your chicken wings, brine them for around 2 hours. Chicken wings can be brined for anything from a few hours to a few days, depending on the size of the wings and the salinity of the brine (water to salt ratio). Chicken wings are rather small compared to other cuts or types of meat that you could brine.
Obviously, a chicken wing is not as big as a complete turkey or a chicken leg. Due to their size, chicken wings shouldn't be brined for too long; otherwise, the skin and flesh will become tough and salty. Complete submersion in the brine is ideal for chicken wings.
What dishes go well with chicken wings?
I'll say that the brined chicken wings are so delicious that they don't even need wing sauce, but if you must, you must try the greatest Tiger Sauce! It is very amazing and simple to create. Spicy Chipotle Sauce and Popeyes Blackened Ranch Sauce are my next two picks for chicken wing sauces.
Some delectable carbohydrates that go well with chicken wings are Air Fryer Frozen French Fries or Sweet Potato. Along with a side of blue cheese and ranch dressing, don't forget to offer a side of very crunchy vegetables like sliced bell peppers, celery, carrots, and cucumbers. In addition, use these fantastic Candied jalapenos.
Chicken Wing Brine Recipe
Ok, it's time for detailed instructions. Your chicken wings will be moist, soft, and tasty after using this simple brine. Learn how to make the most incredible chicken wing brine recipe for grilling, frying, or baking chicken wings.
Ingredients
3 pounds of chicken wings
5 cups of water
1/2 cup of kosher salt
1/3 cup of sugar
2 tbsp of apple cider vinegar
1.5 tbsp of red pepper flakes
2 tbsp of ground black pepper
1 tsp cayenne pepper
Instructions
First, dissolve the salt and sugar in the water using low heat in a large pot. Toss in the crushed red pepper, cayenne pepper, freshly ground black pepper, and apple cider vinegar. Let your brine cool.
Place the chicken wings in a big bowl or resealable bag to brine them. Make sure the wings are well soaked in the brine.
Place the brined chicken wings in the fridge for a minimum of 2 hours and a maximum of 4 hours. Take the wings out of the brine, then get rid of the brine.
After patting the wings dry, use your favorite method of preparation. (Don't rinse your chicken wings)
Share the image below to your Pinterest board if you like this chicken wing brine recipe!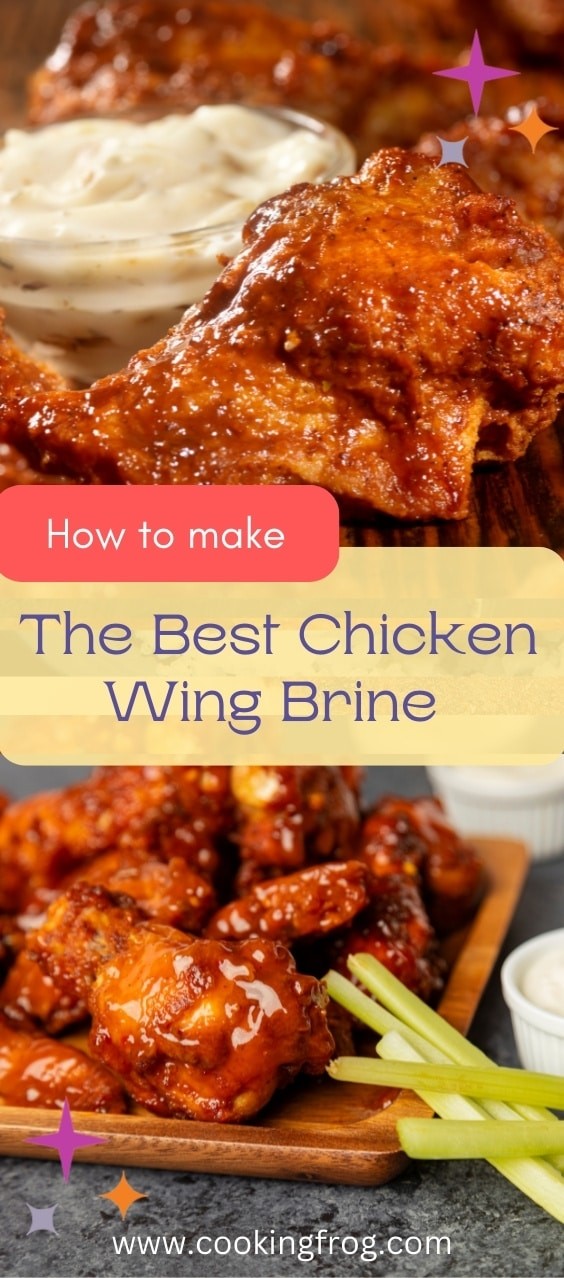 FAQs
How do I brine the chicken for smoking?
Make your brine for chicken wings. Depending on the size of the chicken, brine it for the proper period. Before smoking, remove from the mixture and let it completely dry.
Should I brine chicken wings before smoking?
Brining chicken wings before smoking them produces wings with more taste and skin that is very crispy. It is advised to brine for around two hours before smoking.
How long may chicken wings be brined?
Your chicken wings can brine for around two to four hours. Any longer, you run the danger of having excessively salty meat, regardless of the type of brine and the size of the chicken wings.
Should I brine chicken wings before frying?
Brining chicken wings before frying them produces wings with more taste and skin that is very crispy. It is advised to brine for around two hours before frying.
Is brining going to make my chicken too salty?
If you are bringing a smaller piece of meat, such as a chicken wing, brining the meat will make it salty. It's crucial to avoid letting your meat soak in the brine mixture for an excessively long time because this might cause it to become too salty and alter the texture of the meat.
Will brining chicken make a difference to my dish?
Bringing does make a difference since it gives the meat more taste. Additionally, it enables the meat to be juicy on the inside and exceptionally crispy on the outside.