We have another chicken wings recipe for you that will knock your socks off! It's time to enjoy the best copycat recipe for Mango Habanero Wingstop chicken wings. This recipe has just the right amount of sweetness and heat to make your mouth water.
Deep-frying these wings makes them crispy on the outside and juicy and tender on the inside. And the best bit is? You can adjust the heat to your liking so that spice lovers can enjoy it to their heart's desire. Serve your friends and family a plate of these delicious wings and watch their eyes light up with pure joy.
Don't just take my word for it; try this recipe for yourself and see how magical these heavenly wings are. Get ready for a taste journey that will have you hooked from the first chew!
What Does Wingstop Mango Habanero Taste Like?
The Mango Habanero sauce at Wingstop is a unique and delicious mix of hot and sweet flavors. It's a spicy sauce that's different from any other hot condiment you can buy. The sweetness of the mango goes well with the heat of the habanero pepper, so the taste is both hot and sweet.
The sauce is thick and sticky, which makes it a bit messy, but this is part of what makes it so good, especially with chicken wings. Even though the sauce is spicy, it does not have overwhelming flavors, so even people who don't usually like too spicy foods can enjoy it.
Overall, the Mango Habanero sauce at Wingstop is an excellent choice for those who want to try a unique and yummy sauce. It's perfect for people who like a mix of sweet and spicy, and it goes especially well with chicken wings. If you like hot sauces or want to try something new, give the Mango Habanero chicken wings a try.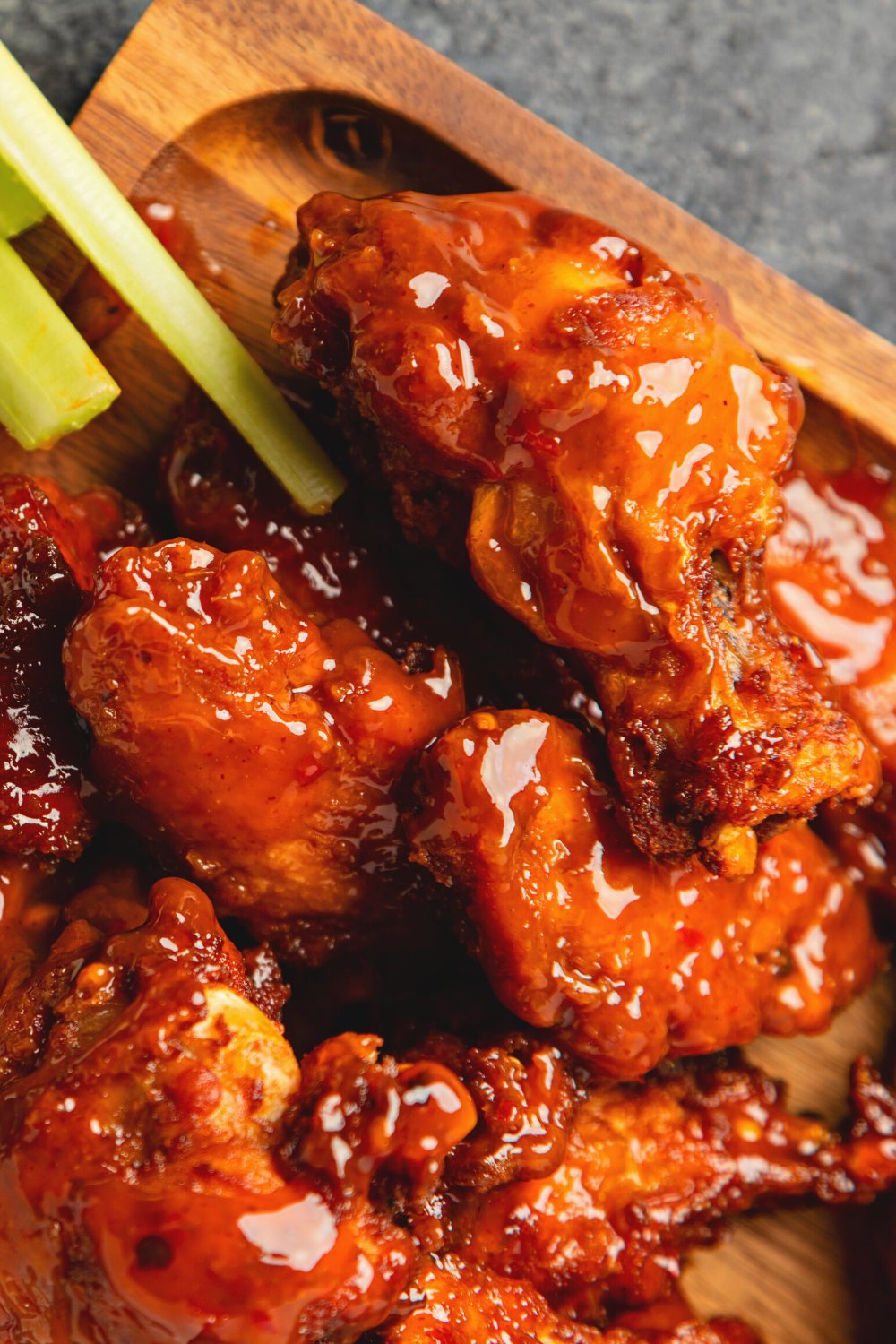 How Hot is Mango Habanero at Wingstop?
Wingstops's mango habanero gets a solid 4 out of 5 on the heat scale, which makes them a great choice for people who like their food to have a little kick.
Don't be fooled by the sweetness of the mango flavor; this sauce has a surprise in store for you. When you take a bite, the habanero heat sneaks up on you and gives your taste buds an extra thrill. It's a delicious and unique mix of flavors, but only for people who like spicy food.
Mango Habanero vs. Atomic wings vs. Cajun wings
And if you want to know how spicy these wings are compared to other favorites at Wingstop, the Mango Habanero wings are just below the Atomic wings but above the Cajun wings. So, if you're up for the Mango Habanero challenge, grab a napkin and dive in for a spicy taste adventure!
Ingredients you'll need
Chicken wings: Chicken wings are the star of the dish. It's essential to use fresh chicken wings to ensure they are juicy and tender. When fried, the skin also gets nice and crispy, which makes it the perfect base for the sticky and full-of-flavor sauce.
Mango nectar: The tropical sweetness of mango nectar balances the heat of the habanero peppers in the sauce. It also makes the sauce thick and sticky, which helps it stick to the chicken wings.
Brown sugar: Brown sugar is an important part of the sauce because it gives it a deep caramel flavor that goes well with the sweetness of the mango nectar. It also gives the sauce a rich color and makes it thicker.
Habanero peppers: Habanero peppers are among the hottest chili peppers you can get, and they pack a serious punch of heat. They are key to giving this recipe the spicy kick that makes it famous. The sweetness of the mango nectar and brown sugar makes up for the heat of the peppers. Habanero peppers also have a distinct, slightly sweet, and fruity flavor with a touch of smokiness.
Soy sauce: Soy sauce is a common ingredient in many Asian-style dishes, and it gives the sauce a rich, savory flavor. It also adds a little saltiness to the sauce, which helps to balance out the sweetness.
Sriracha: Sriracha is a spicy, tangy chili sauce that adds an element of heat and acidity to the sauce. It is also slightly sweet, which goes well with the other ingredients in the sauce.
Rice vinegar: Rice vinegar is a mild, slightly sweet vinegar that gives the sauce a bright, tangy flavor. It also balances the sweetness of the mango nectar and brown sugar.
Butter: Butter gives the sauce a rich, creamy texture. It also provides a buttery aroma that goes well with the other sauce ingredients.
Garlic: Garlic is a versatile ingredient that makes the sauce taste pungent and slightly sweet. It also has a natural umami flavor that brings out the flavors of the other ingredients in the sauce.
Honey: Honey is a natural sweetener that goes well with mango nectar and brown sugar. It also gives the sauce a subtle floral note.
Cornstarch: Cornstarch is added to the sauce to make it thicker. It makes the sauce thicker and helps it stick to the chicken wings.
Vegetable oil for frying: The chicken wings are cooked in vegetable oil until they are golden brown and crispy. It's important to use an oil that doesn't have a strong taste and can handle high heat, like canola or peanut oil.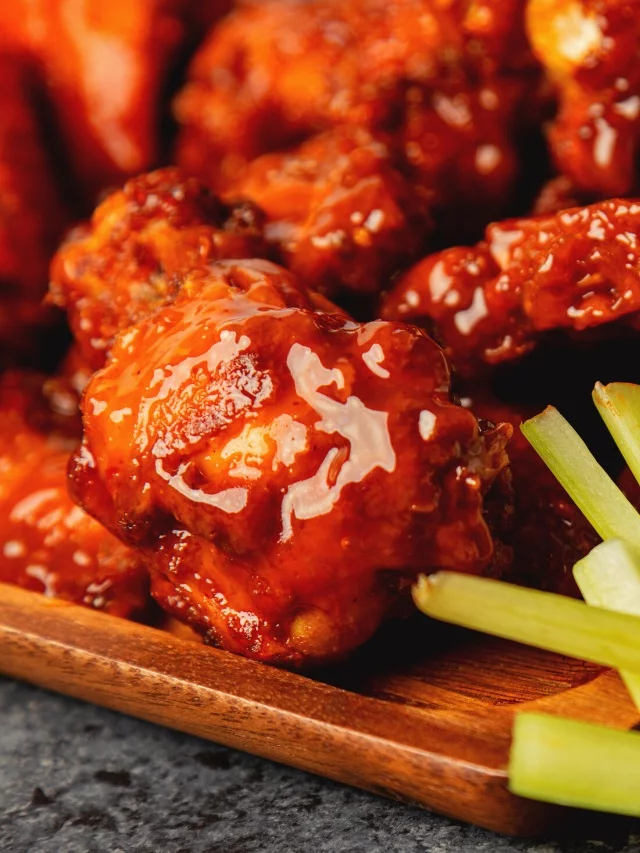 Mango Habanero Wingstop Recipe
Welcome to the world of spicy and delicious mango habanero Wingstop chicken wings copycat recipe! If you like spicy food and want the right amount of sweetness and heat, you're in for a real treat. These wings are the perfect mix of sweet, tangy mango and spicy habanero peppers.
Ingredients
1 1/2 lbs chicken wings

1 ½ Cups

of mango nectar

4 Tbsp of

brown sugar

5-6

stemmed

habanero peppers (you can adjust depending on your preference)

2

Tbsp of

soy sauce

1

Tbsp of

sriracha sauce

1

Tbsp of

rice vinegar

4

Tbsp of

butter

3

cloves

of

garlic,

minced

2

Tbsp of

honey

1

cup

of

cornstarch

2

cups

of vegetable oil

for frying
Instructions
First, wash the chicken wings with water and pat them dry with paper towels. Then, arrange them on a baking sheet and store them in the refrigerator to dry further.
Start making your glaze by putting mango nectar, habanero peppers, brown sugar, soy sauce, sriracha sauce, and vinegar in a food processor. Mix until the peppers are smooth, but be careful when removing the lid because the pepper fumes can be intense!
Melt 4 Tablespoons of butter in a pan over medium heat, then add minced garlic and cook for about 30 seconds, until it smells good. Immediately add your mango-habanero mix and bring to a simmer while stirring often.
Lower the heat to medium-low and add the honey. Keep stirring and letting the sauce simmer for 45 minutes to an hour until it's reduced by 75% and thickened into a glaze. Take the saucepan off the heat.
Set your oven to 200 degrees Fahrenheit and your deep fryer to 350 degrees Fahrenheit.
Coat your wings lightly with cornstarch and put 5 to 6 wings in the hot oil. Fry them for about 8 minutes until they are golden brown and crispy. Then put them on a paper towel to soak up the oil. Place the wings in a preheated oven to keep them warm, and keep doing this until all of the wings have been fried and drained.
Place your wings in a large bowl and pour half the mango habanero sauce over them. Mix the wings around, so they are coated. Keep adding the remaining sauce until the wings are coated the way you want.
Serve your tasty, sweet, and spicy wings to your family and friends so they can enjoy them. As I said before, these wings are sticky, so don't forget to have plenty of napkins available.
Share the image of the image below on Pinterest, and you'll become a superhero of taste. Also, who needs a cape if you have the power of spice and deliciousness on your side?