With this air fryer cauliflower recipe, you're in for a ride full of flavor. In just 15 minutes, this crispy, charred, and delicious cauliflower will make your taste buds dance with joy. We've added a lively mix of spices to this dish that will tingle your senses.
The outside is nicely charred and crispy, elevating the cauliflower's natural sweetness and making you crave for more. This recipe will make your taste buds sing and your belly happy, whether you're looking for a quick and easy side dish or a tasty snack.
Cauliflower is the unsung hero of the vegetable world. It can be used in many different ways and tastes amazing. This superfood can play any role, from a supporting role in a group of vegetables to stealing the show as a meat substitute in a main dish.
When it's roasted in the air-fryer at 400 F for just 15 minutes, it becomes a beautiful thing with a taste and texture that will make you want more. Cauliflower is the show's star, whether you like cruciferous veggies or want to try something new.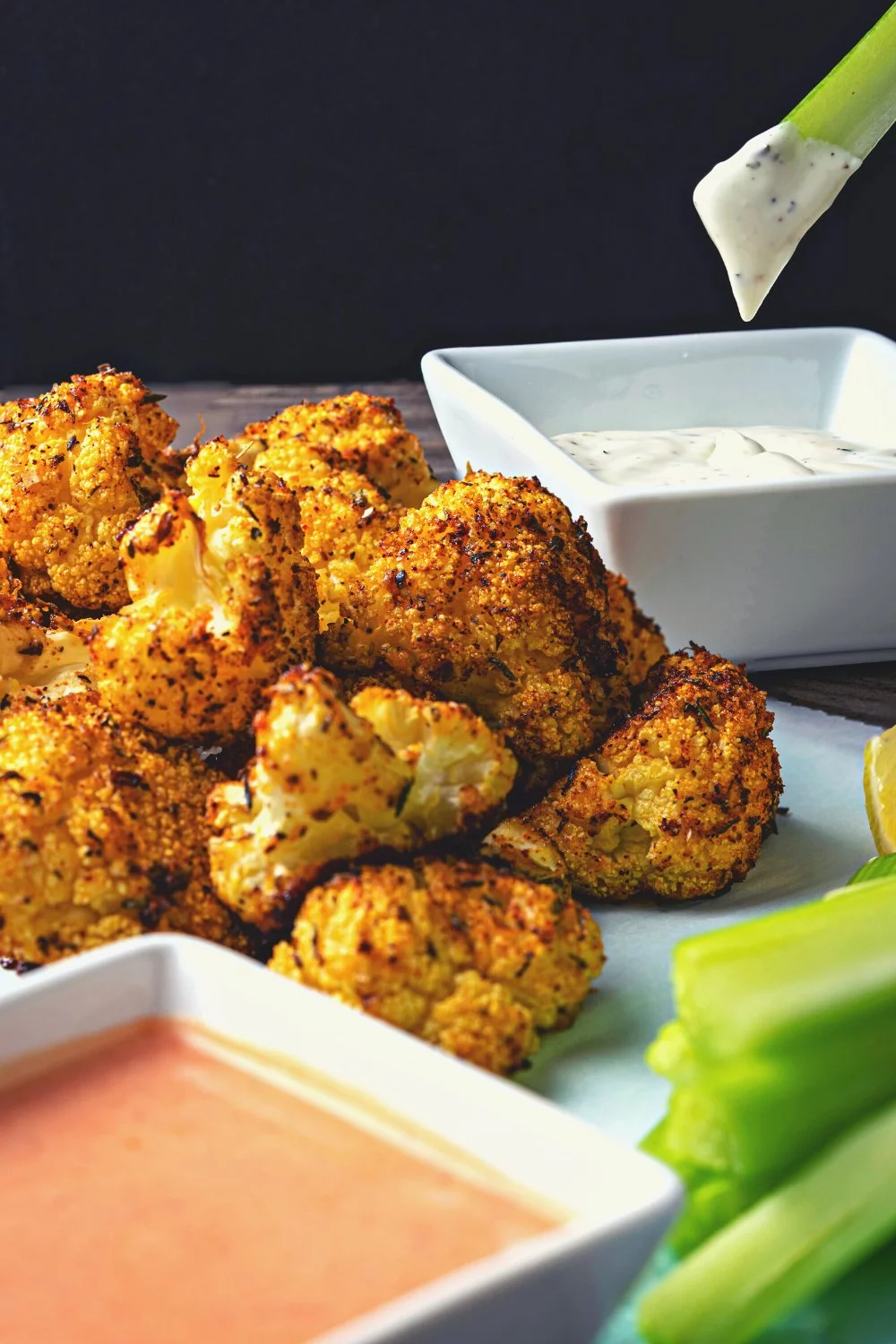 How to choose the right Cauliflower
The key to success is choosing the freshest cauliflower possible. When you're in the produce section, look for a head of cauliflower that is free of blemishes or dark spots and has tightly packed florets and bright green leaves. The weight of the cauliflower also matters because a heavier head means it's moist and full of nutrients, which results in flavor and enjoyment on your plate.
Do not, however, stop at weight and appearance! You want the gorgeous creamy white color and fragrant freshness that only a truly fresh cauliflower can offer. To avoid any heads with an overpowering odor, be sure to give it a good smell.
With these suggestions, you can make crispy, delectable air-fried cauliflower that is both aesthetically pleasing and delicious, and you'll be sure to amaze your dinner guests as well.
How to cut the Cauliflower
Start by removing the leaves and any extra stem pieces from the cauliflower to prepare it for the air fryer. Just outside the stem, a quick knife motion will do.
Cut the florets from the stem with a sharp knife or gently pull them off by hand to separate them from the stem. The finished result should be snack-friendly 1-2 inches bite-sized bits.
Once it has been prepared, the cauliflower is ready for seasoning mix and to go into the air fryer, where it will be turned into a crunchy, crispy delight.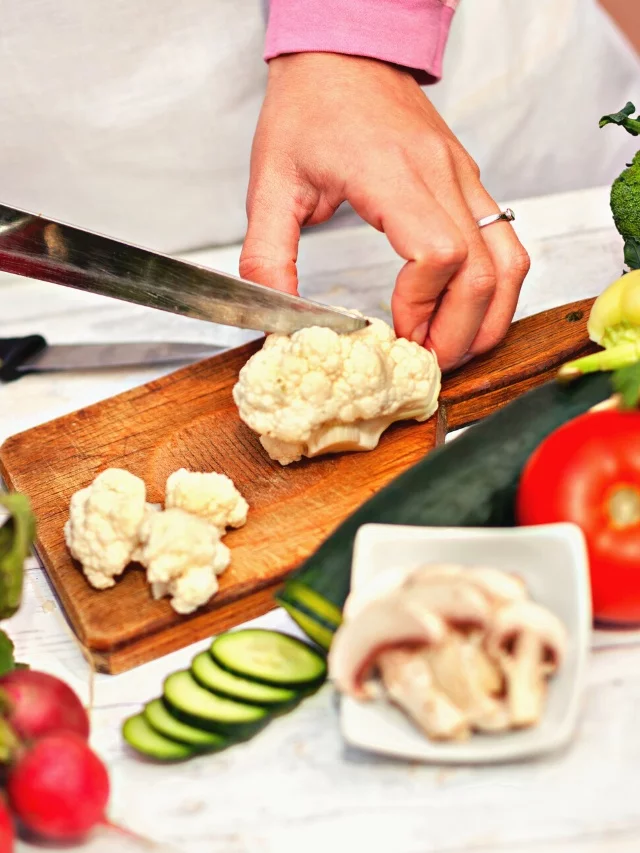 The Best Seasoning Mix for Air-Fried Cauliflower
Are you prepared to step up your roasted cauliflower game? Grab your air fryer, then, and be ready to discover a whole new culinary world!
As we all know, roasted cauliflower is excellent on its own, but adding a mixture of flavorful spices elevates it to a whole new level. We're talking a seasoning mixture that will take this cauliflower to a whole new level!
Let's now discuss this seasoning mixture. We're not simply using any old spices; instead, we're utilizing a specially formulated blend that will bring out the best in your cauliflower. What you'll need is as follows: ground mustard, smoked paprika, red pepper flakes, turmeric, cumin, oregano, onion and garlic powder, and a dash of salt and pepper.
The red pepper flakes give spice, while the smoked paprika adds a smokey depth. The turmeric gives the cauliflower a wonderful golden color and adds a warm, earthy flavor. Oregano offers a mildly bitter, herbaceous flavor, and cumin contributes a toasty, nutty flavor. Ground mustard adds an acidic undertone, while onion and garlic powder give it a savory edge. A last sprinkle of salt and pepper enhances the natural flavors of the cauliflower.
How to make Air Fryer Cauliflower
Make the Flavorful Seasoning Mix and Combine
Let's start by getting the seasoning mix ready. In a bowl, mix together the dry ingredients: smoked paprika, red pepper flakes, turmeric, cumin, oregano, onion and garlic powder, ground mustard, and a pinch of salt and pepper. Leave aside.
Next, cut a head of cauliflower into small pieces that are about an inch or two long. Mix the cauliflower with 1 1/2 tablespoons of vegetable oil in a large bowl, making sure that all of the florets are evenly coated.
Now, add the seasoning mix to the cauliflower and toss by hand for a minute or two, ensuring that every piece of cauliflower is covered with the tasty seasoning.
Air-Fry the Cauliflower
Heat your air fryer for 5 minutes at 400°F. When it's ready, put the seasoned cauliflower in the basket or tray of the air fryer and use the "air fry" setting at 400°F for 15 minutes. Make sure to flip, shake, or stir the cauliflower two or three times while it's cooking so that it browns evenly.
Serve and enjoy!
When the air-fryer timer beeps, pull the roasted cauliflower out of the air-fryer basket and serve straight away with this air fryer chicken breasts and some dipping sauce. Want to take things to the next level? Sprinkle some Parmesan cheese on top for a cheese kick!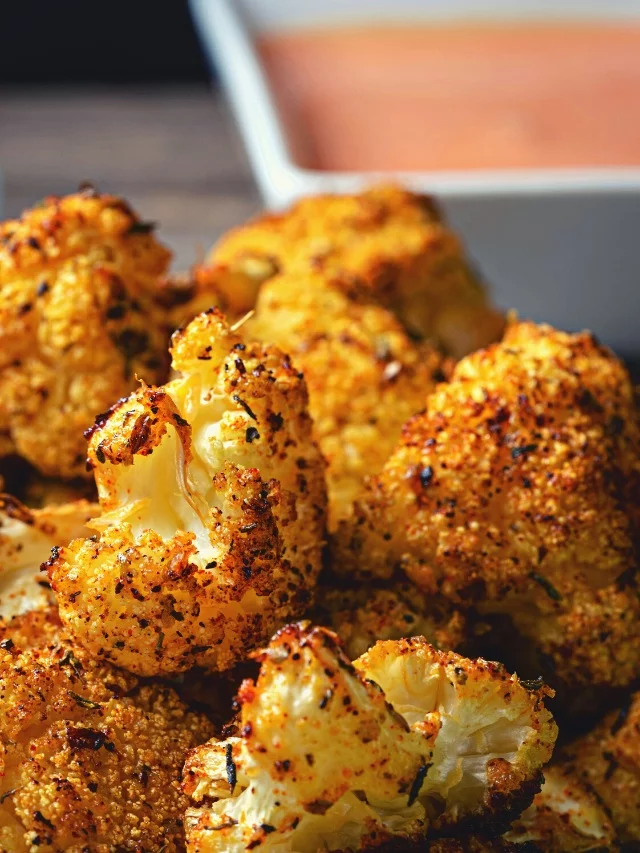 How to Serve Cauliflower?
The ways to serve and enjoy this roasted cauliflower are endless. You can eat it like popcorn for a tasty snack or squeeze some fresh lemon juice on top for a refreshing change.
It's also the perfect side dish for almost any meal and goes especially well with pork chops, pork tenderloin, chicken, or fish.
Air Fryer Cauliflower Recipe
Now it's time for a detailed recipe for a yummy ride with this air fryer cauliflower! Forget about bland, boring veggies because this recipe is anything but that. We're talking about tender and crunchy cauliflower florets that have been perfectly seasoned and cooked to a golden-brown crisp in just a few minutes.
Ingredients
1 head of cauliflower, fresh
1 tsp of salt
½ tsp of smoked paprika
¼ tsp of turmeric powder
¼ tsp of cumin
½ tsp black pepper
½ tsp of ground mustard
1/3 tsp of oregano
½ tsp onion powder
½ tsp garlic powder
1-2 Tbsp of vegetable oil
Parmesan cheese, optional
Instructions
First, take off the leaves and trim the stem. Then, cut the cauliflower into bite-sized pieces about 1 to 2 inches.
Next, mix all of the dry seasoning ingredients together in a separate bowl and set it aside.
Put the cauliflower bites in a large mixing bowl and drizzle them with vegetable oil, making sure to cover them well.
Add the prepared seasoning mix to the bowl and mix everything together until the cauliflower is uniformly coated.
Before putting the seasoned cauliflower in the air fryer, heat it for 5 minutes at 400°F.
Air-fry the cauliflower for 15 minutes, shaking or stirring the basket a couple of times to ensure it browns evenly.
Once the cauliflower is cooked perfectly, take it out of the air fryer and serve it immediately.
You can eat your delicious and healthy air-fried cauliflower as a snack or side dish with your favorite dipping sauce.
Do you love thist recipe for air fryer cauliflower? It's a snack you can eat without feeling bad about it. It's crunchy, tasty, and just plain good! Don't keep the secret all to yourself. Share the image below on your Pinterest board to spread the love. Your friends and followers will thank you for giving them ideas, and you'll be known as the greatest foodie guru. 🙂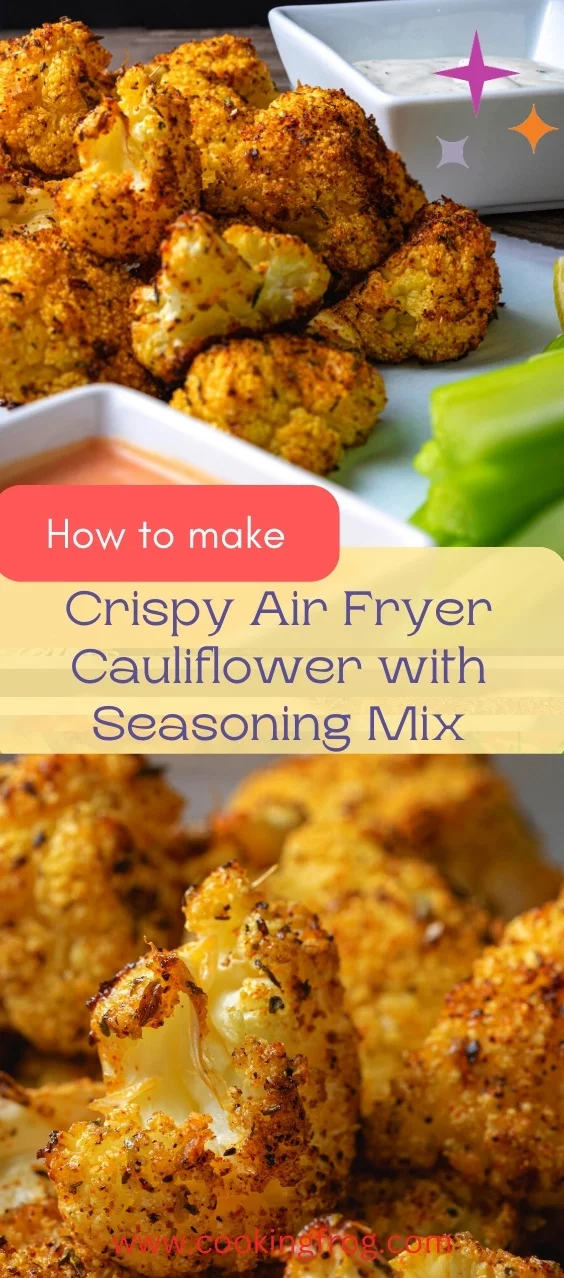 Air Fryer Cauliflower Video