Have a craving for a deliciously juicy chicken breast but forgot to let it thaw? Well, we've got the perfect solution for all you foodies who aren't always on top of your meal-planning game! Dive into our fun and simple recipe for air fryer frozen chicken breast that's mouthwateringly tender and brimming with flavor.
You can skip the thawing process altogether! Say goodbye to the thawing blues and hello to a wonderful meal prep hack that is all about convenience and taste. Read on to find out how to use an air fryer to turn a frozen piece of chicken breast into a meal you'll enjoy every bite of.
Why You'll Love These Air Fryer Frozen Chicken Breast
This way of cooking a frozen chicken breast in an air fryer is a real lifesaver on busy days when time is of the essence. It's a faster way to cook than the usual "thaw and cook" method, whether you're using the oven or stovetop.
But that's not the end of the benefits! With the capability to air fry frozen chicken breast directly from the freezer, you're always just a few steps away from a tasty, nutritious meal. No more worrying that you don't have any fresh ingredients. Take that frozen chicken breast and put it in the air fryer. Once you try this recipe, you'll wonder how you ever lived without it, just like these air-fryer chicken wings.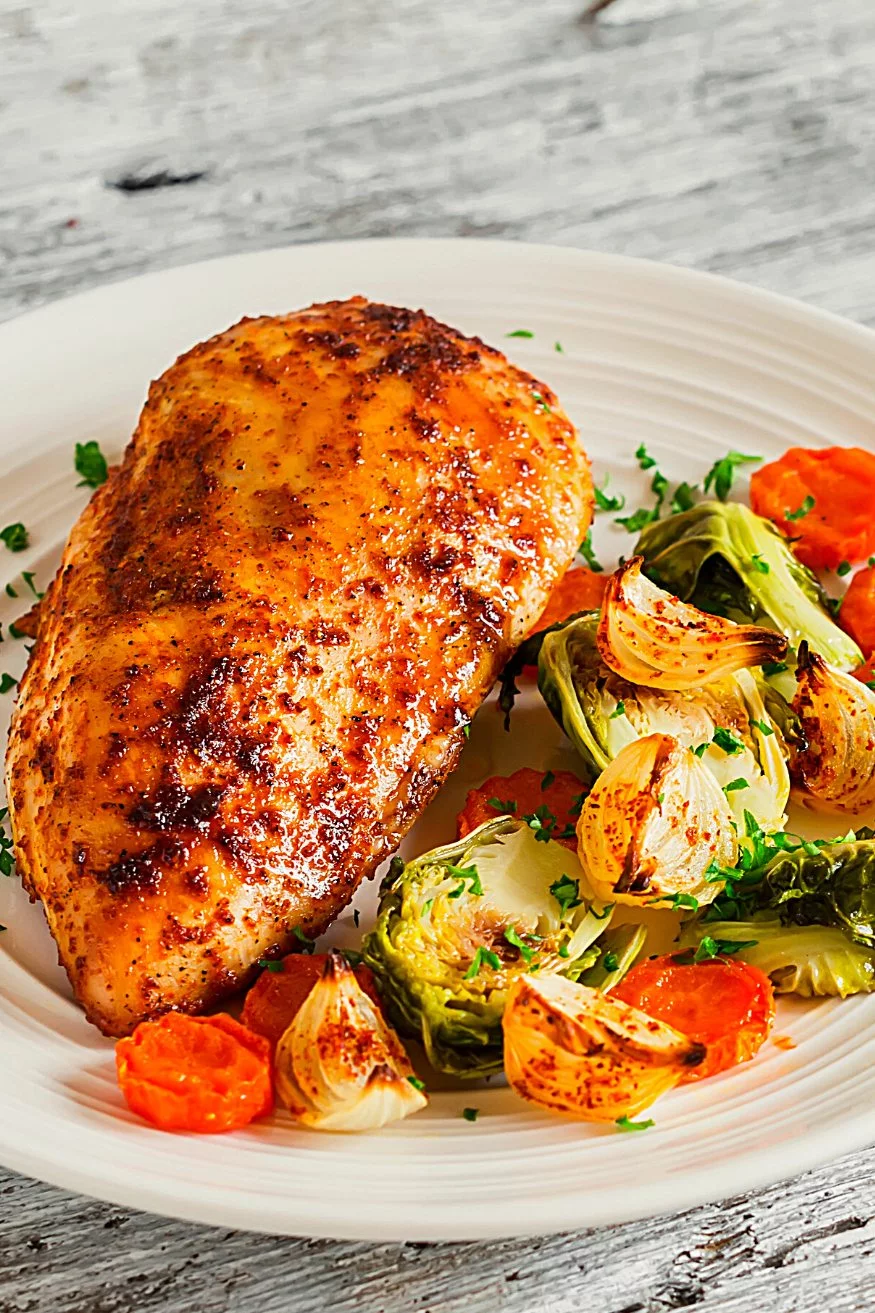 Ingredients you'll need
Frozen chicken breasts: These are the real stars of the show! For this recipe, you don't need to thaw the chicken, which is super easy. Don't forget to freeze each breast separately so they don't stick together. By freezing each piece separately, you can make sure that each one cooks evenly in the air fryer.
Olive Oil: In this recipe, a little bit of olive oil goes a long way. It not only gives the chicken breasts a beautiful golden crust on the outside, but it also improves the flavor and speeds up the cooking process.
Seasonings: We are talking about salt, pepper, garlic powder, onion powder, and paprika here. When you mix these spices together, you get a spectacular rub that gives your frozen chicken breasts a burst of flavors.
Salt and pepper are used as a basic seasoning base. Garlic and onion powders add a savory depth, and paprika adds a smoky sweetness. This combination is what makes your air fryer frozen chicken go from simple to simply amazing.
How Long Should I Cook Chicken Breasts in an Air Fryer
Air frying frozen chicken breasts is a quick and straightforward process, but it does hinge on a few essential factors. As a rule of thumb, you should expect a cook time of approximately 23-30 minutes at 360°F. This, nevertheless, can vary based on the chicken breast size and shape, the degree of its frozenness, and your air fryer's power.
Regardless of the variables, the ultimate goal is to achieve a safe internal temperature throughout the chicken breasts. According to the USDA, that's at least 165°F (74°C) for poultry. To ensure this, it's advisable to use a trustworthy meat thermometer, taking readings at multiple points to account for possible uneven cooking.
Remember, when it comes to frozen chicken, thorough cooking isn't just about taste; it's a matter of safety!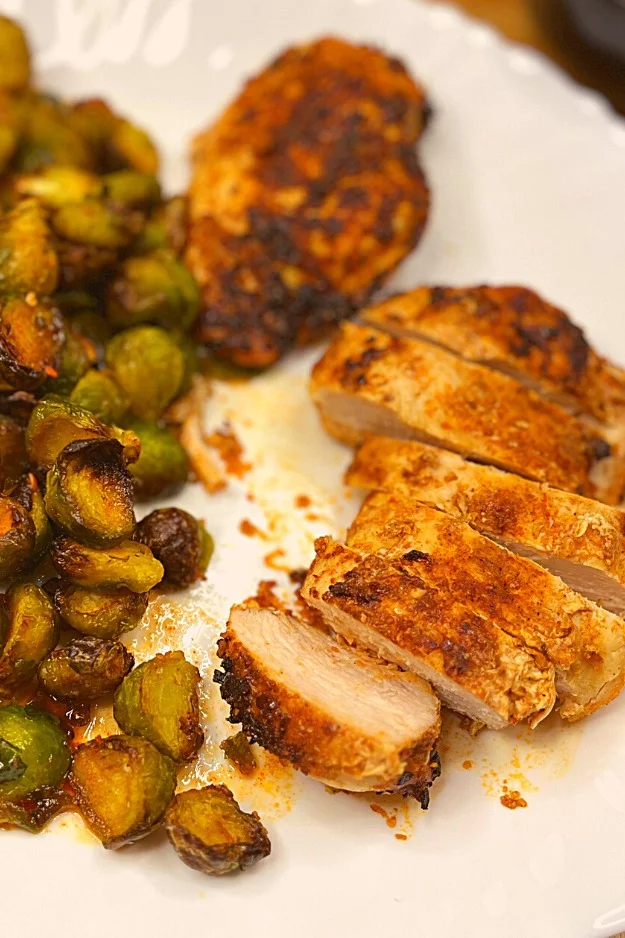 Serving Suggestions
These golden, air-fried chicken breasts are the star of any meal, pairing flawlessly with a crisp pile of french fries and a fresh, crunchy salad. Or, if you're yearning for a hearty helping of veggies, why not whip up a delicious side like these quick and easy Longhorn Steakhouse-inspired Brussel Sprouts?
The choice is yours, and the possibilities are limitless. So, plate up, sit back, and enjoy every bite of your air-fried masterwork!
More Delicious Air-Fryer Recipes:
Air Fryer Frozen Chicken Breast Recipe
Want a juicy chicken breast but forgot to thaw? No worries! With this foolproof Air Fryer Frozen Chicken Breast recipe, you'll have a delicious, juicy meal in no time. Quick, easy, and irresistibly tasty – it's a mealtime success! Let's start cooking!
Ingredients
1 frozen chicken breast (skinless and boneless)
1 Tbsp of Garlic Powder
1 Tbsp of Onion Powder
½ tsp of paprika
1 tsp of Salt
1 tsp of Pepper
1 Tbsp of Olive Oil
Instructions
Start by turning your air fryer on and heating it to 360°F (or 180°C).
Take the frozen chicken breasts out of their packaging and put them in a large bowl or on a flat plate.
Pour some oil on top, then sprinkle on the seasoning mix. Make sure to pat the chicken with the oil and seasonings to ensure they are all covered.
Now, put your chicken breasts in the air fryer basket. If you're cooking more than one, spread them out in a single layer so they don't touch each other. This makes cooking more even.
Set the timer on your air fryer and cook the chicken breasts at 360°F (or 180°C) for 23 to 30 minutes (depending on the thickness of your chicken breasts, see article above) and flip the chicken halfway through. The key is to make sure that the internal temperature reaches 165°F (or 74°C) so that they are fully cooked and safe to eat.
Remove the chicken breasts from the air fryer when they are done cooking. Wrap them in foil and give them 7-8 minutes to rest. This lets the chicken's juices settle, which makes it even more tender and tasty. Enjoy!
If this Air Fryer Frozen Chicken Breast Recipe made your kitchen the most popular place to eat in town, it's time to tell everyone! Pin the image below on your Pinterest board to spice it up. Your followers will be excited to get a special invite to your world of cooking.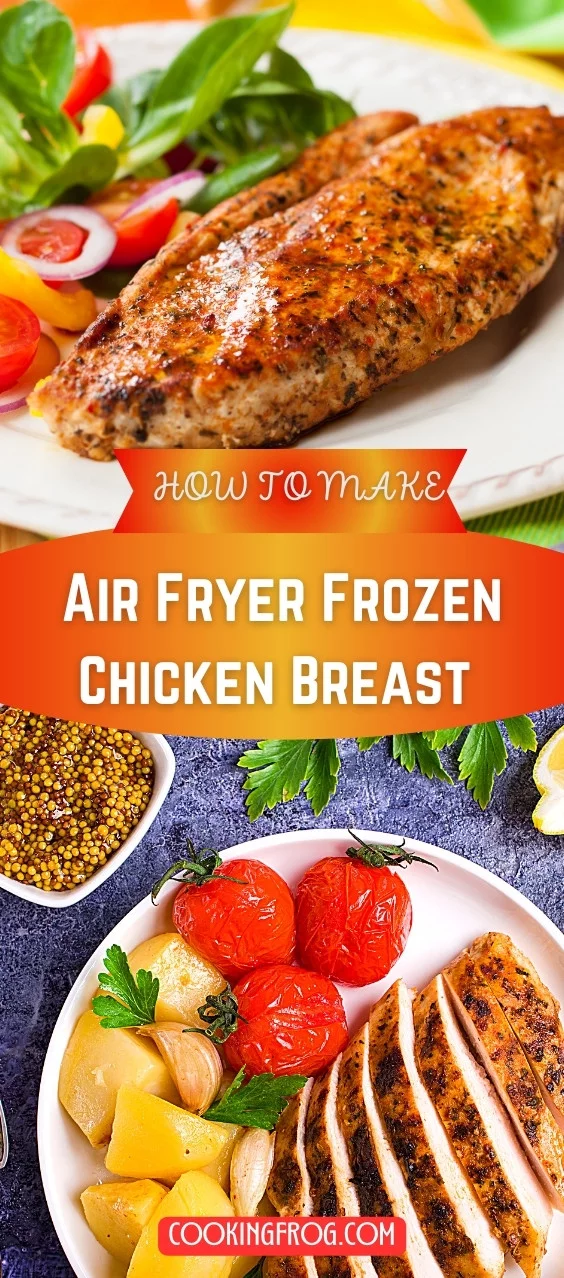 Air-Fryer Frozen Chicken Breast Video Recipe