These Keto Chicken Wings are oven-baked yet so crispy and taste as if you got them from your favorite restaurant. I first made them for several of our friends, and these keto crispy chicken wings were gone in minutes. I bet you and your loved ones and friends will enjoy them too!
Break Down of Chicken Wings
If you're buying chicken wings initially, you could be surprised cause they look different than you receive them at a restaurant. You'll simply need to break them down yourself, which will be very easy.
Chicken wings are composed of three parts:
Drumette – This part is attached to the wing of the chicken and seems like a tiny drumstick.
Flat (or wingette) – in the middle area of the chicken wing, and appears like a flat oval.
Tip – This is actually the very end of the chicken wing, and it is pointy.
It's hard to think that chicken wings could ever get crispy without the aid of flour or several other carb-rich ingredients, but with this specific keto chicken wings recipe, you will be pleasantly surprised.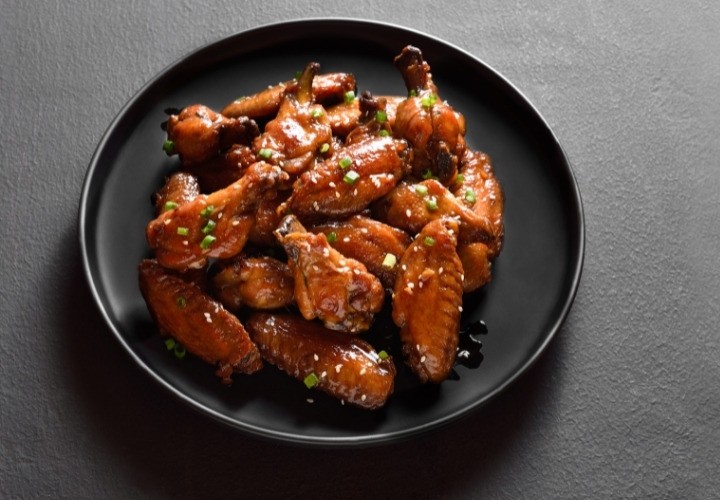 Personally, I only split mine into two pieces– the drumette and the flat/tip. I prefer leaving a tip attached to the flat because you will get some crispy chicken skin on there. However, there's very little meat underneath. If you like cutting the tip the end} off, that's ok also!
These keto chicken wings are perfect as a family meal, served with vegetables that are low-carb and diet-friendly. Also, as an appetizer at a party. They're really easy to make. Simply follow the instructions. Combine and mix the seasoning with the wings and bake them in the oven. It took me only 10 minutes to finish these chicken wings. You will have to flip the wings a few times.
Ingredients
3 pounds of Chicken Wings
4 Tablespoons of melted butter (ghee for paleo recipe)
2 Tablespoons of olive oil
2 minced garlic cloves
1 teaspoon of Salt
1/3 teaspoon of Black Pepper
1/3 teaspoon of cayenne pepper
1/2 of Chilli Pepper
1 teaspoon of ginger powder
1 Tablespoon of swerve brown sugar
Whole lemon juice
1 Tablespoon of soy sauce
1 lime juice
1/2 teaspoon of chopped fresh parsley
How to make Keto Chicken Wings
Heat the oven to 400º F.
Place lemon-sliced pieces on a cooking sheet.
Dry the chicken wings using paper towels thoroughly, pressing down hard to eliminate as much excess moisture as possible.
Put the chicken wings in a sizable bowl and leave them aside.
Using a small bowl, combine the melted butter, brown sugar (swerve), soy sauce, ginger powder, lemon, lime, chili pepper, garlic, salt, black and cayenne pepper.
Pour this mixture on the chicken wings, and with your hands, toss well to coat nicely.
Place the wings in one single layer on the baking sheet.
Bake the chicken wings until they are browned and crisp; it should take somewhere between 45-50 minutes, using tongues to flip them over a couple of times.
Remove the wings carefully from the oven and move them to a big serving platter. Sprinkle the wings with parsley and serve with lemon and lime wedges. You can also add Keto-Friendly BBQ sauce to them. Enjoy
If you like these Chicken wings, please check out this:
Cheesecake Factory Nashville Hot Chicken Nuggets (Copycat)
KFC Chicken Littles Recipe (Copycat)
Homemade McDonald's Chicken McGriddles (Copycat)
Popeyes Chicken Sandwich Recipe