And now, I'm going to share the recipe for Air Fryer Frozen French Fries! These are beloved by children and, of course, adults. Also, you can make an extremely easy-to-make side dish straight from frozen without oil. Believe me, these French fries are perfectly crispy externally and soft internally!
Air Fryer I Use
You can probably find a lot of ways to use your Air Fryer. I am using the one by Ninja brand, and it works double duty as a counter oven, dehydrator, and indoor grill … so perhaps it's really four times the duty, 😊!
I really like it because it saves me a lot of time and makes my fries and other recipes extra crispy without the necessity for a considerable amount of extra oil. Whatever kind of Air Fryer you're using, you will end up shocked once you see how easy it is to create frozen French fries in your air fryer right out of the freezer! Believe me; these fries will undoubtedly be on repeat at your home also.
Air Fryer Frozen French Fries Ingredients
My bag of French Fries is always available in the freezer for when it's time for dinner, and we want a straightforward, crispy, kids-friendly side dish to go with our main dish. Frozen French fries are the thing!
Here are some tips about what you'll need to make your French fries:
Frozen French Fries, you can use any brand you like as long as they're relatively the same size. Alexia might be my personal favorite brand but go with the ones you prefer.
Salt and Pepper: this is optional; you can season it according to your liking.
Notes for Air Fryer Frozen French Fries
Ok, the most crucial thing here's the following: Don't put too many fries in your air fryer. The air within the air fryer must circulate to cook evenly, and you never wish to get your fries with burnt ends and some which can end up soggy and not cooked nicely. It's much safer to cook frozen french fries batch by batch rather than overfill your air fryer. Your model determines the maximum number of fries that can fit, but as a guideline, make an effort to leave a little room between most of the fries.
How long does cooking Frozen French fries in the air fryer take?
Very fast! Once you preheat your air fryer, it takes 15 -18 minutes to cook them, according to what type of fries you're cooking.
Cook Time & Temperature:
· Normal Frozen French Fries: 15 minutes at 400 F, shaking and tossing them once halfway through.
· Steak Fries, Waffle Cut, or Crinkle Cut: 18 minutes at 400 F, shaking and tossing them once halfway through.
The Best Air Fryer For Frozen French Fries
Many Air Fryers are pretty decent and simple to use; however, there are several which come built with features that you might or might not need. For example, a timer could be very handy for anyone who would like to know just how much time is left for the food to be ready.
An additional feature that you might want is the capability of your air fryer to work without oil. Not surprisingly, this version is the healthiest, and you might want an advanced fryer for different recipes.
One delicious way to enjoy these fries is by pairing them with some air fryer frozen chicken breasts, chicken wings, fantastic air fryer brats, pork steak, or these air fryer pork chops with garlic butter. These combinations are endless and truly mouth-watering.
Additional Notes
These are additional things to bear in mind as you make your fries.
There's no need to thaw your frozen french fries before you cook them. Cook them straight from the freezer!
For this frozen fries recipe, no added oil is necessary.
Frozen French Fries are bought precooked, meaning they've been partially cooked and need the finish by you. They usually contain oil and seasonings and cook quicker than fresh potatoes.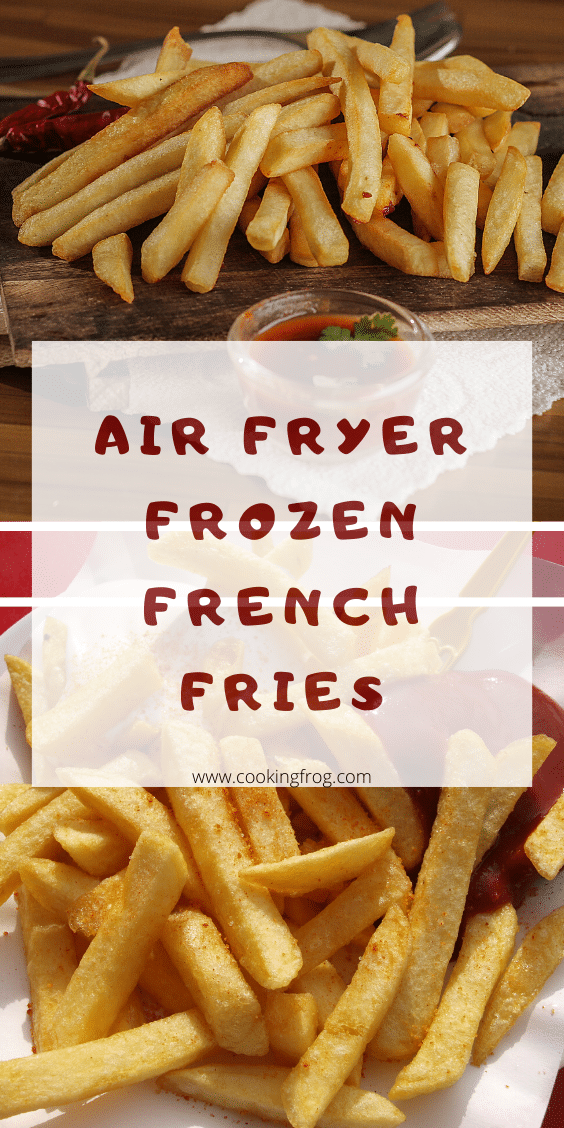 Ingredients
1 lb of Frozen French Fries
How to Make Air Fryer Frozen French Fries
Heat your Air Fryer to 400 F.
When it's preheated, add the fries right to the air fryer basket (without any oil). Spread out your french fries equally.
Set the closed air fryer to 15 min. After 7-8 minutes, shake or toss the fries within the basket.
After they're done, take away the fries, season to taste, and serve!
Check out these air fryer recipes: Easy Air Fryer Hamburgers Recipe, Air Fryer Pork Tenderloin Recipe.