Chicken Cordon Bleu is more than just a dish; it's an experience. This classic French delight, which translates to "Blue Ribbon," is a testament to culinary excellence. At its core, it's a harmonious blend of tender chicken, smoky ham, and the rich flavor of Swiss cheese.
But, as with any classic, there's always room for a touch of innovation. Let's dive into the world of Chicken Cordon Bleu and discover how to craft this dish to perfection.
After the chosen ingredients are gathered, the chicken breasts are tenderized and layered with slices of ham, Swiss cheese, and a hint of roasted red pepper.
These are then rolled up, coated in seasoned breadcrumbs, and baked to a golden finish. The dish is complemented with a creamy dijon sauce, adding depth and richness to every bite.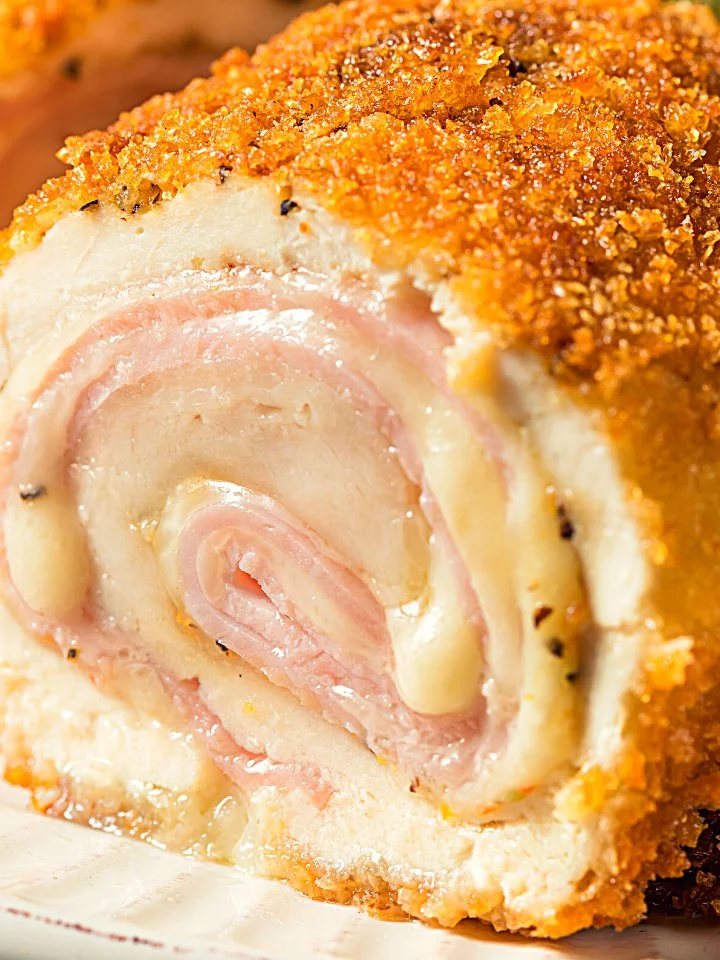 Chicken Cordon Bleu Recipe
Ingredients:
4 chicken breasts (boneless and skinless )
4 slices ham
4 ounces Swiss cheese or Gruyere cheese (shredded or sliced)
1 roasted red pepper slice (for each chicken breast)
3 tablespoons melted butter
1 clove garlic (minced)
1 cup seasoned bread crumbs
½ teaspoon dried thyme leaves
Sauce Ingredients:
2 tablespoons butter
2 tablespoons all-purpose flour
¾ cup whole milk
¼ cup white wine
2 1/2 teaspoons Dijon mustard
1 cube chicken bouillon
½ teaspoon Worcestershire sauce
¼ cup Parmesan cheese
Salt & pepper to taste
Instructions
1. Preparing the Oven and Baking Dish:
Start by preheating your oven to 350°F (175°C).
Slightly grease a baking dish with cooking spray or a thin layer of butter to ensure the chicken doesn't stick during baking.
2. Chicken Preparation:
Lay each chicken breast flat between two sheets of plastic wrap.
Using the flat side of a meat mallet or a rolling pin, gently pound the chicken until it's about 1/4″ thick. This ensures even cooking and makes the rolling process smoother.
3. Layering the Ingredients:
On the flattened chicken breast, place a slice of ham.
Add a generous portion of Swiss cheese on top of the ham.
For an added layer of flavor, place a thin slice of roasted red pepper over the cheese.
4. Rolling and Securing:
Carefully roll the chicken breast, ensuring the fillings stay inside.
Use toothpicks to secure the ends and keep the roll intact. Remember to soak the toothpicks in water for a few minutes prior to prevent them from burning in the oven.
5. Coating:
Using a small bowl, mix melted butter with minced garlic.
In a separate dish, combine seasoned breadcrumbs with dried thyme leaves.
First, dip each chicken roll into the garlic butter mixture, ensuring it's well-coated.
Next, roll the buttered chicken in the breadcrumb mixture, pressing gently to adhere.
6. Baking:
Place the breadcrumb-coated chicken rolls in the prepared baking dish.
Bake your cordon bleu oven for 35-40 minutes or until the chicken is golden brown and has reached an internal temperature of 165°F (74°C).
7. Crafting the Sauce:
Using a saucepan, melt butter over medium heat.
Stir in flour and cook for about a minute to remove the raw taste.
Gradually whisk in milk and white wine, ensuring no lumps form.
Add Dijon mustard, chicken bouillon, and Worcestershire sauce. Bring the mix to a gentle boil, then reduce the heat and let it simmer for a minute.
Pull from heat and stir in grated Parmesan cheese. Season with salt and pepper according to your liking.
8. Serving:
Once the chicken rolls are baked to perfection, carefully remove the toothpicks.
Plate each Chicken Cordon Bleu and generously drizzle with the creamy dijon sauce.
Whipped up this Chicken Cordon Bleu and got rave reviews at the dinner table? Don't keep it a secret! Snap, pin, and let your Pinterest followers in on this game-changing recipe. They'll thank you later!
Air Fryer Chicken Cordon Bleu Recipe:
Using an air fryer can give your Chicken Cordon Bleu a crispy exterior while ensuring the inside remains juicy. Here's how to adapt the recipe for an air fryer:
1. Preparing the Chicken:
Follow the steps mentioned above for flattening, layering, rolling, and coating the chicken.
2. Preheating the Air Fryer:
Preheat your air fryer to 375°F (190°C) for about 3-5 minutes.
3. Placing the Chicken:
Lightly spray your air fryer basket using cooking spray to prevent sticking.
Place the prepared chicken rolls in the air fryer basket, ensuring they are not touching. Depending on the size of your air fryer, you might need to cook in batches.
4. Cooking:
Cook the chicken rolls at 375°F (190°C) for 20-25 minutes, flipping them halfway through to ensure even cooking. The chicken should achieve golden brown color and have an internal temperature of 165°F (74°C).
5. Serving:
Once cooked, carefully remove the chicken rolls from the air fryer and let them rest for a few minutes.
Serve with the creamy Dijon sauce or any of your preferred sauces.
Recipe Variations for Chicken Cordon Bleu: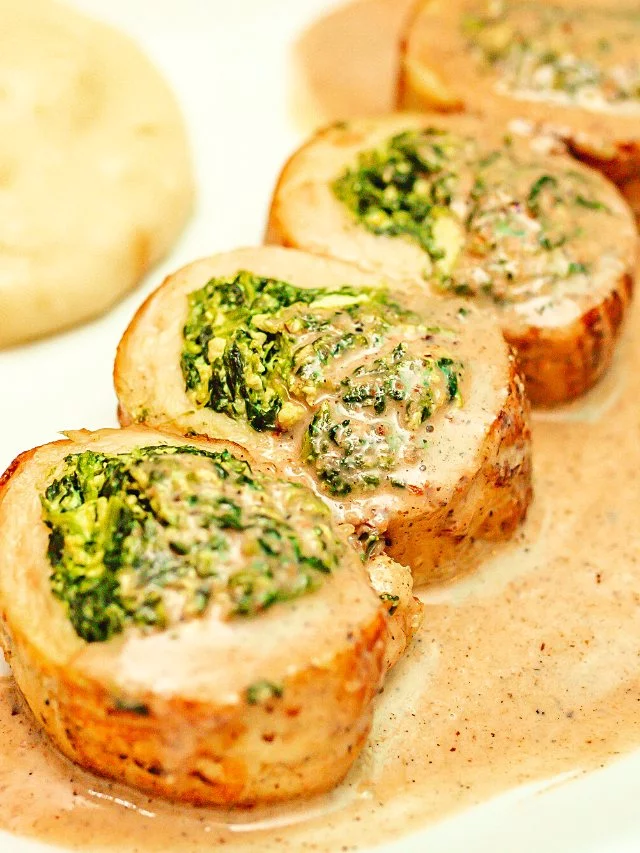 1. Meat Alternatives:
Turkey Cordon Bleu: Swap out the chicken breasts for turkey cutlets for a leaner option.
Prosciutto Twist: Instead of regular ham, use thinly sliced prosciutto for a more gourmet touch.
2. Cheese Choices:
Mozzarella Melt: Replace Swiss cheese with mozzarella for a stringy, melty interior.
Gouda Goodness: Use smoked gouda instead of Swiss for a richer, smoky flavor.
3. Breadcrumb Variations:
Herb-infused Crust: Add finely chopped fresh herbs like rosemary or basil to your breadcrumbs for an aromatic crust.
Nutty Crust: Mix in some finely ground almonds or pecans with the breadcrumbs for a nutty crunch.
4. Sauce Swaps:
Creamy Mushroom Sauce: Sauté mushrooms in butter, add cream, and season with salt, pepper, and thyme for a rich mushroom sauce.
Tomato Basil Sauce: Opt for a lighter, tangy tomato sauce infused with fresh basil and garlic.
5. Vegetarian Version:
Veggie Cordon Bleu: Replace the chicken with large portobello mushroom caps and the ham with grilled zucchini slices for a vegetarian take on the classic.
6. Spicy Kick:
Spicy Cordon Bleu: Add thinly sliced jalapeños or a dash of cayenne pepper to the filling for those who like a bit of heat.