This handmade version of Popeye's blackened ranch sauce will thrill you if you like the original. It tastes fantastic when paired with vegetables, chicken tenders, or even a salad.
Whenever it relates to dips or dressings, the blackened ranch is unquestionably a hit. Crispy chicken tenders drenched in flavorful ranch sauce are irresistible. The fact that this dip is simple to make at home only serves to increase its allure.
Popeyes Blackened Ranch Sauce Recipe
This Blackened Ranch Dressing has a great Cajun taste and is smooth and tangy. It's great as a salad dressing and dipping sauce for chicken wings, veggies, and other foods!
Popeyes won my selection for the most excellent fast-food fried chicken. The cuisine is based on home cooking from Louisiana and includes Cajun sides, New Orleans-style fried chicken, fried seafood, and distinctive sauces to accompany your meal.
Popeyes menu offers a variety of traditional sauces, including BBQ, buttermilk ranch, chili sauce, tartar sauce, and, if you're lucky, blackened ranch.
As a dipping for blackened chicken tenders, and Dip'n Chick'n, Rip'n Chick'n, the blackened ranch made its debut on the menu in 2011, although it now appears to be phased out at many restaurants. What a bummer! Wrong! You can quickly make your own Popeyes blackened ranch dressing at home with this recipe!
This thick, creamy sauce is the finest ever. Consider drizzling a buttermilk ranch dressing with a spicy Cajun taste on top of a crispy chicken tender. This hot sauce can be created totally from scratch or, more simply, mostly with basic ingredients.
To enjoy this spicy sauce, just follow these simple directions. It will be available to you whenever you desire!
Ingredients for Popeyes Blackened Ranch Sauce
It's actually rather simple to prepare this copycat dish at home. You will require the following:
Sour cream: Use full-fat sour cream to get the finest results. The remainder of the ingredients pile on the sour cream to form a rich, tart dressing.
Buttermilk: Aged cream with buttermilk gives it a more flavorful tang. Buttermilk is most likely to blame if you've ever questioned why store-bought ranch dressing never tastes as delicious as restaurant ranch.
Mayonnaise: Mayo contributes to the density's thick, dip-like consistency to this sauce. I advise using homemade mayo or utilizing full-fat mayonnaise.
Ranch seasoning: For that distinctively spicy, herby ranch flavor, try this homemade version. Ranch seasoning packets from Hidden Valley, Great Value, Simply Organic, and Primal Palate is also suitable choices.
Blackened seasoning: This spice mixture contains smoky, earthy, and smoky notes, as well as a cajun hot bite. There are several tasty, easily accessible choices, including Chef Paul Prudhomme's Magic Seasoning, Phillips, Zatarain's, and Louisiana Fish Fry Products.
How to make Popeyes Blackened Ranch Sauce
Step 1: Mix Cream Ingredients
Mix the ingredients for the cream. In a mixing dish, combine the mayo, buttermilk, and sour cream. Stir everything together completely.
Step 2: Add Spices
Add spices and stir. Incorporate the ranch seasoning and blackened seasoning into the dressing by adding them and whisking. Quickly taste it to see if the seasonings need to be changed.
Step 3: Chill the Sauce
Refrigerate before serving. Place the airtight jar with the blackened ranch dressing in the refrigerator for at least two hours to allow the flavors to meld. Enjoy!
Tips for Popeyes Blackened Ranch Sauce
Try the sauce: You might or might not need to add salt because different blackening seasons have different salinity levels.
Don't forget to refrigerate: The flavors have a chance to awaken and meld together by spending a couple of hours in the refrigerator with the dressing.
To thin out your sauce to the desired consistency if it is too thick, whisk in a small amount of buttermilk at a time.
Use less buttermilk to create a ranch dip that is exceptionally thick.
How to store Popeyes Blackened Ranch Sauce
You can keep this buttermilk ranch dressing in the refrigerator for up to two weeks in a tightly sealed container. Don't freeze!
FAQs
What distinguishes ranch from blackened ranch?
Everything you love about ranch dressing is included in blackened ranch, but with the addition of warm, earthy, and peppery tastes from blackened seasoning.
Is Blackened Ranch still available at Popeyes?
Local variations exist. Check with your local Popeyes to see if they still have it because it has been phased out in many places.
What might I use in place of buttermilk?
Milk combined with lemon or vinegar. One cup of milk should be mixed with one tablespoon of lemon juice or distilled white vinegar, then let to stand for five minutes. As a replacement for buttermilk, you may also add water to plain kefir, additional sour cream, or plain yogurt.
Does Popeyes sell blackened ranch sauce?
Popeyes restaurants don't sell blackened ranch sauce in bulk like Chick-Fil-A sells their sauce, but this blackened ranch knockoff is simple to prepare and tastes just as good. Additionally, you can buy the sauce on eBay or some other online stores.
Share the image below to your Pinterest board if you like this Popeyes Blackened Ranch Sauce!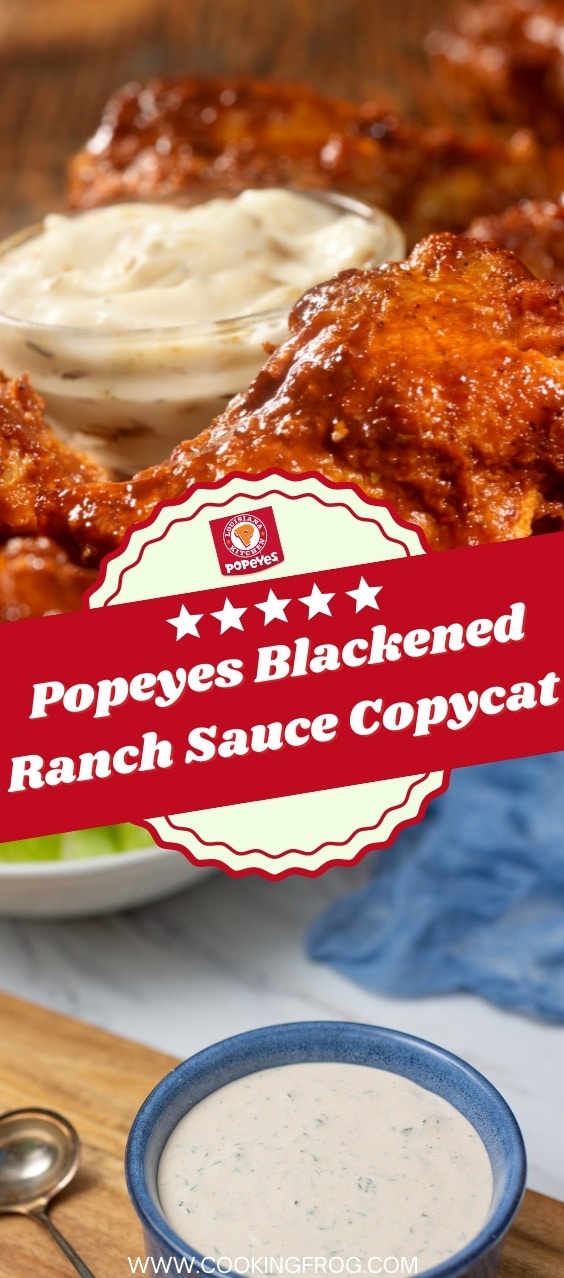 Ingredients
½ cup of sour cream
4 TBSP of buttermilk
4 TBSP of mayonnaise
1 TBSP of blackened seasoning
For the Ranch Seasoning
4 TBSP of Dried Parsley
1 tsp of Dried Dill
2 tsp of Garlic Powder
2 tsp of Onion, Minced
1 TBSP of Dried Chives
1 tsp of Mustard Powder
1 tsp of Black Pepper
Instructions
For the Ranch Seasoning
To a bowl, add all of the dry herbs and spices.
Mix together everything until it is well combined.
Put them in a container or jar with a lid that is airtight.
Before using the ranch seasoning to season food, shake.
For the sauce
Buttermilk, mayo, and sour cream should all be added to a mixing bowl. Stir constantly to fully incorporate.
After that, add the ranch seasoning and blackened seasoning to the bowl and stir to completely combine the dry seasonings.
Taste the food and, if necessary, adjust the spices.
To allow the flavors to meld, transfer the blackened ranch sauce to an airtight container and store it in the refrigerator for at least two hours. Enjoy!
Conclusion
I hope you've enjoyed this Popeyes Blackened Ranch Sauce as much as I did making the recipe! If you're a fan of Popeyes recipes, be sure to check this Popeyes Chicken Sandwich Copycat recipe I made. Also, If you have any questions or suggestions regarding Blackened Ranch sauce, please let me know in the comments section, and I'll reply as always.