Hello, fellow cake enthusiasts! Today, we'll make the famous "Starbucks Carrot Cake Recipe." This soft, moist cake has been a popular dessert for years. It's the perfect example of fluffy carrot heaven.
Before Starbucks was even an idea in its founders' heads, people were making their own versions of carrot cake in their own kitchens.
Now, the special formula for the famous Starbucks carrot cake is kept under lock and key, much like all the top-secret recipes of the big restaurants. But don't worry! You can make the magic of Starbucks' carrot cake in your own kitchen if you follow this copycat recipe because I've worked hard and used my taste buds to figure out what makes it so good.
Starbucks Carrot Cake Copycat
If you like sweet treats, you'll adore a freshly baked slice of carrot cake with cream cheese frosting. With just the right amount of sweet and sour, this cake is a favorite choice for dessert. Many people like to pair it with a cold glass of milk or a hot latte to make the experience even better.
Starbucks is known for its delicious baked goods, and its carrot cake is no different. It has a lot of flavors and is moist because it is made with high-quality ingredients like nuts and raisins. Starbucks works with local bakeries to make sure their cakes, scones, and muffins are always fresh. These bakeries use their top-secret recipes to make the cakes, scones, and muffins they sell in their coffee shops.
Cooking Frog has the secret recipe you need to make your own version of the carrot cake at Starbucks. This recipe is easy to follow and will make a delicious, moist cake that tastes just like the kind you'd buy at your favorite coffee shop. So, why not make it at home and show off your baking skills to your friends and family?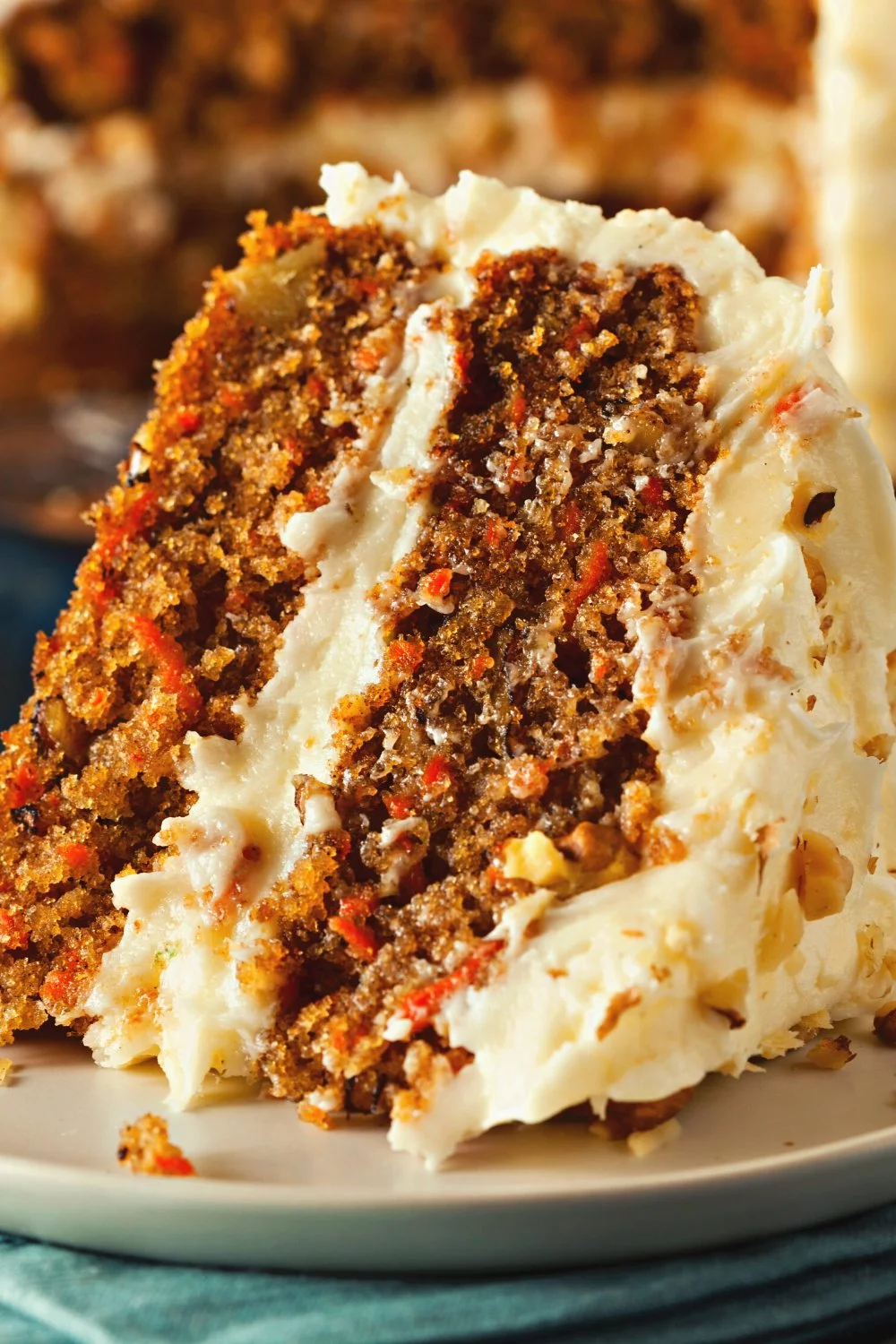 Starbucks Carrot Cake Ingredients
All-purpose flour: All-purpose flour is essential for making a soft and tender cake crumb because it is the main ingredient in the cake batter that gives it structure. It is made from a mix of different kinds of wheat flour so that it can be used for all kinds of baking.
Carrot: The star of this cake, the shredded carrot, gives the cake natural sweetness, moisture, and texture. It also helps give the cake its beautiful orange color and gives this dessert a healthy touch.
Baking powder and baking soda: These two leaveners are very important to the rise and texture of the cake. Baking powder releases carbon dioxide, which makes the cake rise. Baking soda reacts with the acid in the batter to make air pockets, which makes the cake light and fluffy.
Spices: Cinnamon, nutmeg, and allspice are all spices that make the cake taste warmer and more fragrant. In this recipe, the spices add a hint of sweetness and warmth, while the salt aids in balancing the flavors and bringing out the sweetness of the other ingredients.
Brown sugar: Brown sugar is an important part of this recipe because it gives the cake a rich, complex taste. Unlike white sugar, brown sugar has molasses in it, which makes the cake taste more complex and rich.
Vegetable oil: In this recipe, vegetable oil is used instead of butter. It helps keep the cake moist and soft. Vegetable oil has no taste of its own, so it doesn't change the taste of the cake.
Eggs: Eggs give the cake batter richness, consistency, and structure. They also help the ingredients stick together, making a batter that is easy to work with.
Vanilla: Vanilla extract is a common ingredient in many baking recipes, including this Starbuck carrot cake. It gives the cake a subtle sweetness and flavor. Vanilla makes the other ingredients taste better and gives the cake a classic, time-tested flavor.
Walnuts and raisins: Chopped walnuts and golden raisins give the cake flavor and a crunchy texture that goes well with the soft, tender crumb. The walnuts give it a nutty taste, and the golden raisins give it a little sweetness and a chewy texture.
For the frosting: For the frosting, cream cheese provides a creamy and tangy base, while milk brings moisture and assists in thinning out the frosting. Vanilla extract adds flavor, and powdered sugar balances the tanginess of the cream cheese with sweetness.
Optional garnish: chopped pecans give the finished cake a crunchy texture and nutty flavor, making it a beautiful and tasty dessert.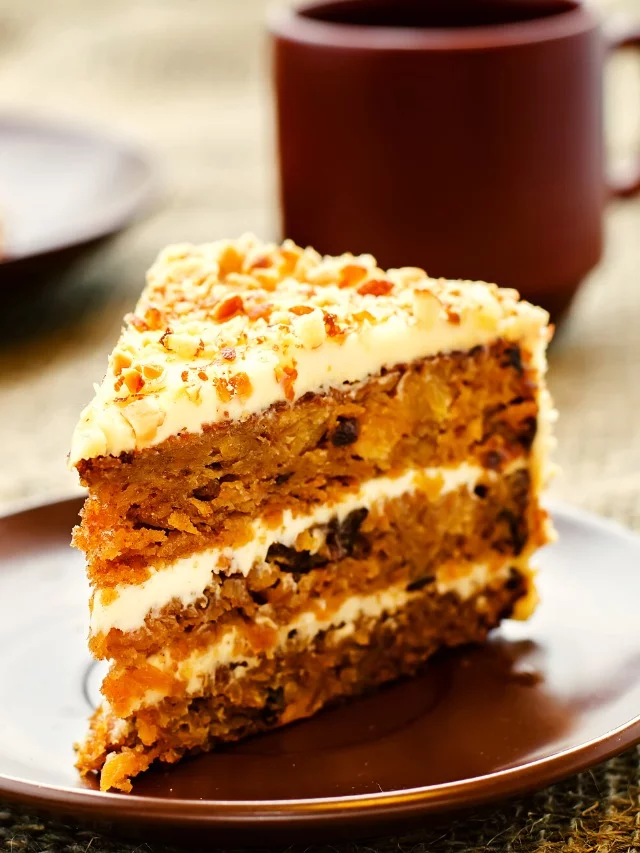 Starbucks Carrot Cake Recipe
With this Starbucks Carrot Cake Copycat Recipe, you can chew into a warm, fuzzy slice of heaven. This copycat recipe has all the flavors you love, from the spicy sweetness of cinnamon and nutmeg to the juicy crunch of fresh carrots, all wrapped up in a rich cream cheese frosting.
Ingredients
1 1/2 cups all-purpose flour
2 tsp of baking powder
1 tsp of baking soda
1/2 tsp of salt
2 ½ tsp of cinnamon
1/3 tsp of nutmeg
3 eggs
1/3 tsp of allspice
1 1/2 cups dark brown sugar
1 ¼ cup of canola or other vegetable oil
1/4 teaspoon vanilla
2 cups of shredded carrots (2 large carrots)
1 cup of chopped walnuts
1/2 cup of golden raisins
Frosting:
8 oz of softened cream cheese
1 ½ Tbsp of milk
1 tsp of vanilla
3 ¼ cups of powdered sugar
For Garnish, optional
1/4 cup of chopped pecans
Instructions
First, set your oven to 350°F.
In a large bowl, mix the dry ingredients (flour, baking soda, baking powder, cinnamon, salt, allspice, and nutmeg).
Use an electric mixer to combine the brown sugar and oil, then add the eggs and vanilla extract and beat on high speed for 1 minute. This will make a smooth and luxurious mixture that's ready for the next step.
Mix the wet mixture with the dry mixture, stir until it's all merged, then turn the speed up and blend until the batter is as smooth as silk.
Mix in the shredded carrots, crunchy walnuts, and plump raisins by hand. Pour the batter into a 13×9-inch baking pan that has been nicely greased. Get ready for a taste sensation with every bite!
Bake for 55 to 60 minutes, or until a toothpick inserted in the middle comes out clean. Allow the cake to cool down completely. This will ensure a perfectly baked cake with a moist center.
For the frosting
Mix cream cheese, milk, and vanilla extract with an electric mixer, then add powdered sugar one cup at a time until the frosting is smooth and creamy. This frosting puts the finishing touch on a delicious cake.
Frost your cake with the whole bowl of cream cheese frosting, sprinkle some pecans on top and cut it into 12 pieces.
Serve and enjoy every bite! Keep leftover cake in the fridge so you can enjoy the flavors again another day.
Feeling inspired by this delicious recipe for Starbucks carrot cake? Let's spread happiness and love! Share the photo below on your Pinterest board. You never know; your friends might start coming to you for baking! 🎂