Do you love the taste of churros? If so, then you'll want to try Keto Pork Rinds with Cinnamon because they have the same buttery, sugary, and cinnamon taste like churros. The best part is they have no carbohydrates! It is the perfect way to maintain a keto diet while enjoying the taste of your foods.
Keto Pork Rinds With Cinnamon
Cinnamon keto pork rinds taste a lot different than traditional pork rinds. Most people who don't like pork rinds enjoy cinnamon keto pork rinds because of their sugary taste.
Now before you freak out about the "sugar" aspect of the recipe, you'll be happy to know it's not simply sugar. The recipe uses natural monk fruit as the basis for its sweet taste. That means 0 grams of added sugars and 0 grams of carbohydrates. And if you love crunchy, healthy snacks, you will love this recipe even more.
Cinnamon keto pork rinds are ideal to have at breakfast time. Their sweet cinnamon taste wonders with a hot cup of tea or coffee in the morning. It will also keep you warm during the colder fall and winter months.
What are Pork Rinds
Have you ever eaten pork rinds before? They are roasted or fried pig skins, depending on how you want to prepare them. Sometimes you'll hear the term "chicharrones" get used as a reference to pork rinds. They are the same thing!
Although pork rinds contain high amounts of protein and fat, they have no carbohydrates. That is why they're considered an excellent snack for people on a keto diet.
How to Sweeten the Pork Rinds
If you're not on a keto diet and don't care about consuming carbohydrates, then you can prepare your cinnamon pork rinds with sugar. Those who want to cut out carbohydrates from their diets can use a natural sugar compound like erythritol. It is found naturally in certain foods like swerve and monk fruit. Your local grocery store should sell these natural sweeteners, but you can always purchase them from Amazon if they don't.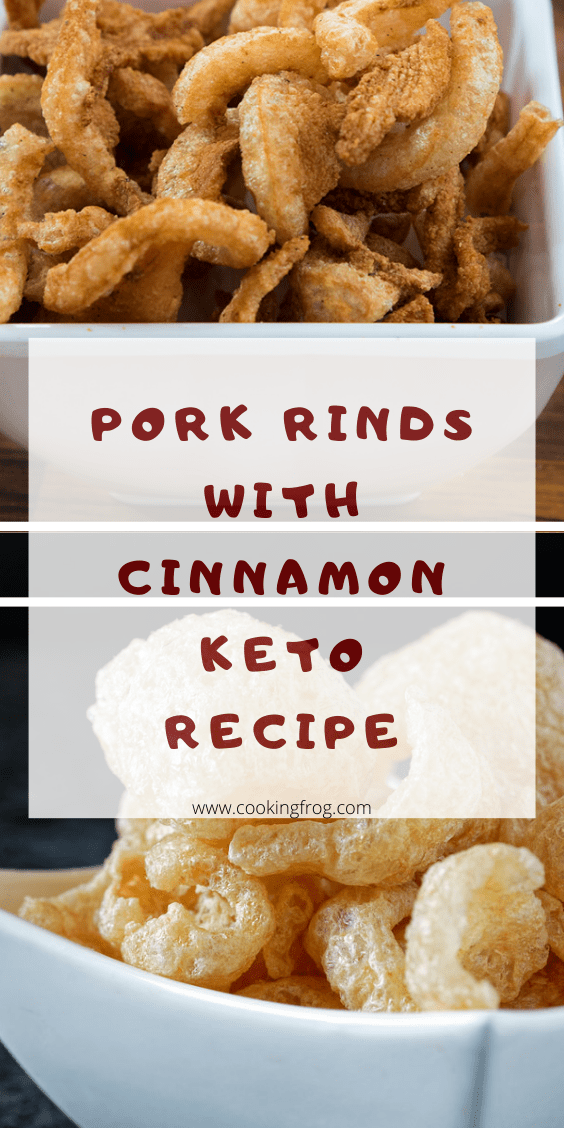 Two Cinnamon Pork Rind Meals
Cinnamon Pork Rind Cereal – Keto diets usually exclude cereal because it's loaded with carbohydrates. Well, the one advantage of pork rinds is they have no carbohydrates. If you were to crunch up cinnamon pork rinds into a bowl and mix them with almond milk, you would have the perfect keto cereal to eat in the morning.
Cinnamon Pork Rind Ice Cream – If you miss your ice cream while on a keto diet, you can still do something about it. Crunch up your cinnamon pork rinds and add them to keto-friendly ice cream (it does exist). You can also add sugar-free dark chocolate and whipped cream as well.
Pork Rinds With Cinnamon Recipe
It's quite simple to make these Keto pork rinds; all you need to do is follow the instructions below.
Ingredients
¼ cup of melted butter
3.5 oz. of pork rinds
¼ cup of erythritol
1 tbsp. of ground cinnamon
Accessories
Ziploc bag (1-gallon size capacity)
Baking sheet
Instructions
Place the pork rinds into the Ziploc bag. Add the butter into the bag.
Shake the bag profusely until all the pork rinds are covered in butter.
Add the cinnamon sugar to the mixture in the bag. Shake the bag until the coated pork rinds are also covered with the cinnamon sugar.
Preheat your oven to 200°F. Place the pork rinds onto a baking sheet and spread them out evenly on it. Leave the baking sheet in the oven for 20 minutes.
Take out the baking sheet from the oven. Give the pork rinds a few minutes to cool off.
Now eat! Either that or store the pork rinds in a Tupperware container and place it in the refrigerator.
Check out these Keto Recipes:
Keto Pepperoni Pizza with Cauliflower Crust
Keto Zucchini and Spinach Lasagna