Marinated overnight in pineapple juice and citrus this El Pollo Loco Chicken Recipe will be enjoyed by everyone. El Pollo Loco Copycat is really easy to make and has got all the classical flavors needed.
Have you experienced El Pollo Loco in your area? I believe it might be a mostly West Coast chain of Mexican fast food. I recall my mom picking it up when I was little and enjoying the juicy chicken stuffed in a tortilla. It was absolutely so simple but always so delicious. Eventually, she developed a recipe that is an excellent El Pollo Loco Chicken recipe Copycat. This really is just excellent chicken.
I really enjoy simple recipes that don't take much preparation, and this really is one amongst them. This El Pollo loco chicken is excellent because the marinade takes five minutes to make and you are able to just throw the chicken in and just forget about it.
Be sure to also check the video for this amazing El Pollo Loco Chicken Recipe at the bottom of the article.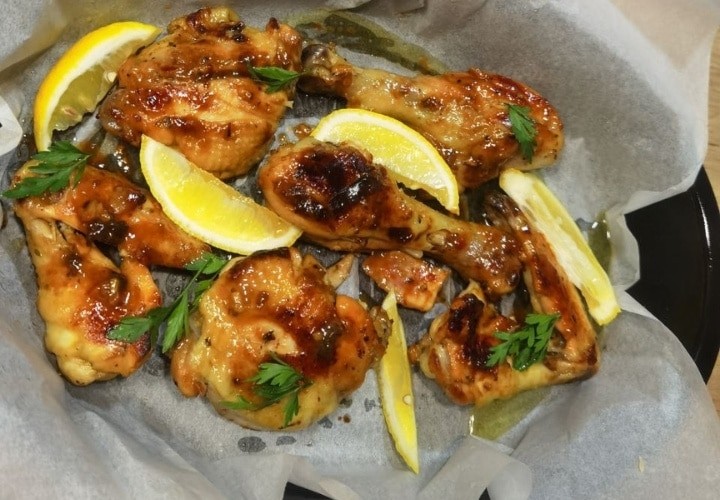 El Pollo Loco Chicken is not easy to explain if you haven't tried it. There is a certain citrus flavor, but there's also an absolute chicken quality to it. I used to observe them make El Pollo Loco chicken on my break while looking forward to being done.
And what I saw is they put a steel press on top of it. You don't need to do this, but it is the better way to acquire a delicious crispy skin on the chicken.
Does El Pollo Loco refer to the crazy chicken?
El Pollo Loco (Spanish for "The Crazy Chicken") is the name of two independent restaurant chains that specialize in Mexican-style grilled chicken. Both were founded by Juan Francisco Ochoa. He established the first El Pollo Loco restaurant in Guasave, Sinaloa, Mexico in 1974.
What to serve with El Pollo Loco Chicken?
Yes, this El Pollo loco chicken is great on its own. However, the best way to serve it is to add some macaroni and cheese on the side and some warm, delicious tortillas.
Important Notes For El Pollo Loco Chicken Recipe
It is true that El Pollo Loco uses coloring. Yes, El Pollo Loco uses food coloring. They get it done to help make the chicken look better. This has no effect on the flavor, so I left it out but noted it in this recipe.
Chicken is marinated for a long period of time. That's why it's so rich in flavor without adding any sauce!
You are able to cook it using your stovetop too, if you do not wish to bake, but be careful that you don't burn the chicken skin too much. The flavor of the crispy chicken skin is crucial to the El Pollo loco recipe.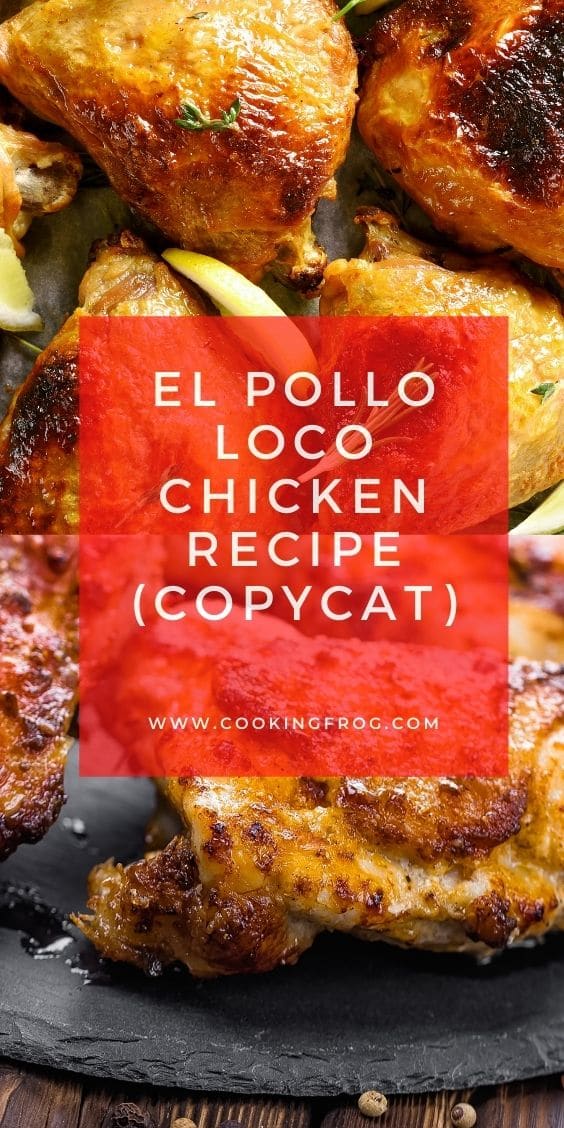 Ingredients
1 Tbsp of white vinegar
2 cloves of minced garlic
1/2 tsp of salt
1/2 tsp of dried oregano
1/4 tsp of ground pepper
1/4 of jalapeno seeded, minced
1 cup of pineapple juice
2 Tbsp of lime juice
1 Tbsp of canola oil
8 chicken thighs, bone-in
How to make El Pollo Loco Chicken Recipe (Copycat)
Combine all the ingredients, with the exception of the chicken, using a large bowl.
Whisk the ingredients nicely, then save 1/4 of the cup of marinade in a small Tupperware.
Place the chicken into the bowl, cover it with plastic wrap, and let marinate overnight.
Heat the oven to 425F.
Using a cast iron pan for grilling, place the chicken skin side up—Cook for about 25 minutes in the oven.
Turn the stovetop on medium heat and add the pan using potholders.
Use the canola oil spray to spray the foil, and put the sprayed side down over the top of the chicken.
Now press the chicken either with a foil-wrapped brick or bacon press or using another pan.
Pour the rest of the marinade that you've saved over the chicken while it cooks.
Cook for about 2-3 minutes and take away the bacon press, flip the chicken, pour more marinade, and cook your final 2-3 minutes before ready to serve.
El Pollo Loco Chicken Video Recipe
If you've liked this El Pollo Loco Chicken, you must try these popular copycat recipes below:
El Pollo Loco Avocado Salsa Copycat recipe
Popeyes chicken sandwich recipe
KFC Chicken Littles recipe (Copycat)
McDonald's Chicken McGriddles (Copycat)
Chick-Fil-A Chicken Minis and Burgerville Fried Asparagus with Garlic Aioli (Copycat)