The Finest Italian Lemon Ricotta Cake recipe is here! It is the ideal Italian dessert since it is flavorful, fluffy, and lightweight. Ricotta cheese and lemon are used in this simple recipe.
You'll like this recipe because it's a rich, moist, and easy-to-make cake that is an authentic Italian delicacy made in your kitchen. It is filled with lemon flavor and creamy ricotta. Although this simple lemon ricotta cake appears modest, the flavor is incredible! Think of it as an Italian cheesecake!
What is Italian Lemon Ricotta Cake?
Lemon ricotta cake has a texture that is somewhat denser and less sweet than classic lemon cake. It is a typical Italian dessert that is frequently eaten as a dessert or with fruits for breakfast.
Even though the recipe's origins are in Sicily, regional variations are common. It's the ideal dessert for spring and summer since it's so very moist and has a dense but fluffy texture, regardless of what part of Italy serves it.
This cake is typically kept on counters in Italian restaurants on glass pedestals. It's a sociable cake that goes well with a warm cup of coffee or as a snack. In addition, the cake stays well both at room temperature and in the refrigerator. And the ricotta ensures that it stays moist and flavorful.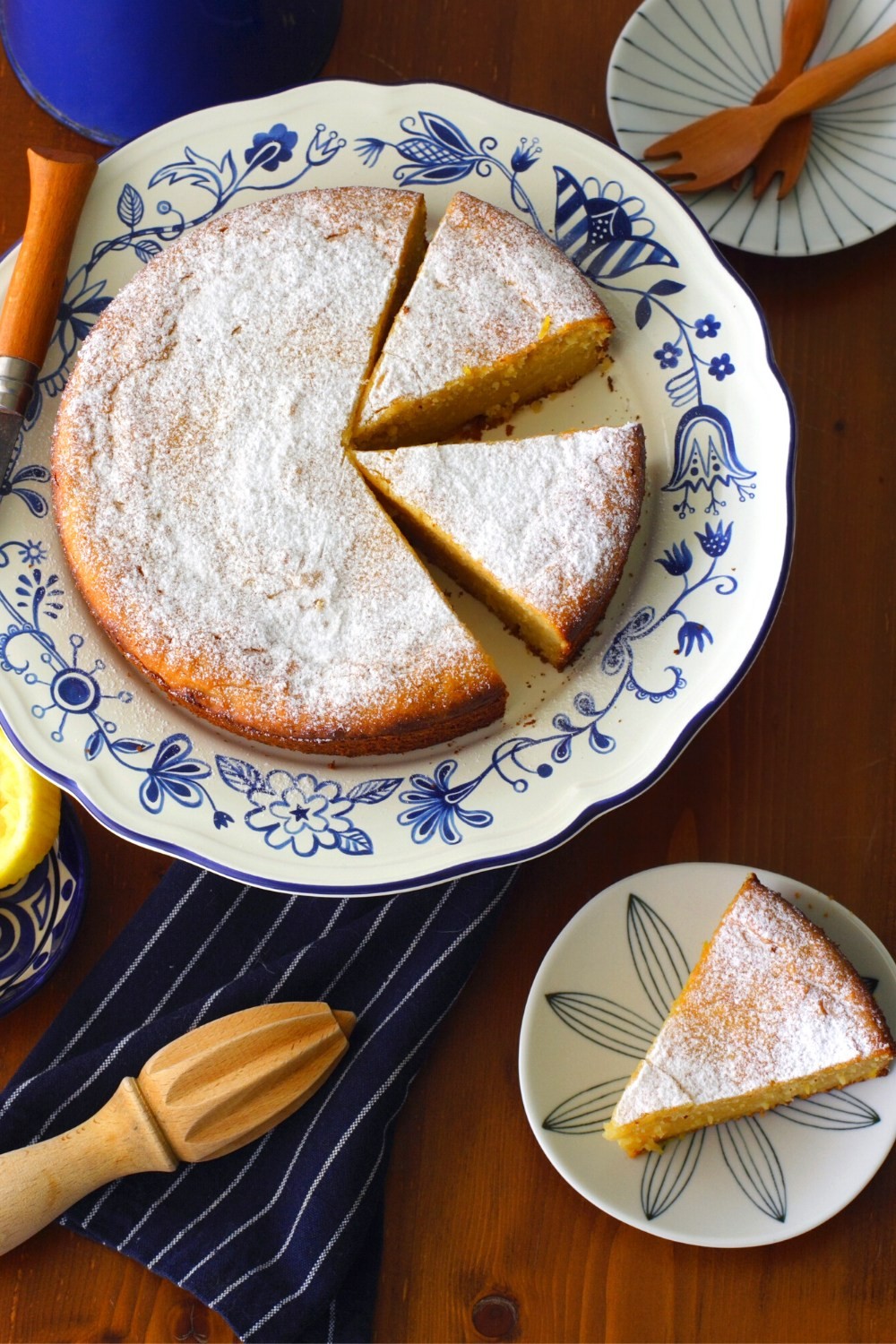 Ingredients you'll need
The recipe card is located at the end of the post and contains the complete list of ingredients with measurements and instructions. Keep the ingredients at room temperature for the best results.
Ricotta cheese – Ricotta cheese from the grocery store is ideal since it has a creamy cheesecake feel and is made with whole milk and full fat. Furthermore, it is usually less watery; if yours is, check the notes about straining.
Lemon: Use the juice and the zest to get the most flavor out of those fresh lemons. And nothing beats the taste of fresh lemon juice!
Butter – Butter at room temperature will blend more efficiently and provide a smooth and creamy texture. I like salted butter, but unsalted butter may still be used; add an extra pinch of salt.
Sugar – Although I prefer pure cane sugar, regular white sugar works just as well.
Eggs – Keep the eggs at room temperature before using them. If you forget, put the eggs in a bowl of warm (not hot) water for 6 to 7 minutes.
Sour Cream: Instead of sour cream, you can also use Greek yogurt for an even tangier taste.
Vanilla Extract – pure vanilla extract brings Ricotta cake's lemon and other tastes to life.
Baking soda and salt – Baking soda and salt are essential aspects of every cake recipe.
All-Purpose Flour – I use all-purpose flour that is organic and unbleached.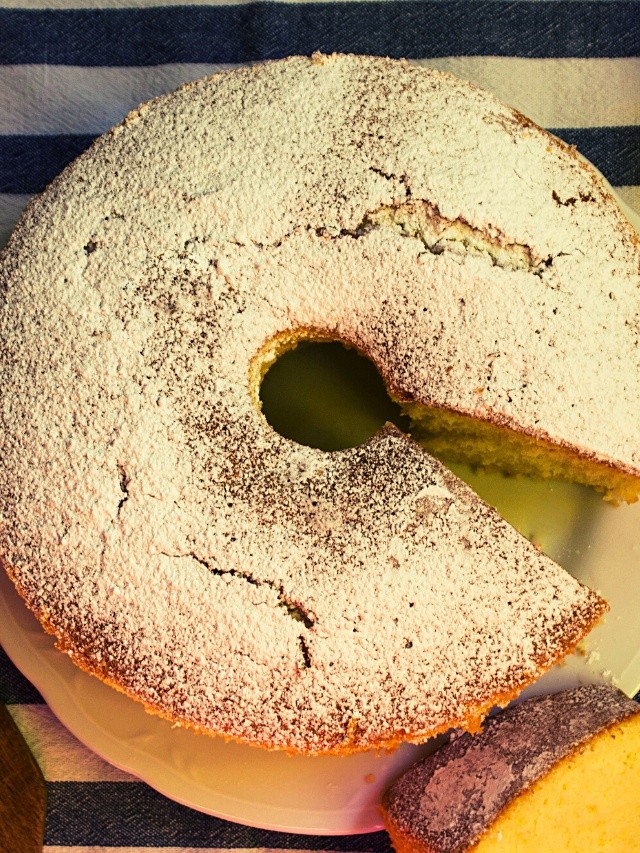 How to make Italian Lemon Ricotta Cake
The simplicity and speed with which this Italian dessert comes together are two things I really like. There is less mess because everything is done in one dish.
Step 1: Use butter and powdered sugar to grease a 9-inch springform pan. To do this, spread about two tablespoons of butter around your hands. Add a tablespoon or so of powdered sugar after that, tossing it in to help it stick to the butter. Tap the pan to remove any extra sugar.
Step 2: Mix the sugar and butter in a bowl until smooth. Add in the ricotta cheese next. Now, and this is important, mix the butter, sugar, and ricotta together for 4-5 minutes to make the mixture light and fluffy. This will make the cake light and airy instead of dense.
After that, add the eggs one by one. Then, add the lemon juice and zest. For this recipe, I don't actually measure the zest or juice. Simply take the most attractive lemon you can find and zest it with a microplane lemon zester over the bowl. After it has been zested, split the lemon in half and pour the juice into the batter using a handheld juicer. Add the dry ingredients and mix well.
Step 3: Bake the batter for a little under an hour in a springform pan that has been oiled.
Step 4: After baking the cake, take it out of the oven and let it cool for 15 minutes before adjusting the collar. To allow for complete cooling, move to a wire rack to cool.
Finally, just before serving, dust the cake with powdered sugar. Serving the Italian Lemon Ricotta Cake with a dab of whipped cream and some fresh berries would also be delectable.
Traditional desserts from Italy
One of the delectable traditional Italian sweets is this lemon ricotta cake. You'll discover that a lot of Italian sweets have a cheese basis (like ricotta or mascarpone) and include citrus or fruit tastes. These pastries will also have an anise or almond (amaretto) flavor.
Here are some other traditional Italian desserts that are suitable for any celebration:
Traditional Sicilian Cassata Cake
Italian Sponge Cake Easy Recipe (Pan di Spagna)
Authentic Maritozzi (Italian Sweet Bun)
Famous Sicilian Cannoli Authentic Recipe
Italian Lemon Ricotta Cake Recipe
Italian Lemon Ricotta Cake is flavorful, fluffy, and lightweight. You're going to like this classic Italian dessert made with fresh lemon and lovely ricotta cheese, which is particularly delicious when served as a morning or brunch treat.
Prep Time: 10 minutes
Cook Time: 50 minutes
Calories: 220 per serving
Ingredients
½ stick of softened butter
1 ½ cups of sugar
1 lemon, juiced and zested
16 oz of ricotta cheese, whole milk
3 eggs, large
1 tsp of vanilla
½ tsp of baking soda
½ tsp of salt
1 ½ cups of flour
(Optional) powdered sugar for dusting the cake
Instructions
Set the oven to 350F. Prepare a 9-inch springform pan by greasing it with butter and powdered sugar, then leave it aside.
In a large bowl, mix the butter and sugar until they are well blended. Add the ricotta cheese and mix for about 4 to 5 minutes until the mixture is light and fluffy.
One at a time, add the eggs and mix. Incorporate the vanilla, lemon juice, and zest after adding them. Add the baking soda and salt to the bowl. To fully combine all of the ingredients, add the flour last and stir just until incorporated (Don't overmix). Scrape down the bowl's sides as needed.
Pour the mixture into the springform pan that has been prepared. Bake the lemon ricotta cake for 40–50 minutes or until a toothpick inserted into the middle comes out clean.
Before removing the pan's collar and base, allow the food to cool in the pan for 15 minutes. Before serving, allow it to cool on a wire rack and dust with powdered sugar.
Share the image below on your Pinterest board if you like this Italian Lemon Ricotta Cake!