Yearning for that signature Starbucks salted caramel latte? Why not recreate this item from the Starbucks menu right in your kitchen? My take on this beloved copycat version mirrors the rich caramel warmth and the gentle sea salt contrast of the original.
With every sip, you'll be reminded of the familiar Starbucks taste, all while wrapped in the comfort of your home. Let's get started on this fun voyage of flavors.
Dive into the world of homemade coffee with a salted caramel latte that's both decadent and satisfying. This isn't just any beverage; it's a moment of indulgence, a unique treat that you can prepare in your kitchen. Let's explore how to bring this coffee shop favorite to life at home.
The Essence of the Starbucks Salted Caramel Latte
At its heart, the Starbucks salted caramel latte blends contrasting flavors. The deep richness of caramel, the slight hint of sea salt, and the robustness of coffee come together in a lovely harmony of taste. But what makes our version unique?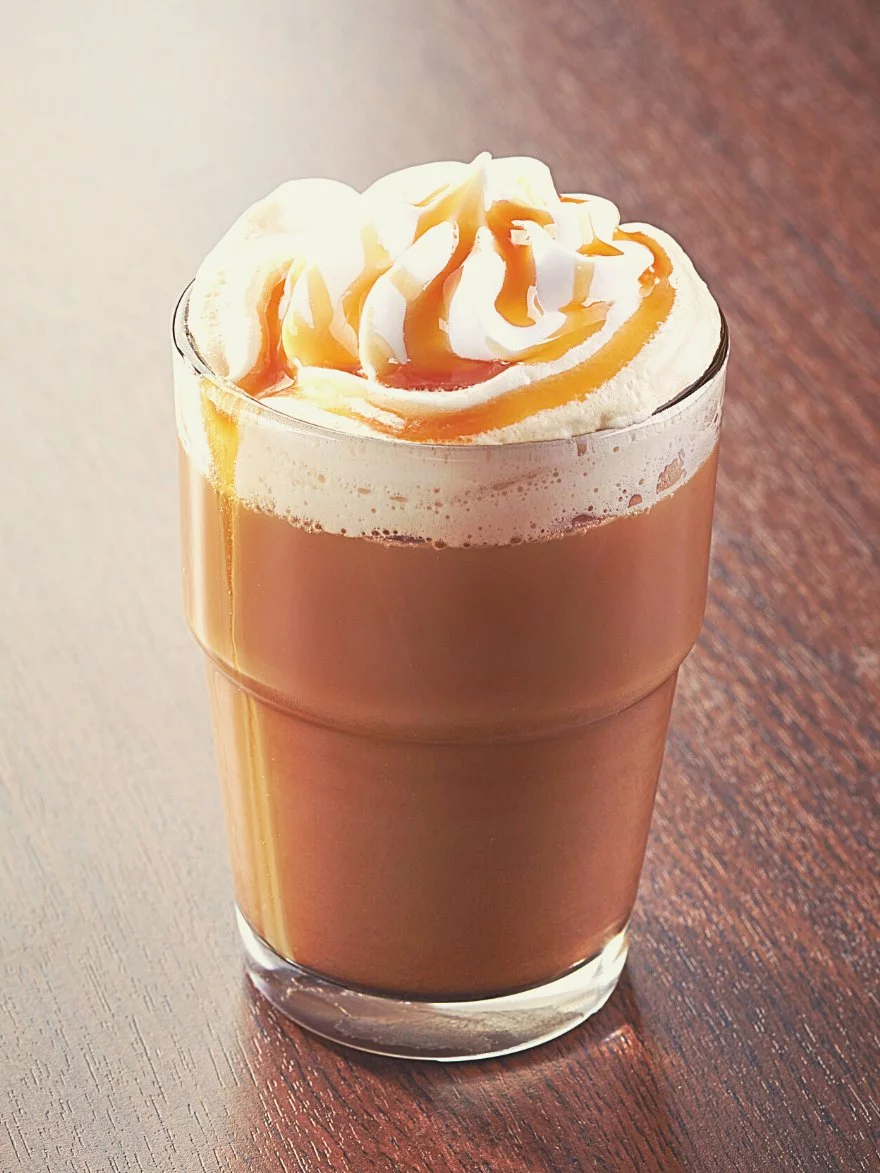 Why Opt for a Homemade Version?
While coffee shops offer convenience, there's a particular satisfaction in making your favorite drink at home. It is cost-effective and allows you to adjust the flavors to your liking, ensuring every sip is flawless.
Dive into the Ingredients
Espresso or Strong Coffee: This forms the base of this latte. A robust brewed coffee will do the trick if you're without an espresso machine.
Milk: This adds a creamy texture, making each sip silky.
Caramel Coffee Syrup: The hero of this drink, delivering that signature caramel sweetness.
Turbinado Sugar: With its molasses undertone, this sugar complements the caramel beautifully.
Sea Salt: A hint to contrast and enhance the sweetness.
Whipped Cream: Optional, but it adds a layer of luxury.
Step-by-Step: Crafting the Perfect Starbucks Salted Caramel Latte
Blend Flavors: Combine the turbinado sugar and sea salt in a bowl. This mix will be our flavor enhancer.
Start with the Base: Pour your freshly brewed espresso or strong coffee into your chosen mug.
Add the Sweetness: Add the caramel syrup. Adjust the quantity based on how sweet you like your drinks.
Creamy Addition: Gently pour in your hot, frothed milk. If you don't have a frother, simply heat the milk and give it a good whisk to produce some air.
Top it Off: If you're in the mood, add a whipped cream dollop.
Final Touches: For a hint of extravagance, give it a light drizzle of caramel sauce and a sprinkle of your sugar-salt blend.
Elevate Your Latte Experience
For those who enjoy a touch of extravagance, consider using a pinch of high-quality sea salt for the topping. It adds a gourmet feel and enhances the overall flavor profile.
Complement Your Drink
Fresh Berries: The natural tartness of berries like raspberries or blueberries can balance the sweetness of the latte.
Savory Bites: Consider pairing with thin slices of prosciutto or even a cheese-filled croissant.
Sweet Pastries: A light pastry or a slice of banana bread can be a delightful accompaniment.
Caramel Bits: Add caramel bits to your late for a whole caramel experience.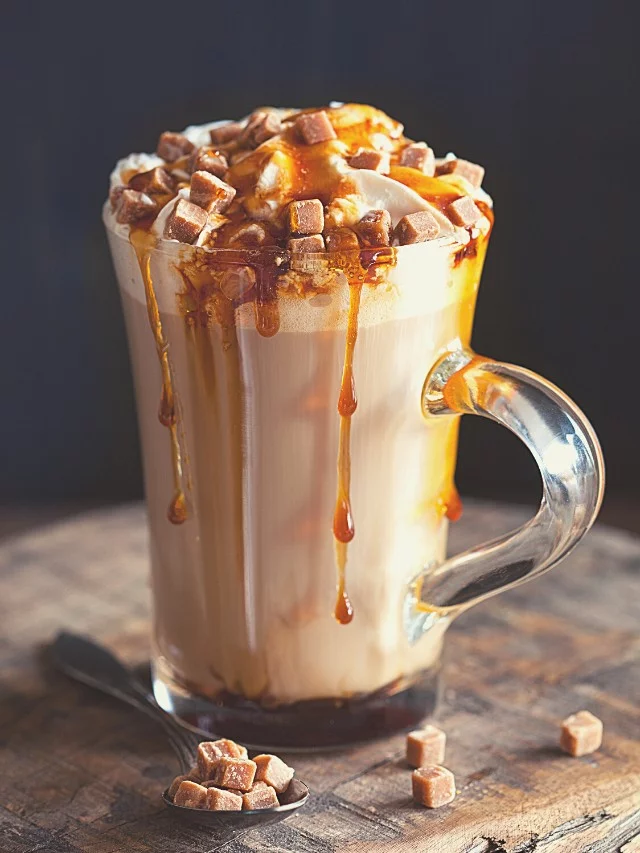 A Cooler Alternative: Iced Version
On hot days, enjoy a chilled version. Simply cool your brewed espresso, pour it over ice, add the caramel syrup, add cold milk, and complete with whipped cream and the sugar-salt sprinkle.
More Starbucks Recipes:
Starbucks Pink Drink: A refreshing fusion of fruity tastes with a hint of coconut. Vibrant in color and flavor, it's summer in a glass, no matter the season.
Starbucks Grilled Cheese: A melty, cheesy joy sandwiched between flawlessly toasted bread. Your savory craving's answer.
Starbucks Cake Pops: Bite-sized sweetness on a stick. A satisfying treat that's as pleasing to the eyes as it is to the taste buds.
Starbucks Chai Tea Latte: A harmonious combination of spices and tea, offering a warm embrace in every sip. Experience comfort in a cup.
Starbucks Carrot Cake: Moist, spiced, and topped with creamy frosting. It is a classic dessert with a Starbucks twist, ideal for any occasion.
Starbucks Salted Caramel Latte Recipe
Introducing your next go-to coffee fix: the Salted Caramel Latte copycat recipe. Prepared to capture the essence of its Starbucks counterpart, this recipe ensures a rich, flavorful brew right from your kitchen. Excellent for those mornings when you need a little extra zest or evenings of cozy contemplation.
Ingredients:
4 oz of espresso or robust brewed coffee
3 Tbsp of caramel syrup
4 oz of milk, preferably frothed
1 1/2 tsp of turbinado sugar
A pinch of sea salt flakes
Whipped cream (optional for topping)
Instructions
1. Sugar-Salt Blend:
In a small mixing bowl, blend the turbinado sugar and sea salt. Stir until you get a uniform mix. Put aside.
2. Brew Your Base:
Brew a strong shot of espresso or coffee. Pour it into your mug.
3. Add the Caramel Touch:
To the brewed coffee, add the caramel syrup. Start with a tablespoon and adjust according to your sweetness preference.
4. Milk Magic:
Warm your milk until it's just about to boil. If you have a frother, froth the milk until it's creamy. If not, give the milk a good whisk to add some air. Gently pour the frothy milk into your coffee caramel mixture.
5. Optional Luxury:
Spoon a dollop of whipped cream on top of your latte if you're in the mood for some indulgence.
6. Garnish and Relish:
Drizzle a bit of caramel sauce over the top. Finish by sprinkling your prepared sugar-salt blend over the whipped cream or directly onto the latte.
Fancy it's Starbucks Salted Caramel Latte recipe? Let's spill the beans! Pin the picture below and let your Pinterest friends in on your coffee chronicles.Who knows, they might just brew up some gratitude!