Portillo's restaurant, located in Chicago, is famous for its Chicago-style food with an unmatched flavor, like Hot Dogs, Sandwiches, Maxwell Street Polish, and Italian Beef, but what most people don't know about his restaurant is that they also serve a very soft, moist, mouthwatering chocolate flavored cake.
People from far-off places visit his restaurant to taste this soft, spongy chocolate cake.
Good News! You can make this amazing cake in your kitchen without visiting Portillo's restaurant. I got this fantastic recipe recently and was so surprised when I tried this at home. Honestly, it surpassed my expectations. It tastes exactly like the original Portillo's cake. And the good thing is its simple recipe has only a few simple ingredients.
I am so excited to share the easiest and simplest recipe for this amazing cake today. This Portillos Chocolate Cake Recipe is a perfect copycat of the original. If you are a fan of cakes and dessert fan, then you'll love this cake recipe. Your kids are definitely gonna love it.
Portillo's Chocolate Cake
It is one of the softest, moistest, lightest, and sweetest cakes you can ever make. Its delicious chocolate taste is simply unmatchable. This cake is sooo finger-licking gooood. You are definitely gonna enjoy each and every bite of this cake.
I'm sharing this copycat recipe with you so that you can make this wonderful cake on your own and enjoy the delicious rich chocolaty flavor without going to a restaurant.
This is the simplest and the quickest recipe, and even newbies can make a wonderful cake out of it easily. This cake is so simple yet so delicious. It is appropriate for many occasions and celebrations.
You can also try it anytime, without any special occasion, just to enjoy its great flavor. So, make it for your loved ones and get ready to hear the words of appreciation.
This copycat recipe is the best of all the recipes out there, and your cake will definitely taste like the real thing. To your surprise! This cake recipe includes mayonnaise. This is the basic ingredient that makes this cake so moist and soft. Adding mayonnaise to the cake recipe may sound weird, but trust me!
Mayonnaise is nothing more than a mixture of oil and egg yolks. That's exactly what you add to a cake recipe. Right? So don't hesitate and try out this recipe without a doubt.
Pin the image below if you like this recipe!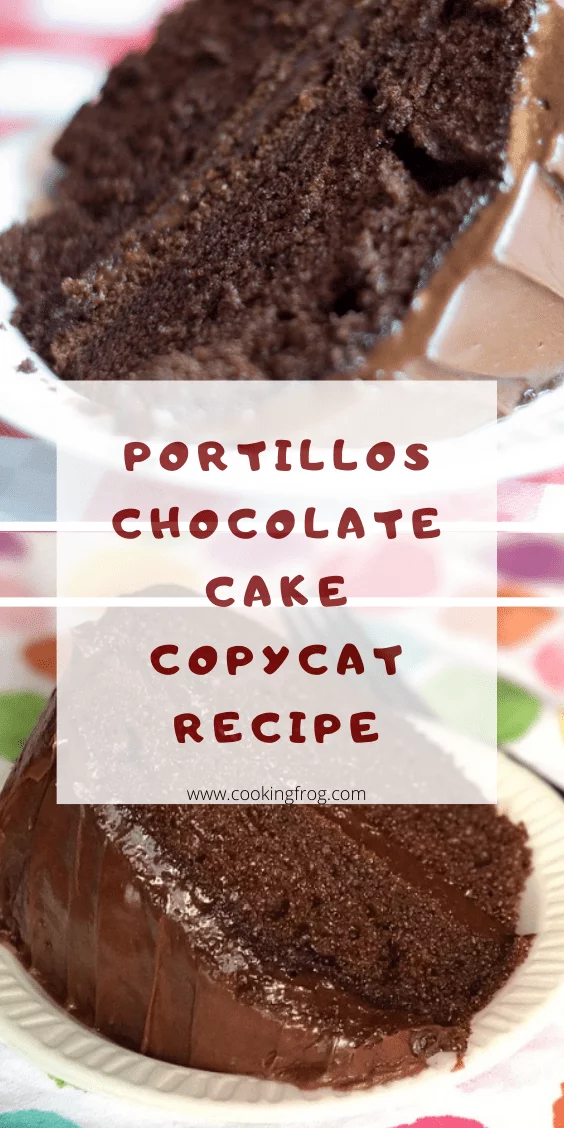 Portillos Chocolate Cake Recipe Copycat
Ingredients
1 box Betty Crocker Cake Mix
3 Eggs
1 cup ice-cold water
1 cup Mayonnaise
2 cans of Betty Crocker's chocolate frosting.
Directions
Heat the oven to 350°F. Take two round pans of 9 inches each. Grease the pans well with oil or butter.
Take a large bowl and add cake mix, water, eggs, and mayonnaise to it. Slowly mix the ingredients for 30 seconds. Now increase the speed to high and mix for 4 minutes.
Pour an equal amount of cake batter into both pans.
Place these pans in the preheated baking oven and bake the cakes for 30 – 32 minutes. After 32 minutes, pierce a toothpick in the middle of the cake. If the toothpick comes out clean, your cakes are ready.
Rest the cakes for 5 minutes. Now remove the cakes from the pans. Place them on the cooling racks and let them cool for about an hour.
Place one cake on a plate and spread 3/4th of the frosting on top. Now place the other cake on top of it and pour the remaining 1/4th part of the frosting on top of it. Now use your skills to decorate the cake and Serve it!
Tips to Bake the Best Portillos Chocolate Cake Recipe
Use the eggs at room temperature.
Remember not to overmix the cake batter. Overmixing the batter makes the cake dry and hard. Mix the batter until all the ingredients are mixed well.
You can also add a bit of coffee to enhance the cake's rich chocolaty flavor and make it even more delicious. Don't worry; your cake won't get the taste of the coffee. Just 1tsp of the espresso powder is enough to do the magic.
Don't open the cake during baking. Doing so alters the temperature inside the oven and your cake may not be baked well.
Portillo's Chocolate Cake Shake
You can also easily make the most amazing shake literary by blending this Portillos Chocolate cake. Just blend the cake until it's smooth, and you're done. I've noticed that many folks like Portillos Chocolate shake more than the cake. 🙂
Check out more popular copycat recipes:
Almond Joy Candy Bars Recipe (Copycat)
Sweet Martha's Cookies Copycat Easy Recipe
El Pollo Loco Chicken Recipe (Copycat)
Popeyes Chicken Sandwich Recipe
Chick-Fil-A Chicken Minis Copycat