It's time for another copycat recipe from Arby's menu! After Arby's Bronco Berry Sauce and Arby's Beef and Cheddar Sandwich is time for Arby's Jamocha shake. A few months ago, I was at Arby's and noticed they had a Jamocha Shake. I had never tried this popular shake before, believe it or not, but I put it on my to-do list to try out.
I've never been a fan of the Jamocha Lattes at Starbucks, so I was a bit skeptical about this shake. I decided to get one, and I also got a regular shake to try out. The Jamocha Shake was delicious. I like it better than the Jamocha Lattes at Starbucks, as I enjoyed my Jamocha Shake and decided to try it at home.
I have modified it and brought it down to simple ingredients that are easy to get for anyone looking for an easy drink recipe or just looking for an Authentic version of this Arby's shake. Read on to see how I did it.
What is Arby's Jamocha Shake?
Arby's is a fast-food chain that prides itself on serving customers delicious roast beef sandwiches. On Thursday, January 12, 2017, Arby's announced the release of their new Jamocha Shake.
After a poll ran on their website, Arby's decided to release their new Jamocha Shake to the public!
This shake is a kind of milkshake with a bit of a twist. It's not your typical milkshake. It's loaded with ice cream, chocolate, and coffee, making it a very delicious treat. It is sure to be a hit with coffee and chocolate lovers everywhere.
Oh, and It is so easy to Arby's Jamocha Shake that even my kid can make it. 🙂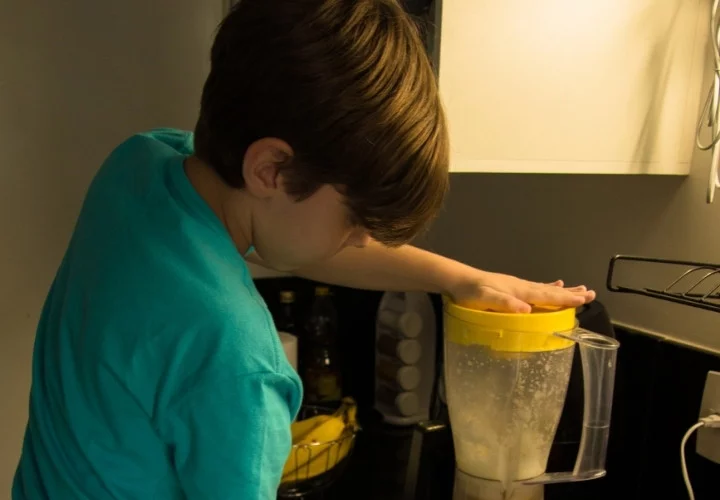 What is the difference between Mocha and Jamocha?
These two beverages may seem the same, but they have very little in common. Mocha blends chocolate syrup, milk, and espresso. This drink has caffeine because it uses brewed coffee. On the other hand, Jamocha is a famous authentic shake by a fast-food restaurant and has a unique taste. It uses cold coffee and chocolate syrup, which is not like Mocha at all.
How to Store Leftovers?
Don't leave your shake in the refrigerator for more than 4-6 hours. If you keep it in the fridge for too long, it will become too liquidy. It is suggested to put it back into the freezer for 30 minutes to solidify.
Can I freeze Arby's Jamocha shake?
I have been getting lots of questions about how to freeze Arby's Jamocha Shake; I have no idea why. But I am going to do my best to answer this question. If you want to freeze Arby's Jamocha Shake, then there are two things you need to remember.
First, It will get an ice cream consistency and not a shake.

Second, don't leave it in the freezer for more than seven days in an airtight container.
You can also freeze it and then blend it with ice cream. The results will be fantastic! It tastes just like a Wendy's Frosty!
How to create a vegan version of Arby's Jamocha Shake?
Unfortunately, Arby's doesn't sell the vegan version of it. So, I decided to create a vegan version by reverse-engineering the original shake. It turned out great. So great that I will suggest all vegans try it. Simply use soy, coconut, or almond milk. Don't forget to add dairy-free, plant-based vanilla ice cream to your shake as well. The rest of the steps will remain the same.
Pin the image below if you like this Arby's Jamocha Shake Recipe!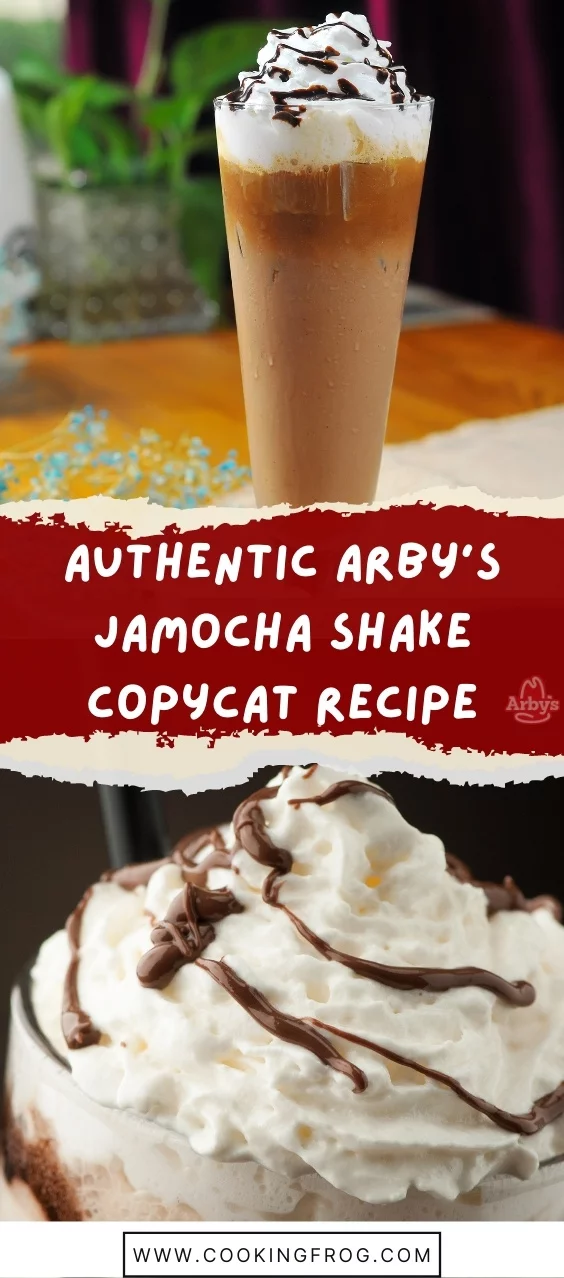 Ingredients
¾ cup whole milk

1 ½ cups cold coffee

2 tbsp sugar

5 tbsp chocolate syrup

3 cups vanilla bean ice cream
Instructions
Mix coffee, sugar, and milk in a blender on medium to high speed, and you get a smooth consistency.

Turn the blender off and add ice cream and chocolate syrup. Blend again until smooth.

Put the shake in the refrigerator for 15-30 minutes to thicken. (This step is optional)

Pour Arby's Jamocha Shake into the glasses and drizzle chocolate syrup. The amount of chocolate syrup depends on your liking.
Nutrition Value (Per Serving)
Calories: 1171

Fats: 11g

Carbs: 98g

Sugar: 89g

Protein: 7g
Tips & Tricks
Turn the blender off before adding ice cream. Otherwise, it will splash out.

Whole milk is the best option in this recipe because it makes your shake thicker. But you can also use skim milk or dairy-free milk.

Make sure that your coffee is cool. Otherwise, it will melt the ice cream.

Make cold coffee as strong or light as you want. But remember, it will affect the taste of your shake.

You can use the chocolate sauce for this shake if the chocolate syrup is not available.

If your shake is not as thick as you want, you can add more ice cream.
Let's Sum Up
We hope you enjoyed this blog! If you have any other questions or concerns about Arby's Jamocha Shake or anything else, please contact us anytime. Thank you for reading, we are always excited when one of our posts can provide helpful information on a topic like this!
If you've liked this recipe, try this Portillos Chocolate Cake copycat, you can make a shake out of it also; just blend it, and you'll get a delicious chocolate cake shake. 🙂
Also, don't forget to share the recipe with your friends and family. They will like it too!