Taste the delicious flavor of the famous Starbucks Grilled Cheese sandwich with our easy, budget-friendly, and spot-on copycat recipe. Now you can make this mouthwatering treat in your own kitchen and enjoy the heavenly combination of gooey, melted cheese inside a crispy, buttery sourdough crust.
This enticing sandwich is made with three kinds of cheese: a flavorful mix of white cheddar, a Parmesan butter medley, and creamy Mozzarella. Follow our simple, step-by-step instructions and you'll be able to make this popular sandwich with ease, making it a go-to choice for your homemade cooking adventures.
Starbucks Grilled Cheese Sandwich
It's funny how even small surprises can stick with you for a long time. I'll never forget the day I finally gave in and ordered a grilled cheese from Starbucks. I had no idea that my taste buds were about to go on a delicious journey.
I didn't think much of it because I thought it would be a boring sandwich to fill my empty stomach, but oh, how wrong I was! It was nothing less than perfect.
I was determined to find out what made Starbucks' delicious grilled cheese taste so good. A little digging turned up the magic formula: "A mix of white Cheddar and mozzarella cheeses on sourdough bread, topped with a Parmesan butter spread." And let's not forget the subtle zing of dehydrated garlic.
Suddenly, everything made sense. The key to this delicious sandwich was the way the white cheddar, mozzarella, sourdough, and Parmesan butter spread went together. With this new information, I didn't waste any time trying to make the masterpiece in my own kitchen.
Now, whenever I want a delicious, fulfilling grilled cheese sandwich, I know exactly what to make. And what was the best part? Sharing this fun discovery with others, like you!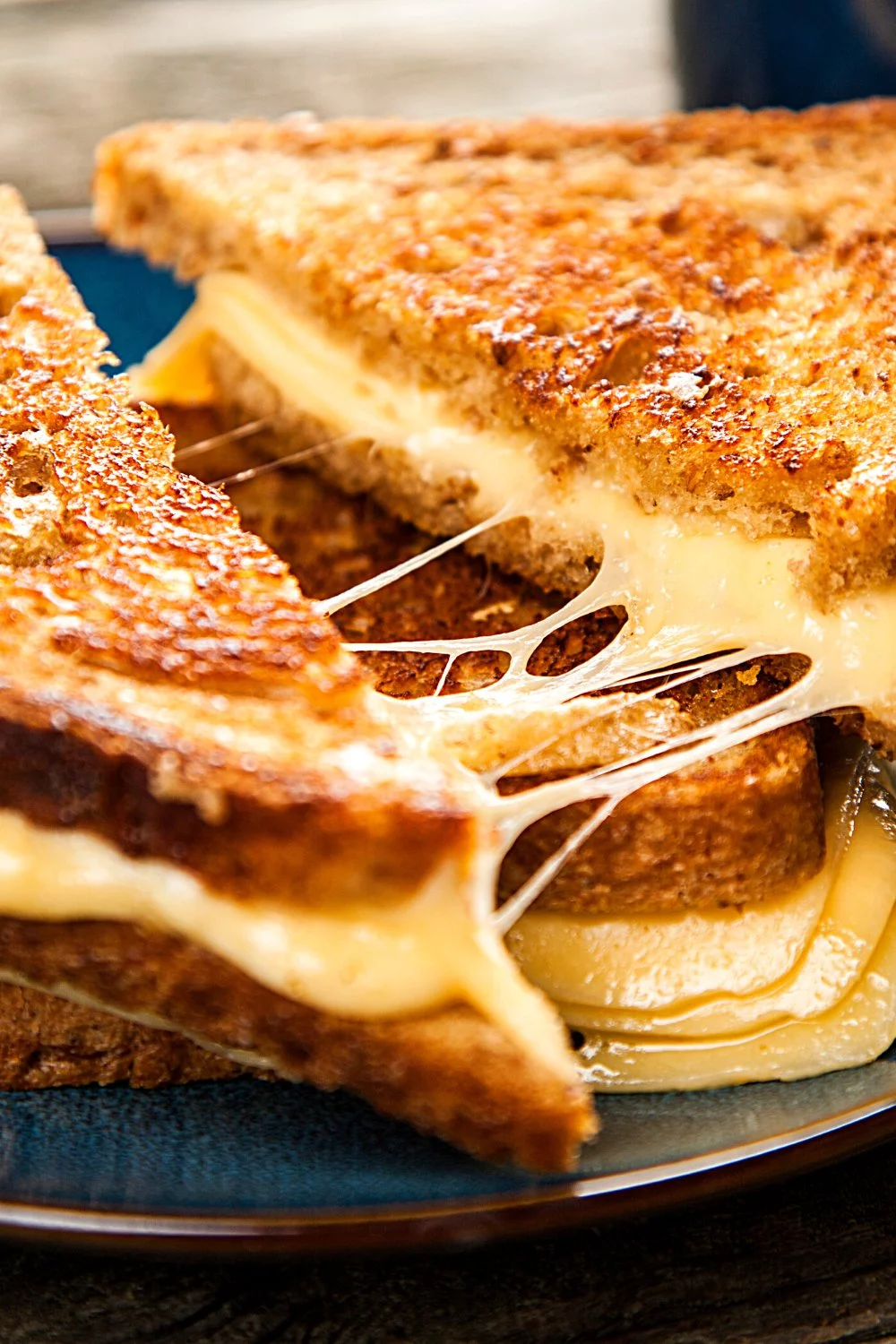 Why You'll Love This Starbucks Grilled Cheese Copycat
If you've ever had a Starbucks grilled cheese, you know how much joy it brings. Lucky for you, this recipe lets you make that memorable sandwich right in your own kitchen, capturing the essence of the cafe favorite.
If you haven't tried Starbucks' grilled cheese but are looking for the ultimate crispy, cheesy treat, look no further. This recipe really makes the best grilled cheese ever.
With a price tag of $6 at Starbucks, it's hard to justify making this sandwich a regular treat. But the good news is that it costs only about $0.50 to make at home, making it a much cheaper option. The best bit? It's very easy to make, so you can enjoy this delicious dish whenever you want.
Starbucks Grilled Cheese Ingredients
You only need a few simple ingredients to make the best Starbucks grilled cheese:
Butter (salted or unsalted): Adds richness and helps get a golden, crispy crust.
Finely grated Parmesan cheese: Adds to the flavor and contributes to the Parmesan butter spread.
Garlic powder: Garlic powder adds a subtle, savory flavor that goes well with the cheese blend.
Salt: Brings out the flavors of the other ingredients (if you're using unsalted butter).
Sourdough bread: Sourdough bread gives cheese and spreads a tangy, slightly chewy base.
White cheddar cheese: Sliced white cheddar cheese gives the sandwich a sharp, distinct flavor.
Mozzarella cheese: Sliced mozzarella cheese adds creaminess and that classic, gooey cheese pull.
Grilled Cheese Substitutions and Additions
I think this grilled cheese recipe is perfect, but I know that some folks like to customize their sandwiches. Even though these variations differ from the original Starbucks grilled cheese, feel free to be creative and make it your own. Here are some ideas to help you:
Try different cheese combinations, like Gouda, Orange cheddar, Provolone, Swiss, or pepper jack, to add new flavors and textures.
Change the flavor and texture by switching from sourdough bread to whole wheat, multigrain, rye bread, or even brioche bread.
For a burst of freshness and more flavor, add thinly sliced tomatoes or fresh basil leaves.
Add crispy bacon, ham, or prosciutto for a meaty touch and extra saltiness.
Try using flavored butter, like garlic herb or sriracha butter, to improve the crust and overall flavor.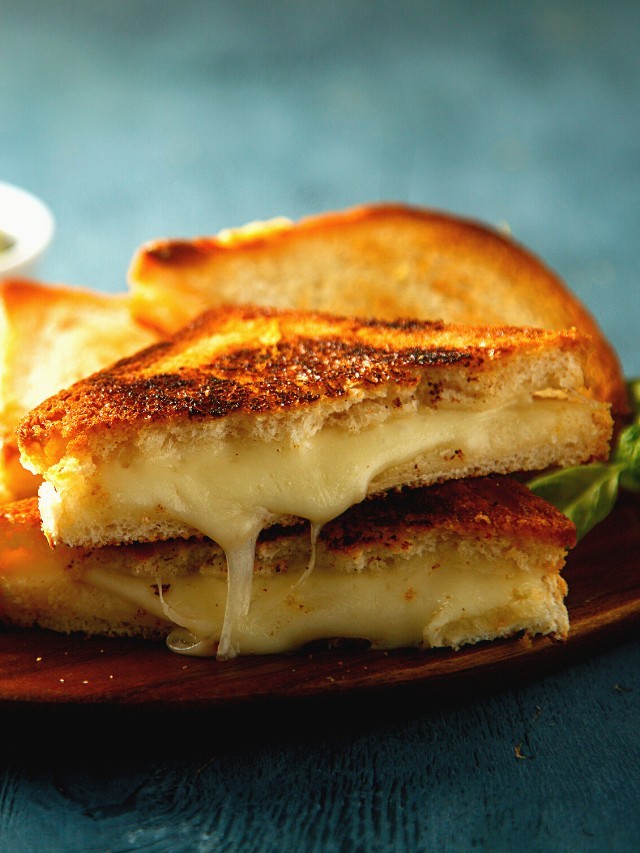 Starbucks Copycat Recipes
I'm a big fan of making my favorite coffee shop recipes at home, so I've put together some Starbucks-inspired recipes for you to make. Each one is easy to make and has the authentic taste you'd expect from the cafe. Here are some recipes:
Starbucks Carrot Cake: Enjoy a moist, flavorful carrot cake topped with a delicious cream cheese frosting, capturing the essence of the cafe's most popular dessert.
Starbucks Cake Pops Recipe: Make these delicious bite-sized treats with a moist cake center and a sweet coating, just like the ones you can buy at Starbucks.
Starbucks Chai Tea Latte Copycat Recipe: Make a rich, spicy, and creamy chai tea latte that is just as good as the classic Starbucks version. It's ideal for a cozy afternoon.
Starbucks Grilled Cheese Recipe
With our easy-to-make, cheap copycat recipe, you can make a Starbucks Grilled Cheese that tastes just like the real thing. This cheesy, crunchy treat is easy to make, so you can enjoy this gourmet sandwich any time, any place.
Ingredients
1 ½ TBSP of softened butter (salted or unsalted)
1 TBSP of parmesan cheese, finely grated
1/6 tsp of garlic powder
4 slices of sourdough bread
2 oz of mozzarella cheese, sliced
2 oz of white cheddar cheese, sliced
Pinch of salt, if your butter is unsalted
Instructions
Start by making a smooth, even mixture of softened butter, Parmesan cheese, garlic powder, and salt (if using unsalted butter) in a small bowl.
Set your griddle or large skillet to medium-low heat to get it ready to cook.
Spread the butter mixture on one side of all four pieces of bread evenly.
On the uncoated side of two bread slices, layer the cheese slices. Then, place the remaining bread slices on top, buttered side facing outward.
Carefully place the assembled sandwiches on the hot griddle or skillet and cook until the bottom side turns golden brown, which should take about 5 minutes.
Carefully flip the sandwiches and keep cooking until the second side is golden and the cheese is fully melted.
Once the sandwiches are grilled to perfection, slice and serve them hot. Enjoy!
If this Starbucks Grilled Cheese Recipe has you melting with joy, don't keep it all to yourself! Share the photo below on your Pinterest board with a wink, and let others join in the fun of finding the best grilled cheese sandwich.