A simple Italian sponge cake, "pan di Spagna" is flavored with lemon zest or vanilla. Eggs, sugar, and flour are the only components needed to make it. No dairy products, butter, oil, or baking powder!
You will consistently produce a superb sponge cake if you follow my directions and advice.
This traditional sponge cake serves as the ideal foundation and fundamental component of Italian pastries like zuccotto, cassata, and Zuppa Inglese. It may be eaten on its own or as a simple sweet treat when dusted with confectioners' sugar.
Or a layer cake can be made from this light sponge cake. Simply divide it in half, and then cover the bottom layer with sugar syrup.
Then, fill it with your preferred cream filling, such as chocolate ganache, whipped cream, pastry cream, or jam.
Yes, it is a simple sponge cake that you can flavor and decorate any way you choose.
What is Pan di Spagna (Italian Sponge Cake)?
Pan di Spagna literary translates to sponge cake. Italian sponge cake is straightforward with just three ingredients: eggs, flour, and sugar—simple ingredients, just like in this irresistible Canestrelli cookies.
Pan di Spagna Sponge Cake History
The sponge cake was first known as Pâte Génoise, or Genoese pasta, in the middle of the 18th century. The Genoese envoy sent an invitation to renowned Italian chef Giobatta Cabona to travel to Madrid and arrange a dinner for the Spanish court.
In honor of the court, he created an exceptionally light cake known as pan di Spagna. The original recipe has been slightly streamlined and tweaked over time.
Initially, the cake was heated by adding all of the ingredients to a dish set over a pot of simmering water (bain-marie or water bath). Sponge cake may be made in five different ways: two hot, two cold, and one using emulsifiers.
Check out this ricotta-filled Sicilian Cassata cake for even older Italian cake that dates back to the 10th century.
What distinguishes Genoise cake from Pan di Spagna sponge cake?
Eggs, sugar, and flour are the only three components required to make a real sponge cake. The same components are used to make Genoise cake; however, the cake batter is enhanced by the melted butter. Both cakes originate in Italy.
You might also like this Italian recipe: How to Make Authentic Maritozzi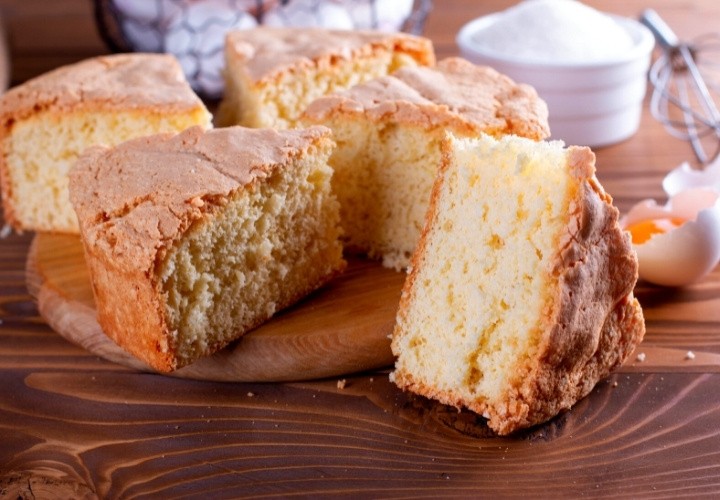 Recipe for Italian sponge cake (Pan di Spagna)
An Italian sponge cake is a fluffy, light dessert that uses whipped eggs to create its texture.
Numerous Italian delicacies, including tiramisù, cassata, Zuppa Inglese, and zuccotto, use it as a basis. However, it's also delicious on its own, coated with confectioner's sugar and stuffed with cream, fruit, and preserves.
This airy cake has to be brushed with flavoring syrups, fruit juice, coffee, or liquors before the filling is added because it tends to be on the dry side.
Before beginning, please carefully read my instructions and suggestions.
Ingredients and suggested substitutions for Pan di Spagna
For this dish, just three ingredients are required. Salt and flavoring are optional.
Eggs: The eggs' temperature should be at room temperature rather than cold from the refrigerator. Take them out 40–50 minutes before beginning the preparation, or briefly soak them in a dish of warm water. Extra-large eggs, about 2.5 ounces (70 grams) with the shell or 2 ounces (60 grams) without the shell, are required in the original recipe. I only have huge eggs, which is a question I frequently get. So what do I do? Use them; without the shell, there is no need to modify the recipe if they are not considerably smaller, 1.70-1.90 ounces (50-55 grams).
Sugar – Caster or granulated sugar is best for Italian sponge cake.
Flour – Low-protein flour, such as cake flour or plain flour, is preferable. You may create it at home or use all-purpose flour if it isn't sold in stores. Self-raising flour should not be used in place of cake flour. This recipe turned out perfectly when I attempted it with a gluten-free flour mixture.
Flavoring is optional for Italian sponge cake; however, it can help to hide the eggy taste. Vanilla essence, orange zest, grated lemon, almond taste, etc., are all options.
To enhance all tastes, add SALT.
You might also like this Italian recipe: Famous Sicilian Cannoli Authentic Recipe.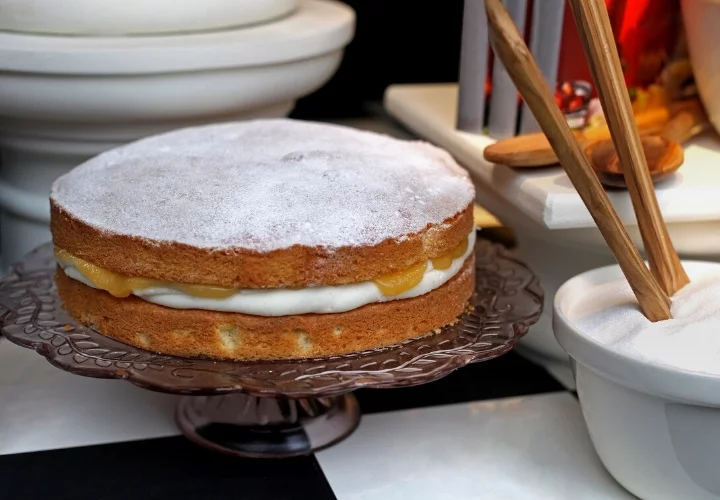 How to Make the Best Pan di Spagna – Italian sponge cake
Three easy steps. Please read this carefully:
Egg Mixture: Combine the sugar and eggs in a mixing bowl and whisk until the mixture is thick, quadrupled in volume, and has a lemon color (till it reaches the ribbon stage). Typically, it takes 10 to 15 minutes. Both a stand mixer and a hand mixer are acceptable. This procedure will take a little bit longer if you use a hand mixer.
Flour: Sift the flour into the egg mixture in third- or small-amount-at-a-time increments. Carefully fold it, including the bottom of the mixing basin. Try to be as gentle as possible to avoid deflating the egg mixture. For this phase, just a wooden spoon or a spatula should be used, not a mixer or a whisk.
Bake the cake: Bake for 40 minutes, then turn off the oven and let it cool for 10 minutes, with the door slightly open, using a wooden spoon to prevent the sponge cake from inflating. The cake should then be taken out of the oven, allowed to rest for an additional ten minutes in the pan, and then turned upside-down on a cooling rack to finish cooling.
Here are a few tips for the best outcome!
The egg mixture should be beaten for at least 10 to 15 minutes. Air is included in the process at this point. The eggs should grow three times larger and develop a light golden color. Do not overwork them; instead, quit when you reach the ribbon stage. How do you tell when you've progressed to the ribbon stage? I discussed it in the section above.
Gently fold – Sift the flour over the egg mixture, a little at a time, and gently stir with a spatula or wooden spoon until combined. Too much flour will cause it to settle to the bottom of the basin. The cake will be thick and deflate if you don't fold it gently.
Prevent abrupt temperature fluctuations – Don't open the oven door for at least half an hour while baking to prevent the cake from deflating. After the cake has finished baking, turn off the oven, but leave the cake inside for 5–10 minutes with the door slightly open with a wooden spoon.
When slicing the cake, do it with a serrated knife while it is cooled. Preparing it the day before is best, as it is covered in plastic wrap and put it in the refrigerator for the night. You have up to three days to prepare!
Share the image below to your Pinterest board if you like this Pan di Spagna recipe!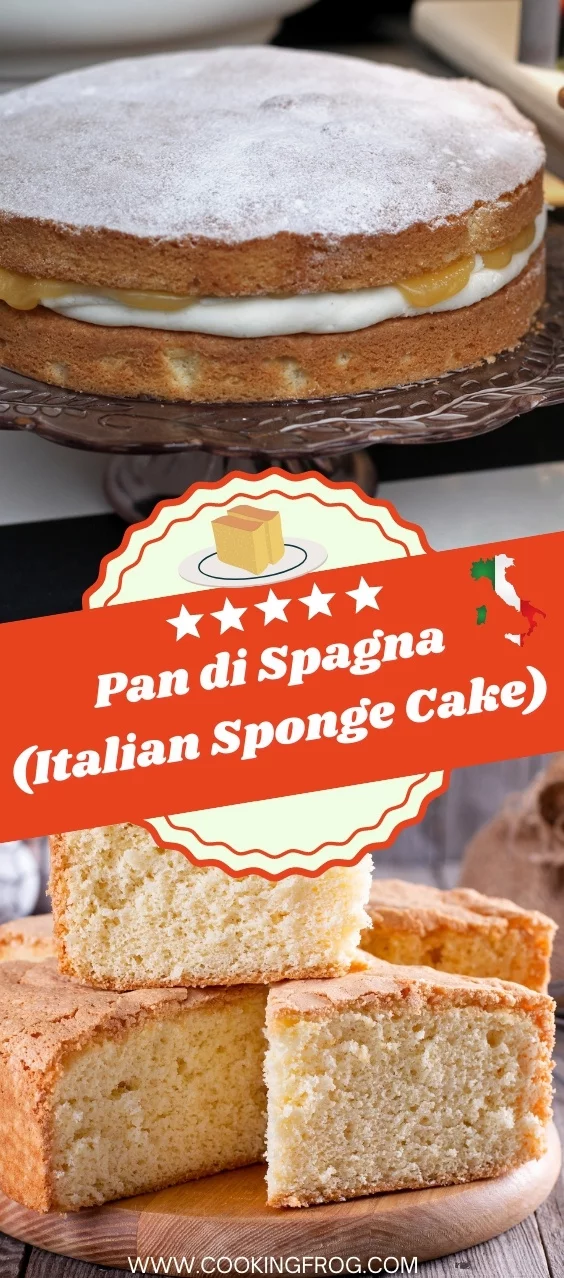 Italian Sponge Cake Recipe (Pan di Spagna)
Learn how to make the traditional Italian sponge cake by following this recipe, which only calls for three ingredients (pan di Spagna). You will adore this dairy-free, light, and fluffy cake. Take it simply for your afternoon tea or make a perfect holiday cake.
Ingredients
½ Cup + 2 TBSP of granulated or castor sugar (120 grams)
4 eggs, large
pinch of salt
1 tsp of lemon zest or vanilla extract (optional)
1 cup + 1 TBSP of sifted cake flour (use all-purpose flour if you don't have cake flour)
Instructions
Set the oven's temperature to 335 °F (170 °C).
Use baking spray or butter and flour a pan that is 8 inches (20 cm) in diameter.
Beat the eggs, salt, sugar, and lemon zest in a stand mixer bowl with a whisk attachment until extremely frothy and light yellow, approximately 10 to 15 minutes on medium or high speed.
Let some batter fall into the bowl to see whether it has been sufficiently beaten. It is prepared if it continues to be "standing" on top.
Sift small amounts at a time of flour over the egg mixture and gently fold it in with a wooden spoon or spatula to combine. Avoid overmixing to prevent deflating the batter.
In the prepared pan, pour the batter. Keep it as is, don't smooth the top or smash the pan on the counter!
Bake for forty minutes or until a toothpick inserted in the center of the cake comes out clean. (Keep in mind: wait the first 30 minutes before opening the oven.)
After turning off the oven, leave the cake inside for 5 to 10 minutes to allow it to cool down gradually. To keep the door slightly ajar, use a wooden spoon.
The sponge cake should be taken out of the oven and allowed to cool for another 10 minutes; then, the edges should be loosened with a knife so that it can be turned upside down on a wire rack to cool entirely.
Italian Sponge Cake Serving Recommendations
Add whipped mascarpone, jam, and fresh berries to the top layer.
Stuff it with chocolate ganache, pastry cream, whipped cream, or lemon curd.
Use it to make tiramisu or British trifles by cutting it into squares.
How to store Pan di Spagna?
The Italian sponge cake should be kept in the refrigerator for a few days before using.
It may also be frozen and kept there for up to three months if it is well-wrapped in cling film. When necessary, return it to ambient temperature or defrost it overnight in the refrigerator.
FAQs
Why did my baked sponge cake collapse?
It's not fully baked. To get a rich, golden-brown top on your cake, try extending the baking time by three to five minutes.
You added too much air and over-mixed the sugar and eggs.
You interrupted the baking process by opening the oven door.
You excessively over-mixed when folding the flour.
Why is my sponge cake so dry?
You overcooked the food. The temperature in the oven was too high. Keep in mind that every oven is unique.
Can I add food coloring to the sponge cake at any time?
After beating the eggs for 5–7 minutes, add food coloring.
Can I make this sponge cake using a gluten-free flour mix?
You can, indeed. When I previously attempted it, the cake turned out perfectly.
I don't have large eggs for Italian sponge cake, what should I do?
Don't worry about it if your eggs aren't noticeably reduced in size—suppose let's they weigh 50–55 grams (1.76–1.94 ounces) without the shell. The cake turned out fantastic when I previously used them.
Can I use fondant to cover a sponge cake? Can I bake a cake with two tiers?
This cake is ideal for stacking and/or being coated with fondant. It doesn't need to be leveled because it comes out completely flat.
Can I use this recipe to make cupcakes?
The recipe on the recipe card, which calls for 4 eggs, should yield about 12 cupcakes. They should bake for 18 to 20 minutes at 355 degrees F (180 degrees C).