Prepare to make a culinary masterwork with the ultimate Italian dessert – the Chocolate Salami or Salami di Cioccolata. This isn't your ordinary salami; it's a lovely fusion of semi-sweet chocolate chips, vanilla tea biscuits, and crunchy pistachios, all held jointly by a rich blend of butter and heavy cream.
Picture crunching into a slice of this dessert. The first thing you taste is the decadent, melted chocolate, followed by the crumbly texture of the biscuits. Then followed by the surprise crunch of the pistachios, all smoothed out by the creamy combination of butter and cream.
If you like a little extra kick in their desserts, a splash of Amaretto or Rum can be added. And if you're a sweet finish fan, a powdered sugar dusting can be the perfect final touch.
This Italian Chocolate Salami is not just a dessert; it's an adventure. It's a trip through various textures and flavors, all wrapped up in one appetizing slice. It's easy to make yet unique enough to serve at a dinner party.
So plunge into the world of Italian/Portuguese desserts and create your very own Chocolate Salami today. Keep in mind the secret to a superb no-bake dessert is good quality ingredients and a love for unique desserts. Enjoy the process, and most significantly, enjoy your tasty creation!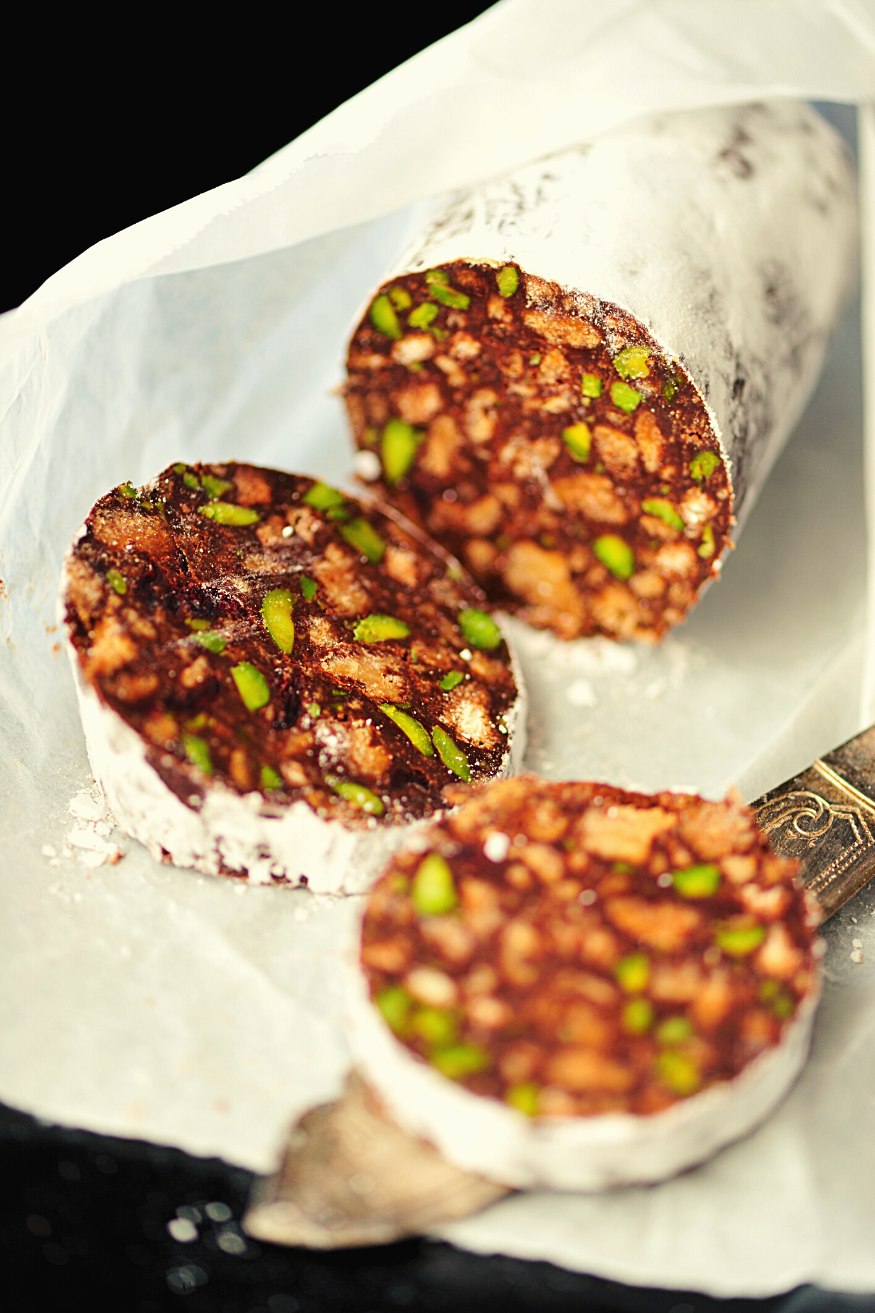 Chocolate Salami Ingredients
Making excellent Chocolate Salami is an art; every ingredient plays a vital role in this chef-d'oeuvre. Let's delve into the symphony of flavors and textures that these elements bring to the plate:
Semi-sweet Chocolate Chips: The show's star, these chocolate chips melt into a decadent, velvety base for our chocolate salami. They provide the dessert with a rich, chocolatey, indulgent, delightful flavor.
Vanilla Tea Biscuits: These vanilla biscuits are much more than just filler. They add a comforting crunch and crumble to the salami, contrasting beautifully with the velvety chocolate. Their subtle vanilla taste also complements the chocolate chips, providing a layer of sophistication to the dessert.
Pistachios: These little jewels are the surprise ingredient in this Italian chocolate salami. They add a surprising crunch and a burst of nutty flavor that slices through the richness of the chocolate, making every bite enjoyable.
Butter and Heavy Cream: These two ingredients work jointly to bind all the elements of the chocolate salami. The butter provides a creamy richness, while the heavy cream offers the dessert its silky, indulgent texture. They guarantee that every slice of the salami is wholly held together.
Rum or Amaretto (Optional): Ingredients like a splash of Rum or Amaretto can add a warming depth to the dessert while dusting powdered sugar can deliver a sweet finish.
Chocolate Salami Variations
Nut Variations: Swap out the pistachios for different nuts like almonds, hazelnuts, or walnuts. Each nut will bring out its own distinctive flavor and crunch to the salami.
Biscuit Variations: Try using various types of biscuits. Shortbread, graham crackers, or even ginger snaps can add a unique dimension to your dessert.
Chocolate Variations: Try using different types of chocolate. Dark chocolate can add a deeper, more intense flavor, while white chocolate can make for a sweeter, creamier salami.
Liqueur Variations: If you're including a splash of alcohol, consider testing different liqueurs. Coffee liqueur, orange liqueur, or even cherry brandy could add a thrilling new flavor profile.
Fruit Additions: Add dried fruits like cherries, cranberries, plums, or apricots for a sweet and zesty contrast to the rich chocolate.
Spice it up: A bit of chili powder or a dash of cinnamon can add a warm, spicy kick to your chocolate salami.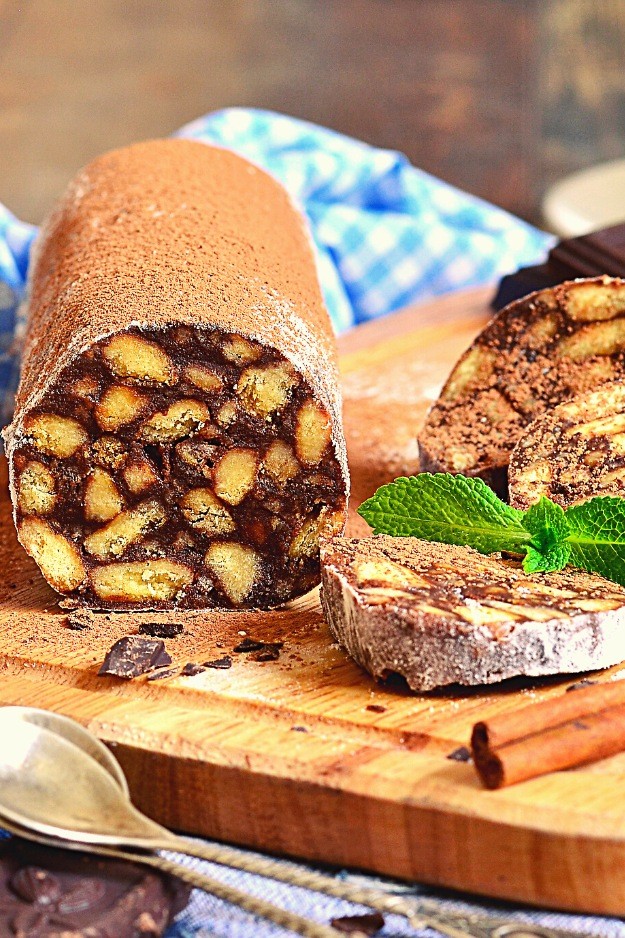 Chocolate Salami Recipe
It's time to create a culinary masterwork with Chocolate Salami. This Italian dessert is a satisfying fusion of chocolate, biscuits, pistachios, and a splash of alcohol, bound together by creamy butter and heavy cream.
Ingredients
14 oz of vanilla tea biscuits
3/4 cup of roasted and chopped pistachios
2 cups of semi-sweet chocolate chips
1 cup of heavy cream
4 Tbsp of butter
2 Tbsp of Powdered sugar (optional)
A splash of Amaretto or Rum (optional)
Instructions
Preparation: First, place the vanilla biscuits in a large plastic bag. Using a rolling pin, gently beat them into small, bite-sized chunks. Next, take your roasted pistachios and give them a rough chop. These will add a lovely crunch to your salami.
Chocolate and Cream: It's time to heat the heavy cream. You can do this in a microwave or a saucepan until it reaches a soft simmer – be cautious not to let it boil. Pour the hot cream over your chocolate chips in a large bowl. If you're using Rum or Amaretto, now's the time to add it.
Butter Time: Cut your butter into small cubes and move them to the bowl.
Stir and Heat: After waiting a few minutes, stir the chocolate. You can reheat the chocolate in the microwave if needed, but keep in mind to do this in 15-20-second intervals to avoid overheating.
Mix it Up: When your chocolate has reached a smooth, silky texture, it's time to add the crushed vanilla biscuits and chopped roasted pistachios. Stir everything together until it's well combined.
Roll it Out: Lay a larger piece of plastic wrap on a flat surface and pour your chocolate mixture on top.
Shape Your Salami: Roll your plastic tightly around the chocolate mixture, shaping it into a salami stick. If you want extra protection, you can wrap a second piece of plastic wrap around it. Tie off both ends to secure your salami.
Chill and Serve: Place your chocolate salami in the fridge for at least 4 hours. Once set, remove the plastic wrap and roll your salami in powdered sugar for a sweeter touch.
Have you liked this Chocolate Salami experience? Why not let your Pinterest board in on the fun? Click the image below and pin it away. After all, chocolate loves good company!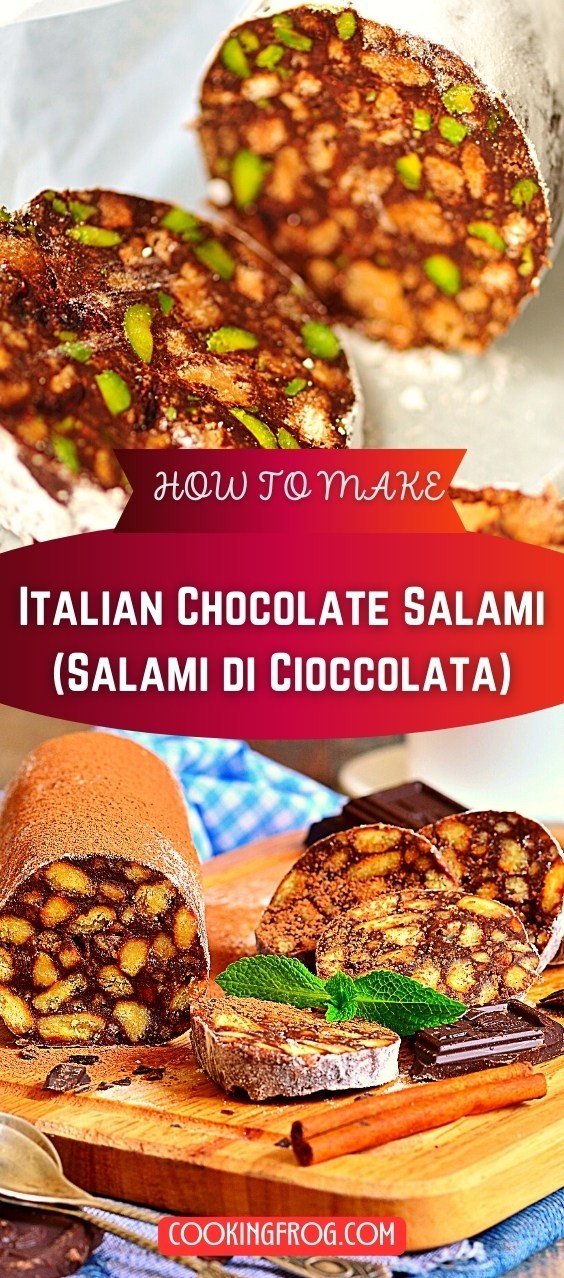 More Delicious Italian Desserts