This Orange Julius smoothie is flavorful, creamy, and has the ideal balance of sweet and tangy. Enjoy this beverage as a light dessert, an afternoon snack, breakfast, or a brunch option. With only a few ingredients, it can be made in a matter of minutes!
What is Orange Julius?
Do you still think about Orange Julius? For many people, it brings back many memories of the 1980s. Anyway, I assume there are still Orange Julius stands in certain places.
The ones nearby all shut down years ago.
But the Orange Julius, which was their most well-known beverage, made them famous. It's a refreshing beverage with a hint of vanilla and is orange-licious.
An Orange Julius is probably something that most people connect with during their adolescent years and hang out at the neighborhood mall, where there is often at least one (if not two) juice vendor serving this beverage. fun times
It was first developed in Los Angeles, where Southern California is widely renowned for its orange orchards, in the 1920s (Orange County.)
A blended frozen drink called an Orange Julius features sweetened orange concentrate as its main ingredient. It tastes like a creamsicle and is a cross between a drink, milkshake, and smoothie. However, if you can't locate one in the mall, you're lucky because you can quickly and easily brew this drink at home.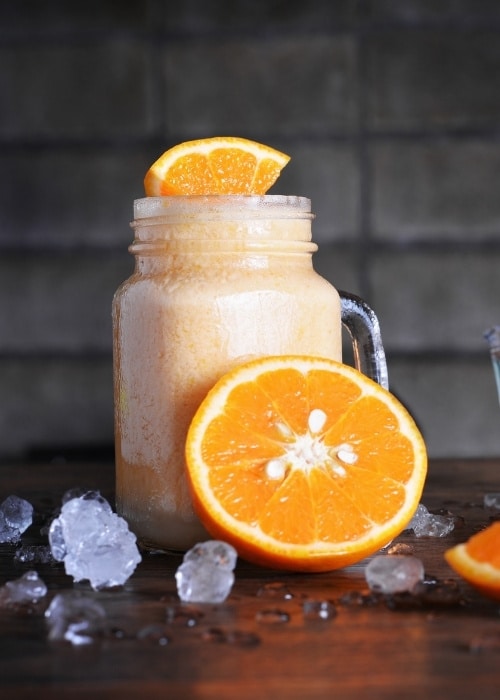 If you like this recipe, be sure to check these also:
Authentic Arby's Jamocha Shake Copycat Recipe
How to make Orange Crush Cocktail Recipe
Orange Julius Ingredients
This orange smoothie just requires four ingredients (plus ice and water). The consistency is frothy and creamy, resembling a combination between an icy milkshake and a thinner smoothie.
(Scroll down to see the measurements and full recipe card.)
Whole milk: We prefer whole milk since it has a thicker consistency and a richer flavor, but 2% milk or even skim milk would work just as well.
Vanilla extract: A small amount of vanilla extract offers a wonderful new flavor dimension.
Orange juice concentrate: Orange juice concentrate that has been frozen; this is not diluted with water. The frozen concentrate is used just as is. This provides the drink the finest concentrated (obviously) orange taste in addition to making it cool and frosty.
Sugar: Granulated sugar is required for Orange Julius's original recipe. Don't forget to add a sweetener; the tart citrus needs it.
Ice: Ice can be cubed or crushed, although crushed ice combines better. The drink will be thicker and watered down as you add more ice to it. Your ring!
How to make Orange Julius
Blend with all of the ingredients. (I like to add the liquids to my blender first, followed by the ice, since this appears to result in the best mixing.)
The lid must be closed, remember! After that, combine all of the ingredients and process until foamy.
Pour it into prepared glasses. Provides four servings. Enjoy some icy deliciousness. Heavenly!
Orange Julius Texture
It's a matter of taste, but I prefer my Orange Julius to have the consistency of a dense smoothie. Still drinkable through a straw but thick enough to freeze the brain of your head if you attempt to gulp too much at once. 🙂
If you think about it, Orange Julius's icy-cold consistency controls how quickly you consume it. Slowly drinking some Orange Julius is like taking a lovely stroll down the coast if you're in the mood for some laid-back summer sensations. However, if you try to shotgun it, you'll feel like, well, you'll feel like your brain froze for a minute. 🙂
Flavor Variations for Orange Julius?
You can also play with flavors by introducing any flavor you like, as long as it doesn't change the original taste too much! So, for example, concentrated lemonade works with this! A fantastic method to change tastes. Besides, it comes together quickly, making it ideal for a fast summer sweet treat.
This will be to your liking if you enjoy the creamsicle flavor. It did for me; I hope it reminds you of some fond memories.
Can Orange Julius be made ahead?
Although it's best when cooked right away, I've made it numerous times and frozen the cups of food after pouring it into them for approximately 15 minutes before serving. Though it would take too long for the orange Julius to thaw up enough to drink, I wouldn't freeze it all at once.
Share the image below to your Pinterest board if you like this Orange Julius Recipe!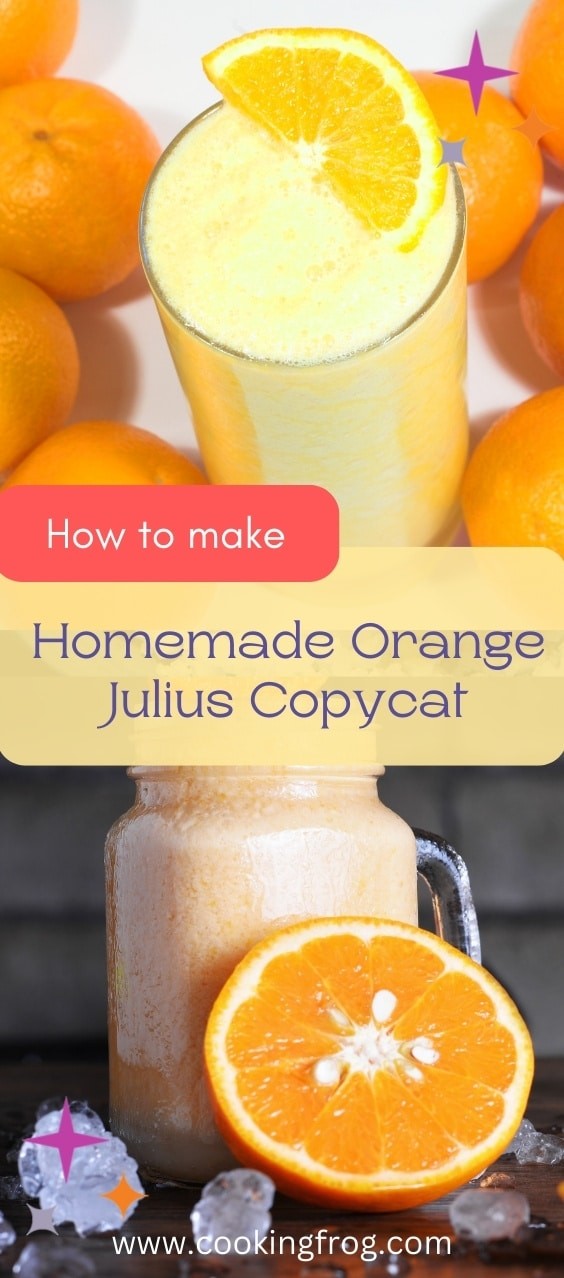 Orange Julius Copycat recipe
Use the Orange Julius Copycat recipe below as a guide, then change the number of ice cubes to suit your chosen texture and ice cube size. If you're like that sort of thing, you can even add sufficient ice to make your homemade Orange Julius thick enough to consume with a spoon (imagine the texture of Italian ice).
Ingredients
12 oz of orange juice concentrate frozen and slightly thawed
1 1/2 cups of milk
1/2 cup of water
6 TBSP of sugar
1 tsp of vanilla extract
12 ice cubes
Instructions
Fill the blender with all the ingredients. Ice comes after the liquids.
Cover the lid.
Next, combine all of the ingredients and process until frothy.
Transfer to glasses—orange slice to be served with.
Nutrition
Calories: 400kcal
Carbohydrates: 66g
Protein: 10g
Fat: 9g
Saturated Fat: 5.5g
Cholesterol: 34mg
Sodium: 130mg
Potassium: 940mg
Fiber: 1g
Sugar: 65g
Vitamin A: 710IU
Vitamin C: 122mg
Calcium: 325mg
Iron: 1mg