Today, I'm here with a rich, flavorful, and perfectly delicious moist fruit cake recipe. A super soft and moist fruit cake with a blend of dried fruits and nuts turns out to be a delicious treat.
When served to your friends and family, the celebrations will get doubled, and the eyes sparkling with happiness will make you feel proud.
I'm sure you can't wait anymore to enjoy this tempting fruit cake. Let's get into the recipe with these simple ingredients and let your home be filled with the magical aroma of the fruit cake.
Ingredients
Plain flour: 1 and ¾ cups
Cinnamon: ½ TSP
Nutmeg: ¼ TSP
Cardamom: ¼ Tsp
Clove: ¼ TSP
Baking powder: 1 TSP
Baking soda: ½ TSP
Salt: ½ TSP
Unsalted butter: 1 Cup
Sugar: ¾ Cup
Eggs: 4 medium-sized
Caramel syrup: 3 TBSP
Vanilla extract: 1 TSP
Zest of 1 orange
Orange juice: 2-3 TBSP
Almond/walnuts/cashews: 1/2 cup
Soaked mixed fruits: 3-4 Cups
Fruits used for this recipe include:
Raisins
Cranberries
Dates
Plums
Directions
A day before making a fruit cake, mix all the dried fruits in a large bowl, add in rum, and soak overnight at room temperature. It is better to carry out this step 24 hours before making batter for fruit cake.
Preheat the oven to 150°C (300°F).
Properly grease 8-inch round cake tin with butter and line it with a double layer of parchment paper.
Sift plain flour and powdered spices into a neat and clean bowl and set aside.
Take another well-kept bowl, and add in unsalted butter and sugar. Start mixing butter and sugar until a creamy texture is obtained. I used a wooden spatula, and it took around 10 minutes to reach this stage. If you use a hand mixer, beat for 2-3 minutes on medium speed until fluffy.
Then add in 4 medium-sized eggs. Add eggs one by one into the butter and sugar mixer and mix until combined fully.
Next, add in the caramel syrup and vanilla extract and mix well.
In a mixing bowl, combine the soaked fruits with the orange zest. You can also add nuts of your choice along with the fruit mix.
Add in the sifted flour mixture and fruit mix to the wet mixture (Eggs and butter mix).
Then add in the orange juice and mix everything together, just until everything is well incorporated. This will keep the fruits from sinking to the bottom.
Spoon the completed mix into the prepared cake tin and level the top with a spatula. Pull a small dip back in the middle of the cake so that it will level off better as it rises.
Top with some glazed cherries and cashews.
Bake in the center of the oven for 1.5 hours (90 minutes). Have a look at the cake after 1 hour; if you find it browning more than required, cover it with tin foil.
When a fine skewer poked into the center comes out clean and dry, the cake is done.
Leave the cake to cool in the tin for 10 minutes after getting out of the oven. Remove from the tin and set aside to cool thoroughly on a wire rack.
Poke holes on it with a skewer and brush over 2 TBSP of wine or rum. The super moist and soft cake is ready to serve to your friends and family.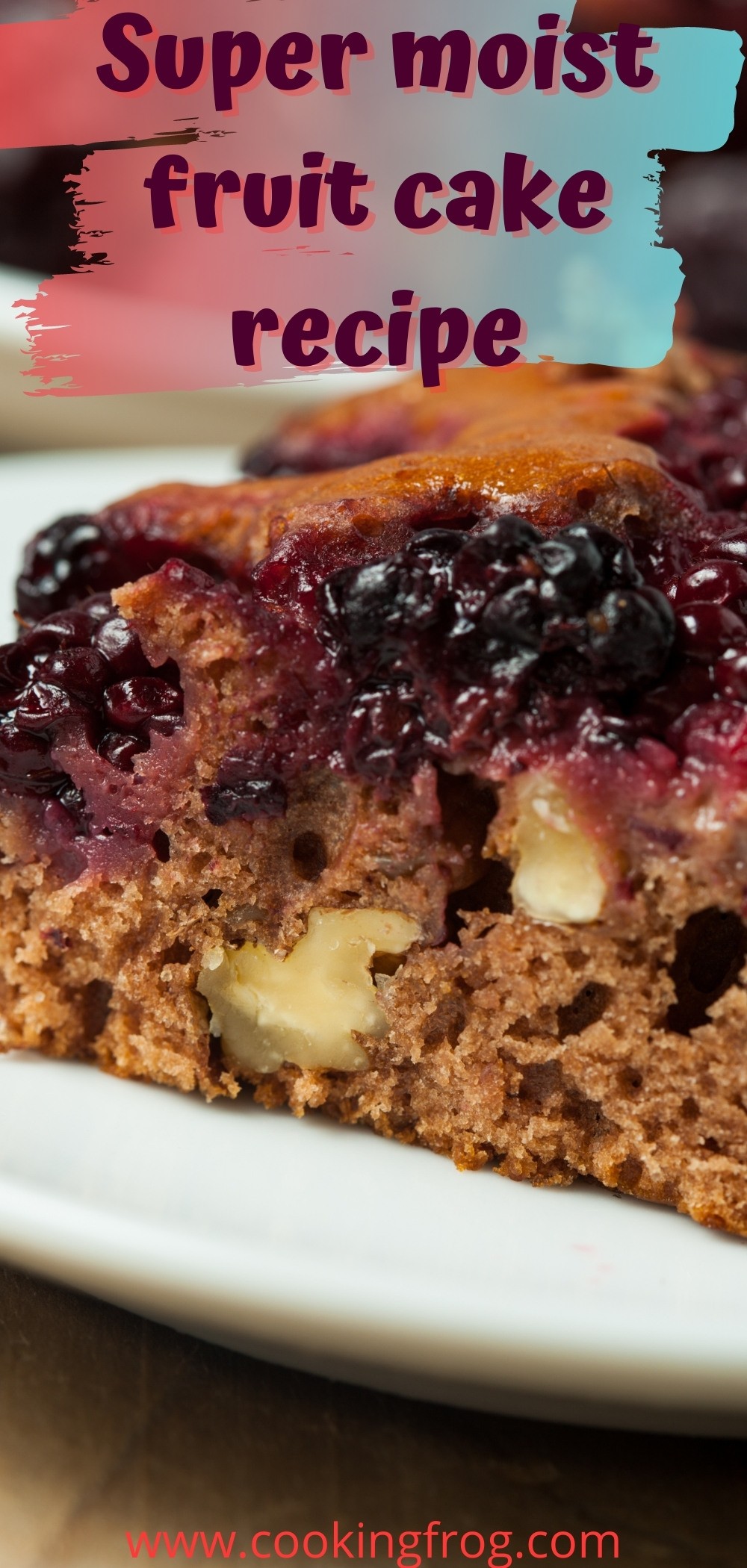 Tips & Tricks
You can also use dark brown soft sugar instead of white sugar and skip caramel.
You must soak the fruits overnight so that they can absorb alcohol and plump up. If you are short of time, warm everything in a microwave, and it will let your fruits absorb alcohol at a faster rate.
If you want to make a non-alcoholic version of this fruit cake, then soak the fruits in orange juice or cranberry juice as per your choice. Leave it overnight for better results.
To ease yourself, you can also grind all the spices ahead of time to make spice powder.
Don't cut the cake immediately after cooling, or otherwise, it will become less flavorful.
It is better to prepare moist fruit cake a day before use, as it becomes rich in taste with time.
Nutrition Facts
Here are some roughly calculated nutrition facts about super soft and moist fruit cake.
Calories: 325 per serving
Carbohydrate: 65g
Protein: 3g
Fat: 10g
FAQs
How to keep my cake moist and soft for a longer period?
To make a super soft and moist cake, properly poke the holes on the cake and evenly brush alcohol over it. Then wrap the cake in a cheesecloth dipped in alcohol and store it. I recommend you moisten the cake every week by re-soaking the cheesecloth. Following this method, you can store the super-soft moist fruit cake for up to 6 weeks in a refrigerator.
Can I make variations in the choice of fruits?
Yes, of course, you can add fruits of your own choice but keep in mind that every fruit has its own level of sweetness. I've added fruits in suitable ratios to balance the final flavor of the fruit cake. Keep in mind the sweetness of your favorite fruits to prepare a perfectly balanced delicious fruit cake.
What is the secret to making moist and fluffy fruit cake?
Mixing the butter with sugar is a secret step behind the formation of moist and fluffy fruit cakes. When butter is mixed with sugar, the creaming process occurs when all the air is trapped inside the butter. During the baking process, the expansion of this trapped air results in a soft and moist fruit cake. Also, keep in mind that you don't overbeat the batter. Even if you are mixing using your hands, then 150 beating strokes per minute is enough. Let it rest after a minute and beat again.
Conclusion
Super soft, moist cake is an easy-to-make recipe that adds value to your celebrations. Try this recipe, and you will end up with a perfect delight. Share this recipe with your friends and family. Let everyone know about your experience via the comment box. We are all ears.