Without a doubt this will be the best Thunder Cake Recipe! Not only does it have a unique name, but it also has a distinct flavor. When I first heard about this cake, I was so taken with the name that I had to make it myself. When I was looking for the cake's recipe, the addition of pureed tomatoes seemed strange at first. It created a sense of anticipation about how this cake would taste, and want to try it as soon as possible.
You won't believe how startled I was by the thunder cake's distinct flavor.
It turns out fluffy and velvety. I mean, it was flawless.
If you want to try this fantastic treat at home, keep reading to the conclusion because I've included some tactics and ideas to help you complete your task of baking the best thunder cake on the first go.
Ingredients for Thunder Cake
All-purpose flour: 2 ½ cup
Cocoa powder: ½ cup
Baking Soda ½ TSP
Salt 1 TSP
Shortening: 1 cup
Eggs: 3
Sugar: 1 ¾ cups
Cold water: 1 cup
Vanilla extract: 1 TSP
Tomato puree: 1/3 cup
Ingredients to make Chocolate Frosting
Cocoa powder: 4 TBSP
Melted butter: 4 TBSP
Powdered sugar: 2 cups
hot water: 3 TBSP
vanilla extract: 1 TBSP
This is everything you'll need to make a delicious Thunder Cake. These ingredients may be found at your local store.
Directions to Make a Best Thunder Cake
Take a large well-kept bowl, add in all-purpose flour, cocoa powder, baking soda, and salt. Mix all the dry ingredients and put them aside to add later on in the batter.
Take another bowl, pour in the eggs white, and beat them with an electric mixer until stiff peaks are formed.
To the bowl of wet ingredients, add a cup of shortening and mix it with an electric mixer.
To this mixture, add three egg yolks and mix them. In the end, add a cup of cold water.
Now, add a teaspoon of vanilla extract. Mix all ingredients until a smooth batter is formed.
Next, add tomato puree and mix it again.
Now, add all the dry ingredients and mix them until everything is well-combined.
Once you are done with the batter, grease 8 and a half inch two baking pans with some butter.
Then sprinkle in some flour and wipe off the extra flour.
Finally, transfer the thunder cake batter into the baking pans.
Then bake the cake at 350 degrees Fahrenheit for 40 minutes.
Meanwhile, the cake is baking, prepare an amazing chocolate frosting. To a neat and clean bowl, whisk together melted butter with sugar. Then add in the remaining ingredients and mix everything to form a perfect frosting.
Then take out the cake from the oven. Let the cake cool down for 10 minutes.
Then take the cake out of the pan and let them cool on a wire rack for 30 minutes until it gets cooled to room temperature.
Finally, decorate the cake with creamy chocolate frosting.
A delightful Thunder cake is ready to serve your friends and family.
Tips & Tricks for Thunder Cake Recipe
Sift all the dry ingredients to make a perfectly smooth and lumps-free thunder cake batter.
Don't forget to scrape off the sides of the bowl while transferring the batter into the baking pans.
Properly grease the sides and bottom of the pan for an easy release of the cake from the pan.
Don't take the cake out of the pan immediately after baking because the soft and fluffy cake will break. Allow the cake to rest for some time so that it can hold its shape.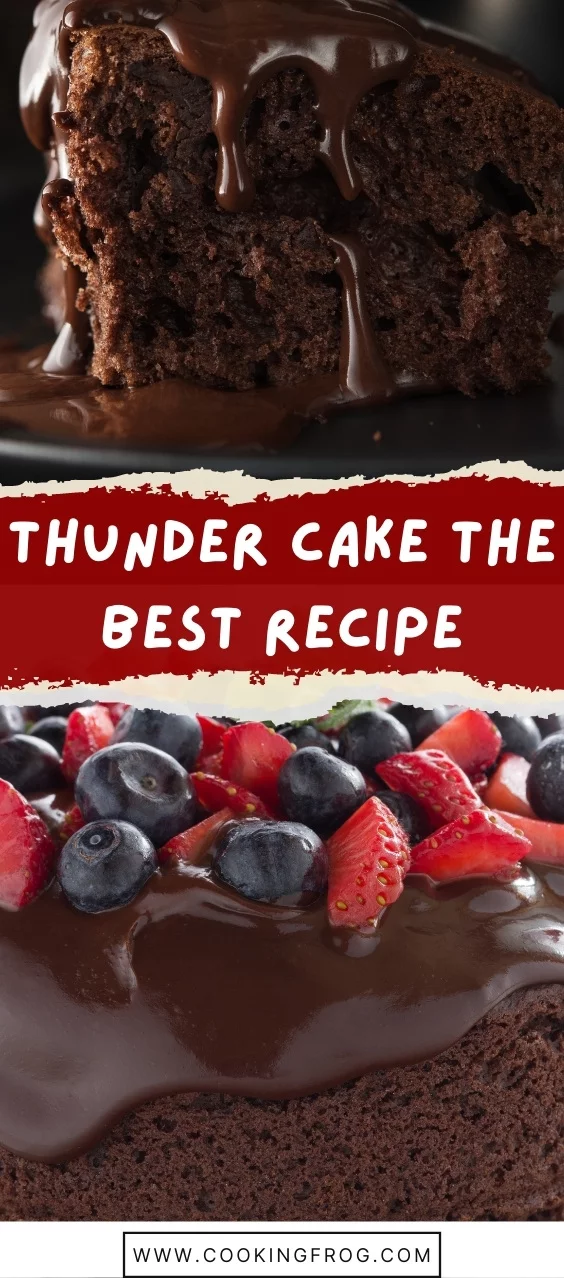 FAQs
Why is the texture of my cake so gummy?
You desire your mixture to be fully blended, but if your manual mixer or stand mixer is set too high, it will not only heat your ingredients, but it will also mix your dough too rapidly, causing your cake to have a hard, gummy texture.
How can I know if my cake is done properly?
Using a wooden skewer, prick the cake. If the cake still has gloppy bits on it when it comes out of the oven, it needs a bit more time in the oven. Return the cake to the oven and continue the process for another 4–5 minutes.
Place a layer of aluminum foil on top of the cake if the cake is starting to brown, but pieces of batter are still sticking to the skewer.
When it comes to baking powder vs. baking soda, what's the difference?
Baking powder and baking soda aid in the rising of a cake. In addition to the air introduced during mixing, they enhance the number of air bubbles in the batter. Despite the fact that they do the same job, they should never be switched one for the other.
Should I measure using cups or scales?
Precision is key when it comes to baking. Your dough will become too crumbly, sticky, or firm if something is wrong. Even if you believe you can eyeball items, take the time to weigh them out with your scales.
Why isn't my cake rising correctly?
Is your cake a hard mass that hasn't risen? Check the baking soda's expiration date. It won't work correctly if it's out of date.
Too much baking soda, on the other hand, causes the cake to rise too quickly and fall in on itself. Using too much baking powder has an unpleasant aftertaste.
Thunder Cake Nutritional Facts
Have a look at the nutritional analysis of Thunder cake.
Calories: 200
Carbohydrates: 27g
Protein: 10g
Fats: 10g
Conclusion:
This cake takes only a few minutes to bake and is ready in less than 30 minutes. Don't skip adding pureed tomatoes if you want a perfect Thunder cake flavor.
If you admire the recipe, give it a try, and you won't regret making it at home.
Do share your experience in the comment box. You can ask me if you have any queries. Your comments are my greatest inspiration.
Must share with your friends.
Thanks!