Say goodbye to the drive-through and hello to a unique chai tea latte! This Starbucks-inspired recipe is authentic, giving each cup a balanced blend of sweet and spicy flavors. No more waiting in line; it's time to bring barista magic into your home.
So, grab a mug and prepare to enjoy a latte that is just as good as from the Starbucks menu. You will not regret making this delectable masterpiece at home; trust me!
What is Chai Tea Latte?
This warm and comforting beverage was born in the busy streets of India and has since made its way to coffee shops across the United States. Imagine a traditional latte with its espresso and steamed milk, but replace the espresso with a sweet and spicy Chai Tea Concentrate blend.
This magic potion is brewed by combining a robust black tea with aromatic spices such as cinnamon, ginger, vanilla, cardamom, and cloves and then adding a touch of sugar to make it irresistible.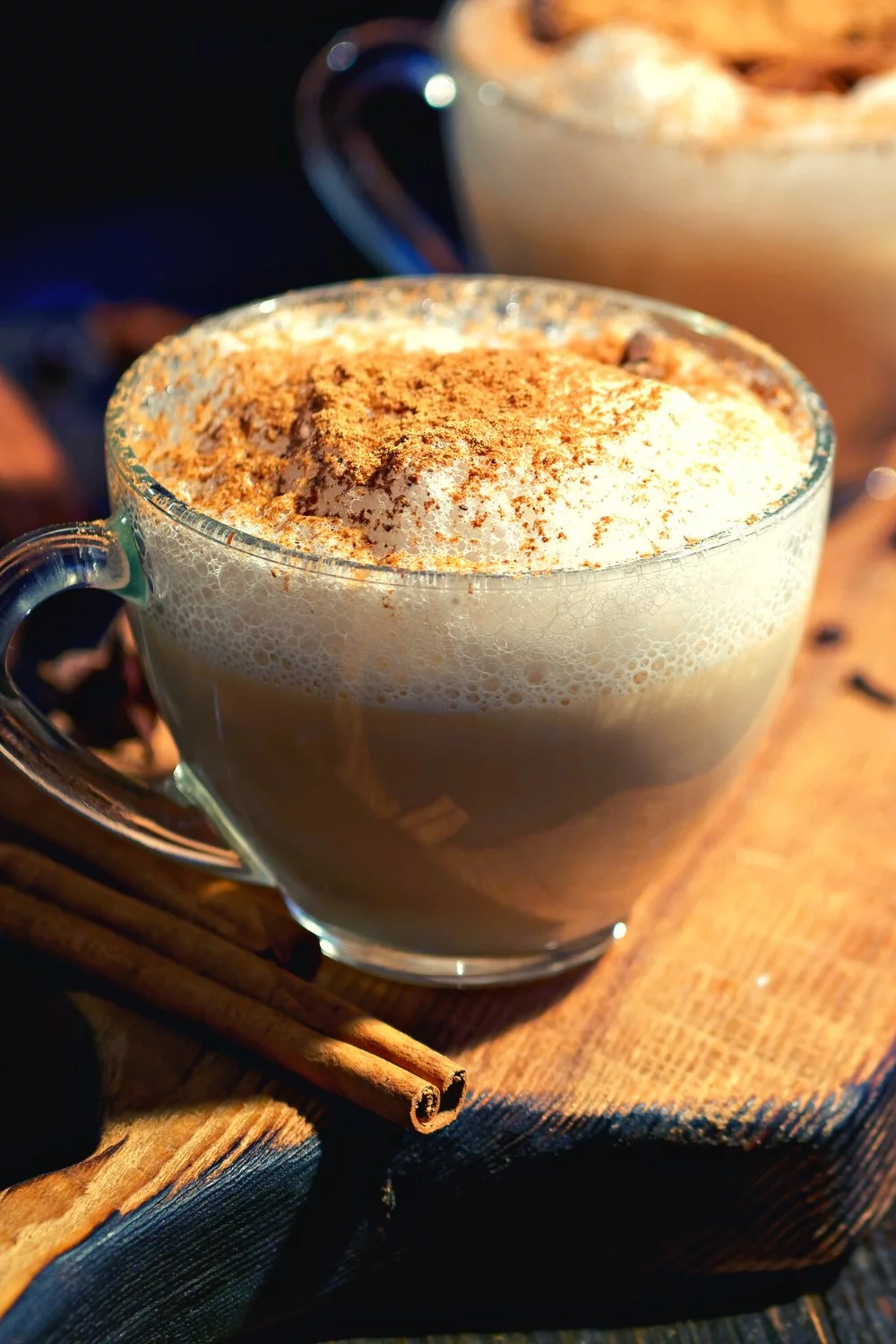 Starbucks Chai Tea Latte Copycat
When it comes to tea lattes, Starbucks may reign supreme, but why pay a premium price when you can have the same luxurious experience at home? This copycat recipe is the secret to enjoying aromatic, foamy tea lattes on the cheap.
Each sip of this blend of black tea with warming spices such as cloves, cardamom, and cinnamon will take you to a realm of comfort and flavor. Why spend money and time at Starbucks when you can have a royal tea latte in your own kitchen? Prepare to be crowned the new king or queen of tea lattes with this budget-friendly recipe!
Chai Tea Latte's Five-Star Spices Behind the Flavor
Green cardamom: Green cardamom, with its lovely floral aroma, is a staple in the tea, contributing an appealing earthy smokiness. To unlock the maximum taste potential of the tea, use whole pods and give them a light crack before steeping.
Cinnamon Sticks: Sugary Cinnamon Sticks balance the earthy cardamom and fiery black pepper with their sweetness.
Black Peppercorns: Black Peppercorns are the secret ingredient that gives the Chai Tea Latte its comforting and warming kick. Consider it a pinch of magic added to your tea.
Fresh Ginger: In a chai tea latte, fresh ginger functions as a soothing remedy, generating a warm and comforting sensation on the back of the throat. Mild spice adds complexity and depth to the flavor profile.
Cloves: Cloves offer a burst of fragrance and flavor that combines wonderfully with sweet cinnamon and spicy black pepper. They are optional but strongly suggested for a truly enchanting experience.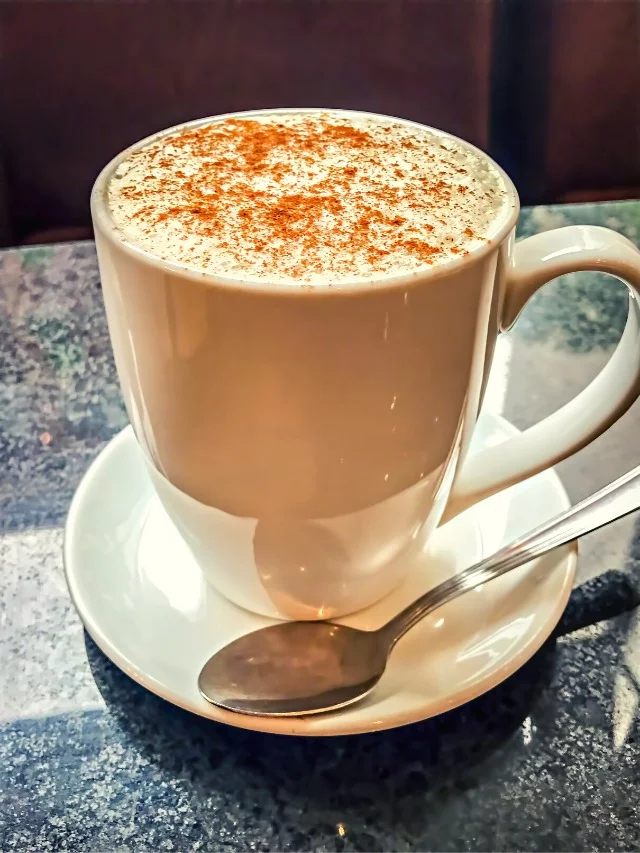 Starbucks Chai Tea Latte Ingredients
Tazo Chai Tea Latte Concentrate: Tazo Chai Tea Latte Concentrate is an essential part of a warm and comforting chai latte. Rich black tea and aromatic spices, such as cinnamon, cardamom, and ginger, are brewed in concentrated syrup to create this beverage. Tazo Chai Tea Latte Concentrate is readily available at large stores such as Target and Walmart, so you may have a wonderful chai latte at home without traveling far.
Milk: To bring out the robust tastes of the chai tea concentrate, creamy and smooth milk is required. You may use any sort of milk you like, including cow's milk, almond milk, oat milk, or any other dairy-free substitute.
Cinnamon: Cinnamon on top of your chai latte not only makes it taste sweeter and warmer, but it also makes the spices in the tea concentrate taste better. You don't have to do this step, but it's highly recommended for the best taste.
Tips for the Best Chia Tea Latte
If you want to stay true to Starbucks' recipe, use 2% cow's milk. If you want a different taste, you can use any milk you like.
You can use a milk frother, an immersion blender, or just a whisk to make your milk foamy and smooth.
Don't froth the milk too much. A latte needs a lovely, creamy foam, but if the milk is over-frothed, it might lose its creamy quality and become too airy.
Sweeten your chai tea latte to your heart's desire with honey or maple syrup!
Chia Tea Latte Variations
Check out these creative ways to change your drink that will take it to the next level:
Hot or cold? The classic recipe for a chai tea latte calls for a hot drink, but shaking your drink with ice can give it a refreshing twist.
Want to reduce your calorie intake? Use a Teavana chai tea bag and milk instead of a concentrate. Add 1–2 tablespoons of honey to make a lighter version that is still full of flavor.
Did you know that you can make a chai tea latte with many different kinds of tea? Try different loose-leaf black teas, such as Assam, Ceylon, or English Breakfast, to find the flavor you like best.
Need a little boost? Add a shot of espresso for a caffeine boost. The strong flavor of espresso and the spicy notes of chai are a great match.
Looking for a cozy autumnal taste? Add some pumpkin spice to your latte for a tasty holiday twist.
Pour some vanilla syrup over the tea latte to make it sweeter and give it a vanilla flavor. This easy addition gives your Starbucks drink a touch of indulgence.
Feeling fancy? You can turn your latte into a frappuccino by putting whipped cream on top of it. Just beat whipping cream and sugar together until stiff peaks form, and put them on top of your drink.
These fun and easy changes will take your chai tea latte to greater levels. So go ahead and try different flavors, temperatures, and toppings to find your perfect cup of chai.
Starbucks Chai Tea Latte Copycat Recipe
With just a few simple ingredients and a little bit of know-how, you can make a hot (or cold, if that's your thing) Starbucks chai tea latte that tastes just like the real deal. So, if you want to save some money, show off your barista skills, or just make yourself a warm drink at home, this copycat recipe is the answer to all your chai tea latte dreams. Are you ready to start making tea? Let's get started!
Ingredients
6 oz of Tazo Chai Tea Latte Concentrate
1/2 cup of milk of your choice
Cinnamon, to your liking
Instructions
Pour Tazo tea latte concentrate into a small saucepan and heat it over medium heat. Stir it until it gets steamy and hot.
Take your favorite mug and fill it with hot concentrate.
Place the pot back on the stove and heat up the milk. Once it is warm, it's time to demonstrate your barista skills.
For 1–2 minutes, vigorously whisk the milk until it becomes frothy. Don't be afraid to put in some effort.
Pour the frothy milk onto the chai tea concentrate in your mug. And here's a pro tip: use a spoon to stop the foam from getting in the way while pouring the milk. This makes sure that the milk and concentrate blend perfectly!
The leftover foam in the pot? Don't let it be wasted! Put it on top of your latte to make it creamier.
Finally, add a splash of warmth and flavor by sprinkling cinnamon on top.
It's time to sit back, loosen up, and enjoy the delights of your homemade chai tea latte!
Ok, it looks like someone has grown into a great barista! You nailed the Starbucks Chai Tea Latte Copycat Recipe, which is the easiest thing to do. Share the good news with your friends and let them in on the secret to a perfect cup of chai tea latte. So, c'mon, don't be a latte hoarder! 🙂 Pin the image below to spread the chai tea love on Pinterest. Let's initiate a chai-tea revolution and make the world better (and tastier) one cup at a time!