With the help of my in-depth instructions, you can learn how to create the most amazing Sacher Torte. The apricot jam filling and silky chocolate icing on this decadent two-layer chocolate sponge cake are both excellent. It is customary to serve whipped cream with "Sacher Torte," an iconic and well-known Austrian cake.
Chocolate cake layers, apricot preserves, and a glossy chocolate frosting are the ingredients of the traditional Sacher Cake. Sacher Cake is a gorgeous cake suitable for any celebration and occasion.
What is Sacher Cake (Sacher Torte History)
Franz Sacher, an Austrian pastry chef, created the Sacher Torte in 1832. He made it for Prince von Metternich, and he was amazed by this exquisite chocolate cake. Thus, Sacher Torte is just a combination of the surname of the creator Sacher and the German term for cake, Torte.
According to the Sacher Hotel's website, the renowned chocolate cake with apricot jam filling first appeared in Vienna in 1832. When Franz Sacher was requested to make an exceptionally delectable dessert for prominent guests, he was a 16-year-old apprentice at the palace of Prince Metternich.
It was a big hit with the visitors and earned the name Sacher Torte.
With an airy cake, a straightforward apricot jam filling, and a luscious bittersweet frosting, our version of this traditional chocolate cake is both lightweight and rich at the same time.
Fun Fact: Austria has a rich history of recipes, and besides this Sachertorte, some food experts think that this famous Swiss Roll Cake also originates in this European country.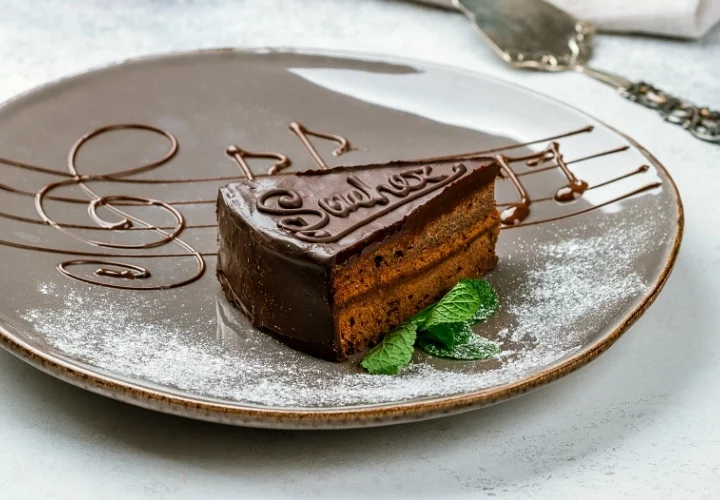 What does Sacher Cake (Sachertorte) taste like?
The Sacher Cake (Sachertorte) is a delightful, sophisticated mix of chocolate tastes, enhanced by a necessary pile of Schlag. The whipped cream, which moistens the surprisingly stiff cake layers, is a crucial composition component.
The whipped cream is meant to be dipped into every piece of Sachertorte.
How to eat Sacher Cake (Sacher Torte)
The proper way to eat Sacher cake is to moisten each bite by dipping it into the cream. As Rick Rodgers notes in his book Kaffeehaus, " for this reason, a massive dollop of delicately whipped, mildly sweetened, heavy cream is usually served with Sachertorte.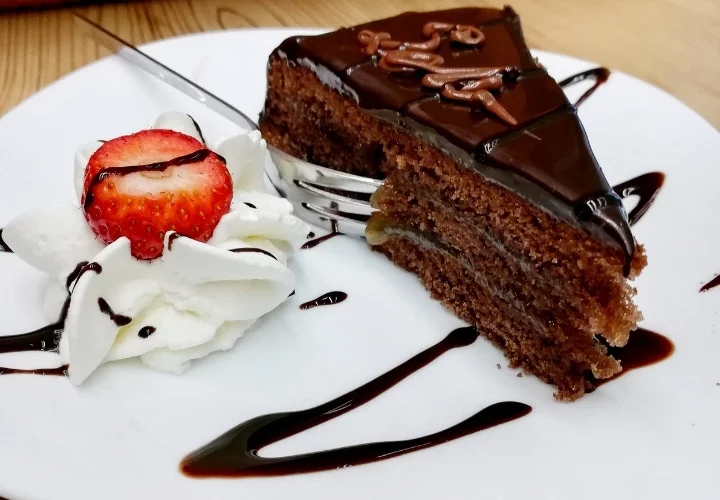 Ingredients for Sacher Cake (Sacher Torte)
Sugar, Apricot jam, unsalted butter, eggs, vanilla, chocolate, salt, cake flour, and rum are required to prepare this genuine Sacher Torte recipe.
Caster superfine sugar: I don't suggest using any sugar other than superfine sugar (caster sugar).
Apricot Jam: The original jam to use is apricot jam, and I would never advise using another type of jam; however, if you're in a hurry and can't find apricot jam, you may substitute any other jam in this recipe.
Vanilla: authentic Bourbon Vanilla beans are typically used in Austrian cake recipes like this Sacher Cake. But you may also substitute 1 teaspoon of vanilla extract.
Chocolate: Use semi-sweet chocolate bars rather than chocolate chips while eating chocolate. There should be a gentle melting of the chocolate. When chocolate chips are melted, the cake layers become dry and flat, and the glaze cannot be poured or distributed evenly over the cake.
Cake Flour: All-purpose (plain) flour and cornstarch can be substituted for cake flour. Therefore, subtract 2 tablespoons (16g) from the 1 cup (125g) of all-purpose flour and replace them with cornstarch. Then sift twice.
Rum: either light or dark rum is OK. You may use 1:1 water for the alcohol if you don't want to add it.
Expert Tips for the Best Sacher Cake
Sacher cake is not hard to make, but it's not the easiest one to make either. You can see the detailed recipe instructions at the bottom of this article are a bit extensive but do not be frightened. Be sure to follow the tips below for the best Sacher cake!
Only make use of the ingredients and alternatives I advise. If not, the outcomes can be substantially different.
While incorporating the flour and egg whites into the chocolate mixture, be careful not to overmix the cake batter. The cake batter will deflate if overworked, preventing the cake layer from rising to the proper height. It would have an odd texture and be a flat cake.
Only bake the cake long enough for a toothpick inserted in the middle to come out clean. A dry cake may result from overbaking.
Only use premium chocolate bars from the confectionery or baking aisle. The chocolate brands Lindt and Ghirardelli have given me the finest results.
If you glaze the cake before the jam has dried, the chocolate glaze will drip off the cake, and the jelly will liquefy.
Spread the glaze evenly over the cake in a circular motion, letting it drip down the sides as you go. Then, using a large frosting spatula and as few motions as possible, quickly spread and level the glaze. The glaze will become uneven the longer you spread it since it will begin to dry fast.
Before serving, allow the glaze to dry. In order to prevent the glaze from sweating and forming small water droplets on the cake's surface, refrigerate the Sacher Torte cake at room temperature rather than in the refrigerator.
How to know if the glaze is consistent?
A small amount of the glaze should drip onto a wooden spoon. It should now have a glaze coating on it that is around 4 mm thick. If the glaze is excessively thick, thin it out with a few drops of sugar syrup (to do so, melt the sugar in a saucepan with a little hot water).
Make absolutely sure the glaze doesn't get too hot since this will cause it to cook up drab and lackluster.
Make ahead and freezing instructions for Sacher Cake Recipe
Cake layer: The cake layer can be baked up to a day ahead of time and kept at room temperature in an airtight container.
The cake layer can also be frozen when it has completely cooled. Consequently, freeze it for an hour, then cover it in plastic wrap and put it in a freezer bag or container.
Place it in the refrigerator for the night to defrost. Then, after allowing it to room temperature, glaze it.
Jam: You may also make the jam a day ahead of time and reheat it briefly before using it.
Prepare the cake ahead: The cake can also be prepared ahead up until it's baked and you've cut the layers and kept at room temperature for up to a day. Making the glaze next, move on to the last few steps.
Share the image below to your Pinterest board if you like this Sacher cake recipe!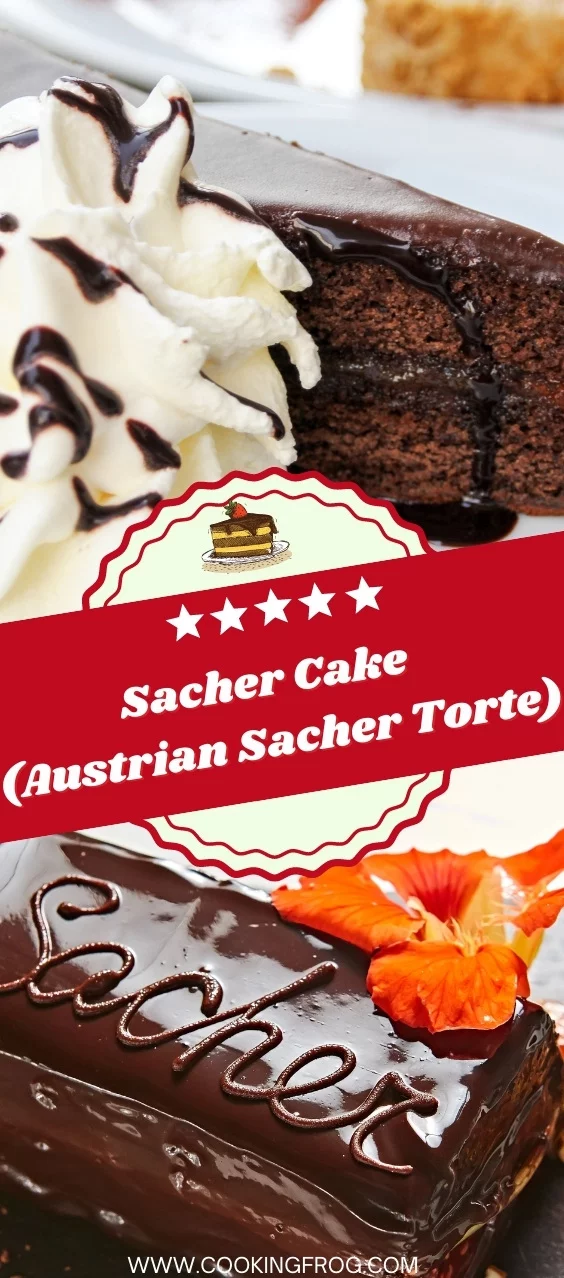 Sacher Cake Recipe (Sacher Torte)
Ok, time to make this Sachertorte! You are missing out if you haven't had Sacher cake yet. But don't worry; you can make a copycat version of this Austrian cake in your kitchen. Sacher cake is what you need whether you want to treat your visitors to a memorable dessert or if you want to indulge in a rich chocolate cake with a hint of apricot, so let's start.
Ingredients
For the Cake
¾ cups of room temperature butter, unsalted
1 cup of superfine sugar
1 vanilla bean (or 1 tsp of vanilla extract)
7 room temperature eggs, large
6 oz of melted and chilled chocolate bars, semi-sweet (minimum 55% cocoa)
¼ tsp of salt
1 cup of cake flour (or all-purpose flour)
For the Filling
18 oz of apricot jam
¼ cup of rum
For the Glaze
8 oz of finely chopped chocolate bars, semi-sweet (minimum 55% cocoa)
½ cup of butter, cut into pieces (unsalted)
Instructions
Set your oven's temp to 350°F (175°C). Use parchment paper to line the bottom and sides of a 9-inch (22-23-cm) springform pan.
Take an electric mixer with a whisk attachment, and beat the butter and 1/2 cup (100g) of caster sugar in a large bowl for about 3 minutes or until the mixture is pale and fluffy. One egg yolk at a time; add the vanilla and stir to blend after each egg yolk. Next, add the melted chocolate and beat for about a few minutes, or until nice and creamy, and place aside.
Using an electric mixer with a whisk attachment, beat the egg whites and salt in a different large mixing bowl until foamy, approximately a minute. Then, add the final 1/2 cup (100g) of caster sugar, and mix on high speed for 5 minutes or until firm peaks form.
Gently incorporate the beaten egg whites into the chocolate mixture in three portions. You need to fold once and repeat the same motion in one direction. Avoid overworking the mixture, as the final result will be a flat Sacher cake. The cake flour is then added in two equal portions, and the dough is only folded until all lumps have been removed. Don't overwork the batter, please. If you overwork the batter for Sacher cake, the batter will lose its density and the cake won't rise as high as it supposes to. Sachertorte batter ought to be smooth, fluffy, and very light.
Spread the batter evenly in the prepared pan, then bake for 50 to 60 minutes, till a toothpick inserted in the center comes out clean. Take the cake out of the oven and cool it fully.
Set a mesh strainer over a medium-sized heavy-bottomed pan or dutch oven and pour the apricot jam into the sieve. Get rid of the fruit pulp. Over medium heat, stir in the rum and simmer for 2 minutes or until everything is heated and well mixed. Now you can turn the heat off and leave the pot aside.
To get a smooth surface, trim a tiny layer from the top of your cake. The cake should then be turned over and split in two horizontally. It's best to use a cake-turner at this point to flip the cake over. The bottom of the Sachertorte layer needs to be covered with roughly 2/3 of the Apricot jam. Spread the remaining jam equally over the top and edges of the cake before adding the top cake layer. Jam should thoroughly envelop the cake. Let the Apricot jam dry for about an hour, or till it feels dry to the touch, at room temperature.
To prepare the chocolate glaze for Sacher torte, heat 2 inches (5 cm) of water in a large heavy-bottomed saucepan or on low heat. Make sure the bowl doesn't contact the water, and place a large, heat-proof glass bowl on top to cover the saucepan fully. Melt the chocolate and butter in the bowl. Not that the butter has totally melted, and you can see a few small pieces of chocolate in the glaze, frequently stir with a silicone spatula, and take away from the heat. Once everything is completely smooth and melted, turn off the heat and let the bowl cool for five minutes. Periodically stirring the chocolate.
Pour the chocolate glaze over the cake in a single, circular motion, quickly spread it with a large frosting spatula to level it, and then allow it to drip down the cake's edges to coat it thoroughly. Work swiftly and with few motions. To make handling cakes simpler, kindly use a cake turner. The last thing you need to do is to give the glaze a minimum of one hour to dry.
Add whipped cream while serving. Keep it at room temperature for up to three days in an airtight container.
Prep Time: 60 minutes
Cook Time: 60 minutes
Nutrition Information:
Calories: 602
Carbohydrates: 68 g
Protein: 7.1 g
Fat: 36 g
Fiber: 3 g
Sugar: 47g
Saturated Fat: 19 g
Cholesterol: 160 mg
Sodium: 112 mg
Potassium: 272 mg
Vitamin A: 800 IU
Vitamin C: 5 mg
Calcium: 53 mg
Iron: 3 mg