Bring the magic of the Starbucks menu into your own home with this copycat recipe for the beloved Starbucks Pink Drink. This recipe seizes the core of the original while adding a personal touch, making it better than just a simple copycat.
This delightful concoction flawlessly blends unique flavors and textures, delivering a refreshing experience with every sip. It's a testament to the art of beverage crafting, balancing various ingredients to create a harmonious combination.
This Pink Drink recipe is your ticket to a mini-vacation, perfect for those lazy summer days or when you need a refreshing pick-me-up. Plunge into the world of homemade, gourmet beverages and relish the symphony of flavors in the comfort of your kitchen.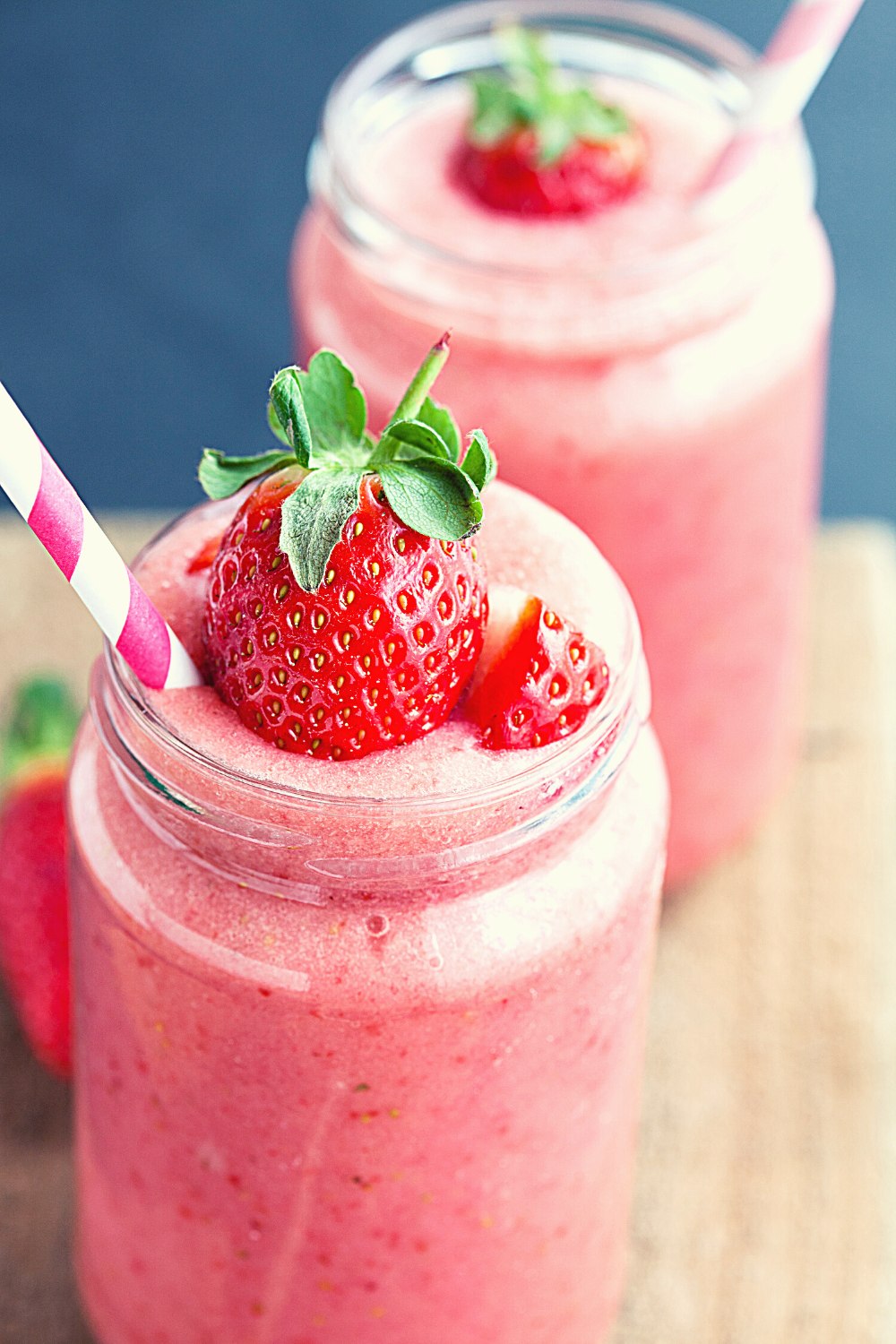 Starbucks Pink Drink Ingredients
Water: The basic ingredient for brewing the tea. It's best to use filtered water for a clean, purified taste.
Sugar: Sugar will add a gentle sweetness to your Pink drink. You can modify the amount based on your preference for sweetness.
TAZO Passion Herbal Tea: This is the crucial ingredient that imparts a distinctive taste to the Pink Drink. It's a blend of orange peel, hibiscus, rose hips, and passion fruit flavors.
White grape juice: This ingredient improves the fruity undertones of the drink, adding a slight tanginess that complements the sweetness.
Coconut milk: This gives the Starbucks pink drink its creamy texture and adds a tropical twist. Choose full-fat coconut milk for a creamier texture.
Strawberries: Fresh strawberries not only add a burst of color but also infuse the drink with a natural sweetness and a touch of tartness. They also serve as a gorgeous garnish.
Ice cubes: These are necessary for serving your Pink Drink chilled. You can also use crushed ice for a distinct texture.
Starbucks Pink Drink Variations
It's crucial to note that these tweaks, while enjoyable, will steer us away from the authentic Starbucks Pink Drink. The classic Pink Drink inspires these variations, but each presents a unique twist, creating a whole new flavor profile.
So, while they may not be exact Starbucks copycats, they offer a delightful and innovative way to enjoy the spirit of the Pink Drink in a new light. Let's dive into these thrilling alternatives!
Pink Citrus Burst: Add a bit of pink grapefruit juice for a tangy twist. This will deliver your Pink Drink a citrusy edge while improving its vibrant pink coloring.
Berry Pink: Mix in some fresh raspberries along with the strawberries. This will heighten the pink color and add a little tart flavor to your drink.
Pink Tropical Sunset: Add a dash of guava juice to your Pink Drink. This will infuse it with tropical sweetness and a lovely sunset-like shade of pink.
Pink Lemonade Twist: Replace the white grape juice with pink lemonade. This will give your drink a dreamy, summery flavor while keeping it pink.
Creamy Pink Velvet: Add a splash of beetroot juice for a creamier version. This will improve the pink color and add a subtle earthy flavor that pairs well with the coconut milk.
Ice Cream Float: Transform your Pink Drink into a dessert by adding a strawberry or vanilla ice cream scoop. As the ice cream melts, it will create a heavenly creamy, dreamy texture.
Pink Frappuccino: Blend your Pink Drink with ice and a scoop of vanilla ice cream to create an amazing Pink Frappuccino. Top it off with whipped cream and a drizzle of pink sugar for a Starbucks-worthy charm.
Pink Popsicles: Pour your Pink Drink into popsicle molds and freeze. You'll have delectable, homemade pink popsicles excellent for a hot summer day.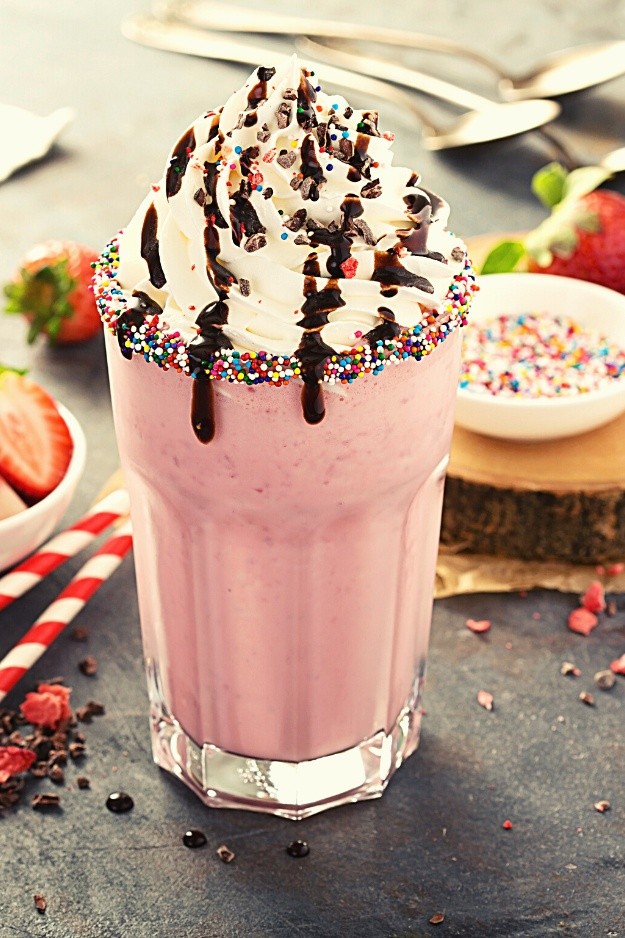 Starbucks Pink Drink Recipe
Savor the refreshing delight of your favorite Starbucks copycat in the comfort of your home with this delightful Pink Drink recipe.
Ingredients
For the Syrup:
1 cup of water
2 cups of sugar
For the Drink:
1 tea bag of Tazo Passion Herbal Tea
2 ½ Tbsp of syrup
1/2 cup of white grape juice
3 ½ Tbsp of coconut milk
2 Tbsp of fresh strawberries, chopped
Instructions
For the Syrup:
Start by making the plain syrup. Combine 1 cup of water and 2 cups of sugar in a saucepan. Heat the mixture over medium-high heat until it just begins to boil, stirring frequently.
Keep stirring the mixture until the sugar completely dissolves. Once done, remove the saucepan from the heat and let the syrup cool down. This will make it easier to blend into the drink later.
For the Tea :
Next, it's time to brew the tea. Pour 8 oz of boiling water over one TAZO Passion Herbal Tea bag. Let it steep for about five minutes to pull out all the flavors.
After steeping, remove the tea bag and let the tea cool before moving to the next step.
For the Pink Drink:
Now, it's time to make your Pink Drink. In a glass, mix 2 tablespoons of the chilled syrup and 1/2 cup of your brewed tea. Add 1/2 cup of white grape juice and stir nicely to combine.
Fill your glass with ice. Pour in 3 1/2 tablespoons of coconut milk and stir slowly to mix. This will give your drink a lovely, creamy swirl.
Finally, add fresh and chopped strawberries for a nice color and a burst of fruity flavor. Serve your homemade Pink Drink right away and enjoy!
Remember, the key to a great Pink Drink is proportion. Feel free to adjust the amounts of the ingredients to suit your taste.
Got a kick out of this Starbucks Pink Drink recipe? Give your Pinterest board a bit of pink by pinning the picture below. It's a great way to save this recipe for later and share the satisfaction of homemade Starbucks with fellow pinners. After all, sharing is caring!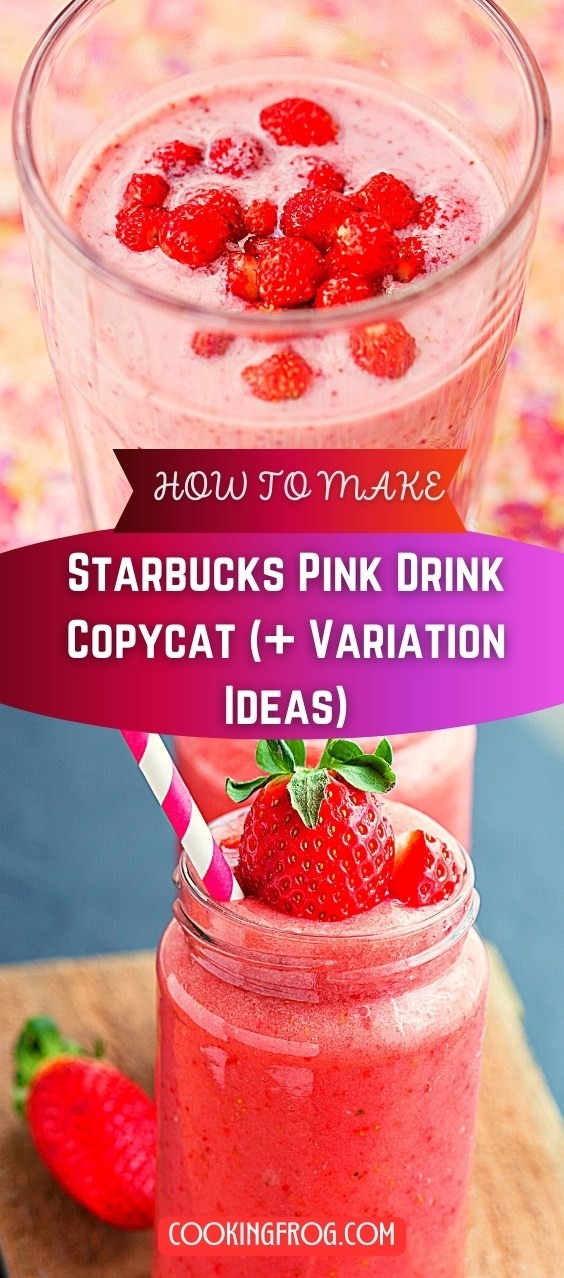 More Starbucks Recipes
Starbucks Carrot Cake: Make this moist and tasty cake with a creamy frosting for a satisfying dessert or a sweet treat with your coffee.
Starbucks Grilled Cheese: Enjoy a satisfying and cheesy delight with this recipe. It's excellent for a quick lunch or a heartwarming snack.
Starbucks Cake Pops: These bite-sized goodies are fun to make and even more fun to eat. They're flawless for parties or when you're yearning for something sweet.
Starbucks Chai Tea Latte: This soothing and fragrant beverage is a beautiful way to start your day or relax in the evening. It's a combination of spiced tea and creamy milk that will warm you up.