Baked Crunchy Pork Chops are coated with breadcrumb and Parmesan cheese mixture and then placed in the oven for a simple, fabulous dinner that's guaranteed to be a family favorite!
Tips for Baked Crunchy Pork Chops Recipe :
I've created this with no parsley before, and it had been fine; thus, no worries if you don't have any.
I like Panko breadcrumbs cause they get more crunchy; however, you can use regular breadcrumbs too or substitute gluten-free breadcrumbs. I'd opt for a noticeable, not seasoned, crumb; however, you may strive for the Italian version and skip the other seasonings here.
Want to include some spice in your pork chops? Add up to 1/4 teaspoon of cayenne pepper to the crumb mixture.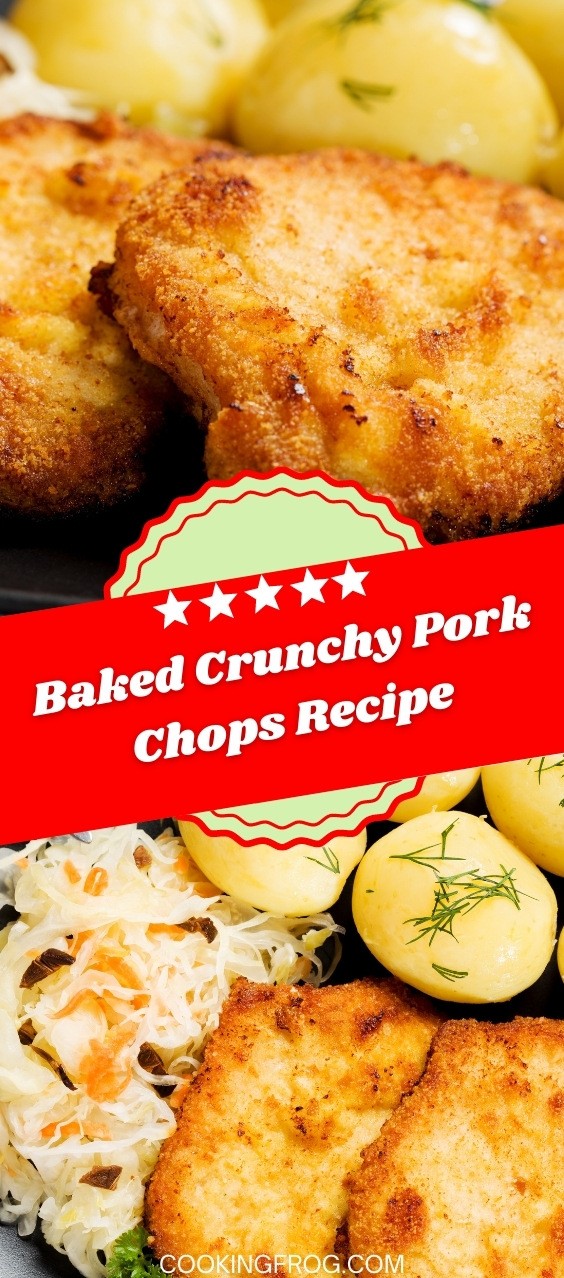 How to make Baked Crunchy Pork Chops:
Ingredients
Four pork chops (boneless), around 1-inch thick
salt and pepper, to your liking
1 whole egg, gently beaten
2/3 of a cup of Panko breadcrumbs
three tablespoons grated Parmesan cheese
1 1/2 tablespoons of fresh parsley, chopped
1 teaspoon of paprika
1/2 teaspoon garlic powder
1/2 teaspoon onion powder
1/4 teaspoon black pepper
Directions
Heat the oven to 425. Grease a baking sheet with cooking spray and put it aside.
Season each side of the pork chops to your liking with salt and pepper.
Place egg in one shallow bowl and beat gently.
Mix breadcrumbs and the remaining ingredients in a separate shallow bowl.
One at a time, dip every pork chop in the egg to coat on all sides, then press into the crumb mixture on all sides.
Place the coated pork chops on the previously prepared baking sheet. Press some of the additional crumb mixtures onto the top of every pork chop. Spray the top of the pork chops with cooking spray.
Bake at 425 for 20-25 minutes, till a thermometer reads 140 F. Take away from the oven and let rest for 3-5 minutes before serving. After a few minutes of resting time, the internal temperature of your pork chops should rise to 145 F.
Nutritional facts:
Calories: 380 Total Fat: 18g Saturated Fat: 4g Cholesterol: 159mg Sodium: 255mg Fiber: 1g Sugar: 1g Protein: 44g