Juicy Cast Iron Skillet chicken breast is a masterpiece that will change the way you cook. With a timeless mix of lemon garlic butter with herbs and a tasty parmesan cheese crust, it's almost effortless to make.
The juicy skillet chicken breast recipe is a real culinary masterpiece that will make you wonder why you ever ate boring chicken dinners. This dish will up your home cooking game with its classic combination of lemon, garlic butter, herbs, and a delectable parmesan cheese crust.
It's so easy to make that even someone who is a beginner can do it easily. So, get your cast iron skillet, and let's start making some magic. Trust me, everyone that tries this chicken dish will thank you.
Don't believe me? Just wait until you taste it! It's like a symphony of flavors dancing in your mouth.
Is Oil Added to a Cast Iron Skillet when Cooking Chicken Breast?
A little bit of oil goes a long way when cooking chicken in a cast iron skillet. Not only does it help keep the meat from sticking, but it also gives it a great flavor.
When cooking boneless, skinless chicken breasts, which are low in fat, you must use a high smoke point oil, like vegetable oil, canola oil, sunflower oil, or safflower oil. Chicken needs to be cooked at high temperatures, which these oils can handle. Olive oil, on the other hand, has a lower smoke point and should be avoided.
So go ahead and put a little oil in your cast iron skillet. It will make a huge difference in how your chicken tastes and feels.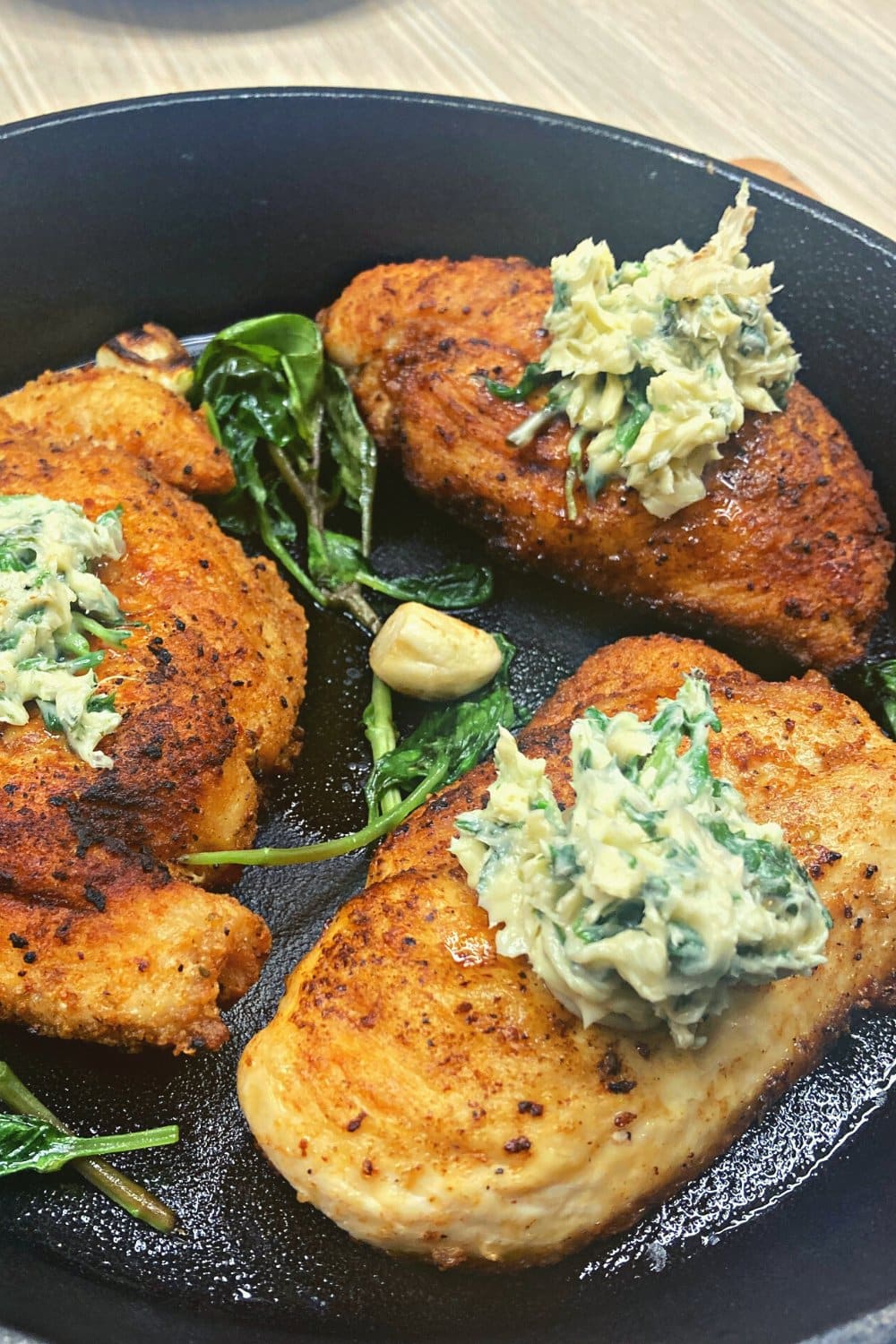 How to Prevent Chicken From Sticking to the Cast Iron Skillet?
Before adding the chicken, heat your skillet over medium-high heat for a few minutes to make sure it's hot. This will keep the chicken from sticking.
Don't move the chicken around too much while it's cooking. If you leave it alone for a few minutes on each side, it will get a nice crust, which will make it easier to flip without sticking.
Lastly, don't be afraid to add more oil or butter to the skillet when cooking. This can also help keep things from sticking.
With these tips, you'll be able to make chicken parmesan that doesn't stick in no time!
Ingredients you'll need
Chicken breasts: These juicy, tender pieces of chicken are the star of the dish and provide a tasty, filling source of protein.
Garlic powder: The garlic powder gives the dish a powerful, aromatic taste that goes well with the chicken. It also gives the dish a slight hint of heat.
Oregano: Oregano is a versatile herb that gives the food a unique, earthy taste. It goes well with the other ingredients, giving the dish a rich and satisfying flavor.
Paprika: Paprika is a spice that gives the dish a smoky, warm taste. It also gives the chicken a beautiful golden color that makes it look as good as it tastes.
Salt: Salt is an important seasoning that brings out the natural flavors of the other ingredients. It also makes the chicken more tender, which makes it taste even better.
Pepper: Pepper gives the dish a bold, spicy kick that goes well with other flavors. It gives the dish a nice, balanced flavor that will please anyone's taste buds.
Parmesan cheese: Parmesan cheese makes the dish taste nutty, salty, and savory, which makes it hard to stop eating. It goes well with the chicken and makes the dish taste richer, and has more depth.
For the Garlic Butter:
Garlic cloves: Garlic cloves give the butter a strong and aromatic garlic taste. They give the butter a strong and delicious flavor that makes it hard to stop eating.
Basil: Basil is a great herb to use with garlic butter and chicken breasts because it has a bright, fresh taste. Basil's sweet, peppery taste goes well with garlic butter's rich, savory taste, making for a delicious balance of flavors.
Butter: Butter is the base of compound butter, giving it a rich, creamy texture that makes it hard to resist.
Fresh chopped herbs: Fresh herbs like rosemary, thyme, or parsley give the butter a burst of flavor, aroma, and color. They add an extra layer of flavor and freshness to the butter, making it even yummier.
Lemon zest: Lemon zest is the secret ingredient that makes butter special. It adds a bright, fresh flavor that goes well with the other ingredients. It gives the butter a tangy, citrusy flavor that makes it hard to resist.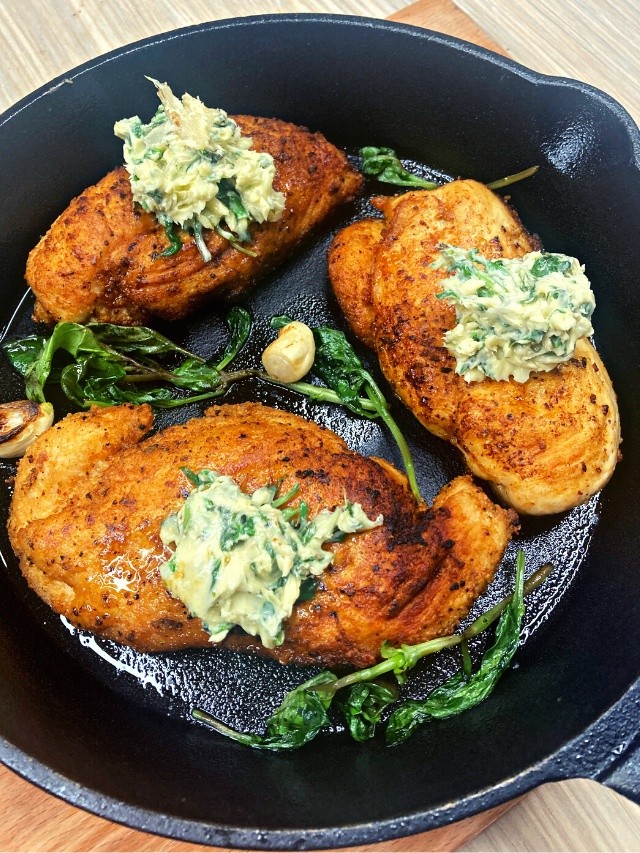 Cast Iron Skillet Chicken Breast Recipe
This cast iron skillet chicken breast recipe is sure to take your cooking to the next level. It's like a chicken breast renaissance, with a crispy Parmesan crust and a juicy center, all topped with great garlic butter. Also, the cast-iron skillet is like a magic wand for your chicken, turning it into a masterpiece of a dish.
Ingredients
4 chicken breasts, medium size
½ tsp of garlic powder
½ tsp of oregano
½ tsp of paprika
1/2 tsp of salt
¼ tsp of pepper
2 Tbsp of grated parmesan cheese
2 Tbsp of frying oil (use more if needed)
For garlic butter
4 garlic cloves
2 sprigs of basil
2 Tbsp of butter
1 Tbsp of fresh chopped herbs
1 lemon, zested
Instructions
Mix all the spices and Parmesan cheese in a small bowl to make a coating mixture.
Sprinkle the mixture evenly on both sides of each chicken breast and press it to ensure it covers fully.
On medium-high heat, heat the olive oil in a cast-iron skillet.
Cook the chicken breasts for about 10 to 14 minutes, checking after 7-8 minutes to make sure they aren't browning too quickly and adjusting the heat as needed.
Turn the chicken breasts over and cook for another 7–8 minutes or until the internal temperature reaches 165 degrees Fahrenheit.
Once the chicken is done, take it out of the pan and let it rest.
Turn down the heat and add a splash of oil, garlic, and basil. Cook until it turns brown.
Mix the minced garlic with butter, herbs, and the zest of the lemon. Spread this on top of the chicken breasts that have already been cooked.
Add fried basil leaves as a garnish to make the dish look and taste better.
Video Recipe
This Chicken Breast Recipe and Cast Iron skillet are the perfect match, and it's time to spread the love. Share the image below to your Pinterest board and show the world what this recipe can do!