Pork Chops with Cranberries and Balsamic are a fast and straightforward weeknight or date night dinner that brings serious flavor with simple ingredients. You may be surprised at how some simple ingredients will bring the most flavor to these pork chops. It's got depth, richness, a touch of earthiness from the rosemary, and a sweet-tart mix of cranberry sauce and balsamic vinegar.
You have to trust me that this mixture of flavors is outstanding! And this can be an excellent way to use some leftover cranberry sauce after Thanksgiving to create an entirely different meal that everybody will wish to dig into!
Tips for Pork Chops with Cranberries and Balsamic:
I use thick-cut pork chops about 1 to about 1/2 inches thick. If yours are somewhat thinner, the preparation time will be less.
I've also used red wine (when we've had some open) and chicken broth, and it's lovely both ways. You can use what you have.
You can use your own version of homemade cranberry sauce, and I guess you can try it with the canned stuff.
I don't suggest, however, substituting dried rosemary for fresh rosemary here.
If you want to add a touch of decadence, stir in a tablespoon of butter once you finish the sauce.
Use a meat thermometer to ensure your pork chops' internal temperature is at least 145 F for medium-rare.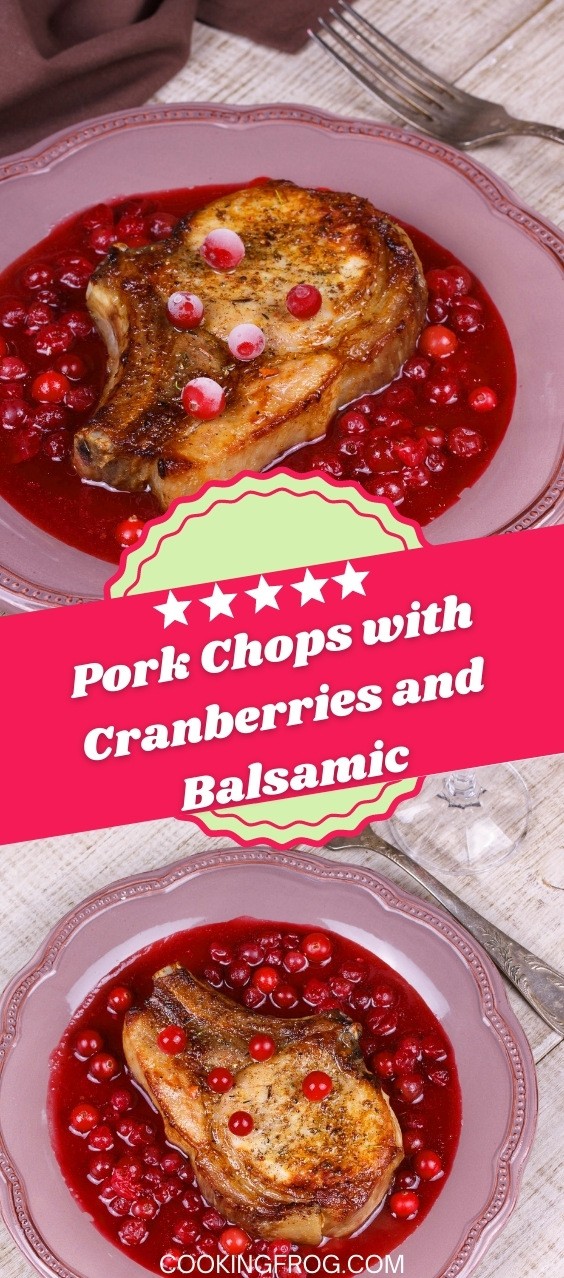 Ingredients
2 teaspoons of olive oil (or other vegetable oil you prefer)
4 boneless thick-cut pork chops
1 1/2 teaspoons of fresh rosemary
1/2 teaspoon of salt
A quarter teaspoon of black pepper
A quarter cup of cranberry sauce
1/4 cup of balsamic vinegar
1/4 cup of red wine
How to make Pork Chops with Cranberries and Balsamic:
Heat olive oil (or other vegetable oil you prefer) in a large pan over medium-high heat.
Season pork chops on each side with rosemary, salt, and pepper. Add to pan and sear over medium-high heat for 3-4 minutes on each side.
Add the cranberry sauce, balsamic vinegar, and red wine (or chicken broth), and bring it down to a simmer.
Cover and scale back heat to medium-low and simmer until pork chops are fried. It should take about 8-10 minutes for thick pork chops.
Remove the pork chops to a plate and cover to keep the heat.
Turn the heat back up again to medium-high and scale back the sauce by about 0.5 (takes about 3-4 minutes).
Turn off the heat and serve pork chops with more sauce drizzled.