Today I'm going to share Garlic Butter Steak Bites With the Spicy Marinade recipe. The beef bites are very tender and juicy and take only 10-15 minutes to make. They go perfectly well with potatoes for lunch and dinner!
Garlic butter steak bites are simple to make and delicious. It's great for a busy weeknight dinner whenever you feel full course dinner is a lot to handle in the kitchen.
It's super easy to make these steak bites since it takes only about 10 minutes. The first thing you do is cut the sirloin steak into cubes ( bite-sized) and season them with salt, black pepper and smoked paprika.
The next phase is warming up a cast-iron skillet and cooking the steak bites with butter and garlic. To bring up the taste, I really like adding my homemade dry rub before serving. The results are tender, juicy, and so flavorful beef bites that everyone will enjoy!
Pin the image below if you like this Garlic Butter Steak Bites Recipe!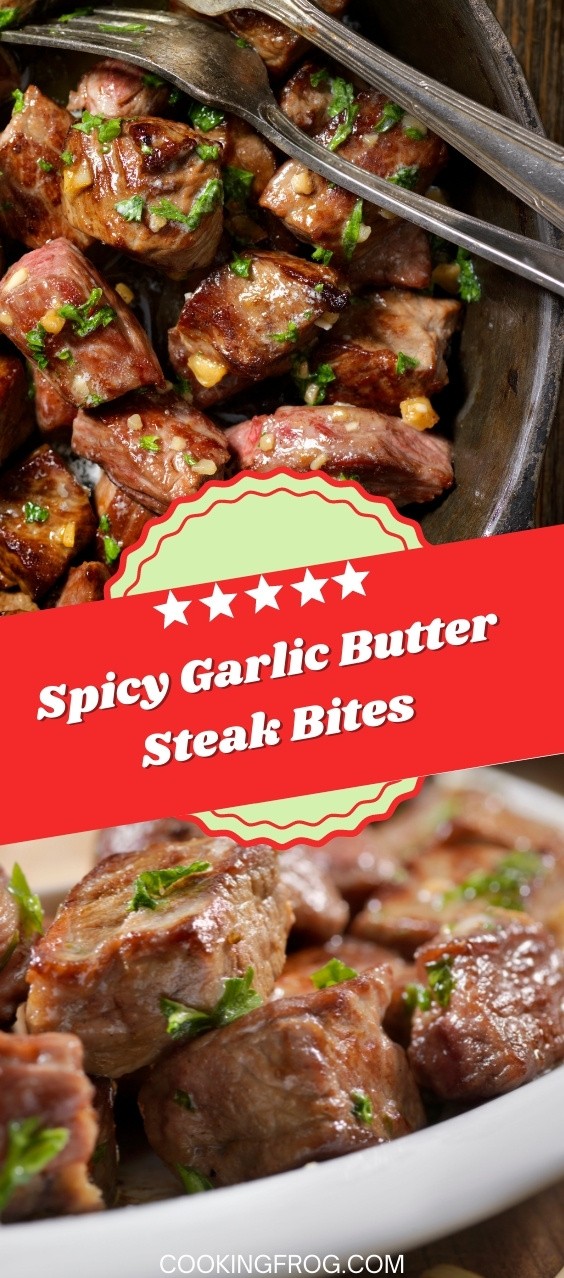 1 lb of bite-sized cubes top sirloin steak
1 tsp of smoked paprika
1/2 tsp of kosher salt
4 Tbsp of room-temperature unsalted butter
12 cloves of garlic, peeled
black pepper, ground
1/2 Tbsp of Italian Seasoning
1 tsp of homemade dry rub
1 Tbsp of Italian parsley, chopped
4 squirts of fresh lemon juice
How to make Garlic Butter Steak Bites With Spicy Marinade
Slice the sirloin steak into bite-sized pieces.
Next, marinate the steak bites with smoked paprika, salt and black pepper and leave aside.
Warm up a skillet on high heat and add the butter.
The moment it melts, add garlic cloves and stir several times and add the steak bites.
Cook continuously and stir slowly; turn and toss around with the garlic. Add homemade dry rub and Italian seasoning, and stir to mix nicely.
When the steak bites are cooked nicely, it should take about 3-4 minutes, add in the chopped parsley and stir to mix well with the steak.
Take away the skillet from the stovetop, add the lemon juice to the surface of the steak bites, and serve right away.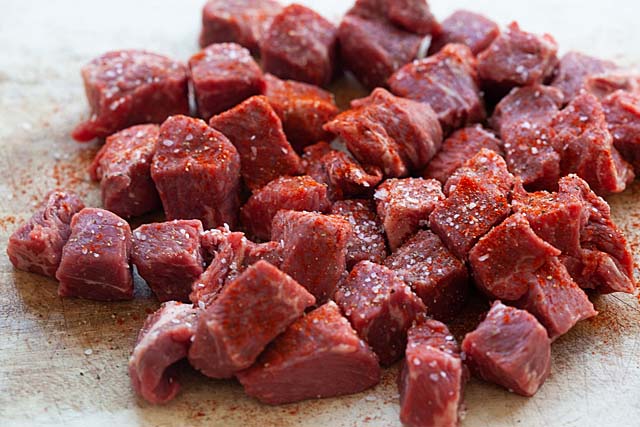 Check out our most popular Garlic butter recipe so far here: Garlic Butter Juicy Pork Chops Recipe