You can make these juicy pork chops with a delicious mushroom sauce in just one pan. There's no need to marinate the meat or use fancy ingredients. Dinner will be ready in a flash.
Serve it with creamy mashed potatoes for a meal that is ready in less than 30 minutes. Perfect for busy weeknights when you need a hearty, tasty meal right away.
French Pork Chops with Mushroom Sauce
Envision a chilly, rainy night, and you're longing for something warm and tasty, but the thought of getting every pot and pan in your kitchen dirty is too much to handle.
Well, don't worry because we have the right solution for you: pork chops with a creamy garlic mushroom sauce that you can make in one pan.
Just turn on your stove and let things happen on their own. And what's even better? You'll feel like a chef at a fancy French restaurant, but you won't have to pay for it.
Now, let's talk for a moment about pork.
It's the world's most popular meat, and it's easy to understand why. It's cheap and easy to prepare, and when it's done right, it's juicy and full of flavor.
Because of this, our recipe for pork tenderloin is always a hit.
Try this one-pan pork chops dinner the next time you want a satisfying meal that will not cost a fortune or make a mess of your kitchen.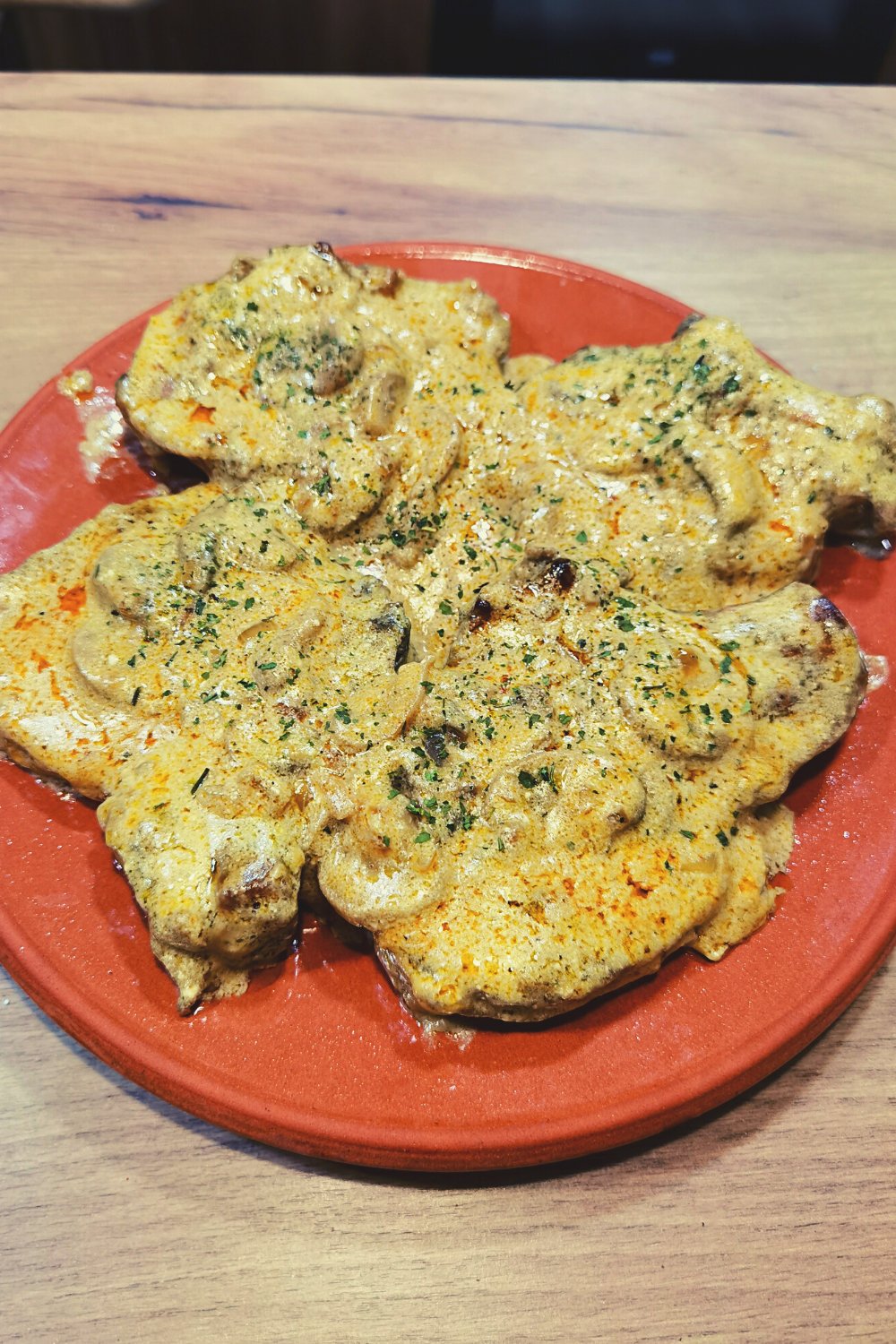 Why is this recipe for Pork Chops with Mushroom Sauce so good?
French pork chops with mushroom sauce is a classic meal that is sure to satisfy everyone. The fusion of tender pork chops and a rich, flavorful mushroom sauce is a match made in heaven.
Let's start off with the pork chops. They are the main part of the dish and provide a nice, juicy foundation for the sauce.
Using boneless pork chops that are about 1/2 inch thick guarantees that they will cook quickly and evenly. The salt, black pepper, and paprika give the pork chops a nice crust and help to bring out their natural flavors.
The mushroom sauce is what makes this dish stand out. The combination of mushrooms, onions, and garlic generate a depth of flavor that is hard to resist.
The mushrooms add a nice earthy flavor and meaty texture, while the onions and garlic add sweetness and sharpness that go well with the pork chops.
A touch of hot sauce gives the dish a nice kick of heat, and flour and chicken broth thicken the sauce. Lastly, the heavy cream adds a luxurious creaminess to the sauce that brings the whole dish together.
Adding parsley as a garnish makes the dish taste fresher and goes well with the flavors. All of the ingredients in this dish work together to make a delicious blend of flavors and textures.
Each ingredient adds its own aroma and enhances the overall flavors and texture of the dish.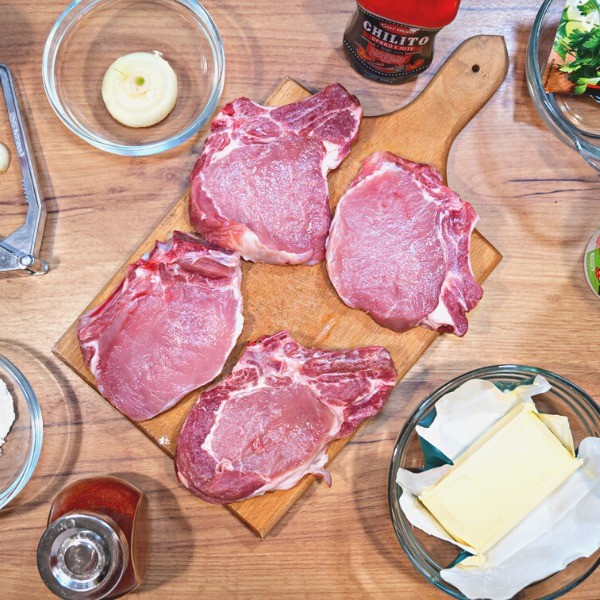 Can I substitute the hot sauce?
Sure, you can! If you don't like spicy food, you can start by using less hot sauce or leaving it out entirely. But just so you know, the hot sauce really does make the sauce taste better. So, if you want, try it and make changes to suit your taste.
What mushrooms to use?
When it comes to cooking with mushrooms, you have a lot of options. White or brown mushrooms, cremini mushrooms, and portobello mushrooms are my personal favorites.
And if you are in a hurry, sliced mushrooms from a can are a good go-to. Mushrooms are not only tasty and versatile in the kitchen, but they are also a great low-carb food for people on a ketogenic diet.
In fact, just one cup of mushrooms has a staggering 2.3 grams of carbs, making them an excellent addition to any low-carb meal plan.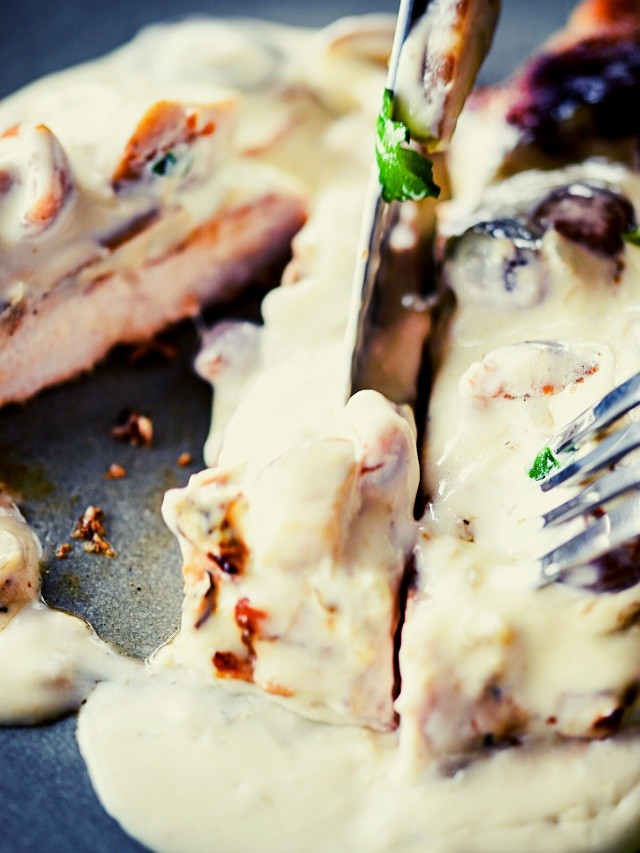 French Pork Chops with Mushroom Sauce Recipe
Dine like you're in France tonight! Try these French pork chops with a tasty sauce made of mushrooms. Serve with crusty French bread for a trip through the streets of Paris!
Ingredients
4 pork chops, about ½ inches thick
1 tsp of salt
½ tsp of black pepper
½ tsp of paprika
3 Tbsp of butter, unsalted
1 Tbsp of olive oil
1 cup of mushrooms (cremini, white, brown, or your preferred)
½ onion, finely chopped
3 garlic cloves, minced
1 Tbsp of flour
1 tsp of hot sauce
1 1/2 cups of chicken broth
6 Tbsp heavy whipping cream
1 Tbsp of parsley, optional garnish
Instructions
We'll start by seasoning our pork chops with salt, pepper, and a pinch of paprika.
Next, melt 1 tablespoon of butter in the pan and add 1 tablespoon of oil. Heat the pan over medium-high heat.
Once it's hot, sear the pork chops for 3–4 minutes on both sides until they're golden brown and smell delicious.
Take out the pork chops and cover them to keep them hot.
Time to add some mushrooms to our pan. We're going to add 1 tablespoon of butter and a cup of sliced mushrooms. Cook for about two minutes or until they are lightly golden and wonderful.
Next, some onions! We'll add 1 tablespoon of butter and sliced onions, then season with a little salt and pepper. Cook for 3–4 minutes or until the onions are soft and full of flavor.
Next, add the garlic! We're going to mince 2-3 cloves and add them to the pan. Stir it for about 30 seconds or until it smells and tastes delicious.
To thicken our sauce, we're going to add a pinch of flour and stir it quickly for 30 seconds.
Now it's time to get to the fun stuff! We are going to add some chicken broth, a splash of hot sauce, and a little bit of cream. Depending on your taste, add salt and pepper. Simmer for two minutes or until the cream thickens and the sauce gets rich and flavorful.
It's time to put everything together! We'll place the pork chops back in the pan and cover them with the tasty mushroom sauce.
Turn the heat down to low and let the pork chops simmer for 5 to 8 minutes or until they are soft and the flavors have blended well.
If you want, add a garnish and serve! Bon appétit!
Video Recipe
Prepare to "pork out" on taste with this French Pork and Mushroom Sauce recipe! So delicious that you'll be "hamming" it up. Make sure to share the image below on your Pinterest board and save it for later if you like it!