Air Fryer Stuffed Pork Tenderloin is what's on the menu today. Think of a stuffed and tender pork loin crisped up just right in your air fryer. But the real magic is inside; there's a blend that will surprise you: Philadelphia Garlic & Herb Cream Cheese Spread, tangy sun-dried tomatoes, and maybe another flavorful ingredient you've got in mind.
Add a smear of Dijon Mustard, a bit of Cayenne Pepper for heat, and a handful of Shredded Cheddar Cheese. Oh, and let's not forget those fresh and crisp Asparagus spears peeking out. Sounds great, right? Let's walk you through how to make this delicious dish.
Ingredients you'll need
Pork Tenderloin: Of course, it's the star of our dish. It's tender and juicy, and when air-fried, it gets this lovely outer crisp while maintaining the inside juiciness. It's the canvas for all the other tastes we're adding.
Philadelphia Garlic & Herb Cream Cheese Spread (or any other you prefer): This isn't just any spread. It's creamy, filled with herbs, and adds a depth of flavor that complements the pork amazingly. Think of it as the top-secret sauce that makes other ingredients stand out.
Sun-dried Tomatoes: These little jewels are tangy and slightly sweet. They bring an eruption of Mediterranean flavor to the dish, adding texture and a rich, concentrated tomato flavor.
Dijon Mustard: A bit of sharpness and zest. It's not overwhelming, but it provides the dish with a slight kick, ensuring each bite has a hint of excitement.
Cayenne Pepper: Just a sprinkle for heat. It's not about making the dish to spicy but rather adding a bit of warmth that lingers in the background.
Shredded Cheddar Cheese: Who doesn't love cheese? It melts into the pork tenderloin, adding a gooey, creamy texture and a rich flavor that connects everything together.
Asparagus: Freshness is essential in any dish. The asparagus delivers a crunchy contrast to the pork tenderloins and creamy filling. Also, it adds a nice hue, making the dish as attractive to the eyes as it is to the palate.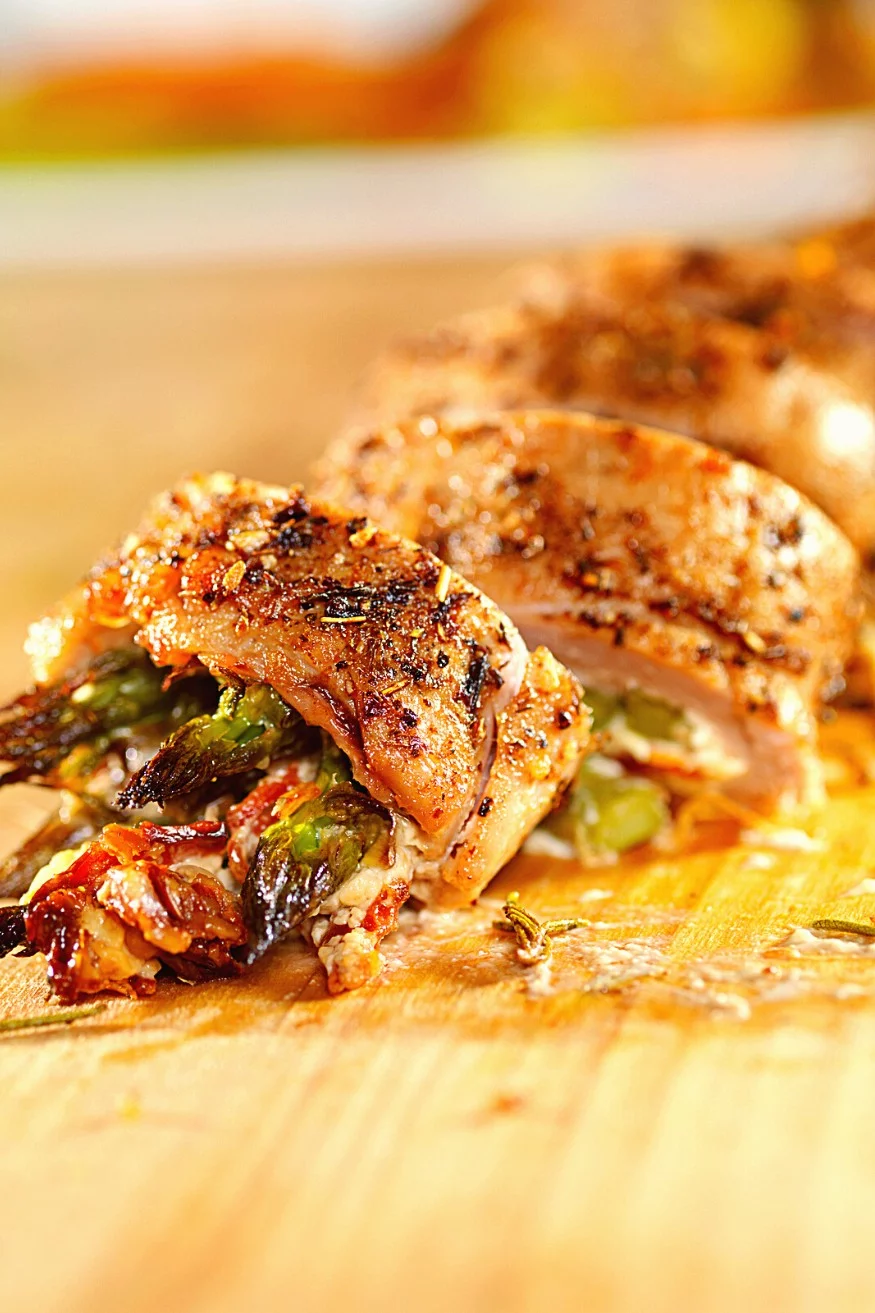 Filling Variations for Stuffed Pork Tenderloin
Looking to switch things with your stuffed pork tenderloin up a bit? Here are some comforting filling variations to boost your stuffed pork tenderloin:
Mediterranean Twist: Apply a layer of pesto sauce, followed by sun-dried tomatoes, feta cheese, and sliced olives. This brings out a burst of Mediterranean flavors to your plate.
Sweet & Savory: Spread a thin layer of apple butter or fig jam inside your pork, then add crumbled blue cheese and toasted walnuts. The blend of sweet and savory is truly appetizing.
Spicy Kick: Use pepper jack cheese, jalapeños, and a bit of chili flakes for those who love a touch of heat in their meal.
Garden Fresh: Add a layer of herb-infused cream cheese, then add thinly sliced bell peppers, zucchini, and red onions. This variation is lighter and filled with veggies.
Tropical Flair: Use a mango or pineapple salsa blended with a sprinkle of shredded coconut and a touch of cilantro. This offers a sweet and tangy tropical twist to the pork tenderloin.
Mushroom Medley: Sauté a mixture of mushrooms (like cremini, shiitake, and portobello) with garlic and thyme. Apply this mixture inside the tenderloin for a decadent, earthy flavor.
Bacon Bliss: Cook bacon strips in your pan until they're crispy. Crumble and incorporate them with cheddar or gouda cheese—the smoky bacon flavor couples wonderfully with your pork.
Keep in mind, the key to a wonderful stuffed pork tenderloin is to balance flavors and textures. Feel free to mix and match or come up with your own exceptional fillings!
Air Fryer Pork Tenderloin Cooking Time
In total, you'll be cooking your pork tenderloin for 18-20 minutes in the Air Fryer.
Preheat your Air Fryer to 400 degrees Fahrenheit.
Cook your pork tenderloin for 10 minutes.
After 10 minutes, flip the pork and lightly spray it with cooking oil.
Resume cooking for an additional 8-10 minutes.
Ensure the pork reaches an internal temperature of 145 F and the cheese inside is melted.
Reheating Pork Tenderloin in Air Fryer:
Set your Air Fryer to 375F.
Cook the pork tenderloin for 3-5 minutes.
Enjoy a crisp exterior, similar to oven-reheated outcomes. Avoid microwaves for this dish to prevent sogginess.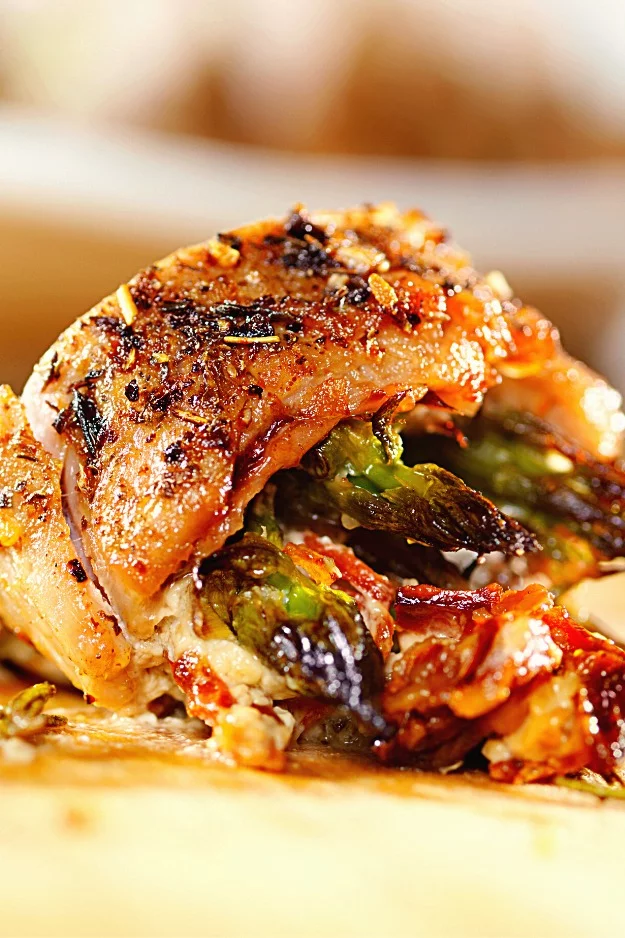 Air Fryer Stuffed Pork Tenderloin Recipe
This Air Fryer Pork Tenderloin isn't just any dish; it's a flavor-filled adventure. Perfectly air-fried with delightful stuffing, it's destined to be the star of your table.
Ingredients
1 pound pork Tenderloin
7.5 oz of Herb Cream Cheese Spread (Philadelphia Garlic & Herb or other you like)
1/2 cup Shredded Cheddar Cheese
2 Tbsp of Dijon Mustard
1 bunch asparagus, trimmed
3 Tbsp of sun-dried tomatoes
1/2 tsp of cayenne pepper
1/2 tsp of salt
1/2 tsp of black pepper
Instructions
Butterfly the Pork: Slice your pork tenderloin lengthwise, but not all the way through. The pork should open up like a book or a hot dog bun.
Layer the Fillings: With the inside of the pork facing upward, spread herb-infused cream cheese evenly. Add shredded cheddar cheese over the cream cheese layer.
Add Veggies: Place your sun-dried tomatoes and trimmed asparagus on top of the cheese layers.
Secure the Pork: Fold the pork back over and use toothpicks to keep it closed. Cut it in half if it's too long for your air fryer. Then, brush the outside of your pork with Dijon mustard.
Seasoning Time: In a dish, mix cayenne pepper, salt, and black pepper. Roll the pork in this mix, pressing gently so the seasonings stick.
Air Fryer Prep: Set your air fryer to 400 degrees Fahrenheit, and pre-heat for 5 minutes. Place the filled and seasoned pork in your air fryer basket.
Cooking: Cook for 10 minutes, then flip your pork tenderloin, spray the other side with oil, and cook for additional 8-10 minutes. Ensure the pork's internal temperature is 145 degrees and the cheese inside melts. Enjoy!
Loved this Air Fryer stuffed pork tenderloin? Share the yum with your Pinterest friends. Nudge, nudge, pin the image below! 😉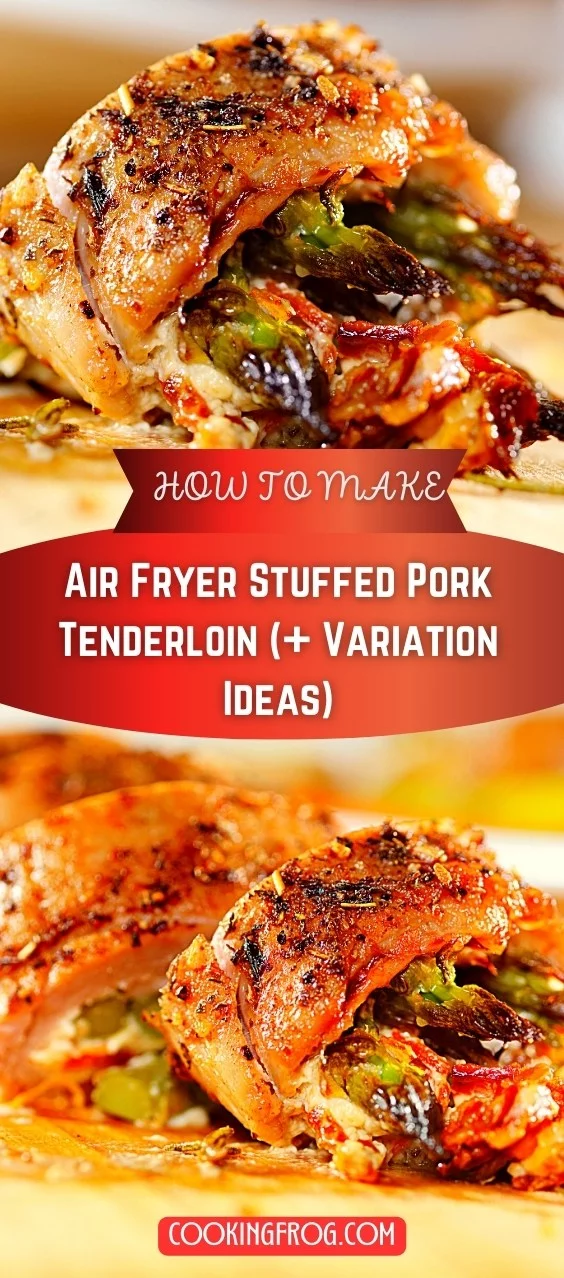 More Air-Fryer Recipes to Explore
Air Fryer Pork Steak Recipe: Dive into a juicy pork steak, air-fried to perfection, seizing all its raw juices and flavors.
Air Fryer Frozen Chicken Breast: No need to thaw your chicken! Transform frozen chicken breasts into a tender and delicious meal with the magic of your air fryer.
Perfect Air Fryer Frozen Chicken Wings: Crispy on the outside, juicy on the inside. These chicken wings are a game-changer for those with spontaneous hunger.
Crispy Air Fryer Cauliflower: Turn modest cauliflower into golden, crunchy bites: a comforting side or a snack on its own.
Quick and Easy Air Fryer Brats: Get that grilled texture and taste with ease. Flawlessly cooked brats in no time.
Air-Fryer Salmon Bites in Pineapple Bowl: A tropical delight! Flaky salmon bites are served in a fresh pineapple bowl, bringing summer to your dish.
Juicy & Tender Air-Fryer Ribs: Who needs a barbecue? Achieve melt-in-your-mouth ribs with a lovely crust, all from your air fryer.