Discover the irresistible taste of this Crunchy Burgerville Fried Asparagus with Garlic Aioli. This deliciously addicting dish from Burgerville has a crunch that will keep you coming back for more and a flavor that stays with you long after the last bite. It tastes so good that it will win over even the pickiest eaters.
Just like In-N-Out Burger has a cult following, so does the fast food sensation from the Northwest, Burgerville. What's their claim to fame? A commitment to using locally-sourced ingredients that give their food authentic touch.
Let the different flavors of their seasonal menu take you away, from the tangy sweetness of the Marionberry Shake to the crisp satisfaction of the Walla Walla Onion Rings and the comfort of the Yukon Gold Waffle Fries, and more. The best part is that this symphony of flavors can be enjoyed from the convenience of a drive-thru.
The asparagus at Burgerville is an irresistible treat. It is delicately deep-fried to get that dreamy golden crispness while staying light and airy on the inside. The magic doesn't end there, though. Each piece is then lovingly covered in a velvety homemade garlic aioli.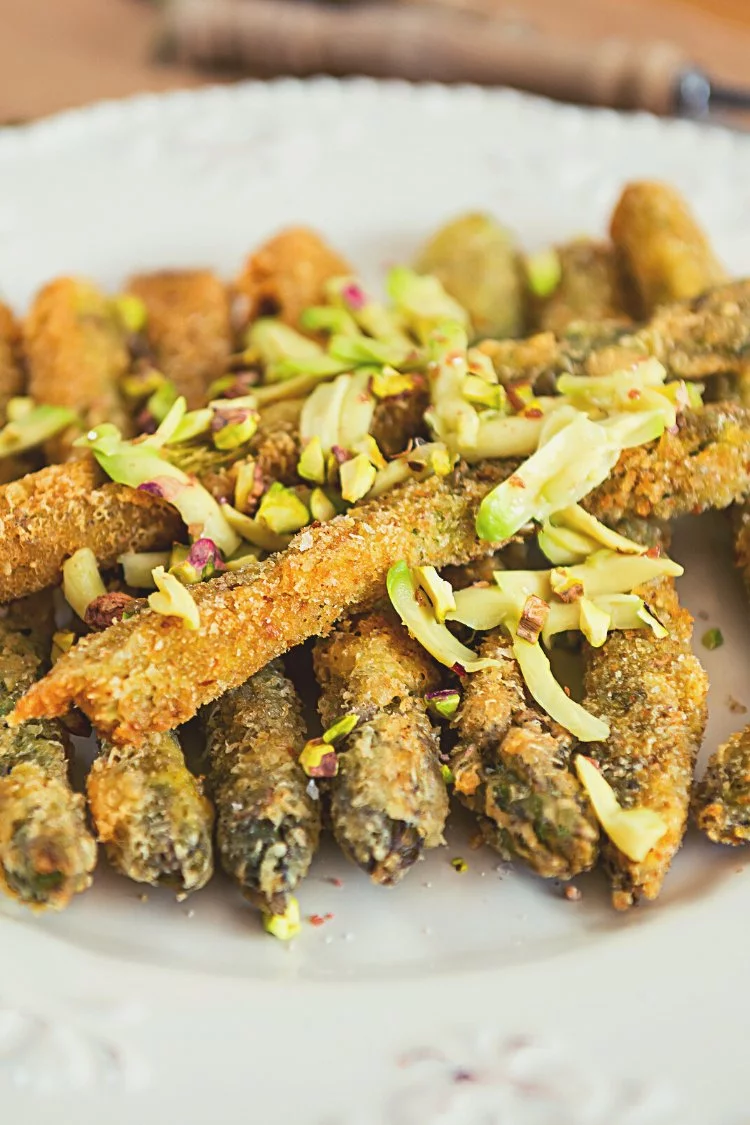 You can eat them with a burger, as an appetizer, or, as I freely admit, as a main dish. Yes, they are that addictive. You might think you'll regret eating them as a full meal, but believe me; the taste is worth every bite.
The best part regarding this recipe is that it's low-cost and simple. You'll whip it up in no time with little effort. And while you've got your oil hot and you're in a deep-frying mode, take a glance at these delicious copycat recipes:
Longhorn Steakhouse Crispy Brussel Sprouts
Popeyes chicken sandwich recipe
KFC Chicken Littles recipe (Copycat)
McDonald's Chicken McGriddles (Copycat)
Tap the "pin" button and share the image below if you like this Burgerville Fried Asparagus Recipe. Remember, a pin a day keeps food cravings away. 🙂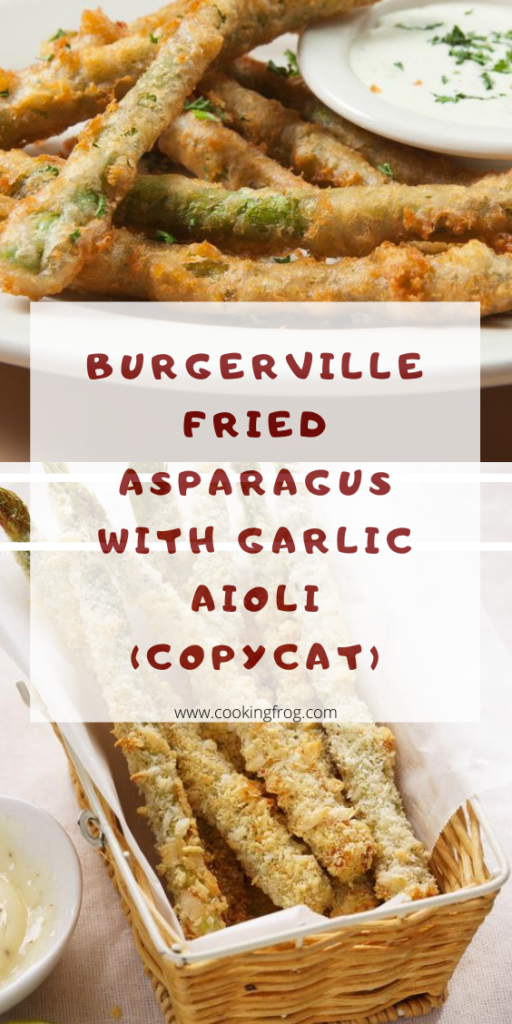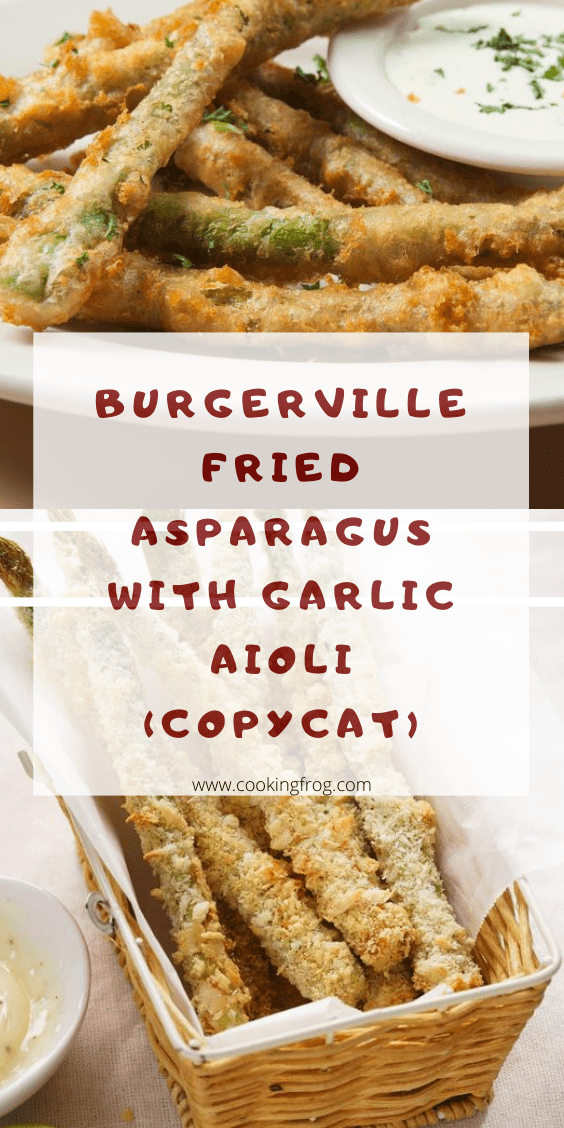 Burgerville Fried Asparagus with Garlic Aioli Recipe
Ingredients
For Crispy Fried Asparagus Spears
2 bundles of trimmed asparagus spears
1/2 cup of self-rising flour
1/2 cup of cornstarch
1 cup of water, filtered
1/2 tsp of sugar, granulated
1/2 tsp of salt
deep frying oil
For Garlic Aioli
3/4 cup of good quality mayonnaise
3 grated garlic cloves
2.5 tbsp of squeezed lemon juice, fresh
3/4 tsp of salt
1/2 tsp of black pepper, ground
Instructions
For the Fried Asparagus:
Begin by warming up your stove, aiming for an oil temperature of 375 F. Keep an eye on your thermometer to ensure consistent heat.
Set up a baking sheet or cooling rack lined with paper towels next to your hot pan as a place for the soon-to-be-crispy goodness to land.
Make the batter by combining together all dry ingredients in a bowl.
As you add water, keep whisking to avoid any pesky clumps forming in the mix.
Dip the asparagus spears in the batter, ensuring they are fully covered, then place them into the heated oil.
Work fast so spears are cooked equally, and don't overcrowd your pan.
Fry asparagus for about 4-5 minutes to get even browning.
I like to use a spider/skimmer to move and flip the asparagus around, preventing them from sticking together while they cook.
Skim off the excess floating batter bits to stop them from burning.
For Garlic aioli:
Combine mayonnaise, lemon juice, garlic, pepper, and salt in a bowl. Cover and refrigerate for a minimum of half-hour before serving.
Important Tips for the Best Results
How to Pick Asparagus: When buying asparagus, look for spears that are firm, bright green, and have tips that are tightly closed. This will help you make sure you start with the freshest ingredients.
Trimming the Ends: Before you start, be sure to cut off the tough, woody ends of the asparagus. You don't want your food to have any unpleasant crunches.
Oil Temperature: When frying, keeping the oil at the right temperature is essential. If it's too cold, the asparagus will soak up too much oil and get greasy. If it's too hot, it might burn. That's why keeping an eye on things with a thermometer is essential.
Consistency of the Batter: You want a batter that coats the back of a spoon well and runs off slowly. It shouldn't be too thick or too thin.
Post-Fry Seasoning: After frying, try a quick sprinkle of sea salt or a squeeze of lemon. This can bring out the flavors and cut the richness of the fried batter.
Serving Right Away: Fried asparagus tastes best when it is served right away. It loses its crispiness as it sits, so eat it as soon as it comes out of the fryer.
Can I make it in an Air-Fryer?
Yes, you can use an air fryer to make this recipe. The most important difference between deep frying and air frying is how much oil is used and how the food turns out.
For deep frying, food is completely submerged in hot oil, giving it a crispy, evenly browned exterior. However, it has more calories because it is fried in oil.
On the other hand, air frying uses a hot air flow to cook the food. It needs much less oil, usually just a light spritz, making it a healthier alternative. Even though it's not as crispy as deep-frying, you can still get a satisfying crunch and tasty result.
To make asparagus in an air fryer:
Follow the same steps to prep and batter your asparagus.
Heat your air fryer to 375 F.
Place the battered asparagus in the air fryer basket in a single layer, ensuring they aren't touching or overlapping. Depending on your air fryer's size, this may mean cooking in more than one batch at a time.
Air fry for about 8–10 minutes, or until golden brown and crispy, turning them halfway through the cooking time.
Serve immediately with the garlic aioli.