This Crispy Burgerville Fried Asparagus with Garlic Aioli is one of my favorite Burgerville meals. The texture of the crispy crunch is so addictive and delicious that everyone will enjoy them.
Northwest fast food chain Burgerville has a following almost like that of an In-N-Out Burger. They're best renowned for sourcing local ingredients for their menu meals. Permitting the local fruits and veggies to inspire their seasonal menu items like their Marionberry Shake, Walla Walla Onion Rings, Yukon Gold Waffle Fries and more. You'll get all of this in a drive-thru.
These Burgerville asparagus are deep-fried to golden perfection and lightweight, crisp, and delicate. And then they are dipped in homemade garlic aioli. You'll pair these with a burger, or serve them as an appetizer; however, if I'm being absolutely honest, I often literally fill myself up on these as a main dish. I could regret it later. However, they're extraordinarily addictive.
The best part regarding this recipe is that it's low-cost and simple. You'll whip it up in no time with little effort. And while you've got your oil hot and you're in a deep-frying mode, take a glance at these different copycat recipes i've added before:
Popeyes chicken sandwich recipe
KFC Chicken Littles recipe (Copycat)
McDonald's Chicken McGriddles (Copycat)
Chick-Fil-A Chicken Minis
Pin the image below if you like this Asparagus Recipe!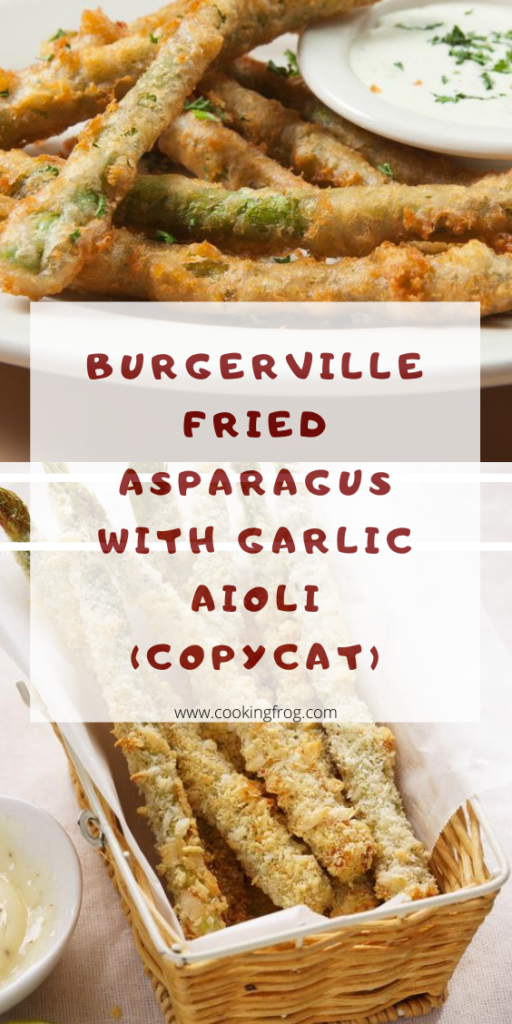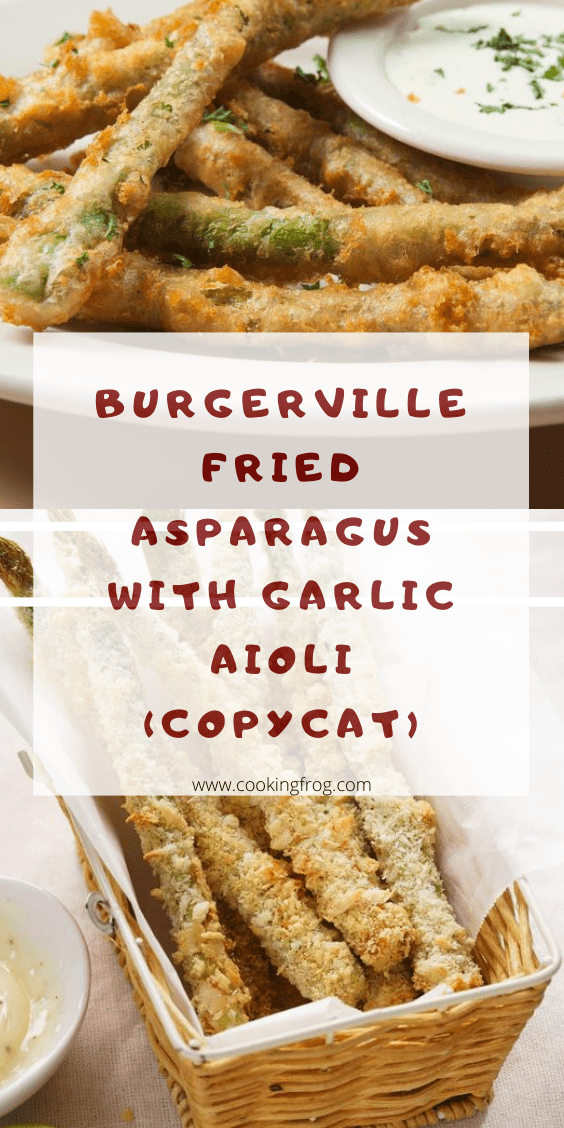 Burgerville Fried Asparagus with Garlic Aioli Recipe
Ingredients
For Crispy Fried Asparagus Spears
2 bundles of trimmed asparagus spears
1/2 cup of self rising flour
1/2 cup of corn starch
1 cup of water, filtered
1/2 tsp of sugar, granulated
1/2 tsp of salt
deep frying oil
For Garlic Aioli
3/4 cup of good quality mayonnaise
3 grated garlic cloves
2.5 tbsp of squeezed lemon juice, fresh
3/4 tsp of salt
1/2 tsp of black pepper, ground
Instructions
For the Fried Asparagus:
Heat the oil to 375 F.
Use a thermometer to observe and modify the heat as required, throughout the process because it will fluctuate.
Prepare a baking sheet or cooling rack lined with paper towels near the cooking pan for putting the cooked chicken once finished.
Create the batter by combining together all dry ingredients in a bowl.
As you continuously whisk, add the water to prevent clumping.
Dip the asparagus spears in the batter, making certain they are fully covered, then place into the heated oil.
Work fast so spears are cooked equally, and don't overcrowd your pan.
Fry asparagus for about 4-5 minutes to get even browning.
I like to use a spider/skimmer to move and flip the asparagus around, preventing them from sticking together while they cook.
Skim off the excess floating batter bits to stop them from burning.
For Garlic aioli:
Combine mayonnaise, lemon juice, garlic, pepper and salt in a bowl. Cover and refrigerate for a minimum of half-hour before serving.