The garlic butter juicy pork chops recipe, buttered with garlic, is so tasty because of the incredible butter sauce. It will take only 15-20 minutes for you to make these pork chops with this recipe.
You will amaze your guests, and they will enjoy this delicious pork chop with butter garlic flavor, as this recipe is one of the best recipes of pork chops I've cooked. This roast pork chop is so delicious, thanks to the buttery sauce.
You will use this recipe repeatedly because it is the simplest way to make pork chops in the oven. In just 5 minutes, you prepare everything you need, and in 20 minutes, these pork chops will be on your plate. The butter sauce is straightforward to make.
When melting butter in a microwave oven, just add ground garlic and chopped thyme and mix it well. After that, pour butter sauce over the pork chops and bake them.
This wafer of white butter is the secret of this roast recipe of pork chops, as it will help keep the pork so juicy and moist.
The best part of this recipe is that it requires a few essential ingredients, but it is so tasty.
What you need for perfect Pork Chops:
Garlic
High-quality Butter
Salt and pepper
Fresh Pork Chops
Thyme
Leave the Pork chops in the oven until they reach the temperature of 150 degrees F. Measure it with a meat thermometer by placing it in the thick part of the pork chops.
Also, check out these garlic butter pork chops in an air fryer!
How to make Garlic Butter Juicy Pork Chops Recipe
In my variant, the best way to make a delicious and gentle pork chop is to cook them on the stove using a cast iron skillet and bake them in the oven. This way, pork chops will get a golden brown and beautiful bark from the outside, but from the inside, they will stay juicy and delicate.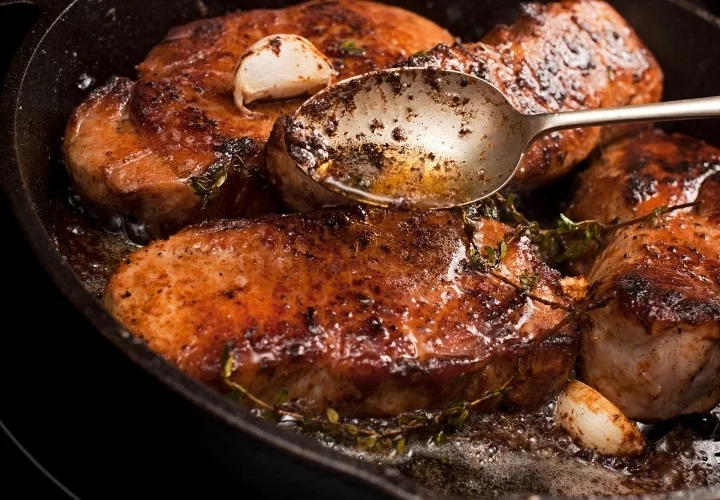 Baking Pork Chops in the Oven:
Heat the oven to 380 ° Fahrenheit. Then use salt and pepper to season them well. You decide the amount of salt and pepper according to your taste.
Place five small spoonfuls of butter in a bowl and place in a microwave oven or regular oven. Add garlic and thyme (mother's whey) once it melts. Stir well and leave it to rest. Warm the olive oil in the pan on medium heat, and when the frying pan is really hot, add pork chops and cook them until they get brown.
Take the pork chops and pour the butter sauce over them and put the pan in the oven. Bake the pork chops until they reach 150F. You can measure temperature with a meat thermometer to be sure it has reached the desired doneness. After it's done, remove them from the oven and pour some of the juicy butter sauce of the sauce that is left. I hope you've enjoyed it as much as I did; please let me know in the comments below!
Share the image below to your Pinterest board if you like these pork chops!!!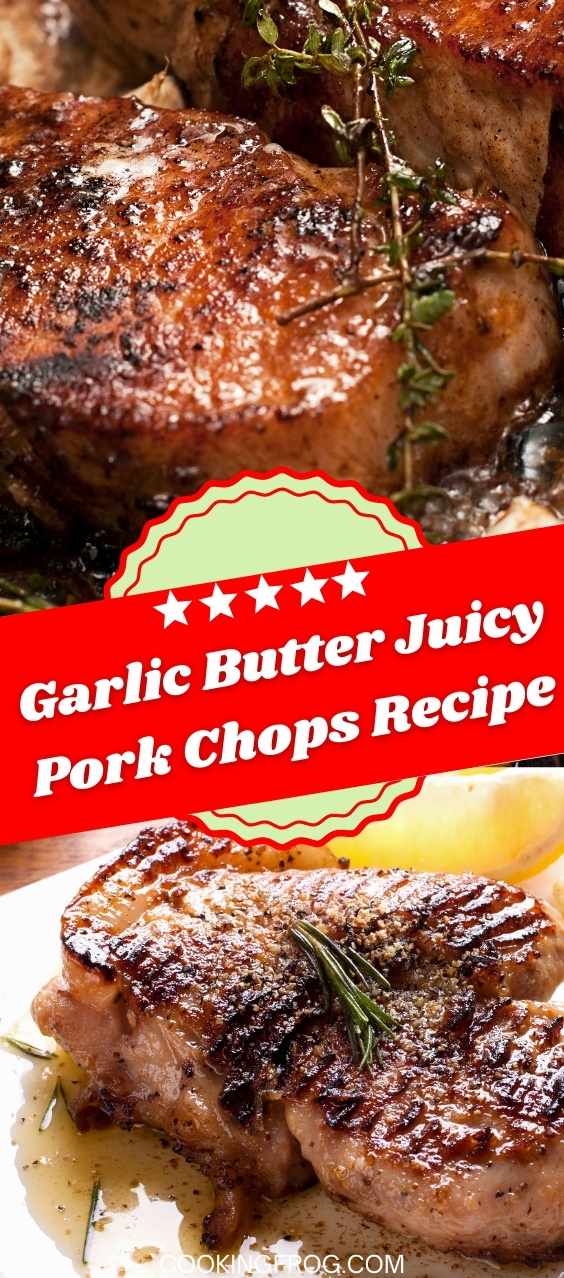 Ingredients
3 sprigs of thyme
4 cloves of minced garlic
2 tablespoons of grass-fed butter, melted
2 medium-sized pork chops, heritage breed
salt and pepper to your liking
1 Tablespoon of olive oil
Instructions
First, heat the oven to 380°F.
Season the pork chops well with salt and pepper, and do it according to your liking.
Third, make the butter sauce by melting five small spoonfuls of butter in the microwave or stove. You can add more butter if you wish.
Once it's melted nicely, add the thyme and garlic (chopped). Stir well, and put aside to rest.
Take a cast iron pan, heat the olive oil over medium heat, and once the pan is hot, add your pork chops, and sear them till they have a nice golden brown look. It should take around four minutes for each side.
Take the garlic butter mixture and pour it over the pork chops, and place the skillet in the oven.
Cook till the pork chops reach an inside temperature of 145 – 150ºF. Again, according to your taste.
Take the pan away from the oven, and with a spoon, pour the delicious butter sauce that has been left in the pan onto the pork chops before serving.
Nutrition
374 calories
36 grams of fat
17 grams of saturated fat
1.5 grams of polyunsaturated fats
10 grams of monounsaturated fat
95mg of cholesterol:
463mg of sodium
183mg potassium
1 grams of Sugar
15 grams of protein
See more pork recipes:
Brown Sugar Pork Chops with Garlic and Herbs