This heavenly Garlic Parmesan White Sauce has amazing flavors from Parmesan cheese and garlic. Combined with pasta, pour it over some roasted veggies; great as a dipping sauce as well as pizza sauce.
I like to create a sauce that serves multiple purposes. If you like a sauce for all that can be utilized as many things, for dressing roasted veggies, like pasta sauce, that may go with chicken wings as a dipping sauce, lobster ravioli, or put it to use as pizza sauce, ideal in any manner you wish to use it.
Garlic Parmesan Creamy White Sauce
Garlic is fantastic with Parmesan cheese. And combining roasted garlic makes this white sauce full of flavors and brings forth the sweetness of garlic, making it incredibly delicious! For me, it's all about complementing flavors!
I really like how adding garlic changes a meal into something out of this world! Richness and sweetness from garlic and the taste of Parmesan cheese will make any dish packed with deliciousness.
Garlic Parmesan white sauce is among the simplest sauces you'll ever make. It's light, smooth and so good! It's not as buttery or dense. This simple-to-make garlic Parmesan white sauce is created beginning with roux butter and flour. Roux is a nice thickener for this creamy garlic Parmesan sauce.
Add milk, seasonings, cheese, and a small amount of heavy cream in the end. This garlic Parmesan sauce gets thicker as you stir and cook more. It thickens really quickly as it sits nicely. So take away the sauce off the stove before it reaches the required consistency.
This doesn't mean you'll have to use the sauce right away. Garlic Parmesan white sauce could be prepared in advance and stored in the refrigerator or frozen for longer storage. You reheat the sauce, so it gets thinner with milk or stock and uses it to mix with pasta or as a dipping sauce.

What is Garlic Parmesan White Sauce?

Garlic Parmesan White Sauce is a dense creamy sauce produced from garlic, milk, flour, and Parmesan.
It's really a versatile sauce and may be used to produce pasta, pizza, spaghetti, vegetables, chicken wings, rice and more. You may make a grownup version of the parmesan cheese sauce with the addition of wine to it. This Garlic Parmesan Cream Sauce is really simple to make by the time you prepare the pasta, the sauce is done.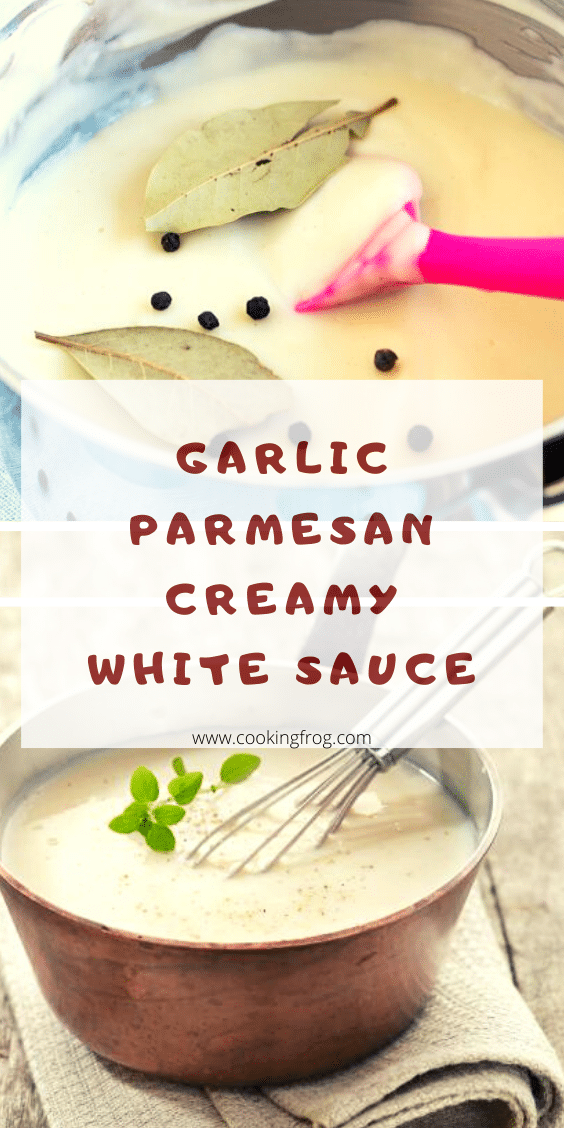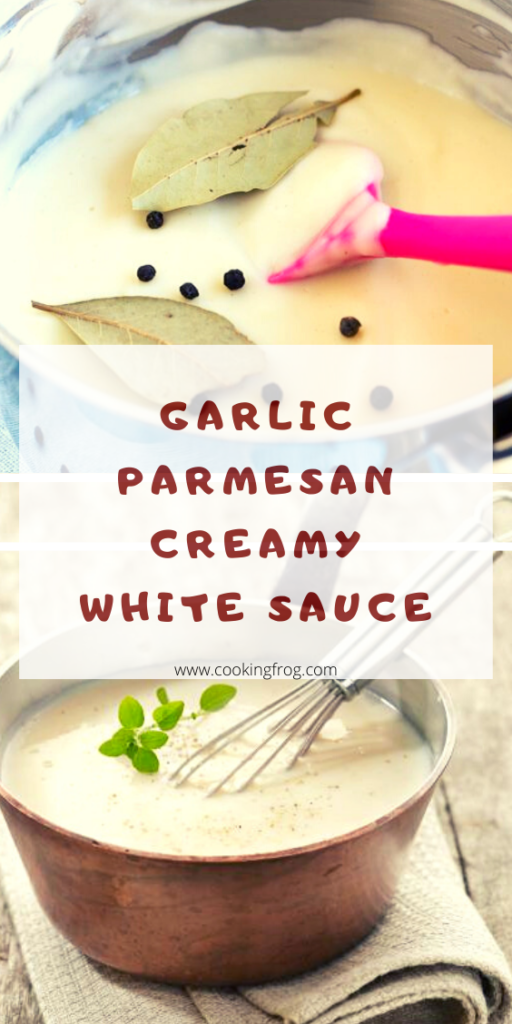 Best Way to use Garlic Parmesan White Sauce
This garlic Parmesan white sauce is extremely versatile and may be used as:
How to make Roasted Garlic Parmesan Cream Sauce?
Cut a complete garlic bulb in half to create roasted garlic Parmesan cream sauce. Wrap the garlic parts using aluminum foil and add some vegetable oil on top. Heat the oven to 400 F. Roast the garlic for about 20-25 minutes. Take the roasted garlic and mince it. Use it to make the sauce.
Is Garlic Parmesan Sauce Gluten-Free?
We are using flour to thicken the sauce, so it's not gluten-free. But, if you're considering a gluten-free sauce, instead of all-purpose flour use cornstarch.
The Best Way to Store Garlic Parmesan Sauce?
The best way to store this sauce is in the fridge for approximately 15 days and could be frozen for up to 6 months.
Ingredients
4 Tbsp of Butter
1 cup of Milk (Full Fat)
2 Tbsp of Flour (All Purpose)
1 cup of Chicken Broth (Vegan Broth for Vegan Version)
1/2 cup of Parmesan Cheese
1 tsp of Garlic Powder
Salt to your liking
1/2 tsp of Black pepper
How to make Garlic Parmesan Creamy White Sauce
Heat the pan and add in butter.
When the butter melts, add garlic and fry for 4-5 seconds.
Turn down to lower heat and add in flour. Fry for about one minute.
Slowly add in the milk and keep whisking so you don't get a lumpy mixture.
After that, add in the chicken broth and cook till the sauce is thick enough.
Next, add in garlic powder, Parmesan cheese, black pepper, and salt, and cook until Parmesan melts nicely. Enjoy