Pan-Seared Juicy Pork Chops are a perfect weeknight meal. This French Pork Chops recipe with smothered onion is all made in one pan, and done in about thirty-forty minutes!
Hello, there from Cooking frog, it's me Sarah again. You all know by now how much I love pork chops recipes. If you've liked these Garlic Butter Juicy Pork Chops that are most popular on Pinterest, and Pork Chops with Cranberries and Balsamic I am sure you will enjoy this one also.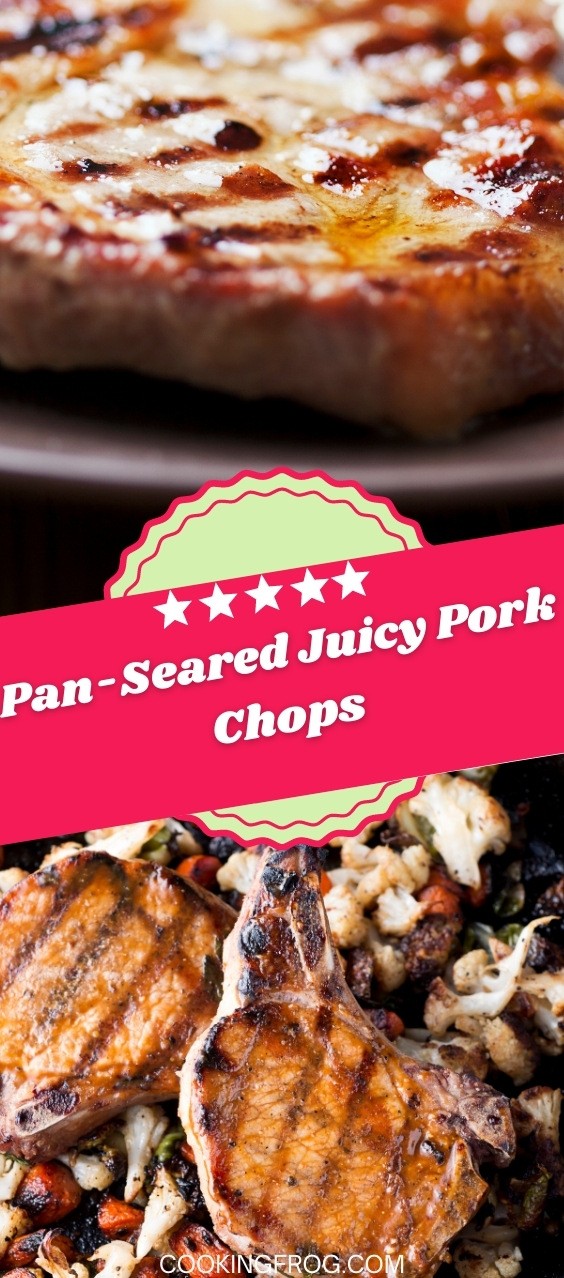 Ingredients
2 yellow onions sliced in a half-moon shape
3 tablespoons of butter
1 tablespoon of olive oil
1 cup and 4 tablespoons of beef stock
4 pork chops, boneless
½ teaspoons of salt
½ teaspoons of thyme, dried
¼ teaspoons of black pepper
¼ teaspoons of garlic powder
2 ½ tablespoons of flour, all purpose
4 slices of provolone cheese
1 cup of shredded gruyere cheese or swiss
fresh thyme sprigs
How to make Pan-Seared Juicy Pork Chops Instructions
Heat up the oven to 400 degrees F.
Soften the butter and olive oil in big cast iron or another oven-safe cooking pan, over MED-HIGH heat. Add sliced onions and saute 3-5 minutes, until soft. Add four Tbsp beef stock and continue to cook, sometimes stirring, for 12-15 minutes, till onions are very tender and golden brown.
As onions are frying, season either side of pork chops with salt, black pepper, thyme, and garlic powder. Transfer onions to a plate; don't wipe out the cooking pan.
Cut back heat to medium, add a drizzle of olive oil to the cooking pan if required, and cook pork chops, about 3-4 minutes per side, till golden brown—Transfer pork chops to a plate.
Return the onions to the pan and sprinkle with flour. Stir to coat and cook a few minutes. Add remaining one cup of beef stock and stir very often till the mixture comes to a boil—season with a pinch of salt and pepper.
Nestle pork chops back into the pan, spooning some of the meat stock over the top of the chops. top with a slice of provolone cheese, and a mound of chopped Swiss cheese (about a ¼ cup on every chop).
Add a few sprigs of freshly picked thyme and add the cooking pan to the oven and bake 8-10 minutes, till the cheese is liquified and gooey. Before serving, spoon some of the meat stock/onion mixtures over the top of the cheese, and garnish with some extra black pepper if desired.