Ravioli with mushroom sauce are a very rich first course, perfect for Sunday lunches or special dinners with guests. They are very tasty, creamy, and really irresistible.
Ravioli with Mushroom Sauce is ideal for the autumn season, in which mushrooms are the masters; they are ideal, accompanied by a good glass of red wine like a nice Barbaresco.
Despite the long preparation, this recipe is perfect for those who do not want to stay at the stove until a few minutes before lunch or dinner. Once placed on the baking tray, the ravioli with mushroom sauce must be cooked for a few more minutes in the oven. They can therefore be prepared in advance and baked at the moment.
This recipe for Ravioli with Mushroom sauce comes directly from my Italian friend, who is a Chef in an Italian restaurant. So let's see how to make these tasty ravioli with mushroom sauce really are.
The Best Mushrooms for Ravioli Sauce
Depending on your taste, you can choose to use champignon mushrooms or porcini mushrooms. You can also use ravioli with any type of filling, although for this recipe, I recommend using mushroom ravioli if you want a sweeter taste or braised if you like a more intense taste.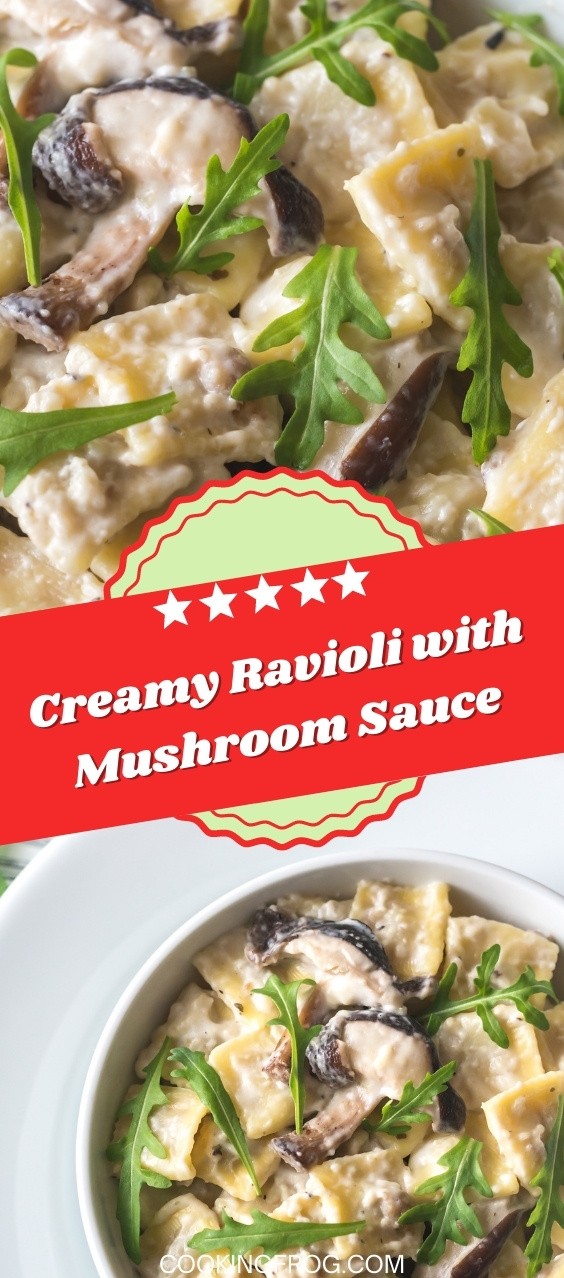 Ingredients
17.5 oz of Ravioli
1 oz of bacon
9 oz of champignon mushrooms
9 oz of tomato puree
1 carrot
1 onion
extra virgin olive oil
1 celery coast
7 oz of cooking cream
butter (to your liking)
grana padano cheese (to your liking)
pepper and salt
tomato for garnish
How to make Creamy Ravioli with Mushroom Sauce
To start the preparation of the ravioli with mushroom sauce you have to start by cleaning the mushrooms.
Remove the stem from the head with a gentle rotating movement and remove the film covering them.
At this point take the stalks, remove the earthy part and scrape off the remaining part.
Cut the mushrooms, including the stalks, into thin slices and set them aside.
Clean the carrot and onion and chop them finely. Chop the celery and cut it into small pieces.
Transfer to a large pan and fry with a drizzle of extra virgin olive oil for a few minutes.
Add the bacon and brown it with a knob of butter.
Add the mushrooms and cook over medium heat for 10 minutes.
At this point add the tomato puree.
Season with pepper and cook for about 40 minutes with the lid on.
Boil the ravioli in plenty of salted water and then drain them nicely.
Transfer them to the pan with the sauce and stir well, adding the cream.
Place the ravioli in an ovenproof dish and sprinkle the surface with a little grated Grana Padano cheese.
Bake at 400 F for about 15 minutes.
If you've liked this recipe, be sure to check these Baked Crispy Parmesan Ravioli!