Lion's Mane Mushroom Recipe is highly popular all over the world today because of its exotic looks and excellent health benefits. They are also known as hou tou gu or yamabushitake. These mushrooms are huge and white. As they grow, they develop a shape that resembles the mane of a lion, which is why they began to be known by this name.
Over the years, Lion's Mane mushrooms have been used in many dishes in Asian cuisine. People in China, Japan and Korea have been enjoying these mushrooms in many recipes. However, thanks to their medicinal properties, the Lion's Mane mushrooms have now found a name for themselves in Western cuisine as well.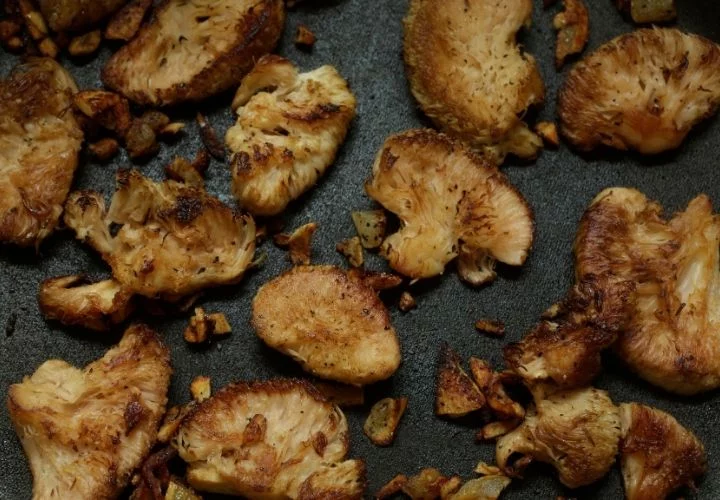 Health Benefits of Lion's Mane Mushrooms
According to research, these are some of the prominent health benefits of lion's mane mushrooms:
Lion's mane mushroom contains brain-boosting compounds like hericenones and erinacines. So, this mushroom protects against brain degeneration diseases like dementia, Parkinson's, Alzheimer's, and more.
Thanks to their anti-inflammatory compounds, lion's mane mushrooms can keep depression and anxiety attacks at bay, according to Healthline. Studies have proved that the extract of these mushrooms can improve the performance of the hippocampus, the part of the brain responsible for memory and emotional quotient. Therefore, these mushrooms can help to reduce depressive behaviors in people.
According to some studies, lion's mane mushrooms have also contributed to speedy recoveries with respect to injuries and inflammation-related issues. While they can speed up recoveries by at least 23%, they can reduce brain injuries due to strokes by 44%, according to tests conducted.
These mushrooms can reduce the risk of stomach ulcers, cardiac ailments, and cancers. It has been found that hericenone B, one of the compounds of this mushroom, plays a vital role in decreasing the blood clotting rate and the occurrence of heart attacks or strokes.
They can regulate blood sugar, cholesterol, and pressure levels.
Lion's mane mushrooms are great for boosting one's overall immunity system. Regular consumption of these mushrooms can protect the body against common bacterial and viral infections.
Lion's mane mushrooms contain quite a lot of antioxidants compared to most other mushrooms in the world. Therefore, they protect your body against the oxidative stress caused by free radicals.
Thanks to these multiple benefits, it is only natural to include lion's mane mushrooms in your diet regularly. You can make many recipes using these mushrooms; hence, there is no question of boredom. Here, we give you an idea of two simple and tasty recipes high in nutritional and taste content.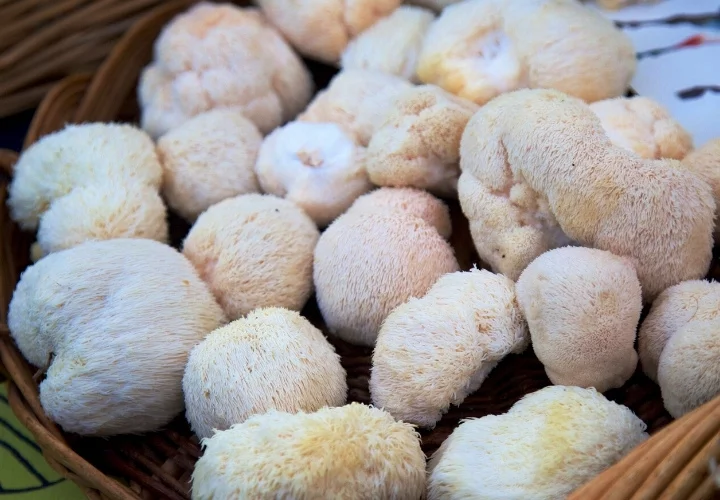 How do lion's mane mushrooms taste?
An additional reason to enjoy lion's mane mushrooms is that they taste and smell like crab or lobster meat once cooked.
Lion's mane mushrooms should only be eaten cooked, not raw.
What Is So Special About The Lion's Mane Mushroom?
Lion's mane has just been dubbed the "next major superfood." As more individuals turn to plant-based food, we're seeking for meat replacements.
Lion's mane is an excellent substitute. It has a deep umami taste that is wonderfully complemented by a meaty texture. This mix of characteristics makes it the ideal meat-free option.
Simple Lion's Mane Mushroom Fry
You can prepare this simple fry within 5 minutes. Since it is a plant-based dish, it is completely vegan as well. These ingredients are enough for two servings.
Ingredients Needed
Lion's Mane Mushroom – 8 ounces
Olive Oil – 2 tablespoons
Garlic Powder – ¼ teaspoon
Soy Sauce – ½ teaspoon (you can also use tamari instead of this)
Kosher Salt – as required
Process of making Lion's Mane Mushroom Fry
Slice the lion's mane mushrooms well after cutting off their bottom portions.
Place a skillet on medium-high flame and brush olive on it. When the oil is hot, place the sliced mushrooms and cook them well for about 2 minutes.
After 2 minutes, flip the mushrooms over, and cook on the other side for 2 more minutes. Add the garlic powder, soy sauce and salt to the mushrooms and stir the contents well.
You can serve this as a standalone snack, with toasted bread, or with any other dish of your choice.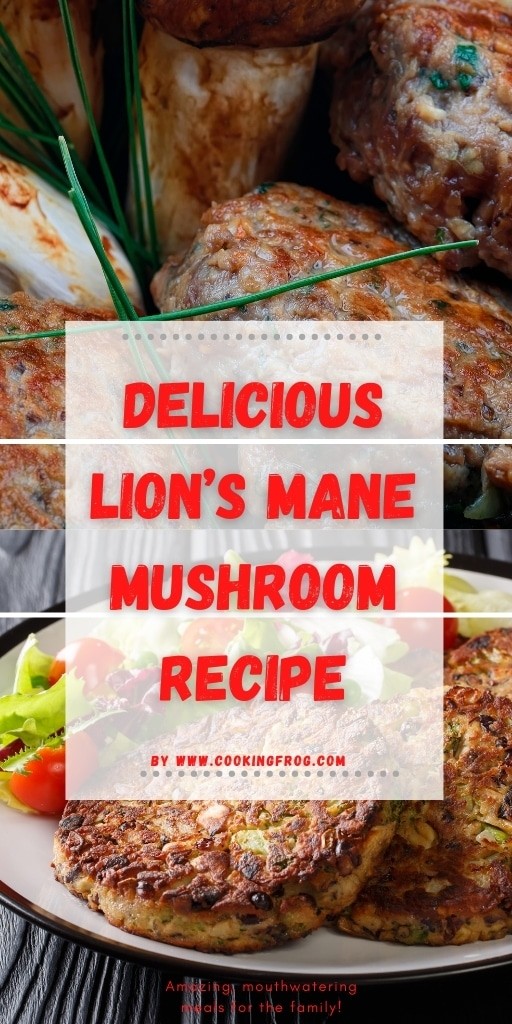 Lion's Mane Mushroom Patties
These patties can be prepared in about 15 minutes. They are healthy, tasty, and filled with the right flavors. The ingredients to make 3 to 4 patties are mentioned here:
Ingredients Needed
Lion's Mane Mushrooms – 8 ounces
Egg – 1
Panko breadcrumbs – ½ cup
Onion – ¼ cup (diced into small pieces)
Mayonnaise – 1 tablespoon
Worcestershire Sauce – 1 teaspoon
Old Bay seasoning – 1 teaspoon
Dijon Mustard – 1 teaspoon,
Parsley – 1 tablespoon (chopped finely)
Salt – as required
Black pepper – ¼ teaspoon
Oil – just 2 to 3 tablespoons
Lemon wedges – for garnishing
Process of making the patties
Shred the lion's mane mushrooms using your hand into small and flaky pieces.
Now, you have to mix all the wet ingredients together in a big bowl. These include the egg, Worcestershire Sauce, Dijon Mustard, mayonnaise, onion, seasoning, parsley, salt and pepper. Mix the contents well so that they are nicely blended.
Now, add the flaky mushroom pieces to this mixture. Don't stir the contents too much at this stage.
Add the Panko breadcrumbs to the mushroom mixture bowl. Allow the contents to get nicely mixed with each other.
Using your hand, form 3 to 4 balls from this mixture and flatten them well using your other hand. Now, they are in the shape of patties. The circles needn't be too perfect at the edges.
Add 2 to 3 tablespoons of oil to a skillet and place it on medium-high flame.
Place the patties on the skillet and cook each side for about 2 to 3 minutes until the patties turn golden brown.
Serve it with any sauce or dip of your choice.
Your perfect weekend snack of Lion's Mane Mushroom Patties is now ready.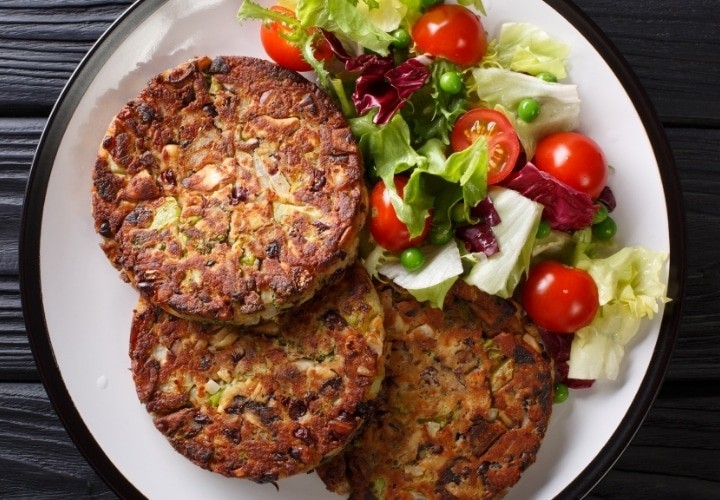 Some variations you can try in this recipe
If you want a vegan version of this recipe, you can substitute egg with a flax egg and mayonnaise with homemade vegan mayonnaise.
If you don't get Panko breadcrumbs in your locality, you can also use regular crumbs for this purpose. It will not alter the taste of these mushroom patties.
You can substitute Old Bay seasoning with any Italian seasoning of your choice. Cajun seasoning also works well for this recipe.
Though only 2 to 3 tablespoons of oil are used for this recipe, you can still make it healthier by using extra-virgin olive oil instead of vegetable oil.