Creme Brulee French toast is a mix of soft thick slices of French bread called Brioche with the delicious and creamy ingredients in Creme Brulee for the breakfast that will start you up for a great day. You will enjoy this recipe if you've ever tried the real sweetness of the French toast. Have you ever been to France? Now if you have than that's the taste that this Creme Brulee French toast brings to your breakfast table.
About Crème Brûlée French Toast
My favorite breakfast starts usually with the French toast. Most of the time when i go out i order French toast, Denver omelette or Benedict eggs. I've made Creme Brulee toast just recently for the first time in my life and I was amazed how easy this recipe was to make. Only 4 very simple ingredients merged to make the most delicious breakfast. The recipe I'm about to write for this French toast goes beyond of what you can expect from a regular French toast.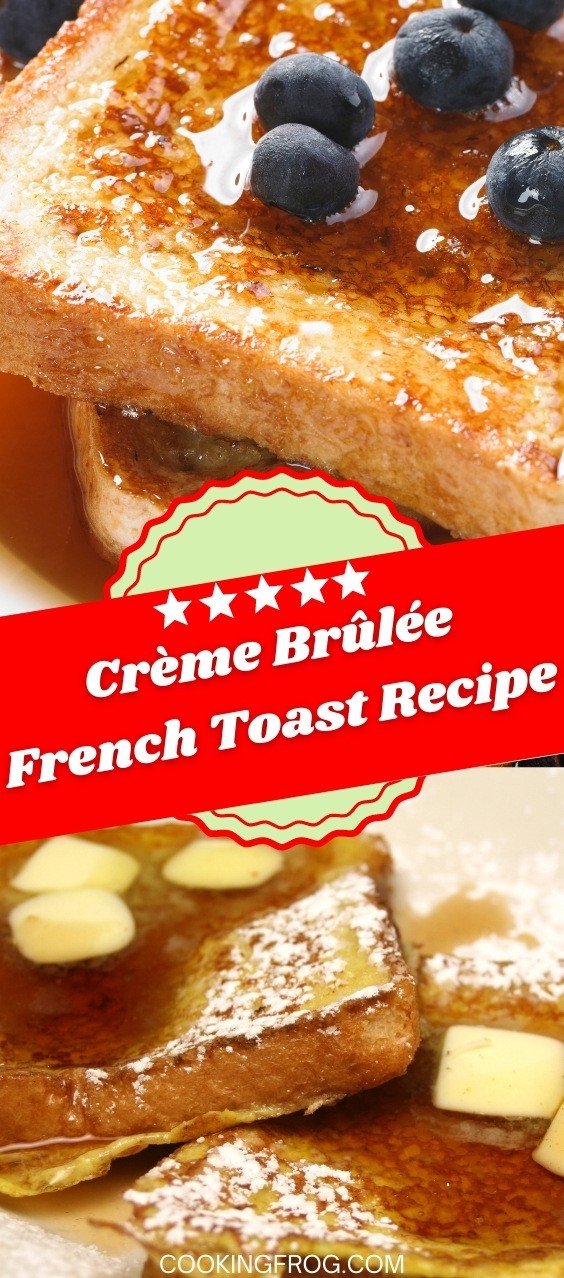 How is this Crème Brûlée French Toast different than typical French Toast:
Regular French toast soaking is mostly made from milk, whole eggs, vanilla and cinnamon. Those are the ingredients I usually use for regular toasts. However the soak for French Creme Brulee toast is way richer. Instead of the whole eggs I've only used yolks . Instead of milk, I've used thick milk creams.
If you wanna take it to the next level you can use vanilla paste, if not you can still use a regular vanilla extract. One last thing is that I did not used cinnamon for this French toast Creme Brulee as I do with a usual French toast. Caramelized layer of sugar, burnt and solid is one of the basic characteristics of Creme Brulee. I managed to get the same effect on this French toast with almost no effort.
What is usually served with Crème Brûlée French Toast:
You can not make a mistake with the crispy and thin slices of bacon or sausage for breakfast. Maple syrup and butter pud are my favorite also. I really recommend that you serve with some support berries since this French toast is so rich , to balance the sweetness and acidity.
Ingredients
18 ounces of Brioche bread
4 egg yolks
One and a half cups of heavy milk cream
vanilla extract
For greasing griddle you can use butter
Half cup of sugar for coating