Wake up and smell the sweetness of French toast! Creme Brulee French toast is the perfect way to start your day with a bang. Think of soft, fluffy slices of Brioche bread covered in the creamy goodness of Creme Brulee. It's like traveling to France without ever leaving your kitchen. If you've ever enjoyed real French toast, you'll love this recipe.
Crème Brûlée French Toast
Wakey wakey, eggs, and bakey! French toast, my all-time favorite breakfast food, is what gets me going in the morning. You can bet your syrup that I'll order French Toast, Denver Omelette, Hash browns, or Benedict Eggs whether I'm eating out or making breakfast at home. But hold on, because I just found the breakfast that will change everything: Creme Brulee Toast.
This dish is a real work of art. It only has four simple ingredients, but when they all come together, they taste like a symphony of deliciousness. And I'll tell you right now that this French Toast recipe I'm about to give you isn't like any other. It's breakfast heaven on a whole new level.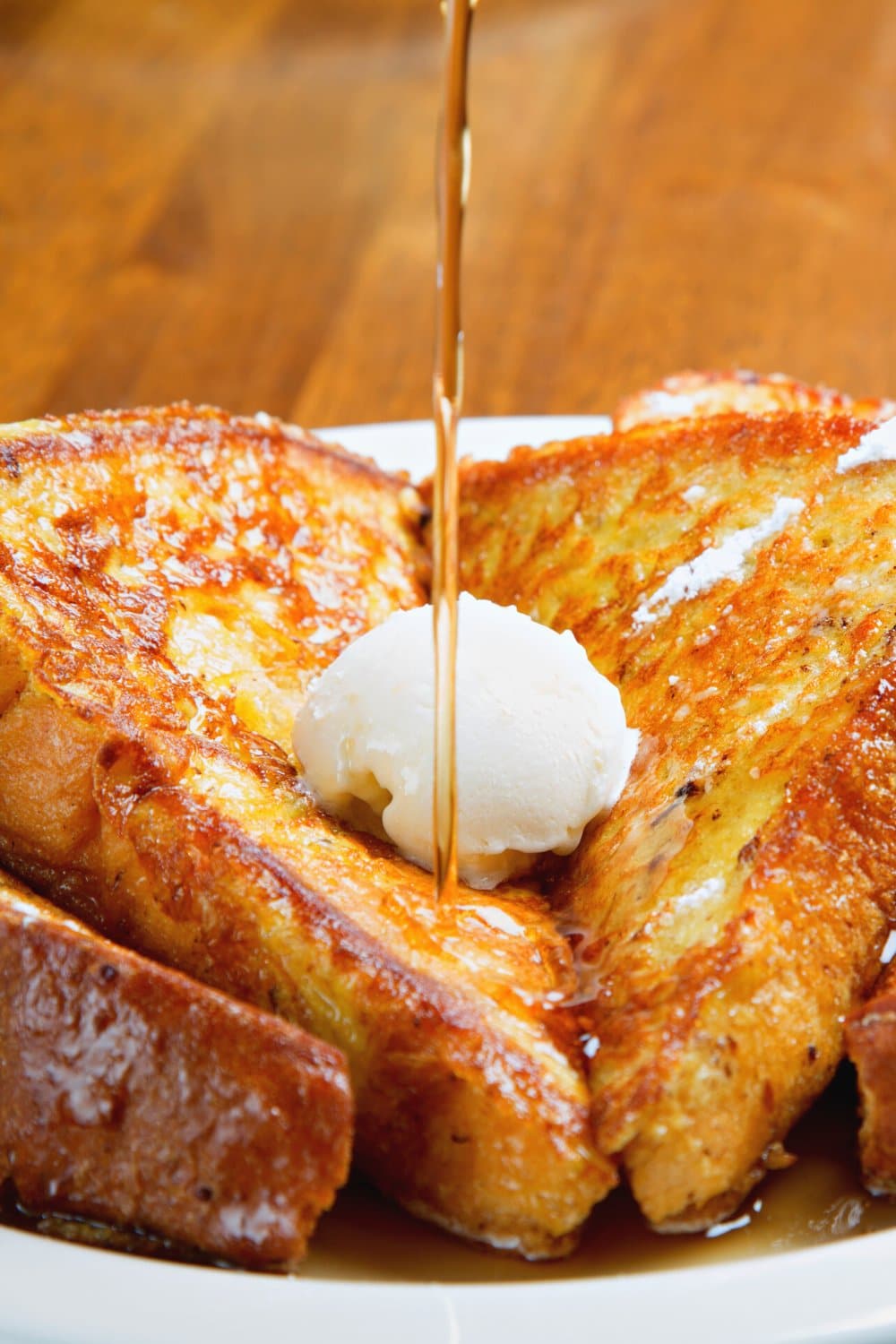 How is Crème Brûlée French Toast different than typical French Toast:
French toast is a traditional breakfast food that people all over the world love. The classic recipe calls for milk, whole eggs, vanilla extract, and cinnamon, among other ingredients. Most of the time, these ingredients are mixed together to make a simple and tasty soak for the bread. But if you want a more decadent take on the traditional dish, you could try French Creme Brulee toast.
The French recipe for Creme Brulee toast is a little different from the usual one. It calls for egg yolks instead of whole eggs. Egg yolks are often used in custard-based desserts like Creme Brulee because of how rich and creamy they are. In this recipe, thick cream is used instead of milk. The cream makes the soak feel rich and velvety, which makes the French toast taste even more decadent.
The use of vanilla is another important distinction between the classic recipe and the French Creme Brulee toast recipe. Vanilla extract is usually used in French toast recipes, but vanilla paste is used in the French Creme Brulee toast recipe. Vanilla paste is a more concentrated form of vanilla. It contains vanilla seeds, which add an extra layer of flavor and aroma to the meal. Lastly, cinnamon is used in a traditional French toast recipe but not in the French Creme Brulee toast recipe.
Cinnamon is often used in sweet dishes, but it is not needed for the French Creme Brulee toast recipe. One of the main ingredients of Creme Brulee is a layer of burnt, solid sugar on top. This is easy to do and gives the French toast a delicious and unique flavor. Overall, French Creme Brulee toast is a tasty and indulgent take on the traditional French toast recipe. Creme Brulee is made with rich and creamy egg yolks, thick cream, and vanilla paste.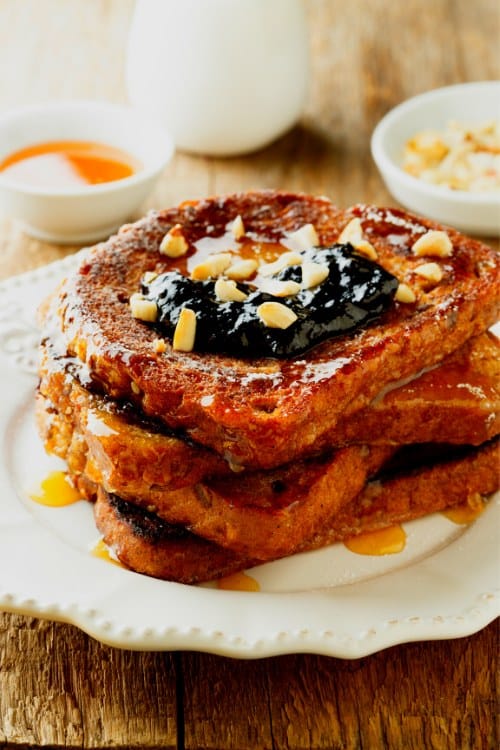 What is usually served with Crème Brûlée French Toast:
This delicious dish is often served with a variety of toppings, such as fresh berries or sliced bananas for a touch of natural sweetness and maple syrup for a hint of caramel-like flavor. Some versions add a dollop of whipped cream, which makes the dish rich and creamy. You can also try this apple curd, it's yummy when spread on French toast.
Some people like to sprinkle powdered sugar on top to add a little sweetness and a little crunch. If you want to add something savory, you can serve it with a side of crispy bacon or savory sausages. Try out different toppings to find the one that you like best.
Crème Brûlée French Toast Recipe
With our delicious Crème Brûlée French Toast, you can have a breakfast treat like no other. Imagine thick, fluffy slices of Brioche bread wrapped around the sweet and creamy goodness of a classic Crème Brûlée. It's a breakfast that will make your taste buds happy and make you feel complete.
Ingredients
18 ounces of Brioche bread
4 egg yolks
1 1/2 cup of heavy cream
vanilla extract (for better results, use vanilla paste)
Butter, for greasing griddle
1/2 cup of sugar for coating, granulated
Instructions
First, heat up the griddle by setting it to medium heat. Let it heat up and get to the perfect temperature before you start cooking. This makes sure that the outside of your French toast will be crispy and the inside will be soft.
Get ready to mix up some magic in a shallow, flat-bottomed dish. Crack egg yolks, pour in the heavy cream, and add a splash of vanilla extract. Combine everything until it's smooth and creamy.
Take a piece of sliced brioche bread and dip it in the mixture, making sure to cover both sides evenly. Here's the important part: butter your griddle. If you're using a nonstick griddle, you might not even need butter. But trust me, the butter gives the French toast a delicious richness.
Once your griddle is hot enough, gently place your soaked bread slices on it and let them cook until each side is golden brown. Remember that you only need to flip them once while they are cooking.
Now for the icing on the cake, or should we say the sugar on top? Take the sugar and sprinkle it on each piece of grilled French toast. And to make it even more special, caramelize the sugar with a cooking torch. If you don't have a torch, you can also put the slices in a single layer on a baking sheet and put it under the broiler until the sugar turns golden brown and bubbles.
Bon appétit! Serve your French toast with maple syrup, fresh fruits, or whipped cream, and you'll have the best breakfast of your life.
Mmm, can you smell how good Crème Brûlée French Toast is? If you love this recipe as much as we do, why not share the image below on your Pinterest board and spread the love?