I present to you an authentic mushroom Swiss burger recipe that combines tender beef patties, delicious Swiss cheese and golden mushrooms to create one amazing burger.
If I feel the need for a burger, I usually go for something familiar like a smash burger. But if I feel the urge to try something more fulfilling, I always make a stop at a Mushroom Swiss Burger.
My first encounter with a Swiss burger was when I was in Zurich, Switzerland, a few years ago. We've visited this amazing Burger Brothers restaurant, and it was so delicious with its gooey swiss cheese, rich in taste but elegant, I had to make this authentic version. If you've read my older recipes, you know that I don't settle for less. It's hard to resist mushrooms and Swiss cheese and brioche buns.
Ingredients
Onions for Swiss burger
4 sliced onions

(yellow or sweet)

3 TBSP of unsalted butter

Water

Pinch of salt
Mushrooms for Swiss burger
1 TBSP of butter

9 oz of sliced crimini mushrooms

1 Minced garlic

clove

salt and pepper
For the burgers
1 1/2 lb

of Ground beef

1 tsp of burger seasoning

5 slices of Swiss cheese

Brioche buns

Mayonnaise (optional)
Mushroom Swiss Burger Recipe Instructions
For the onions:
Add the butter and onions to a large skillet (you can also use a pan).

Cover the skillet and let the butter and onions cook on medium. Cook for about 7-9 minutes, stirring occasionally until the onions begin to brown.

Cover the pan and cook on low heat until the onions turn a golden brown.

To deglaze the pan, add some water to the onions if they stick to the bottom.

This is usually done 2-3 times.

The onions can be removed in 30 minutes or cooked for up to an hour.

As you cook them, they will become softer and really sweet.

They are ready to go after around 40-45 minutes.

Salt to your liking.
For the mushrooms:
Melt the butter on medium heat, using a skillet, and add in the mushrooms.

Cook them for 4-5 minutes, with no stirring. They should be cooked until they are golden brown on the other side.

Now you can flip the mushrooms and cook the other side until golden brown.

Sauté the garlic for about 20-30 seconds, and then season with salt.
For the burgers:
Form the patties into even-sized balls and then press the patties into a flat shape with your palm.

Using your thumb, press into the middle of each patty, then sprinkle both with burger seasoning.

Heat up your skillet on medium heat.

Cook the patties until golden brown on the bottom. This usually takes about 4-5 minutes.

Turn the patties over and continue cooking for 3-4 minutes more. You can use a meat thermometer to check, they should reach 165°F.

For the final 2 minutes, add the cheese so it melts nicely.

Spread the mayonnaise (if desired) on the brioche buns before assembling.

Each one should be topped with, caramelized onions first, then mushrooms.

Add some salad if you want.

Enjoy
Pin the image below if you've liked this mushroom Swiss burger recipe!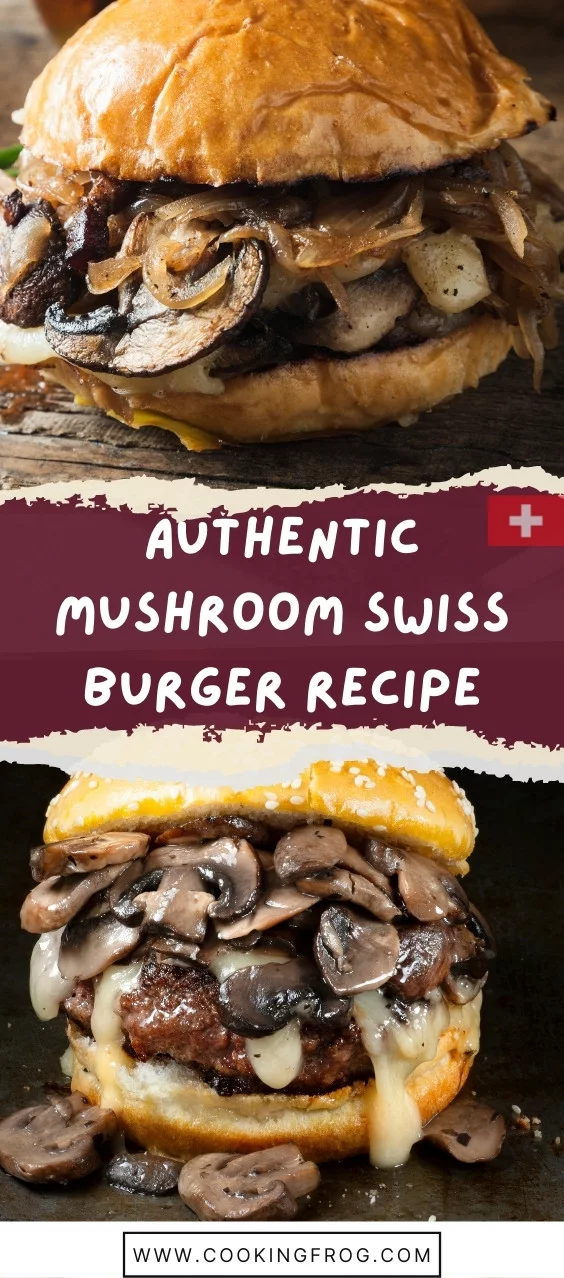 Mushroom Swiss Burger
This is the perfect mushroom Swiss burger. You can make homemade burgers by grilling them and adding a slice of Swiss Cheese and sauteed mushrooms to the top. But we go beyond and add a thick mushroom sauce and heavenly Swiss Cheese. Isn't it amazing to see the Swiss cheese just beginning to drip off the edges, in anticipation of your first bite?
It takes more than just putting a burger on a brioche bun and adding cheese to make a gourmet-quality burger. Details are what make a burger different from a regular burger. Make sure you take your time when making the burger. Saute the mushrooms, toast the buns and melt the cheese. Although we are only using simple ingredients for this recipe, it is easy to make a perfect burger.
Also, it is important to keep in mind that this is a highly caloric meal, intended to be consumed after losing a lot of calories, therefore suggested food for mountain climbing and skiing in the Swiss Alps.
Mushroom Swiss Burger Sauce
For Swiss burger sauce or gravy, the secret is sauteed onions and mushrooms. This amazing mixture of flavors takes only a few minutes to prepare.
Sauteed onions and mushrooms can be used in many other delicious beef recipes. Try pairing them with, Oven-baked chuck roast or Garlic Butter Steak Bites.
Frequently Asked Questions
What do I do if my hamburger is sticking to the pan?
If your burger sticks to the pan, it is not ready for flipping. Give it another minute, and then flip it again.
Can I use a different cheese?
Well, you could, and it will taste good, but it won't be the original recipe! Remember, that Switzerland is famous for cheese, as much as France is. You can mix it up with cheeses like Gruyere and White Cheddar.
Can I use lean ground meat?
Yes! You can make a leaner burger by using a 90/10 mix, instead of 80/20. You can check the full list of Burger blends in this article.
Is this keto-friendly?
This grilled burger recipe can be used as a keto-friendly option, provided you skip the bun. We know that the buns are full of carbohydrates.
Gluten-Free Burgers
Make this mushroom Swiss Burger gluten-free by making sure that the buns used are gluten-free buns.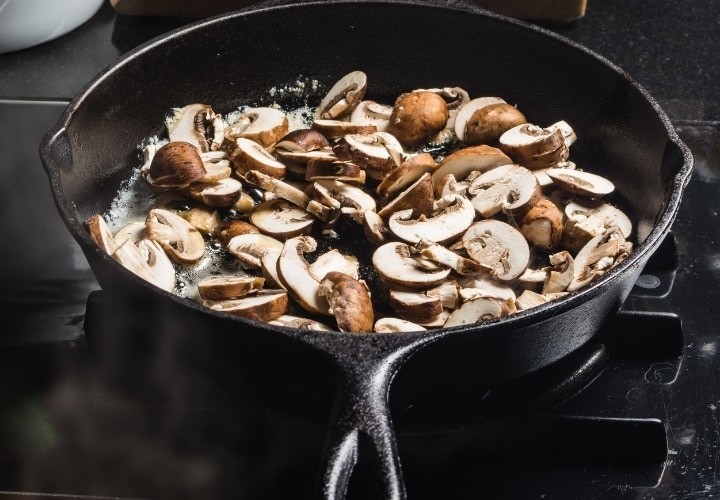 Assembling Caramelized Onion and Mushroom Swiss Burger
Assembling the burgers was always my favorite part of the whole process when making burgers.
Buns. A good brioche bun is my favorite for burgers. You can choose whatever makes your heart sing. You can sprinkle it with poppy seeds, sesame seeds or anything you desire. You can toast the buns, in fact, I highly approve of that. You can choose gluten-free buns or some keto-friendly option.
You can make your burger stand out by brushing the buns with oil/melted butter. In 2-3 minutes, they should be warm and golden brown.
Now add your cooked patties (drippings with cheese) to a bun and slathered in mayo.
Layer mushrooms and caramelized onions on a bun. Then, top it with another bun, which is also covered in mayo. Even for burgers with all these delicious toppings, I don't skip the sauce. It brings everything together!
Nutrition
Calories: 630kcal | Carbohydrates: 33g | Protein: 56g | Fat: 32g | Cholesterol: 173mg | Sodium: 475mg | Fiber: 3.5g | Sugar: 7g | Calcium: 270mg | Iron: 26mg