Chipotle sauce is a quick and simple method to give any dish a smoky taste, spiciness, and zest. It can be used as a creamy dip or poured over tacos. In either case, you only need a few ingredients from your kitchen to make this meal.
As a sauce, dip, or spread, this chipotle sauce is one of the easiest sauces to make, exploding with flavor and completely addictive. With its creaminess, smokey, and zesty spice, it elevates even the most average dish to outstanding.
The options are as unlimited as the flavor! Drizzle it on all of your favorite Mexican dishes, including tacos and burritos; sprinkle it on hamburgers, sandwiches, and wraps; and soak it in vegetables, chips, and french fries!
Sauces and seasonings are essential for enhancing recipes. And for that rich, creamy, spicy, and irresistible flavor, chipotle sauce (or chipotle crème) is a tough competitor in Mexican-inspired cuisine. Let me demonstrate how simple it is to make it yourself if you've never done it before.
What exactly is a Chipotle?
The term "smoked chili pepper" is "chipotle." Merely ripened jalapenos that have undergone a smoke-drying procedure are what are known as chipotle peppers. Many cultures have used the smoke-drying method of chipotle preservation, but Mesoamericans were the first.
In Mexican cooking, chipotles are regarded as a staple ingredient. These peppers have a medium heat level and will give salsa, meat, stews, sauces, soups, and more a rich, smokey flavor.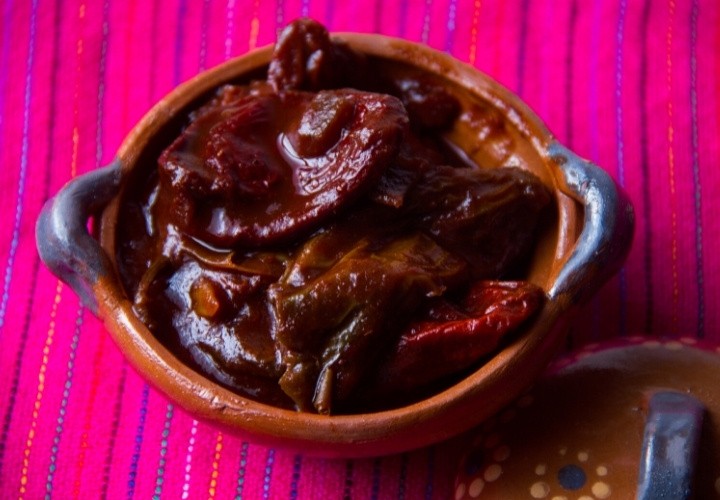 This Chipotle Pollo Asado was introduced this year by the restaurant, and it's the best-grilled chicken I've ever made. So be sure to check it out!
What's in Chipotle Sauce?
Two chipotle peppers in adobo sauce are used in this sauce. (See the section below for more or less hot Chipotle sauce.) A small amount of mayonnaise provides some sharpness, while sour cream offers a chilled, creamy element. To balance the fire, 1 tsp of maple syrup lends a touch of sweetness, and garlic and lime add acidity and flavor.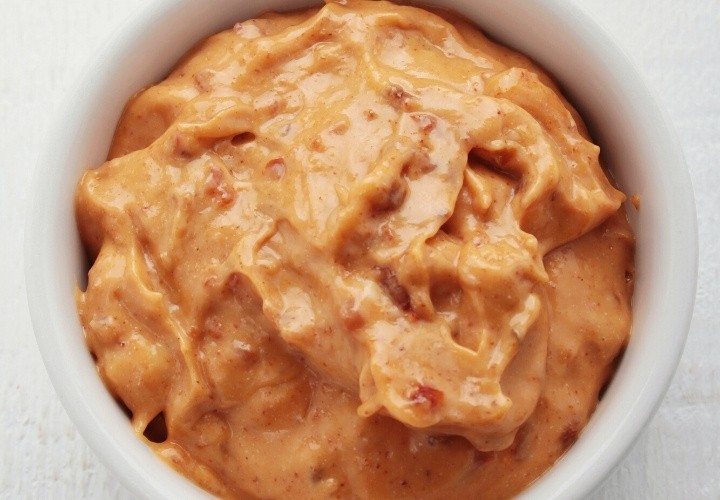 How hot is Chipotle sauce?
The excellent news about creating this Chipotle Crema from scratch is that it's simple to modify to taste, even if it's designed to have a punch. As with jalapenos, the spiciness of chipotle peppers in adobo varies, so you might need to tweak the quantity you use every time.
The basic split is as follows:
One chipotle pepper, mild
Two chipotle peppers, mild to medium
three chipotle chiles, medium heat
Four chipotle chiles make it spicy.
Five chipotle peppers are hot.
If the mixture isn't hot enough, start blending the ingredients with fewer chipotle peppers before adding more and blending once more.
Why You'll Love This Recipe for Chipotle Sauce
It multiplies by 100 the Yummy element of everything it touches—the truth. One of my top condiments to have on hand is this Chipotle Sauce recipe since anything that it touches is improved by its creamy, spicy warmth. I have to have it in a burrito, but it's also fantastic on any sandwich.
Its adaptability is limitless. Use it as a dressing, spread, dip, adjust the heat and creaminess; add fresh chipotle peppers in adobo sauce or powder; adjust the texture; add sour cream, Greek yogurt, Mexican crema, and mayonnaise; make it vegan, etc.
It's absurdly simple to prepare. This tangy Chipotle Sauce may be made in about five min using a food processor. With NO cutting, simply add the ingredients and process.
It's created with straightforward ingredients. Sour cream, maple syrup, mayonnaise, chipotle chiles in adobo sauce, lime juice, and seasonings are used to make this chipotle sauce.
What is Chipotle Pepper In Adobo Sauce?
This homemade sauce's magic ingredient is chipotle chiles in adobo. But precisely what is that? Well, there are other factors at play. Red jalapenos that were smoked and dried are used to make chipotle peppers. A silky, acidic, and sweet sauce produced from dehydrated chili peppers is called adobo.
These are sold in jars because they form a zesty, spicy, incredibly tasty pairing together. A potent, smokey heat can be added using chipotle peppers. Add a spoonful of the sauce instead for a subtle, spicy sweetness.
It goes without saying that it makes for a highly versatile pantry essential if you like to add a spice kick.
Share the image below to your Pinterest board if you like this recipe for Chipotle sauce!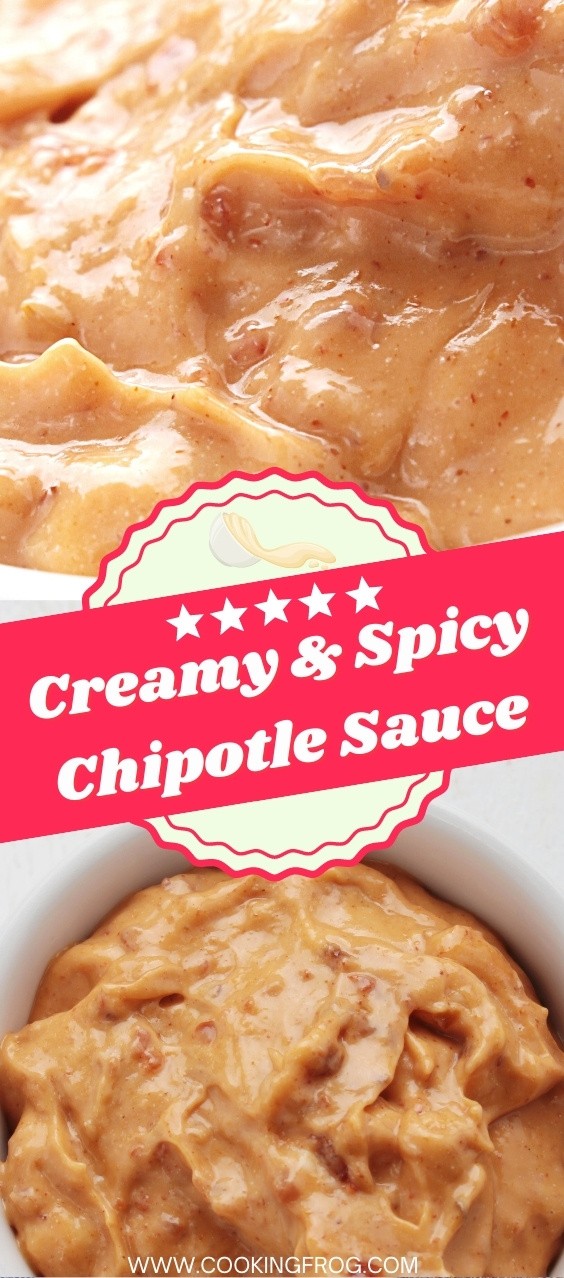 What you need for Homemade Chipotle Sauce
The ingredients to make this Chipotle sauce may already be in your possession. All that's left to do is process the ingredients inside a food processor until they are creamy and smooth. Nothing could be simpler!
Mayonaise: Any chipotle sauce starts with this as its basic ingredient.
Sour Cream: It gives the dish more creaminess and a little bitterness.
Chipotle peppers in adobo: The main component that gives this sauce its smokey and spicy flavor is chipotle peppers in adobo.
Lime Juice: The acidity counteracts the heat.
Salt and garlic: help bind the flavors together.
Maple Syrup: Maple syrup adds a touch of sweetness to counteract the heat.
Can You Use Chipotle Powder for Chipotle Sauce?
In a hurry, a dried and ground variation of chipotle peppers will do if you can't find any! Just remember that one dried chipotle pepper is the same as half a tsp of chipotle powder. If you feel that's not enough, you may always add a bit extra and mix again.
Additional Chipotle Sauce Variations
Here are a few possibilities if you want to suit a dietary requirement or change up the flavors.
To make it dairy-free, use cashew sour cream instead of regular sour cream.
Use a vegan mayo and cashew sour cream to make it vegan.
To make it spicier, add an additional half of chipotle pepper to the food processor.
How to serve Chipotle Sauce
Breakfast meals: Add to omelets, frittatas, chorizo eggs, frittatas, breakfast tacos, quiche, huevos rancheros, breakfast enchiladas, etc., or spice up classic breakfast egg dishes like migas or huevos rancheros, etc.
Tacos: Use Chipotle Crema instead of regular sour cream or avocado crème to bring all the flavors combined explosively! Combine it with street tacos made with carne asada, simple ground beef, shredded chicken, ground turkey, shrimp, blackened tuna fish, and tacos al pastor.
Burritos: I can't stop dipping my burritos in this Chipotle Sauce after incorporating it into the filling in place of sour cream. You'll salivate if you try it with California burritos, wet burritos, smothered burritos, chicken wraps, or ground beef, bean, and cheesy burritos.
Nachos: Top these piled-high ground beef nachos with chipotle sauce, or layer your preferred chips with cheese, tofu scramble, plus beef barbacoa, carnitas, or Mexican chicken. Of course, don't forget to top everything up with lots of salsa, guacamole, and chipotle sauce.
Fajitas: Just like tacos, fajitas benefit from a drop of this rich, spicily-flavored Chipotle Sauce to bind the flavors together. Add it to steaks, hog, chicken, shrimp, and salmon fajitas, among other fajita dishes.
Burrito bowls: Burrito and taco bowls are my absolute favorite! The textured rice, rich protein, crunchy lettuce, and rich chipotle sauce in shrimp burrito bowls, Fajita burrito bowls, chicken burrito bowls, and barbacoa burrito bowls simply get me.
Sushi and Oysters: I'm sure some of you didn't expect this, but I've tried chipotle sauce many times with sushi and even Oysters and it is a match made in heaven, especially when drizzled on Tobiko or Masago sushi.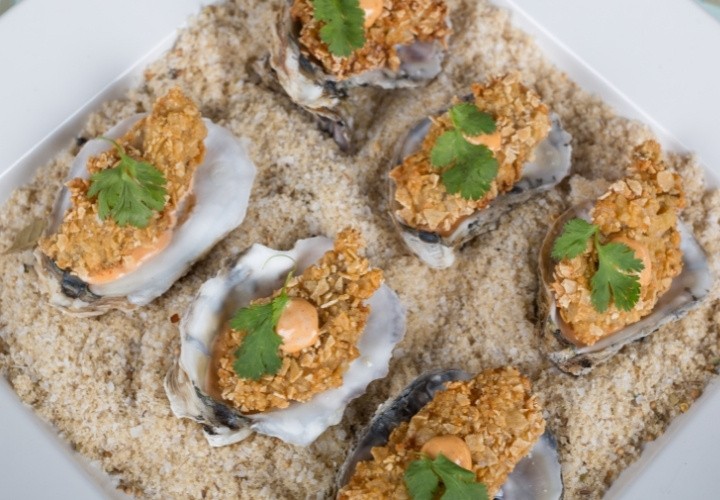 Chipotle Sauce Recipe
Ok, now that we know everything we need to know about the chipotle sauce and how to use it, it is time to make it, and it'll only take 5 minutes.
Ingredients
4 TBSP of mayo
1 cup of sour cream
2 chipotle peppers in adobo sauce (for spicier or less spicy see in the article above)
½ of lime juice
1 clove of garlic
1 tsp maple syrup
salt to taste
Instructions
Combine the mayonnaise, maple syrup, chipotle peppers, sour cream, lime juice, garlic, and a dash of salt in a food processor.
Process the sauce until it's creamy and smooth.
Take a sample and taste the chipotle sauce to see whether you have to add additional salt or lime juice. Enjoy!
How to Store Chipotle Peppers
You are usually left with an open can of smokey, spicy delight because the majority of recipes only call for 1-2 chipotle chiles or 1-2 tablespoons of minced chipotle peppers. That is a bunch of chipotle peppers for using up before their refrigerator life expires, and although I adore spice!
I advise freezing chipotle peppers to get the most out of your worthwhile purchase. They are simple to prepare in a matter of minutes and are accessible whenever you need them.
Chipotle peppers can be frozen whole or in portions of 1 tbsp:
To freeze the whole Chipotle peppers: Put the peppers out on a baking sheet lined with parchment paper and quickly freeze them for one to two hours, or until firm. Once solid, separate the parchment cover, wrap each pepper separately, and store for up to three months in a freezer-safe container.
To freeze Chipotle peppers with TBSP: Place parchment paper onto a baking sheet or line an ice tray using plastic wrap to freeze chipotle peppers by the tablespoon. After that, finely chop the chipotle peppers without the sauce (or in a food processor) and scatter them over the parchment paper in 1 tbsp portions spaced a few inches apart or into each ice cube container. After being quickly frozen for one to two hours until solid, separate the parchment or plastic wrap, separately wrap each tablespoon, and store for up to three months in a freezer-safe bag.
To freeze adobo sauce: Because adobo sauce is extremely potent, freeze it either with the chipotle peppers or separately in 1 teaspoon portions.
Nutrition
Calories: 84kcal
Carbohydrates: 2.1g
Protein: 1g
Fat: 8g
Saturated Fat: 2.9g
Cholesterol: 13mg
Sodium: 91mg
Potassium: 33mg
Fiber: 1.1g
Sugar: 1g
Vitamin A: 295IU
Vitamin C: 1.3mg
Calcium: 25mg
Iron: 1mg