Are you looking to venture into our Chicken of the Woods recipe? Well, if you enjoy delicious wild mushrooms that have a similar texture and taste to chicken, then this is a recipe worth digging your teeth into during the coming week!
Chicken of the Woods is commonly a meat substitute due to the similarities it bears with chicken. They are a highly versatile mushroom that you can saute naked in a pan, fry and steam them, bread them – the possibilities are endless when it comes to creating a beautifully tasty dish that is both succulent and pleasing to look at.
No matter what time of year you cook Chicken of the Woods, the mushroom harmonizes with most seasonal savory treats and can be a gorgeous dinner no matter the weather.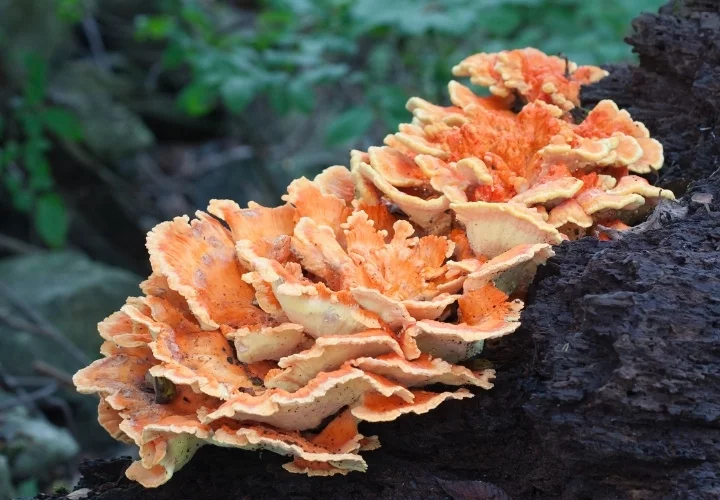 Does A Chicken of the Woods Really Taste Like Chicken?
Often in the case of frog, opossum, and squirrel, the phrase ''tastes like chicken' is loosely thrown about as an unfortunately dishonest descriptor of their flavor, to try and make the dish seem more palpable to even the pickiest of eaters. Yet, this mushroom truly tastes like chicken.
Boasting a meaty, stringy texture that absorbs moisture and retains the succulent flavors of the mushroom – this is the closest faux chicken substitute you'll likely ever find.
What more could you want than a healthy option that tastes great?
Identifying Chicken of the Woods
Out of all mushrooms you can forage, Chicken of the Woods tends to be a relatively easy mushroom to categorize due to its unique characteristics.
Because of the bright orange mass-like quality of the mushroom that tends to encompass tree trunks or the base of hardwood trees – this is a mushroom you can spot from far away. The mushroom tends to grow in shelves ranging from bright orange or yellow at the base that fades into a pale whitish color towards the outer edge.
With the underside lined generously with tiny pores, this polypore mushroom releases its spores from small tube structures instead of gills – pretty cool right?
Health and Safety for Chicken of the Woods
Don't eat Chicken of the Woods raw: Like most wild mushrooms, eating them raw can cause stomach upset – so cook them thoroughly before consuming to be on the safe side!
Can cause sickness: If eaten in large quantities, some people can experience gastrointestinal distress. So if you've never tried Chicken of the Woods, sample a small amount and observe how it reacts with your body.
Avoid conifer or eucalyptus trees: It is crucial that you avoid Chicken of the Woods, which is growing on the base of conifer or eucalyptus trees, as these trees permeate the mushrooms with toxins that are absorbed into the flesh.
Cleaning Chicken of the Woods
It's essential to clean your Chicken of the Woods thoroughly, so start by separating the shelves carefully to access every aspect so that this cleaning process is simple and quick.
Use a gentle mushroom brush to remove any large dirt particles, and then quickly wipe your mushrooms over with a damp paper towel or cloth to ensure that they are squeaky clean and ready for use!
However, if you're mushrooms are filthy (like mine tend to be!), start off by soaking the mushrooms briefly to remove any dirt or cheeky creepy crawlies that might be lurking inside. Just be careful you don't soak them too long in case they become waterlogged and lose that gorgeous flavor!
How to Make Sautéed Chicken of the Woods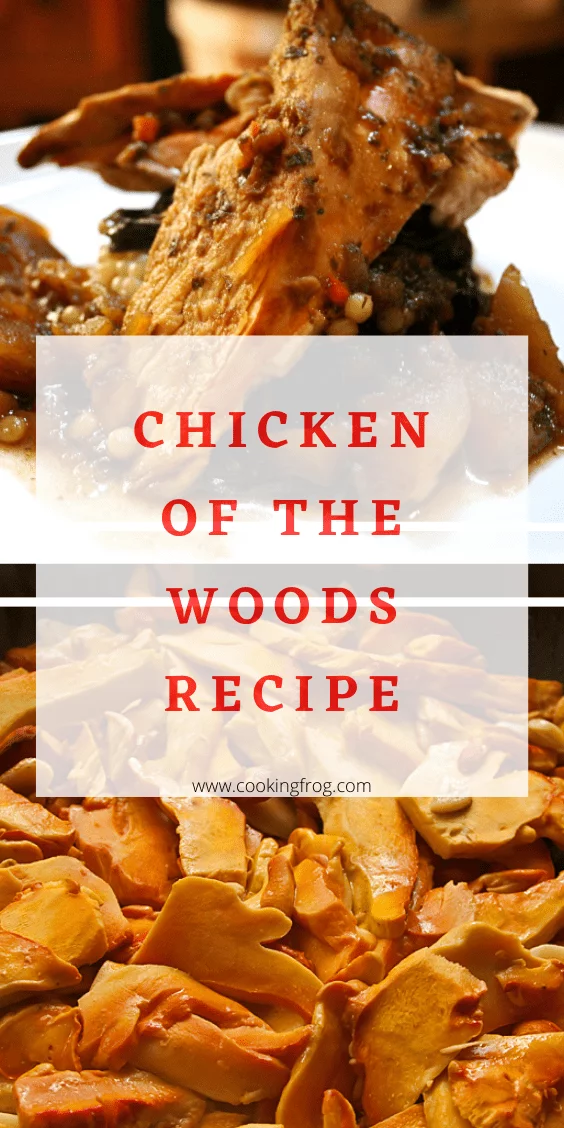 Ingredients
2 tablespoons extra virgin olive oil.
1 pound tender Chicken of the Woods cleaned (sliced into 1/2′ strips).
2 shallots (sliced).
3 cloves garlic (sliced).
1/2 teaspoon sea salt
1/4 teaspoon freshly cracked black pepper
1/2 cup dry white wine
2 teaspoons fresh lemon juice
2 tablespoons fresh parsley chopped
Instructions
After your mushroom has been gently scrubbed and dried, slice or tear it into one-inch pieces.
Heat two tablespoons of olive oil in a large skillet on medium heat before starting to introduce your mushroom slices in a single layer.
Gently fry the mushrooms for about 5 minutes as they turn a deep golden brown.
Next, slice some shallots and garlic and throw them into the mix alongside some salt and pepper.
Cook for a further 5 minutes until the shallots appear soft to the touch, then follow this by pouring a generous ½ cup of dry white wine into the mix.
Now simmer until the mushrooms absorb a majority of the dry wine.
Now stir in some fresh parsley and lemon juice to fully bring out the gorgeous flavors of the Chicken of the Woods.
Fried Chicken of the Woods
Ingredients
4 x 2 oz pieces of young chicken of the woods, the size of a small fist.
All purpose flour, as needed for breading, roughly 1 cup
kosher salt and fresh ground black pepper to taste
1 generous pinch of sweet paprika
1 small pinch of cayenne pepper
3 eggs for breading
A few sprigs of fresh thyme optional
Small clove of garlic crushed lightly with the back of a knife optional
Lemon wedges for serving
Instructions
Gather your Chicken of the Woods mushrooms and trim off the stem and the tough parts of the mushroom from where it previously was attached to the tree.
Gently scrub and dry the mushrooms to help the later absorption of seasoning (following the guidelines we suggested before!).
Season the flour with salt, pepper, paprika, and cayenne to give the flour some color and some taste! Just go easy on the cayenne – unless you like things on the spicier side of life.
Liberally coat the mushrooms in flour, then egg, and coat in flour once again.**
Heat a skillet with ¼ cup of cooking oil, followed by a generous 2tbsp of unsalted butter, before adding your breaded chicken mushrooms, crushed garlic clove, and thyme.
Cook the Chicken of the Woods until they are golden brown on either side, so for approximately 4-5 minutes per side. Ensure you add extra oil if the pan dries and carefully blot the mushrooms following frying to catch the excess oil.
Sprinkle with some salt or red-eye gravy and salad before serving immediately.
Notes
**If your Chicken of the Woods have been in the fridge for a day too many, they may have grown dry – which will make them troublesome to coat! So consider steaming them and patting them dry prior to coating if they appeared to have dried out so that they can be thoroughly coated/
Like your typical chicken fried steak, these would be fine with some red-eye gravy, or just a few lemon slices and a green salad for a lighter touch.