This Chick-Fil-A chicken salad is tasty, creamy, and a bit sweet, just enough to make it one of the best chicken salads out there. It's great for grabbing some toasted bread or for just eating it on its own!
Copycat Chick-fil-a Chicken Salad is a recipe I love to make. We love creating our own versions of restaurant favorites at home, such as Chick-Fil-a Chicken minis (one of the most downloaded recipes from our website to this date), Chick-Fil-A mac and cheese, Chick-Fil-A Cool Wrap, Chick-Fil-A sauce recipe, KFC Chicken littles, Popeyes Chicken Sandwich, McDonald's Chicken McGriddles and many more. This Copycat Recipe is one you will want to make again and again!
Chick-Fil-A Chicken Salad Recipe
Since chicken salad isn't on Chick-fil-A's menu and bid farewell back in 2017, we've got you covered with the simplest and most delectable recipe to recreate this classic at home.
Ingredients
16 oz of grilled chicken breasts, cooked and chopped
2 hard-boiled eggs
5 TBSP of Celery, chopped
5 TBSP of sweet pickle relish
10 TBSP of mayonnaise
½ teaspoon of salt
1/3 teaspoon of black pepper
Garlic powder, to your liking (this is optional)
Green leaf lettuce
Instructions
Add cooked chicken, salt, pepper, garlic powder, celery and relish to a food processor.
Blend the ingredients several times until you get the desired texture. (Don't overmix, give the salad quick pulses being careful not to puree it)
Add eggs and mayonnaise, and mix until you get the desired outcome.
Toast
Toast slices of bread. Serve Chick-Fil-A chicken salad on top.
Top with lettuce and the second bread slice.
Continue with the remaining bread slices, lettuce, and chicken salad.
Pin the image below if you like this Chicken Salad Recipe!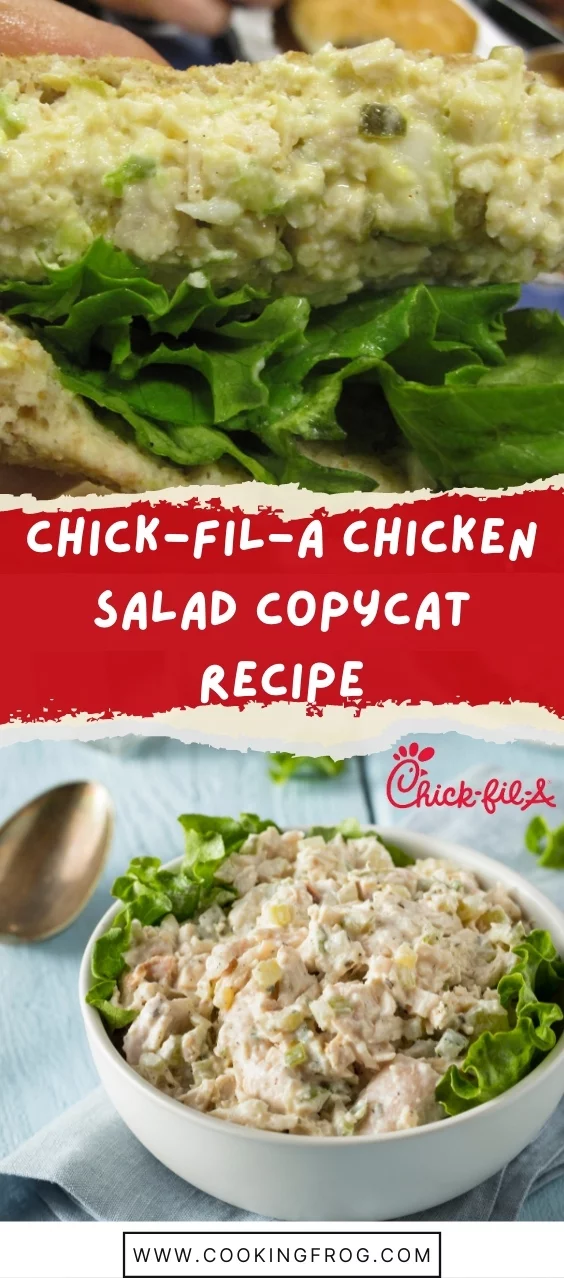 What you need for original Chick-Fil-A chicken salad
Chicken breasts – The original Chick-fil-A recipe requires four chicken breasts. They can be grilled or fried.

I chose the grilled chicken breast.

Celery –

adds great texture and amazing flavors to salads, especially cold ones.

Celery is also used in tuna salad recipes and many more.

Sweet Pickle Relish –

This recipe is very similar to my grandma's chicken salad recipe. It's not good without sweet pickle relish.

Many people love the sweet relish.

It tastes just like the store-bought varieties.

Because we like it, my simple chicken recipe uses dill relish cubes instead.

Real Mayonnaise –

I would guess that Chick-fil-A spread used Hellman's mayonnaise or a restaurant mayonnaise. Because the recipe was not very specific, I didn't know for certain so I used Duke's mayonnaise. A mayonnaise with olive oil can be used to lighten things. You can also use half of the plain Greek yogurt with the mayonnaise to lighten it.
Hardboiled Eggs – are another common ingredient in Southern-style chicken salads. They add really nice flavor and texture to the salad.
Food Processor – The original recipe required that you use a food processor. I used it here, but it was too processed and didn't have the right texture. If you have a food processor, my suggestion is first to pulse the celery, then add in the chicken, and then pulse again. Alternatively, you can chop all the ingredients and mix them together.
Variations to Chick-Fil-A Chicken Salad
Make it Sweeter You can add 1/3 – 1/2 tsp of granulated sugar if you like a sweeter version of chicken salad.
Dill Some people don't like sweet pickle relish so you can try dill relish instead.
Low-carb – If you want to cut down on carbs and go gluten-free, grab some Bibb lettuce or Living lettuce and serve your chicken salad in lettuce cups.
Onion is not in the Chick-Fil-A recipe. However, I love to add a little grated onion or finely minced yellow onions to my chicken salad.

You don't need to add much!

You can also mince some green onions or chives and add them to the salad.

Also, you could add some red onion slices to the chicken salad sandwiches.

Toast-Bread Varieties I chose to use whole wheat bread because that's what Chick-fil-A used.
How to store Chick-Fil-A Chicken Salad
The remaining chicken salad should not be consumed more than three to five days after being made and should be stored in a refrigerator using an airtight container.
Is Chick-fil-A chicken salad sandwich available at Chick-Fil-A restaurants?
No. Unfortunately, It was removed from the menu in September 2017. One of the managers of the company explained that it was not a light hearted decision but that it is necessary to occasionally offer menu items that guests enjoy. The company gets feedback from its customers to inform them of their plans for changing the menu.
Chick-Fil-A published their famous chicken salad recipe around the same time that they stopped selling the sandwich. It was so good that I had to have it. It was delicious… heavenly.
Conclusion
If you like this chicken salad, be sure to check out this Classic Carol Chicken Salad. Chick Fil A's copycat chicken salad tastes exactly like the real deal. It is the original. The original but "not-so-secret recipe" was picked straight from the restaurant. I hope you'll enjoy it as much as I did. If you did, please share on Pinterest and other social media pages. Thank you!